Unusual Table Lamps.
Our high streets and many online retailers are awash with basic or standard designs of household products that have been tweaked and presented as something new and different where as the truth is these "new" products are just a snip away from an old design. This applies of course to lighting. Last week while wandering around a large DIY/Home store I was struck by how all of the lighting and table lamps were all the same old designs, yes they had been tweaked and given new finishes but in truth, there was nothing different or unusual.
So what do you do if you want something unusual and different, obviously this is where the internet comes into its own, it is just a case of finding somewhere trusted and with a good track record of service and with good feedback, ideally somewhere that has a brick and mortar presence so you can go and have a look. In The United Kingdom, many companies exist, that have decades of experience producing quality indoor decorative lighting. In this post, I will show you some of my favourite & unique quality unusual lamps from one of these companies called Graham & Green. Graham & Green is an independent family-run business that started in 1974 with its first shop in the trendy Notting Hill in West London. The company started its online business in 1999 and has now gained a reputation for offering unique and beautifully designed quality homewares at an affordable price. Graham & Green offers a range of interior design items and lighting including these unique and very unusual table lamp options.
Please Note – this post may contain affiliate links, if you purchase from one of them we may receive a small commission at no extra cost to you.
Below are some of my personal favourites, there are of course many more to see on the Graham and Green website.
---
VOLIÉRES BIRD CAGE LAMP
This unusual, striking and unique hand-made Voliéres Bird Cage Lamp is home to a menagerie of pretty coloured birds made from real feathers. A truly beautiful, unusual and eye-catching table lamp. As each lamp is individually hand made the colours and assortment of birds will be different to the photograph. 60 Cm High x 41 Cm Diameter.
---
LARGE URCHIN LAMP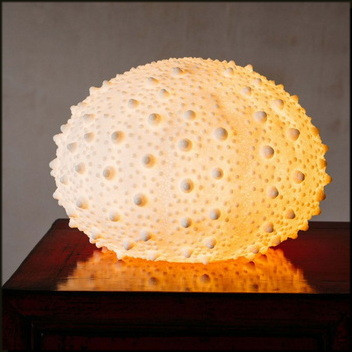 An unusual and eye-catching table lamp inspired by the unique shapes, patterns and textures of sea urchins. Also available with a sea Coral design. Crafted from stone powder and resin. Formed to provide a warm and unusual lighting effect. 23 Cm High x 34 Cm Diameter.
---
THE ELSA ELEPHANT LAMP
An Unusual quirky animal table lamp that is full of character. Elephant table lamps are plentiful but nothing is quite like Elsa, Elsa the elephant will add an exotic aura to your home or add a whimsical touch to any space. A highly detailed unusual table lamp. Style with a lampshade in jungle green or natural savannah-inspired colour. 35 Cm High x 37 Cm Long  x 17 Cm Deep.
---
PERCHING PARROT TABLE LAMP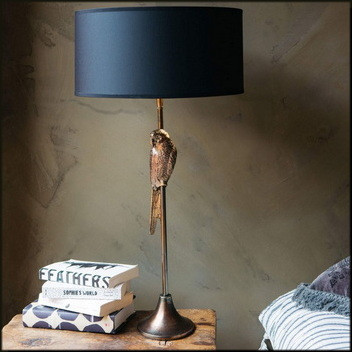 This charming bronze parrot lamp makes a quirky & unusual addition to bedside tables, consoles or desks. Perfect for eclectic interior themes, this tropical lamp makes a unique decoration in addition to functional illumination in any room. Beautifully cast from metal with a Gold finish 54 Cm High x 15 Cm Diameter
---
NEPTUNE TABLE LAMP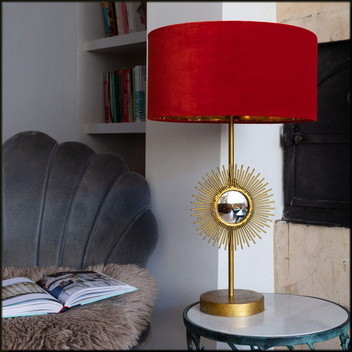 A quality Iron lamp with an antique gold finish. An unusual shining starburst design with a small round mirror at the centre that will reflect beautifully, top with a complementary metallic lampshade. 53.5 Cm High x Shade of 21.5 Cm  x 15 Cm Base Diameter
---
DEEP NAVY BOBBLE TABLE LAMP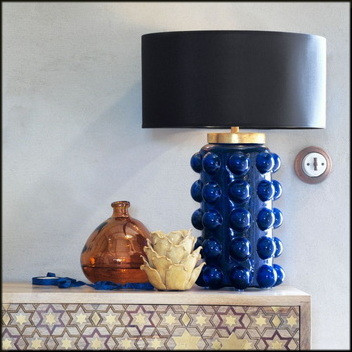 A quality and unusual deep blue lamp handcrafted from glass with a distinctively deep and tactile bobble exterior. The lamp has a contrasting metal top with an antiqued gold finish. This unusual lamp is available in other colours and finishes. 47 Cm High x 22 Cm Diameter
---
PALM TREE LAMP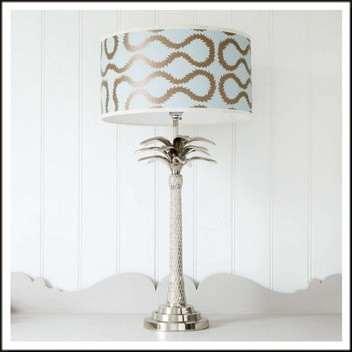 An unusual take on the classic Hollywood Palm Tree lamp. Bring a touch of class to your home with this funky palm tree lamp, manufactured from metal and finished in stylish nickel. 64 Cm High x 16 Cm Diameter
---
BLACK PARROT LAMP WITH SHADE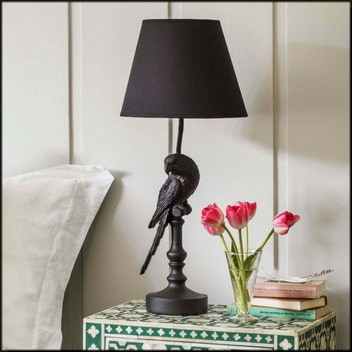 Epitomising chic modernity, the unusual black parrot lamp projects a dramatic dark tone and eye-catching profile. Featuring a matte black perched parrot and lampshade, this table lamp is an eclectic piece that will not go unnoticed. The perfect addition to monochrome Scandi spaces or those embracing the inky interior trend, excellent set off against any background. 46 Cm High x 25 Cm Diameter
---
SILVER AND GOLD PINEAPPLE LAMP
An unusual Graham and Green classic, the pineapple is finished in silver and gold, this pineapple lamp has a great profile and reflective surfaces for a bright and unusual lighting effect and will add a quirky unusual flourish to any room. 41 Cm High x 17 Cm Diameter.
---
OTTO OCTOPUS TABLE LAMP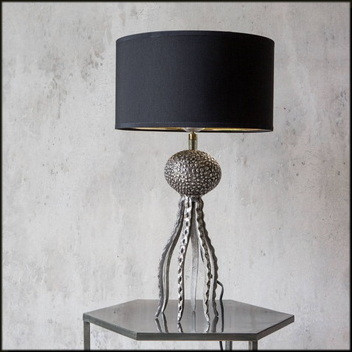 Add a nautical flair with the silver metal Otto octopus lamp. With intricate detailing and an unusual and fabulous profile, inspired by a tall, elongated octopus and with six distinctive tentacles, this deep sea-themed lamp is certain to be a talking point in your home. Height 35 Cm x 10 Cm Diameter
---
LOVEBIRD TABLE LAMP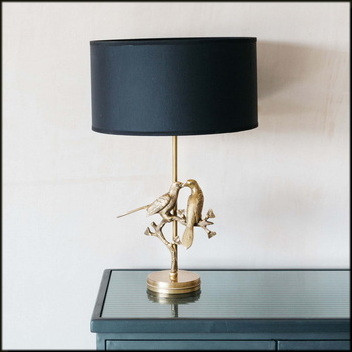 This unusual and unique table lamp features two love birds perched on their branches, cast in metal with quality, intricate detailing. Top with a metallic inner lampshade to help the design glow in use and to complement these lovely lovebirds.32 Cm High x 12 Cm Diameter
---
CASSIUS GOLD TABLE LAMP
A quality and unusual table lamp cast with great detail from Aluminium. Brighten up the dark corners of your home with this gold table lamp that features a tactile branch-like base and a sleek black fabric cord. It's the ideal addition to an interior that centres on luxurious style. 57 Cm High x 13 Cm Wide
---
Conclusion
These are just a few of my favourite unusual table lamps from Graham and Green. Hopefully, you can see how, despite the different materials and finishes, the unique elements of each lamp are apparent. There are many more lamps in the Graham and Green range as well as other types of unusual and funky lighting and interior design pieces.
If you have any questions please do not hesitate to ask.
michael@hertfordshire-lighting.com