Antique Tiffany Style Table Lamps
"Tiffany" Lighting is a style of lighting that has stood the test of time. Fashions come and go but Tiffany-style lighting has always held a good degree of popularity. Today Tiffany has become a generic term used to describe lighting that uses lampshades of coloured and leaded type glass to produce a colourful stained-glass effect. The roots of Tiffany Table Lamps and Tiffany Lighting go way back to the late 18th Century. Louis Comfort Tiffany gave his name to Tiffany lighting. He was a trained painter and was one of the world's first professional interior designers with a love of nature & painting and an equal passion for the use of stained glass as an interior design medium.
Into the early 1900s, Tiffany was producing many hundreds of models of lamps with a strong Organic design and with many obvious links to his love of nature; this coincided with the Art Nouveau era where natural flowing designs were in Vogue. Today Tiffany is considered by many to have been a leading Art Nouveau Artist.
Modern Tiffany Style Table Lamps
This early 20th Century Art Nouveau element of design is still very prominent in today's market. Tiffany-style lamps are produced across the world with manufacturers in Europe, the USA and Asia. The market for new antique-style tiffany lamps is rich in choice and price ranges vary greatly. If you are looking to buy a new tiffany style lamp then the best advice is to avoid cheap Chinese imports as the quality is way down compared to European and US standards, the cheaper Chinese lamps will have thing gauge glass used in the shades, lighter bases will be used and the finish and detailing will not be up to the standard of European lamps.
Below is a selection of a few of my favourite tiffany style table lamps. These are all very good quality lamps and are handmade in Europe. Of course, these lamps will cost more than the frequently found cheap Asian imports but the craftsmanship is there to see and the quality is in a different league altogether.
Please Note – this post may contain affiliate links, if you purchase from one of them we may receive a small commission at no extra cost to you.
---
5LL-6055 Tiffany-style table lamp with a blue & green Floral Art Nouveau lampshade.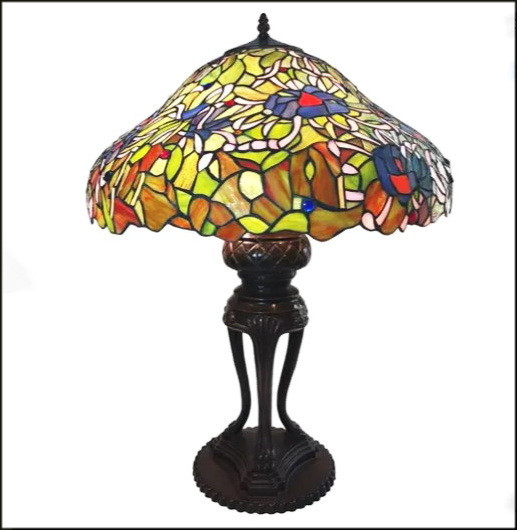 This is a large lamp. The base has a tri-footed design with a highly decorative finish. A large and stable lamp that will be suitable for high traffic areas. The shade is large and brightly coloured with a classic tiffany design.  A big and beautiful modern tiffany styled lamp  83 Cm High x 57 Cm Diameter.
---
5LL-6070 Tiffany style table lamp blue & green glass lampshade.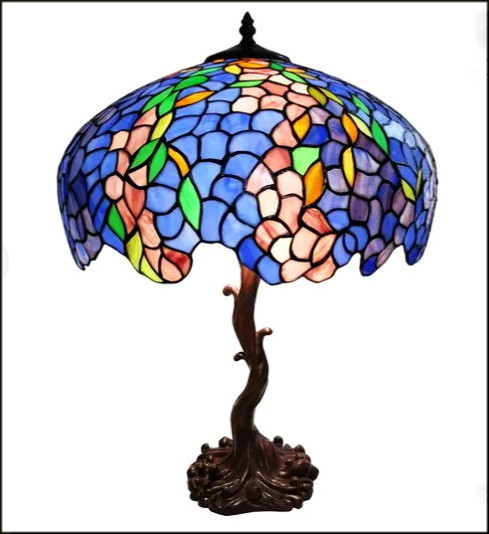 A large lamp with an organic naturally shaped base that is designed around the branch of a tree. The shade has an organic shaped rim reminiscent of a hanging floral plant. 61 Cm High x 43 Cm Diameter
---
The Elaine Tiffany style lamp.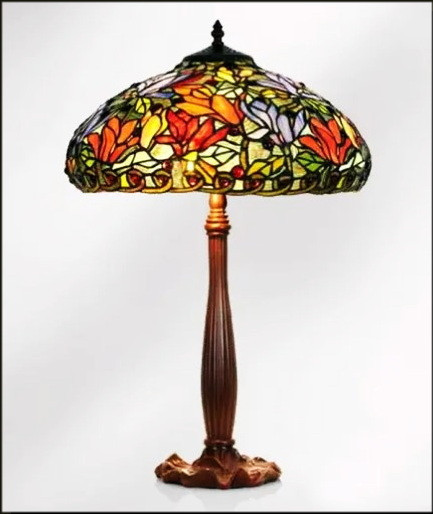 The table lamp Elaine comes in the classic Tiffany style, which features a captivating colourful flower mosaic pattern made of 851 individual pieces of glass. In combination with the dark base emerges a very coherent and extraordinary design, which makes the light an eye-catcher in every room. 64 Cm High x 40 Cm Diameter
---
The Eline tiffany lamp.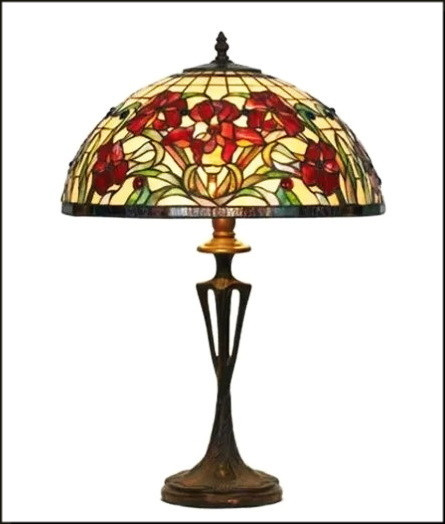 The Eine table lamp is not only classic and timeless but also has a bright floral appearance, which ensures a good mood even on grey days. The shade of the Tiffany lamp, which emits a particularly colourful and cheerful light, is handmade. The brown foot made of cast resin complements the character of the shade with detailed shaping. This lamp has a distinct 1920s vibe.59 Cm High x 40 Cm Diameter
---
The Flora tiffany lamp.
The lampshade of the table lamp FLORA is made up of 492 individual glass pieces all inserted and formed by hand. The result is a very special, romantic warm light in a Tiffany style which can be a focal point in several different rooms and styles of furnishing. The Flora lamp has an elegant shape with a refined base and shade. 62 Cm High x 40 Cm Diameter
---
The Jordis tiffany lamp.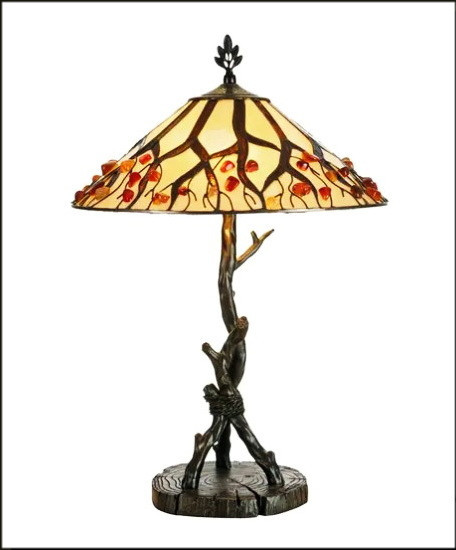 The 62 cm tall Jordis table lamp oozes special charm. Even when switched off it represents a distinctive accessory that defines any interior style. The dark frame comes in an organic wood effect and bears a glass lampshade made from coloured, handcrafted glass elements. The appliqué glass stones shine in use. An eye-catcher even when switched off, the Jordis table lamp reveals its full beauty when the light is turned on. The lampshade on the Jordis lamp comprises a total of 164 pieces of hand-assembled glass. 62 Cm High x 42 Cm Diameter
---
The Kassandra tiffany lamp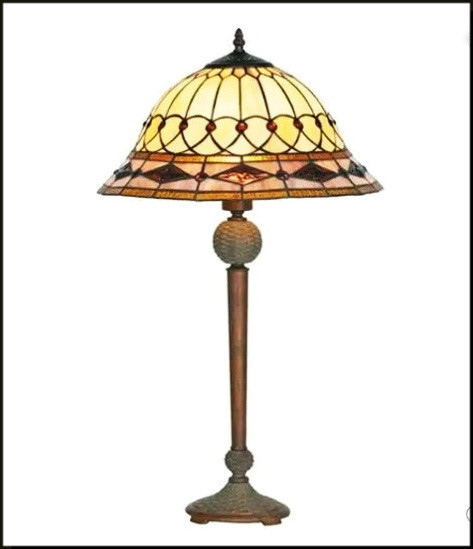 This lamp is imposing at 66 cm high. The shade is elaborately decorated with different appliqués of coloured glass. The metal stand and shade have a refined 1920s feel with a hint of Art Deco in the profile. This lamp offers light projection on side tables and is perfect as a general addition to living room lighting. 66 Cm High x 40 Cm Diameter
---
KT1082+AG711P table lamp in an art nouveau Tiffany style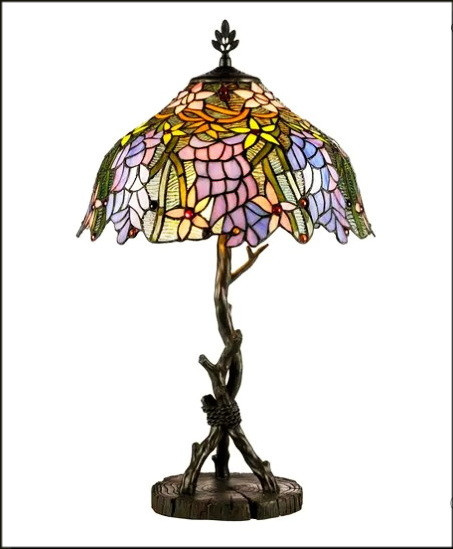 The base of this Tiffany-style table lamp is made of metal and is designed in the shape of a tree with an organic form. The frame consists of three metal branches, which are held together by a rope. The beautiful lampshade is made of 576 individual, handmade glass elements, which have been joined together to form an imaginative shade in an art nouveau Tiffany style. At the lower edge, the lampshade is additionally adorned with many colourful, small pearls. A unique and eye-catching design. 62 Cm High x 40 Cm Diameter.
---
Tiffany-style table lamp KT1082+PBLM11
A colourful and imaginative design with an irregular organic edge, the shade of this table lamp is created with 576 individual, differently shaped glass elements that have been joined together by hand and form a luminous work of art. The foot in a detailed structure of brown cast resin supports the magnificent lampshade. All around, the shade is adorned with sporadically attached beads that stand out in relief. The large table lamp is not just an amazing piece of lighting but also an eye-catching decorative object. 60 Cm High x 40 Cm Diameter
---
The Mosaico Lamp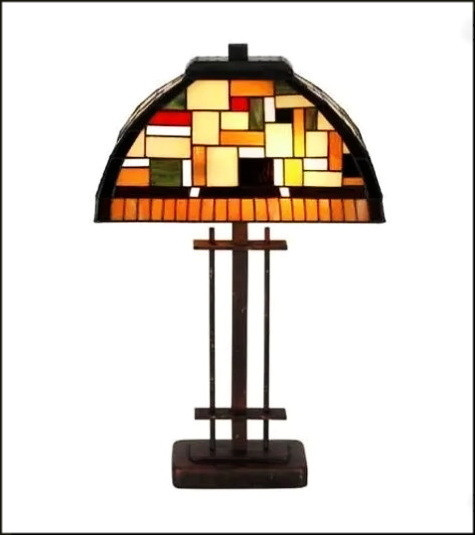 The Mosaico table lamp comes in a particularly striking art deco Tiffany style. All individual glass tiles of the lampshade are rectangular and are distinctly different from the otherwise soft and organic designs of the other Tiffany lamps. The base of the deco-inspired atmospheric lamp has an attractive sleek design, making the table lamp not just different but impressive in all aspects. 56 Cm High x 35 Cm Square
---
Conclusion.
I hope you have enjoyed this selection of Tiffany Antique Style table lamps. All of these beautiful lamps are available from one of the UK's most highly regarded online lighting suppliers. Lights.co.uk
Lights.co.uk have a huge range of lighting available for quick delivery, they are committed to a sustainable and green business model.
If you have any questions about this or any other items of lighting please drop me an email
michael@hertfordshire-lighting.com