A Review of a Quality Christopher Wray Brass Chandelier from Christopher Wrays Lighting Emporium London.
Christopher Wray a brief history.
Christopher Wray is a name strongly associated with all types of top-quality lighting. Christopher Wray was a true British lighting legend who started trading in lighting in the mid-1960s. He was a trained actor who appeared on British television and also on stage. As a struggling actor, he was advised by his agent to find another income stream, a sideline to the tough world of acting. Christopher Wray stated by selling furniture and antiques in London, he sold at Carnaby street and in the antique markets in Chelsea. During the early part of the 1960s, Christopher Wray started selling Oil Lamps and oil lamp parts, especially the beautiful antique glass lampshades that were works of art in themselves. He sold to interior designers and people looking for original parts for old antique oil lamps for which parts were no longer made.
Business boomed and Christopher Wray identified an opening in the market, he opened his first shop in London in the early 1970s and also created a workshop that specialised in the repair and restoration of antique oil lamps. As the supply of antique oil lamp shades started to dry up Christopher Wray found an old English glassworks who had hundreds of old moulds that had been used to manufacture these wonderful old oil lamp shades. Christopher Wray employed the glass company to create new shades in a variety of designs and colours, these shades with the repair workshop provided the base for the new Christopher Wray lamp workshop.
As the years passed the reputation of Christopher Wray lighting grew and grew, new shops opened and the company offered a range of reconditioned and reproduction antique lighting.
The brand of Christopher Wray can be found in quality hotels, restaurants, pubs and homes. As the range and company expanded it allowed the general public to own a piece of top quality lighting at a reasonable cost. The range included all types of lighting including a fine selection of Christopher Wray table lamps and Christopher Wray wall lights.
Christopher Wray passed away in 2014, the Christoper Wray company lives on as does the fantastic range of products and the reputation for quality lighting.
---
A Vintage Christopher Wray Chandelier.
I recently acquired a classic Vintage Christopher Wray brass chandelier from the "Brompton" range, looking back through my range of old Christopher Wray catalogues I believe that this chandelier dates from the late 1990s. This chandelier is a classic antique victorian pattern with a faux gas lamp design.

The first thing you notice with this chandelier is the weight, this great old light is made from heavy cast and very detailed brass that has a hand-finished and sealed surface. This is a three-arm chandelier fitted with three original Christopher Wray glass shades. The detail of the brass is crisp and true to the feel and design of an original Victorian version.
Looking at the Brass arms we can see Acanthus leaf detailing, ornate decals and borders along with faux gas taps, the arms are full of details with finials and well balance moulded sections.
The upright of the chandelier is plain with heavily detailed hanging eyes and covers, although the light is full of detail it is not overdone and the light does balance well and has a look that just feels right.

The glass shades are excellent, all Christopher Wray glass lampshades I have ever found have a feel of top quality, these shades have a shape and pattern that is very common on older Christopher Wray lights, they are bell-shaped with
a frilled edge, the glass is mottled with a predominantly white colour mixed with clear glass, the frills of the shades have a tinted Cranberry colour.

So how do I know for sure that this chandelier is a Christopher Wray original? More modern Christopher Wray lighting is often fitted with sticky labels and often do not have any permanent markings, much older table and desk lamps with have the name pressed in gold on the felt base underneath the lamp base.
This chandelier has a stamped mark that is easily missed if you do not know what you are looking for, on the central part of this light is a small stamp which is a stylised CW, often these can be found on a ceiling rose or as in this instance somewhere on the body of the light.
---
The Chandelier Hung & In Use.
This is a quality piece of lighting that is very well made and full of antique charm when hung it will act as an eye-catching centrepiece to any Antique themed interior with the decorations and balance of the design sitting together beautifully.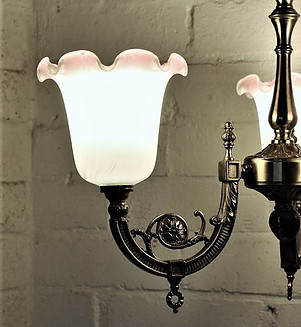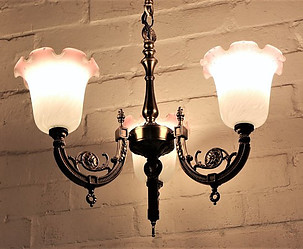 In use, the light provides a classic lighting effect with the shades providing a diffused light and shadowing from the frilled rims, the arms of the light also provide a reflective effect with the profiles of the arms giving the light a crisp and interesting appearance.
---
Conclusion.
Christopher Wray is probably the most widely recognised name in the quality British lighting market and as such second-hand examples can carry a premium price. It is easy to see why the range is so highly thought of and so sought after. I can recommend Christopher Wray lighting without hesitation, the reproduction examples like this one offer a great Antique look and lighting effect.
Edit from 2022 Sadly the Emporium is no longer trading. This makes finding quality and good condition pre loved Christopher Wray a bit tougher BUT your search will be worth the effort.
If you have any questions on this review or have anything to add I would love to hear from you. If you own a piece of Christopher Wray Lighting and would like to send me an image or two I would be happy to include them into this page.
Thank you.
michael@hertfordshire-lighting.com