Besselink & Jones London.
A name that will not be known to many people outside of high-end interior designers, architects and people involved with the interiors of high profile and prestigious hotels and homes. Besselink & Jones Lighting has also been employed in royal properties and palaces. Besselink & Jones has been manufacturing lighting in London since 1959 and is without doubt one of the very finest lighting manufactures on the planet. The lighting manufactured by Besselink & Jones is hand-built to the absolute highest standards, there are no short cuts taken in the manufacture of the products. Besselink Jones lighting is made to order and if you visit the website you will see that all items are made to order with waiting times clearly stated. One of the most popular and iconic products manufactured by this top London manufacturer are the wide range of "swing arm" wall lights which come in a range of sizes, formats and finishes. I recently acquired a pair of second hand Besselink & Jones swing arm wall lights that were removed from a large property in London, these lights have been used for around 10 years. Let's have a close look at these swing arm lights and see if we can find out what makes this top quality lighting so special.
The Denton Swing Arm Light.
Here is an image of one of the Denton wall lights showing the Art Deco styling of these top quality items.
The dimensions of the Denton light are – Height 10″/25cm Projection 6″/15cm Backplate 2.25″/6cm x 5″/12cm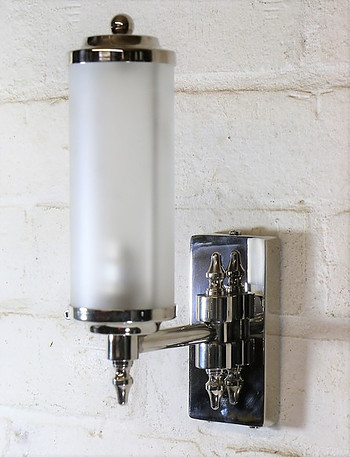 ---
First Impressions Great Build Quality.
As soon as you pick up one of these lights you are struck with an absolute feel of quality. These Denton wall lights are shown on the Besselink & Jones website as Bathroom lights and are rated to IP44. Many of the swing arm wall lights in the Besselink & Jones catalogue come with optional backplate sizes, these two lights are made with Medium backplates.There are so many signs of quality in these wall lights it is difficult to know where to start. The lights swing from a flat "on the wall" position through 180 degrees allowing them to be parked either side of the central backplate.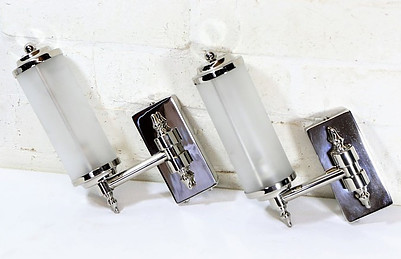 ---
Finish.
These Denton lights are manufactured from heavy quality brass that has a polished chrome finish. These lights can be ordered with a wide range of finishes from distressed brass to black bronze. These lights were found with slight surface tarnish from 10 years of use, after a very quick wipe with metal polish the polished chrome finish came back bright, reflective and looked new. The chrome finish feels thick, deep and full of quality, after 10 years of use, the finish looks as good as new.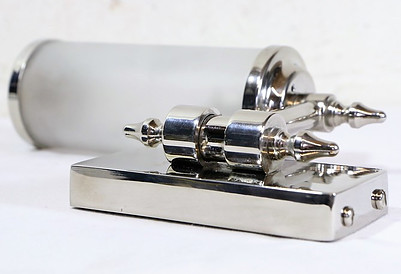 ---
Swing Arm Joint.
The swing joints on these lights are properly built and made to last, they are beautifully turned and the swing joint is massively engineered, after 10 years of use there is no play or looseness in the swing joints and they feel like they would last forever.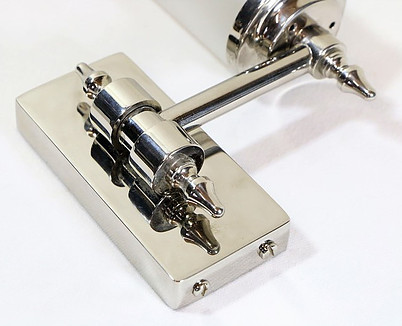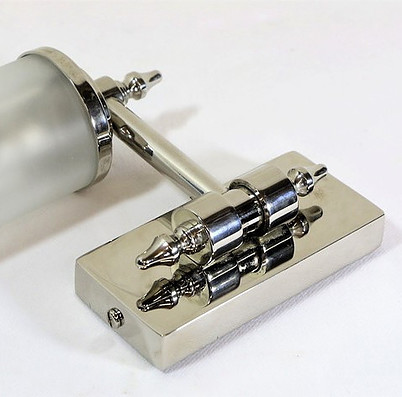 ---
Shade mounting.
These Denton wall lights come with a frosted open-ended glass cylinder shades which are clamped into position via a chromed top plate and a single chromed ball thumbscrew, it is a simple and effective shade mounting set up that is manufactured without compromise. When fitted the shade is totally secure without any chance of working loose during normal use.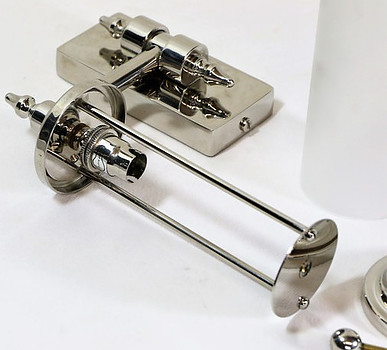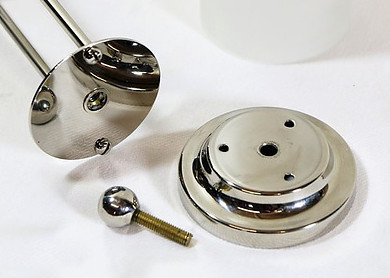 ---
Wall Mounting.
These Besselink & Jones wall lights come with a loose wall mounting bracket that is secured to the body of the light by three machine screws, two at the bottom and one at the top. When mounted the body of the lamp is totally solid, there is no movement at all and when fitted to a wall the lights are again completely solid and free of any play, the engineering tolerances in both the fit and manufacture of the wall mounting plate are as tight as you can get which is a testament to the absolute quality of Besselink and Jones Lighting, both the wall mounting plate and body of the light are manufactured from heavy gauge metals with the body being close on 2mm thick Brass.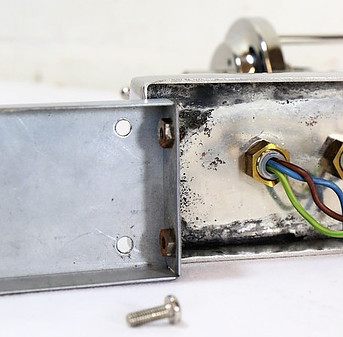 ---
Conclusion. Besselink & Jones Build Quality is as good as it gets.
The build quality of Besselink & Jones lighting is really without fault. Finish is superb, the operation of the swing arm feels as if it runs on bearings. All components are of the best quality and are married with the Besselionk Jones manufactured parts to produce the finest quality lighting. The Besselink and Jones website has hundreds of beautiful swing arm wall lights, fixed wall lights, lanterns, table lamps, chandeliers, floor lamps, lampshades and hanging lights. There is also the option of Bespoke manufactured lighting.
You can visit the Besselink & Jones website and view the wonderful range of quality lighting HERE.
If you have any questions on this review or have anything to add I would love to hear from you. If you own a piece of Besselink & Jones Lighting and would like to send me an image or two I would be happy to include them into this page.
Thank you.
michael@hertfordshire-lighting.com