Oversized Ceiling Lights. Why – How and Where.
Chandeliers and ceiling pendants have always been used for making an impact in a room. These types of ceiling-mounted lights, if chosen correctly can add impact and a key focal point to any space. When I  think of walking into a room or space that has had thought put into its design I will often remember looking up at an eye-catching ceiling light pendant or chandelier. A smart ceiling light can provide the immediate wow factor to a space which sets the tone for the room and allows the eyes naturally to work down across the remainder of the room.
After many years of small recessed spotlighting and modernist flush mounting lighting, there is a current trend back towards ceiling light pendants and chandeliers with an interest in oversized examples. An oversized ceiling light can add drama through volume, colour or sculptural effect. The oversized ceiling light is back. So what do you do if you want something with the oversized wow factor? The first thing to consider is how big you can go, and how large a light can your space take. Always think of any light you are considering in 3 dimensions – Drop from the ceiling as well as depth and width. Do not just imagen but also use realisation and if possible use an item of a similar size, such as an empty cardboard box or use a tape measure, on the floor below your mounting point to give you a real idea of how your light may look when hung in terms of volume and size and impact on your space.
In The United Kingdom, many companies exist, that have decades of experience producing quality indoor decorative lighting. In this post, I will show you some of my favourite oversized ceiling lights from one of these companies called Graham & Green. This small sample of lights will vary greatly in terms of design, colours and formats but all are large oversized lights that will add impact. Graham & Green is an independent family-run business that started in 1974 with its first shop in the trendy Notting Hill in West London. The company started its online business in 1999 and has now gained a reputation for offering unique and beautifully designed quality homewares at an affordable price. Graham & Green offers a range of interior design items and lighting including oversized ceiling lights. Below are some of my personal favourites, there are of course many more to see on the Graham and Green website.
Please Note – this post may contain affiliate links, if you purchase from one of them we may receive a small commission at no extra cost to you.
---
AMELIA CROWN CHANDELIER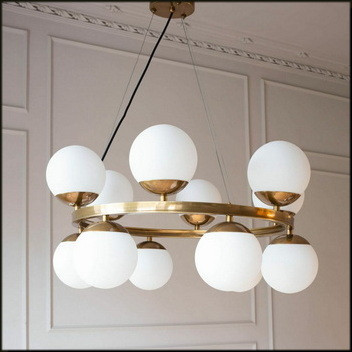 A large oversized retro-inspired ceiling light with layers of glass globes on a crown of brass, a magnificent display of mid-century-inspired design. Large in physical size and impact. 75 Cm diameter x 78 Cm Max drop
---
ANTONIO BLACK CHANDELIER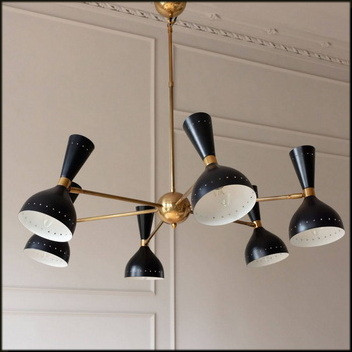 Put your home in the spotlight with the large angular black shades and bold, brass frame of this mid-century-inspired ceiling light. A sculptural piece that has a contemporary take on retro lighting design. A true giant of an Oversized ceiling light. 91 Cm Diameter x 46 Cm Long
---
SHILOH RATTAN PENDANT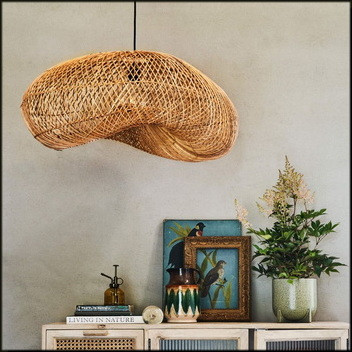 The Large Shiloh Pendant In honey-coloured rattan with a swirling organic dome design, this sculptural pendant light will suit Scandinavian sitting rooms and artistic entranceways. 70 Cm x 60 Cm X 30 Cm
---
AMELIA LARGE CHANDELIER
Another large light from the Amelia range that is bursting with retro inspiration, the large Amelia chandelier features opaque glass globes on a frame of brass, an iconic mid-century lighting design. 76 Cm Diameter x 127 Cm Long
---
BARTLETT PENDANT
This beautiful pendant is reminiscent of the Louvre in Paris with a geometric form. Although not the largest of this selection the opaque frosted glass gives the Bartlett pendant a feeling of volume and depth. Crafted from brass and frosted glass triangles, its architectural form is ideal for an entrance hall. 36 Cm Diameter x 43 Cm High
---
BRIDGERTON CHANDELIER
A masterpiece of oversized ceiling lighting, the Bridgerton will add a touch of grandeur to your bedroom, lounge or even a ballroom, this opulent chandelier is crafted from panels of glass in an iron frame with an antique brass finish. An oversized decadent centrepiece for any room. 120 Cm Diameter x 17 Cm High
---
BLACK AND GOLD CEILING DIFFUSER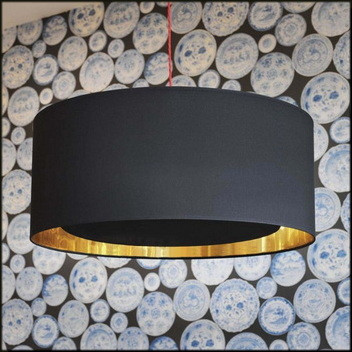 An oversized black drum shade with a matching diffuser and metallic gold inner. Perfect for toning down the glare and reducing the sharpness of your light, this ceiling shade will create a soft, cosy ambience and oversized impact in a modern living space. 70.5 Cm Diameter x 30 Cm High
---
GIOTTO STARBURST CHANDELIER

A striking chandelier featuring glass rods so that the light radiates from the centre like a glowing star. This unusual lighting design complements mid-century Atomic era-inspired interiors or adds just the right touch of celestial magic to any home. Sculptural, eye-catching and a true centrepiece. 70 Cm Diameter x 76 Cm High
---
LARGE CORRINE FROSTED GLASS CHANDELIER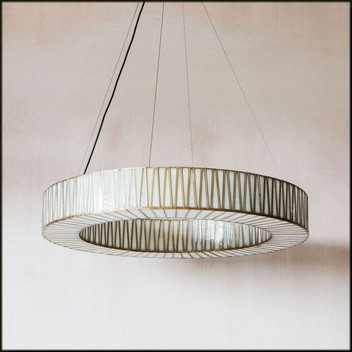 Drawing inspiration from Art Deco architecture, our Corrine chandeliers feature frosted glass panelling and gold geometric linework. This beautiful large pendant will add a touch of splendour and the wow factor to any home. Also available in a smaller size. 90 Cm Diameter x 13 Cm High
---
SHELL SPIRAL HANGING SHADE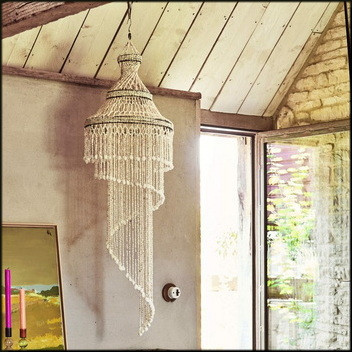 A beautiful natural pendant with a long oversized cascading pendant shade made from small sustainable shells threaded together. Transform your tall hallway or staircase into a coastal paradise with this delicate light shade.153 Cm Long x 39.5 Cm Diameter
---
JOJO CHANDELIER
A unique oversized and very striking lighting centrepiece with a mid-century edge, featuring convex glass discs within an antiqued brass finish frame. A large light in every sense. 78 Cm Diameter x 54 Cm High
---
YELLOW GLASS CIRCLES PENDANT
A bright pendant light that will bring sunshine into your interior, discs of sunny yellow glass are curved and layered into three tiers suspended on metal wiring and finished with brass detailing. An eye-catching striking pendant with a vivid lighting style for your home. 60 Cm Diameter x 150 Cm Deep
---
Conclusion
These are just a few oversized lights from Graham and Green. Hopefully, you can see how, despite the different materials and finishes, these lights all have the oversized wow factor. There are many more large lights in the Graham and Green range as well as other types of unusual and funky lighting and interior design pieces.
You can view the wide range of Graham & Green lighting by clicking HERE.

You can see my selection of Unique single pendant ceiling lights by Graham & Green HERE.

If you have any questions please do not hesitate to ask.
michael@hertfordshire-lighting.com