My guide to some of the very best & unique designer pendant ceiling lights.
Choosing a pendant ceiling light is a crucial part of the design in any space. Let's say you have spent much time, effort and money decorating, renovating and refreshing a room, ceiling lighting is often the last piece of the design to be put in place, it is also an often overlooked chance to bring your new room to a whole new level in terms of design and splendour, ok "splendour" may be overstating it but the right choice of ceiling pendant can be not just the crucial illumination of your new space but can also add to and lift the interior with an eye-catching centrepiece that will take your eye high and wide allowing your room to be viewed completely starting from the top to the bottom.
There is a huge range of ceiling pendants available on today's market, large DIY shops sell large ranges of ceiling lights that are often very similar in design and finish and don't add anything unique to the choice available to you. Online there are some large retailers of homewares who offer a good range of what is called designer lighting, much of this lighting is very good and will do a good job and will also look ok. But what if you want something really unique, something different that will really be the statement piece that finishes off all your hard work and time and provides the "wow factor" when you first walk into your space? Luckily there are some fantastic UK companies who have decades of experience in hunting down materials and incorporating them into their own unique designer ceiling light designs.
I am going to show you some of my favourite unique designer pendants from one of these companies called Graham & Green. Graham & Green is an independent family run business which started way back in 1974 with its first shop in the now trendy Notting Hill in West London. The company started its online business in 1999 and has now gained a reputation for offering unique and beautifully designed quality homewares at an affordable price. Graham & Green have a fine range of lighting including these beautiful and of course unique designer ceiling pendants.
Here are my favourite pendants from Graham & Green, some are classic, some are modern and some are quirky but they are all unique.
Please Note – this post may contain affiliate links, if you purchase from one of them we may receive a small commission at no extra cost to you.
---
The Pallas Pendant.
The Pallas pendant is a beautiful and unique handcrafted light. Made from worked iron with an antiqued brass finish, the Pallas pendant features rows of individual iron discs hung within a cylindrical frame. The three lamp holders provide good illumination and an interesting lighting effect and profile.
Height is 30 Cm x Diameter of 32cm.
---
The Glass & Brass Rod Pendant Range.
A stunning & unique brass pendant with an antiqued brushed finish, the brass frame holds an array of clear glass rods which provide a clear ambient type light with shadowing and wonderful profiling.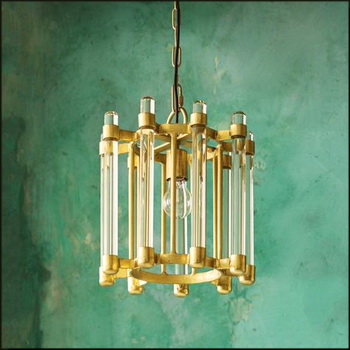 Dimensions vary depending on model.
---
The Melon Pendant range.
One of my favourites and a great choice for an added touch of eastern ethnic charm, a large and wonderful ceiling pendant featuring a rustic brass finish and curved details. The light has an Antiqued finish which adds to the statement wow factor of this unique pendant.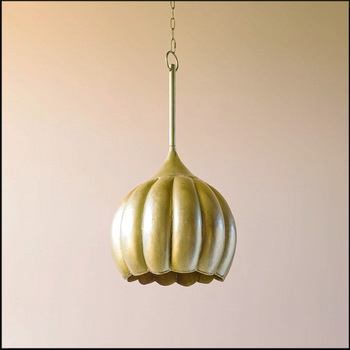 Large Shown – Height 50 Cm x Diameter of 50 Cm.
---
Halo Brass Pendants.
These Halo pendants have a futuristic appearance, these statement Halo pendant lights feature a dramatic layered design, available with either five or seven tiers. Crafted from iron with an antiqued brass finish, these striking ceiling lights are great eye-catching centrepieces which provide a great looking lighting effect and profile.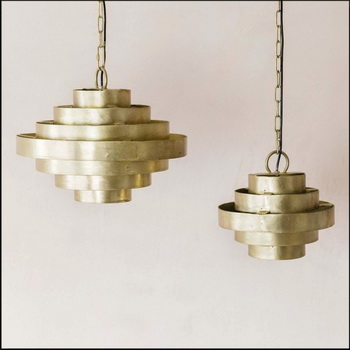 Small – Height 22 Cm x Diameter of 30 Cm.
Large – Height 30 Cm x Diameter of 47 Cm.
---
Perrie Glass Pendant
A stunning & unique faceted light pendant with a geometric glass and bronze frame. The Perrie pendant produces an attractive reflective lighting effect, ideal for a hallway, landing or bedroom space where the bronzed frame will add detailing to the generous glass illumination surface.

Height 25 Cm x Diameter of 25 Cm.
---
The Volieres Birdcage Pendants
The truly unique and delightful Volieres Bird Cage pendant is perfect for those who want a touch of the eccentric in their space. The wire cage is home to a menagerie of pretty coloured birds made from real feathers. The Birds are handmade from ethically sourced, real feathers. As each pendant is individually hand made the colours and assortment of birds will be different from pendant to pendant.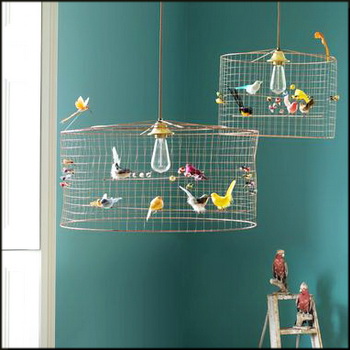 Dimensions vary depending on model.
---
Black And White Glass Pendant
The black and white classic monochrome pendant is made from opaque white glass with a slim black metal band. An instant classic with a touch of Art Deco about the colour and profile, this minimalist ceiling light creates functional yet stylish illumination, perfect over a dining table or in a modernist styled lounge.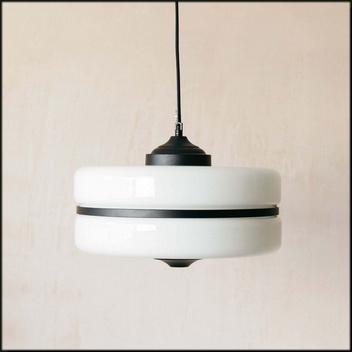 Height 19 Cm x Diameter of 40 Cm.
---
Kiara Pendants
The Kiara hanging pendant lamp is made from metal with an antiqued bronze finish. This unique light is handmade in Kerala south Indian using traditional crafts. Each light is unique with the hand made detailing making each one slightly different.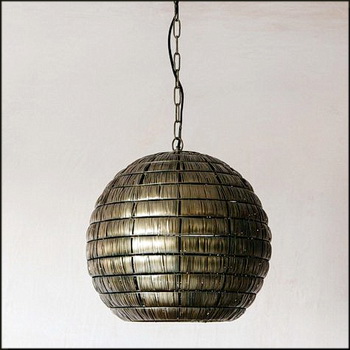 Dimensions vary depending on model.
---
INKO Glass Lantern Pendant Light.
The Inko Glass Lantern Pendant Light makes the perfect choice for a hall or living space. The vintage industrial inspired design will bring a stunning impact and warm glow to your room.
Height 34 Cm x  34 Cm Square.
---
Grand Bronze Paris Pendant in a Holophane Style
A contemporary take on a classic and traditional Parisian holophane style glass lampshade. This unique pendant is evocative of light fittings founds in the classic brasseries and bistros of Paris. The pendant has a wide bowl shape, with subtle grooves and a thick rim, this glass pendant shade will cast light elegantly throughout your home using the prismatic style surface to soften the lighting effect The Paris pendants from Graham and Green are based on antique Holophane lighting. You can read more about Antique Holophane lighting in my guide HERE.

Height 32 Cm x Diameter of 38 Cm.
---
Hestia White Glass Pendant
The Hestia is an absolute classic of art deco design, it has sculptural stepped detailing to the glass and the polished chrome gallery. Perfect for adding warmth and Art Deco character to your space. This 1920s based design lends itself to both period and modern settings. A unique take on a classic shape.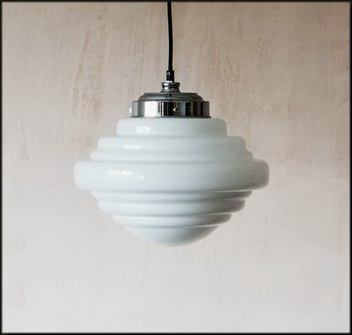 Height 29 Cm x Diameter of 32.5 Cm
---
The Bamboo Pendant
A Classic and unique Retro Scandi-inspired ceiling pendant crafted from natural bamboo with a layered, cut-out design. The bamboo provides a great profile and is perfect for casting light elegantly throughout your interior space. The bamboo provides shadowing and profiling when lit and lends itself to areas where a touch of unique lighting atmosphere is required.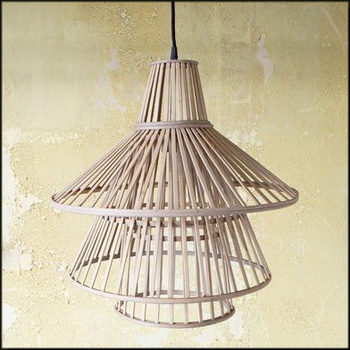 Height 51 Cm x Diameter of 49 Cm
---
Conclusion
I hope that you have found my choice of Graham & Green unique designer ceiling pendants interesting and that it may inspire you to explore the world of lighting for something unusual, different and unique to finish off your space.
As always if you have any questions please do not hesitate to ask.
michael@hertfordshire-lighting.com
---