Habitat
Habitat is a name linked with a modern & contemporary design ethos. From its very beginnings in 1964 Habitat has built a reputation for providing design-led products of furniture, homeware and contemporary lighting. Started in 1964 by Terence Conran Habitat offered a new and "European" way of shopping and new and exciting range of products including a range of Habitat lighting. The first Habitat store to open was in Fulham in South West London. The store quickly became a success as it offered new & exciting designs in a wide range of everyday products and homewares. Habitat gave a new lease of life and offered new and funky designs to many household items that had, in post-war Britain, become staid and predictable.
The Iconic Terence Conran Mac Lamp
During the 1960s Habitat launched a new, unique and funky desk lamp that was set to become a design classic. The lamp was named the Mac Lamp, a design by Terence Conran himself. The Mac Lamp was a simple and practical design, the lamp had a small yet heavy weighted base that has a pressed metal cover, the shade was made from spun alloy with the shade and base being finished in a range of simple plain and often bright colours. The arms that connected the base and shade were originally made of plain wooden sections that had three adjustment points where the angle and reach of the lamp could be easily and simply changed by adjusting small metal thumbscrews.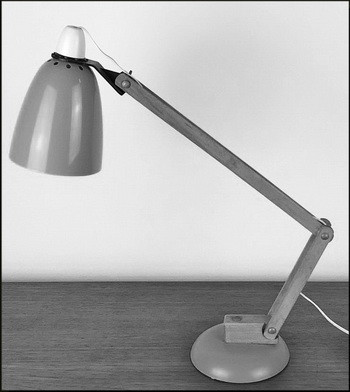 Here is an old image of an early Terence Conran Mac Lamp with wooden arms.
The Mac Lamp went on to become a modern design icon. Its shape and simple pleasing lines made the lamp an almost instant classic. Today second-hand examples continue to sell for high prices across the globe, they are a true classic of modern British lighting.
---
Buying a modern Habitat Desk Lamp.
Habitat continues to produce a fine range of design lead desk lamps which, like the original Terence Conran Mac Lamp, are offered at really affordable prices. The modern range of Habitat desk lamps are unique and have great looking lines and profiles as well as being highly practical pieces of modern lighting. Will any of today's Habitat lamps go on to become a design Icon like the Mac Lamp?  It may be doubtful, however, there are some fine modern Habitat desk lamp designs with some having been in production for some time so you may be buying a future classic. It is also worth remembering that Habitat offers exclusively "in house" designs that you will not find at another retailer. There are many excellent offerings in the range of current Habitat desk lamps. Here are my favourites from the range, this is my list and is very much driven by design and style. These lamps are all very affordable, practical and flexible in use.
---
The Bobby Desk Lamp.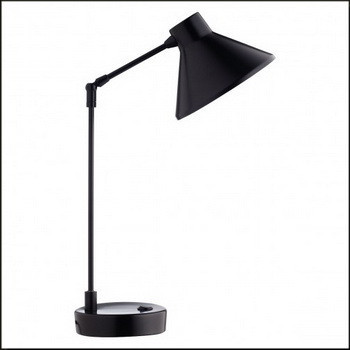 Width 16 Cm x Height 54 Cm x Depth 25 Cm
A Habitat classic and already a bit of an Icon in the world of affordable desk lamps. The Bobby desk lamp is made of metal and comes in a variety of powder-coated colours. The lamp can also be used as a table or bedside lighting source. The Bobby features a single jointed slim stem and adjustable head to allow light to be directed where required. This is part of the Bobby desk and floor lamp collection designed by and exclusive to Habitat.
---
The Bobby Clamp Desk Lamp.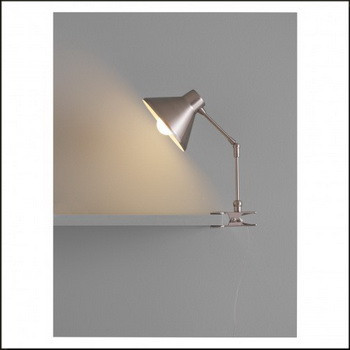 Width 15 Cm x Height 42 Cm x Depth 24 Cm.
Another version of the Habitat classic, the Bobby clamp desk lamp is shown here in brushed steel. The handy clamp feature allows the lamp to be fixed onto a table edge, shelf or headboard. Featuring a single jointed slim stem and adjustable head to allow light to be directed where required. The Bobby desk and floor lamp collection are designed by and exclusive to Habitat and available in various colours.
---
The Dean Wooden Desk Lamp.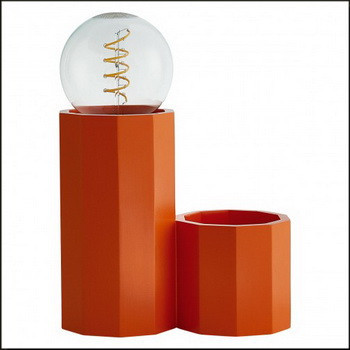 Width 19 Cm x Height 18 Cm x Depth 10 Cm
Cleverly designed, the Dean wooden desk table lamp orange doubles up as a storage pot for pens or a phone, making it perfect for smaller spaces. Created in the Habitat design studio by James Cottingham, the lamp features a contemporary faceted wood design and is completed with a matching orange fabric cable to make a striking accent to any interior. The lamp's dual-purpose design is great for placing on your desk or bedside table. Pair with a decorative bulb for maximum impact.
---
The Dotty LED Touch Operated Desk Lamp.
Diameter 15 Cm x Height 30 Cm
The Dotty Black LED touch desk lamp is a streamlined contemporary design with a flexible gooseneck to direct light exactly where it's needed. Turned on and off by touching its head, the lamp has long-lasting, energy-efficient integral LED bulbs and can be positioned on a desk or shelf.
---
The Eero Desk Lamp.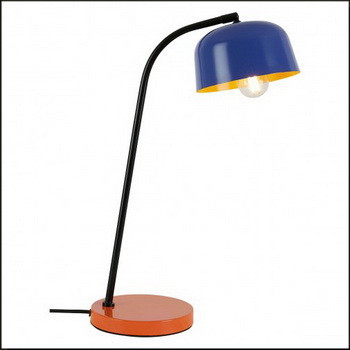 Width 15 Cm x Height 52 Cm x Depth 29 Cm
In an iconic Habitat colour palette, the Eero multi-coloured desk lamp will bring visual interest to a home office or bedroom. Another original Habitat design, this lamp's fun design has an adjustable head to direct light where required. Perfect for small spaces, Eero is also available as a floor lamp.
---
The Hume Desk Lamp.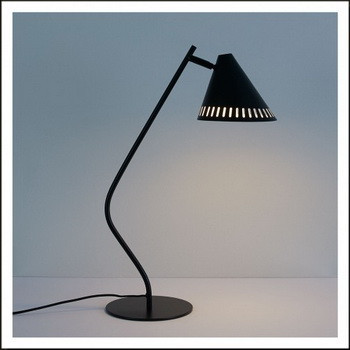 Width 38 Cm x Height 61 Cm x Depth 20 Cm
The Hume metal desk lamp black is a sculptural light designed for impact. The Hume has a fantastic profile and shape. With a thin metal curved base and matt black metal shade, the design will add a contemporary feel to any room. Designed in the Habitat studio by James Cottingham, the oversized desk lamp looks great in a home office and has an adjustable head meaning you can direct light where you need it most. Part of the Hume range, it's also available as a floor lamp.
---
The Lizzie Desk Lamp.
Width 12 Cm x Height 17 Cm x Depth 32 Cm.
The Lizzie orange metal desk lamp is a fun design with vibrant colour, distinctive 'kneeling' shape and a contrasting grey herringbone fabric cable. A classic Habitat Retro colour adds to the appeal of this design. The lamp adds visual interest to a desk or bedside table and its head is adjustable for focused light where it is most needed. A pale grey metal Lizzie desk lamp with an orange herringbone fabric cable is also available.
---
The Olley Desk Lamp.
Width 12 Cm x Height 18 Cm.
Another Habitat Exclusive. The Olley is a white metal desk lamp will give your home office a stylish and retro 1970s feel. With its small proportions and sleek matt white finish, Olley casts a direct light and is a practical solution for a desk or bedroom. An affordable design, this lamp is perfect for small spaces and will suit any interior style and adds a Retro look to any desk.
---
The Rafi Desk Lamp.
Width 12 Cm x Height 34 Cm x Depth 18 Cm
Designed by and exclusive to Habitat, the Rafi dusty pink and grey metal desk lamp's pared-back design and striking palette make a strong style statement. Shown here in Dusty Pink the Rafi light is also available in other colours and sizes.
A Modernist Compact lamp with proportions that make it make ideal for a desk, bedside table or small space.
---
The Renzo Black Desk Lamp.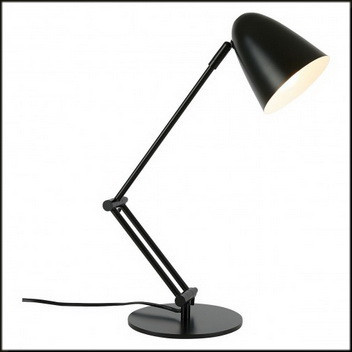 Width 16 Cm x Height 53 Cm x Depth 16 Cm

A classic lamp in a Retro design. Adjustable at both the head and the frame, the Renzo black metal desk lamp can be angled to shine light where needed. Created in the Habitat design studio, this lamp's double bar design adds interest to your space and is the perfect addition to a home office.
---
The Habitat Tommy Lamp.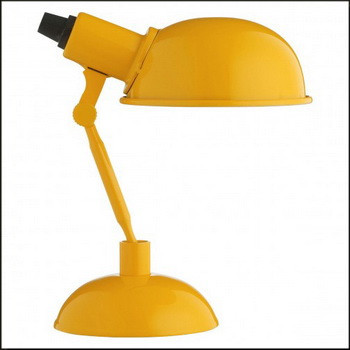 Width 18 Cm x Height 24 Cm x Depth 12 Cm
The Tommy is already an Icon. A lamp that evokes the vibe of early 20th Century Bauhaus lamps and lighting.
A Habitat classic Tommy desk lamp in yellow powder-coated metal, with an adjustable arm and a round head, to direct light where required, making it a perfect task light. This lamp can be used as a table, desk or bedside table lamp. Part of the Tommy desk and floor lamp collection designed by and exclusive to Habitat and available in various colours.
A Design Classic? – Yes. Because it's in the style of an anglepoise without the angles – its rounded features give this little character a little extra… character! This edgy, eggy yellow lamp suits muted schemes and colour-filled rooms alike. Perfect for desks, side tables, console tables or bedside tables, the Tommy Has an honest, robust feel, thanks to its exposed joints.
---
Conclusion.
Choose a Habitat desk lamp and for a highly affordable price, you may well be investing in a future classic. A real plus of the Habitat lighting range is the way that desk lamps can be added to with floor, table and clamp lamps of the same design allowing a theme to run through your new lighting design.
Habitat has always offered products that are led by design, they have a wide range of in- house designs and Habitat exclusives which will only be found at the Habitat website and in Habitat stores. The hidden and often overlooked gem of Habitat is affordability, the range has something for all pockets.
My overview of the other types of lighting offered by Habitat can be viewed HERE.
The Habitat Website can be viewed HERE
I hope you have found the Habitat range of designer desk lighting of interest.
As always if you have any questions please do not hesitate to ask.
Michael Adkins. michael@hertfordshire-lighting.com