Vintage Industrial Ceiling Lights.
Vintage industrial ceiling lights have been popular for decades, there is a wide range of companies offering industrial ceiling lighting fixtures that have been renovated and made safe for modern use. There are also large numbers of vintage industrial ceiling lights available on sites such as eBay and Etsy. If you shop carefully you will be able to find a vintage industrial ceiling light that needs restoring, renovating such an old light is really "green" and will provide you with a great sense of satisfaction.
This is the story of a recent renovation that I carried out on a "different" industrial flush mount ceiling light. This is an unusual light with a heavy flush mounting ceiling rose, a large iron mounting bracket that holds an adjustable large metal light. The light is very different and would have been used with a high wattage and very high heat output industrial bulb.
These early and mid-century industrial ceiling lights were well made and were built in a period when cutting corners was not involved in manufacturing. Industrial ceiling lights of this period were built to last with an all-metal construction made to take knocks, bangs and to be covered in the airborne debris of factories and manufacturing plants.
The Project.
I recently picked up this Vintage early 20th-century Industrial ceiling light that had sat untouched and unloved for decades at the back of an old factories mezzanine floor. This light dates back to the pre-WW2 period, it is engineered to a high standard from heavy gauge metal with brass fittings and tank-like construction. Originally this light would have been used with a glass lens which is now missing, on the body of the ceiling light there are several heavy chromed vents which were fitted to take bulb generated heat away from the inside of the light. The light has an internal enamelled metal reflector. Adjustability on this old light was via some old brass and steel thumbscrews. This fascinating old light has many knocks and bumps as well as a finish that has fine surface corrosion, the light has its original heavy copper wiring fitted as well as the remnants of a high heat bulb. The light is in very poor condition, at a first glance it appears to be ready for the recycling centre but if you look at this piece of vintage historical lighting with a thought to the possibilities of reusing the light then ideas will often come to mind.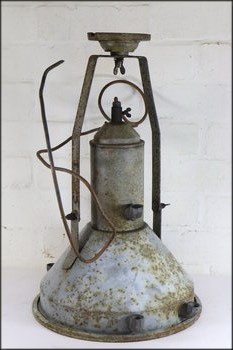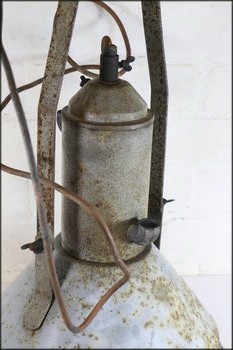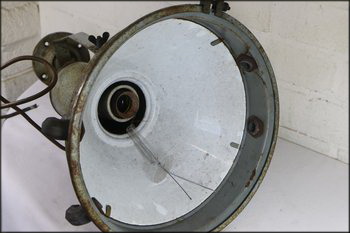 Here are some images of the ceiling light as found. Despite the corrosion, dirt and poor looking condition this great old flush mounting industrial ceiling light will make a really interesting and challenging restoration project.
---
Stripping.
The first place to start with a restoration project like this is to strip it into its component pieces, this light is well made and was held together with large nuts, bolts and machine screws. The wiring, old lamp holder and of course the remnants of the bulb were removed and disposed of. On close inspection it was clear that the standard of construction on this vintage light was extremely high, this was made to last and to survive knocks and hard use, this quality of manufacture gives the light a great start when it comes to restoration.
The component parts ready for cleaning and rebuilding.
The first job was to free up the nuts bolts and thumbscrews that provide the adjustability of this light, these points were soaked in a quality penetrating oil and left for 10 minutes, once these were freed up the parts were cleaned with oil, scrubbed and rubbed down with fine wire wool. Once the light was degreased and cleaned many little signs of the life of the lamp were revealed. The next big question was regarding the finish. The light has a pale grey painted finish across all the steel parts, the finish looks dirty, corroded and unappealing, one option is to strip the paint and burnish the steel to provide a metallic industrial look. I wanted to keep this great old light as original as possible so I tried a test on the finish with an ultra-fine wire wall and paint cleaner and to my surprise, I was pleased to find that the painted finish started to shine, it appeared to be a pale typical industrial grey type colour so I made a decision to keep the painted finish in place and keep the light as original as possible. I also decided to buff and lightly polish the metal accessory parts to provide contrast points to the original painted finish.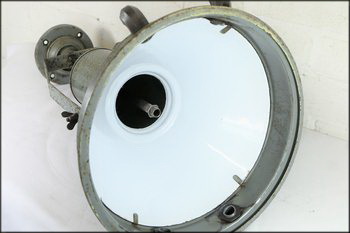 Here are the cleaned parts of the lamp ready to be reused.
---
Rebuilding & Wiring.
The next task was to figure out how to run the new wiring.
Note – If you are carrying out a rewiring project like this there are a few points to remember and to incorporate into your project.
• Make sure you use components that meet the safety standards in your country
• In the UK earthed (grounded) wiring must be used with metal components.
• Make sure the wiring route avoids sharp edges and use plastic grommets or sheathing for cable protection.
When fitting new wiring to a project like this it is best to use industry-standard components, threaded tubes are widely used in vintage and modern lighting, this tube is 10mm in diameter and is often called all-thread, it is used with 10mm nuts which allow flexibility and provide a wide number of options when it comes to lighting renovation.
On this restoration I found that some of the original components could be reused, the original ½ Inch threaded tube was cleaned and re-employed as the mounting point for a new brass earthed bulb holder.
After rewiring the lamp was sealed and protected with wax. I use a top-quality wax for this purpose which is called "Renaissance Micro Crystalline Wax Polish" – This is the best wax finish for such a project as it cleans, protects and brings out texture and colour from any material, it is used and recommended by top museums. It is expensive but a little goes a long way and it is definitely worth the cost.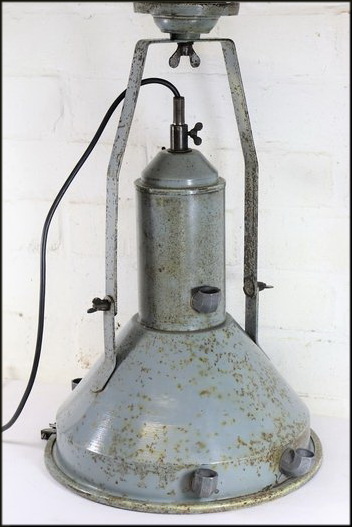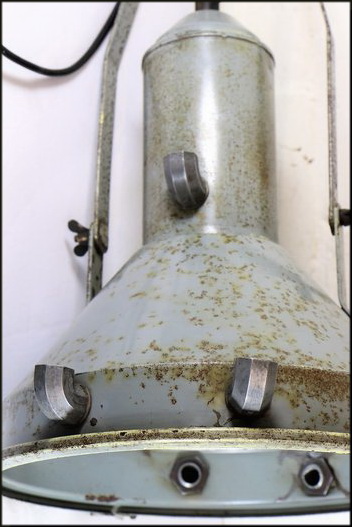 Here are some images of the cleaned, waxed and completely restored vintage industrial ceiling light, lights like this are rarely seen making this a one-off piece of antique industrial ceiling lighting. The mounting point of this light could be bolted to a heavy wooden base converting the light to a large floor standing spot lamp.
---
The light in use.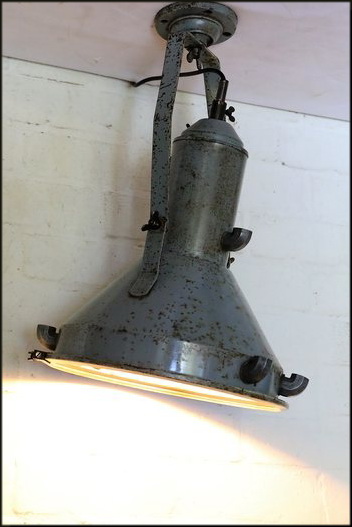 When lit and in use you can see how the design of the light comes into play with the heavy white enamel reflector producing a great looking spot lighting effect.
Converting this light took quite some time with cleaning, oiling and surface finish renovation, the remainder of the restoration was quick and very economic, I would always encourage anyone to have a go at a project like this, there is nothing like getting your hands dirty and having the satisfaction of bringing new life to an old and forgotten piece of lighting.
If you are interested in more Industrial lighting renovation projects you can read theme from the following links.
If you fancy owning a piece of ready restored original Vintage industrial lighting I would recommend you to view & browse the offerings at the wonderful Vinterior website. You can view the Vinterior lighting selection HERE. 
Conclusion
I hope you like this restoration project, I am very pleased with the result and the way the revived industrial ceiling light looks original and true to its original use.
Materials – Wire wool. Penetrating and cleaning oils. Cleaning and Finishing Wax. Earthed Wiring. Earthed Brass bulb holder. Various wiring sundries.
Time Spent on the lamp – 5 Hours.
I often have several Vintage Industrial items for sale in my eBay shop here – Hertfordshire Lighting and Design.
I would love to hear from anyone who has performed a similar restoration project; it's always great to share ideas with other people.
If you have any questions or need advice on any item of Vintage lighting please contact me and I will do my best to help.
Michael Adkins. michael@hertfordshire-lighting.com