Bella Figura Lighting – The worlds most beautiful lighting.
Bella Figura an Italian phrase that translates loosely as "The Beautiful Figure" or "A Fine Appearance or Impression" as you read this post maybe you will agree with me that these translations are very appropriate for the Bella Figura Lighting Company.
Bella Figura is a name that may not be known to many people outside the world of high-end interior designers. They specialise in working with the world's leading interior decorators, architects. Bella Figura lighting can be found in some of the worlds top-end luxury hotels and has been employed and specified by the worlds best property developers, yacht builders, architects and organisations involved with the interiors of high profile and prestigious lighting projects. Bella Figura state that they are one of the world's hidden luxury brands – known only to the most discerning. They are without a doubt one of the world's top-end and most exclusive decorative lighting companies. Bella Figura has an extensive product range with designs that cover many styles from traditional Antique designs to more much contemporary lighting. Every piece of Bella Figura lighting I have seen has been top quality both in build and design. Bella Figura products are made in both the UK and in Italy. The main showroom is in Chelsea Harbour London and the company is represented widely across North America.
Bella Figura is one of the companies on my list of the Best Quality UK Lighting Manufactures and Retailers – You can view my list here.
Recently I have been lucky enough to find three quite beautiful Bella Figura toleware wall lights with a gilt finish, here is my review of these top-end wall lights.
Bella Figura Gilt Toleware Garland Design Wall lights.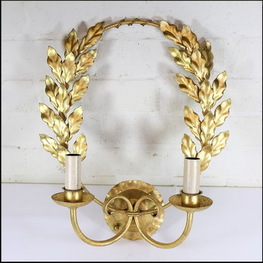 The main area that hits you when you handle these wall lights is that the design, scale, pattern and finish just feels correct with all elements of the design working together. These toleware lights are a modern interpretation of a classic Antique wall sconce and somehow Bella Figura has nailed this design beautifully. These are large wall lights with overall dimensions of 39 Cm in Height x 32 Cm Wide, the large size of these lights makes them perfect for statement lighting on a wide wall or in any large space.
---
Build Quality.
These lights are very well made, hand-built from metal with a few small signs of manufacture and a solid "last a lifetime" feel to the metalwork. The lights come with separate wall mounting brackets which appear to CNC stamped from heavy gauge metal, the body of  the wall lights attach to these wall mounting plates by two small dome-headed gold gilt finished thumbscrews, this small detail adds greatly to the look of the lights as when mounted there will be no screw heads of fixings showing. The wiring on these lights is good and well protected. The lights have two small screw fit bulb holders and an earth/grounding wire permanently fitted to the backplate of the light fitting.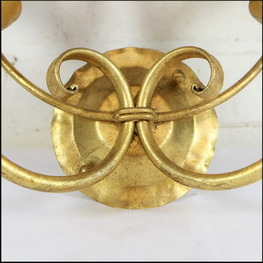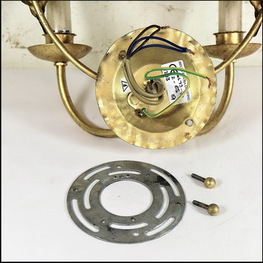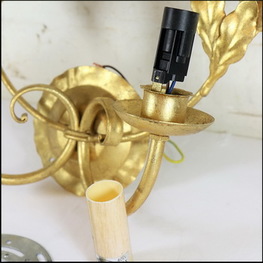 ---
Finish.
These Bella Figura wall lights are manufactured entirely from pressed steel and steel tubing, the pressed garland leaves are welded into position and everything is very solid. The finish of a wall light like this is absolutely crucial. On these lights the metal has been given a gilt aged gold finish, the finish appears to be in two or possibly three parts and the final look is really effective and provides the antique design of the wall lights with a matching aged finish.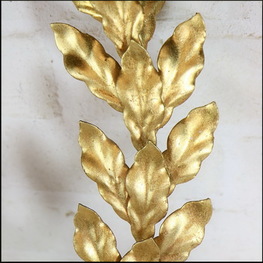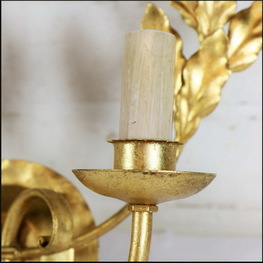 ---
In Use.
These wall lights can be used in two ways.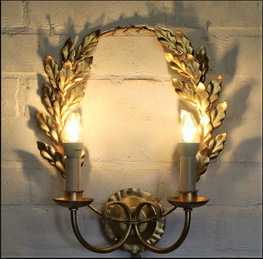 Here we can see one of the lights used without lampshades as "bare bulb" lighting. In this image we can see that the most is made of the profile of the garland design with clearly defined shadows & reflections back to the mounting wall, with this option of bare bulb lighting it is always worth playing with different brightness of bulbs until you find the look that best suits your setting.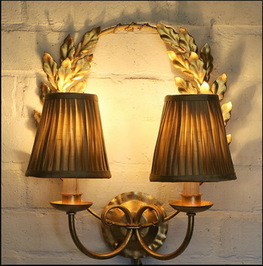 In this image, we can see one of the lights used with clip-on half-round pleated fabric lampshades, with these classic wall mounting lampshades the emphasis of the lighting effect is based more to the centre of the garland design, the shadowing is slightly reduced but the shape of the lights metalwork is more clearly defined with a bit more of the finished texture coming into play.
---
Conclusion.
The build quality of Bella Figura lighting is very high and the range of finishes is superb. To my mind, the real selling point of the Bella Figura range of lighting is in the design of the products. The Bella Figura website proudly claims "the worlds most beautiful lighting" and to be honest it is difficult to disagree as there is something inherently right about Bella Figura designs. The thought, design flare and passion that goes into the design of these wall lights is quite apparent, these are statement pieces of quality lighting that will add a touch of luxury to any space.
The Bella Figura website has hundreds of beautiful items of lighting, fixed wall lights, lanterns, table lamps, chandeliers, floor lamps, lampshades and hanging lights. The Bella Figura website has some wonderful descriptions associated with the products and excellent images of the various ranges that they manufacture. The Bella Figura website is well worth a visit just to view the beautiful designs, images and descriptions.
You can visit the Bella Figura website and view the wonderful range of quality designer lighting HERE.
---
If you have any questions on this review or have anything to add I would love to hear from you. If you own a piece of Bella Figura Lighting and would like to send me an image or two I would be happy to include them into this page.
I have many items of interesting and varied types of lighting for sale in my eBay shop which can be visited HERE
Thank you.
michael@hertfordshire-lighting.com