OKA the Company
OKA is one of the UK's leading "lifestyle" brands. The company offers a wide range of homewares from faux flowers through to furniture, textiles and of course lighting. The OKA idea was founded by Annabel Astor in 1999, Annabel formed the OKA brand an company with her sister-in-law Sue Jones, and friend Lucinda Waterhouse. The three-woman team behind the OKA name all offered different skills and experience in design and marketing. The company specialised in the early days in designs that were inspired by the far east and bought new and fresh ideas and products to the world of UK interior design. During 1999 OKA direct was launched as a mail order interiors company. The first catalogue had designs endorsed by two leading British designers – Jane Churchill and Bruce Oldfield. In 2000 OKA opened the doors to its first shop in Parson's Green, West London. OKA stores went from strength to strength and can now be found in 14 locations across England. OKA launched its first website in 2001.
OKA is one of the companies on my list of the Best Quality UK Lighting Manufactures and Retailers – You can view my list here.
OKA Lighting.
OKA offers a wide selection of lighting, from ceiling lights through to table lamps and candle holders. The ranges vary from traditional through to contemporary designs. The one thing that links all OKA lighting is the uniqueness and quality of the designs as well as a very high build quality as you would expect from a premium brand.
---
My review of the beautiful looking OKA Patera Toleware table lamp.
First Impressions.
The Patera lamp by OKA is based and built like an Antique Toleware lamp, Toleware is now used as a general term for items made from sheet metal original Toleware was japanned (varnished) tinplate and pewter. The term is derived from the French name for such objects, tôle peinte. The tinplate sheets of iron or steel dipped in molten tin or pewter were worked into a variety of domestic and decorative items, such as teapots, trays, urns, candlesticks and lighting. This lamp has a square form with chamfered corners and a lidded top. The design is after an Antique toleware tea or storage canister. This lamp has an impressive size and form, the Patera lamp is 43 cm overall in height and is  18 Cm Square making it a larger statement lamp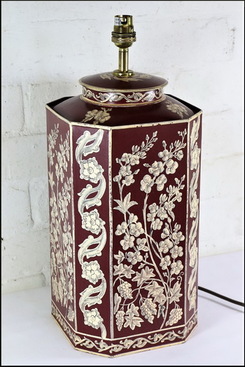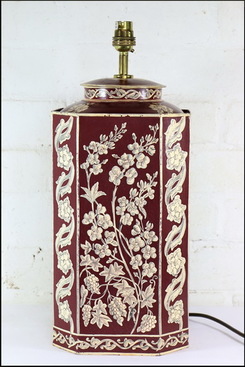 ---
Build Quality.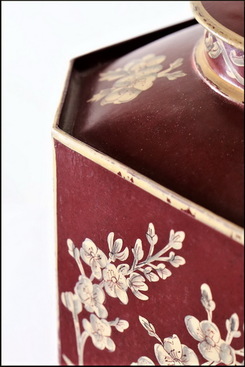 This is a very well made table lamp. The lamp is made from decent gauge steel with rolled edges and no signs of brazing or welding, each edge is well finished with no sharpness and with a smooth and tactile feel. Despite being made from sheet steel the base dimensions make the lamp stable and solid. The wiring on this lamp is good and well protected. The lamp has a brass BC bulb holder with an inline switch fitted in the earthed wiring, the lamp also has a quality moulded plug fitted.
---
Finish.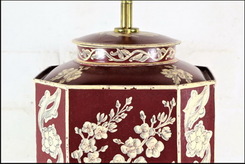 This lamp has a dark red Ox Blood type first paint coat that appears to have a slightly textured finish. The star of the finish on this lamp is the hand-applied painted decorations. The decorations are carried out in cream paint with fine gold detailing and dark lowlights giving the painted finish good depth. The Patera lamp has all of its construction joints picked out in cream paint which adds to the depth and visual impact of the shape and size of the lamp.
---
In Use.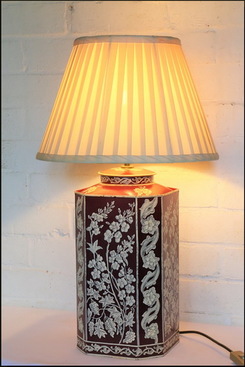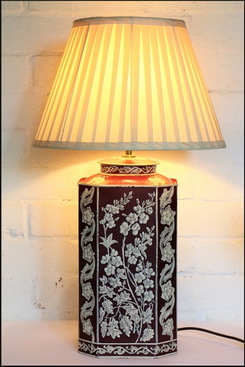 Here we can see the Patera lamp is used with a simple pleated neutral shade, when lit the painted decorations stand out beautifully and the neutral shade shown takes nothing away from the design of the lamp and allows it to shine.
---
Conclusion.
The build quality of all OKA lighting is very high and this lamp is no exception. This is a fine example of modern lighting that has used an Antique manufacturing form and design to create something unique and high end
The OKA website has hundreds of beautiful items of lighting as well as furniture, textiles, interior design objects and garden ware. The OKA website has some truly wonderful items of homeware, also on the OKA website you will be able to view the online OKA magazine which has a host of ideas showing items from the OKA range paired and used together to create fantastic looking interiors.
You can visit the OKA  website and view the wonderful range of quality designer lighting and other items HERE.
I have many items of interesting and varied types of lighting for sale in my eBay shop which can be visited HERE
If you have any questions on this review or have anything to add I would love to hear from you. If you own a piece of OKA Lighting and would like to send me an image or two I would be happy to include them into this page.
Thank you.
michael@hertfordshire-lighting.com