OKA
OKA is one of the UK's leading "lifestyle" interior brands. The company offers a wide range of homewares from faux flowers through to furniture, textiles and a large, varied and beautiful range of lighting. The OKA idea was founded by Annabel Astor in 1999, Annabel formed the OK brand an company with her sister-in-law Sue Jones, and friend Lucinda Waterhouse. The three-woman team behind the OKA name all offered different skills and experience in design and marketing. The company specialised in the early days in designs that were inspired by the far east and bought new and fresh ideas and products to the world of UK interior design. During 1999 OKA direct was launched as a mail order interiors company. The first catalogue had designs endorsed by two leading British designers – Jane Churchill and Bruce Oldfield. In 2000 OKA opened the doors to its first shop in Parson's Green, West London. OKA stores went from strength to strength and can now be found in 14 locations across England. OKA launched its website in 2001.
OKA Lighting.
OKA is one of the companies on my list of the Best Quality UK Lighting Manufactures and Retailers – You can view my list here.
OKA offers a wide selection of lighting, everything from large ceiling lights, pendants, lampshades and wall lights through to table lamps and candle holders. The ranges vary from traditional through to contemporary designs. All OKA lighting is of the very best quality. OKA designs are beautiful and unique with high build quality as you would expect from a premium brand. At the OKA website, you will be able to view a wide range of beautiful table lamps, OKA manufacture table lamps made from a wide range of materials. Ceramic table lamps are always popular and OKA offer a fine and varied range of ceramic table and desk lighting.
Below I am going to show you my favourite twelve Ceramic lamps from the OKA range.
---
The Duffey Table lamp.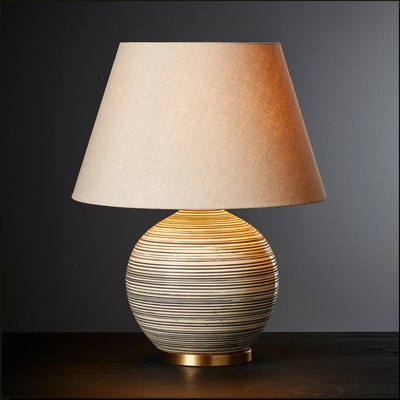 Height 44 Cm x Diameter 35 Cm
A lovely large lamp with an Ethnic feel. Finished in charcoal and cream, this striped ceramic table lamp's curvaceous silhouette reminds us of an onion. It's been said that onions are great for keeping colds at bay, as they purify the air and draw out toxins. This ceramic lamp may not have this effect on your interiors, but it will provide a lovely, ambient glow and create a focal point in your space.
---
The Kutcharo Table Lamp.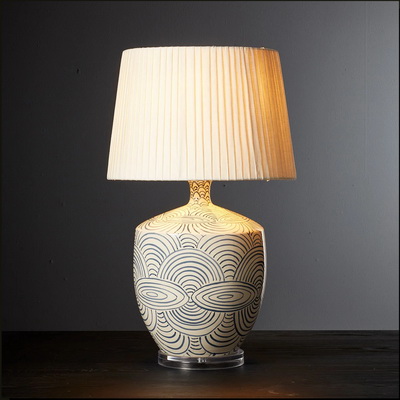 Height 49 Cm x Diameter 30 Cm
The blue and white painted pattern adorning this large ceramic table lamp reminds us of early Japanese art, which is why OKA named the design after a beautiful lake in the land of the rising sun.
---
The Calabash Table Lamp in Saffron.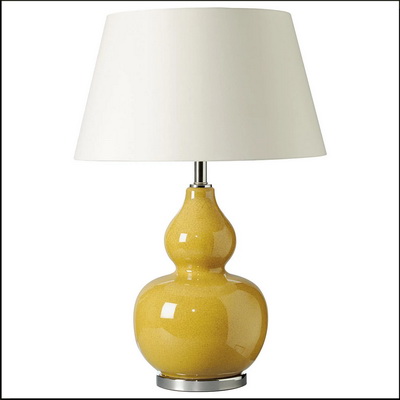 Height 42 Cm x Diameter 28 Cm
A beautifully shaped, curvaceous table lamp made from ceramic in a rich Saffron colour, with a polished nickel stand and light fittings. This lamp works well on a console in a hallway – and creates a talking point for visitors. Please note that each of these lamp bases is hand-glazed and fired and as a result, the colours and crackle glaze will vary. No two lamps will have an identical finish.
---
The Hulu Lamp shown in Chalk White.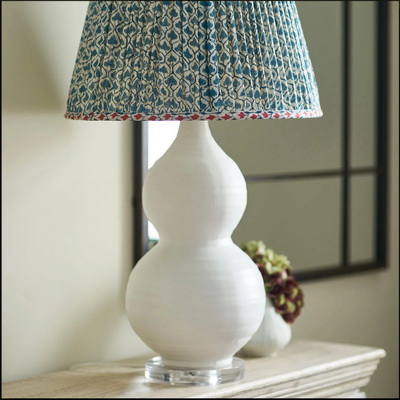 Height 52 Cm x Diameter 23 Cm
A large hourglass-shaped ceramic lamp, with an acrylic stand. Hand-made then finished in a beautiful chalk-white glaze. With a pleasing silhouette and subtle matt patina, this show-stopping lamp will look at home on a console table or sideboard and could be paired with a plain or patterned lampshade. The Hulu is available in a range of colours.
---
The Mertensii Ceramic Table Lamp.
Height 28 Cm x Diameter 36 Cm
The Mertensii Table Lamp may look as if it's been plucked straight from the Pacific Ocean with its bubble glazed surface, but we can assure you that it is ceramic. Its bold squat design and unique texture reminded us of a sea creature, which is why OKA named it after a type of carpet anemone.
---
The Grenadilla Table Lamp in Saffron.
Height 39 Cm x Diameter 20 Cm
A shapely and elegant lamp. The OKA Grenadilla Lamp is made from ceramic with a high-gloss finish on a round metal base. An excellent bedside lamp, ideal for adding a pop of colour. Available in a range of colours.
---
The Naoshima Table Lamp shown in Lime.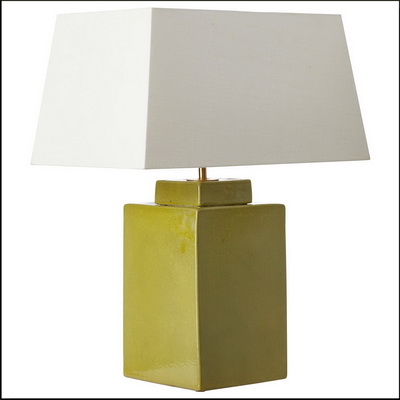 30 Cm High x 18 Cm Square
Named after the 'art island' of Naoshima, this stylish hand-made design is a modern take on the traditional ceramic Oriental ginger jar lamp; its unusual square base and Lime glaze lend the design to both contemporary homes and traditional country houses. Also available in Navy Blue.
---
The Jaqueta Table Lamp in Duck Egg Blue.
58 Cm High x Diameter 35 Cm
This large stately ceramic lamp shares its shape with early Chinese vases from the Ming Dynasty. A minimalist duck egg blue glaze modernises the Jaqueta and ensures it marries well with an array of plain and patterned lamp shades.
---
The Kinoko Ceramic Table Lamp.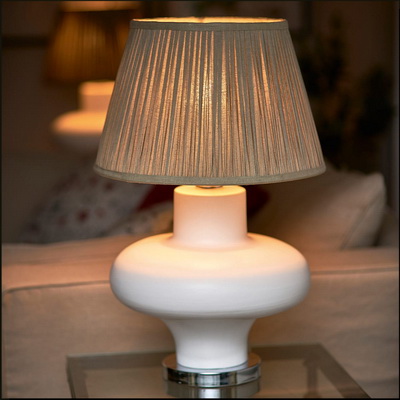 34 Cm High x Diameter 36 Cm
This wide large contemporary ceramic table lamp shares its name with the Japanese word for mushroom; its unique, curvaceous shape draws the eye. A real statement lamp that can be paired with any large shade giving it plenty of room to shine. A polished, silver-coloured base and neck smarten the Kinoko Lamp, making it suited to both relaxed and more formal interiors.
---
The Iznik Table Lamp.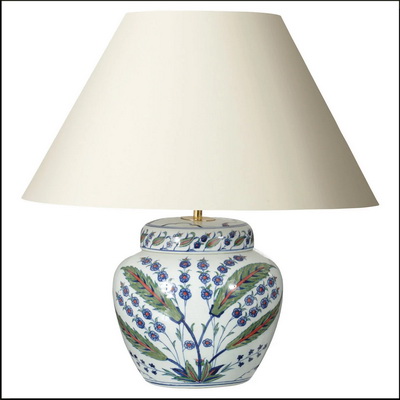 23 Cm High x Diameter 26 Cm
A Ginger Jar shaped table lamp, the pretty Iznik Urn lamp is hand-painted with traditional Persian designs. A lovely lamp for a bedroom or living room.
---
The Fenghuang Oriental Ceramic Table Lamp.
42 Cm High x Diameter 24 Cm
This beautiful ceramic lamp is inspired by the traditional oriental ginger jar. The lamp is hand-decorated with gargoyles and birds in a classic Chinese landscape scene. The hand-painted birds have a mythical quality about them, which is why OKA named it after the immortal birds in Chinese mythology that reigned over all others. A purposefully distressed finish makes the Fenghuang look antique and provides an aged patina.
---
The Kraakware Ceramic Chinese Table Lamp.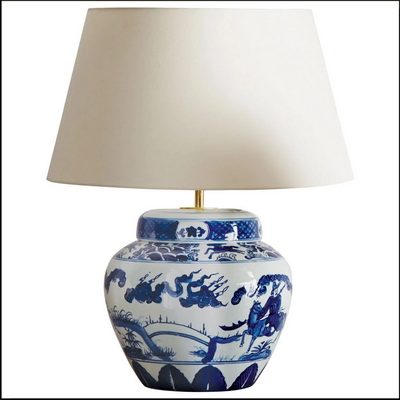 24 Cm High x Diameter 25 Cm
This ginger jar shaped lamp base is hand-painted with traditional Chinese warrior scenes. A lovely feature lamp for a table or desk.
---
The OKA website has hundreds of beautiful items of lighting as well as furniture, textiles, interior design objects and garden ware. The OKA website has some truly wonderful items of homeware, also on the OKA website you will be able to view the online OKA magazine which has a host of ideas showing items from the OKA range paired and used together to create fantastic looking interiors.
My review of the OKA Patera Toleware Table Lamp can be read HERE.
You can visit the OKA  website and view the wonderful range of quality designer lighting and other items HERE.
If you have any questions on this review or have anything to add I would love to hear from you. If you own a piece of OKA Lighting and would like to send me an image or two I would be happy to include them into this page.
Thank you.
michael@hertfordshire-lighting.com