The Space Age.
From the late 1950s right through to the 1970s the space age was part of everyday life. Designs related to space, the space race, rockets and planetary vistas crept into everyday products from packing materials from artwork through to transportation designs such as fabulous large American cars.
During the 1970s TV was awash with futuristic, science fiction and space-age programmes. TV series such as Star Trek, Space 1999, and the Tomorrow People had wonderful sets with specially made Space Age designed interiors which added to the public hunger for space-age related homewares. Lighting designs adapted and the 1960s and 70s was a great period when many space-age inspired designs first started to become available. Some wonderful Italian designs became available for the first time and many are still made today. These lighting designs started a trend that it is still strong today. Most of today's contemporary quality lighting manufacturers will have a range of lighting and table lamps that can be linked back to the original space-age period, this can be through shape, colour and format. Anyone looking for a space-age designer lamp today has a fine, large and varied range to choose from. As always the internet is the place to look for a wide range of space-age lighting, there are some fine websites selling lighting of this type.
I would like to show you my favourite pick of today's Space Age designer table lamps, some of these are new designs and some are reissues and some a continuation of a lighting design that first became available many decades ago from the 1950s through to the 1980s.
Please Note – this post may contain affiliate links, if you purchase from one of them we may receive a small commission at no extra cost to you.
---
The Nemo AM1N Table Lamp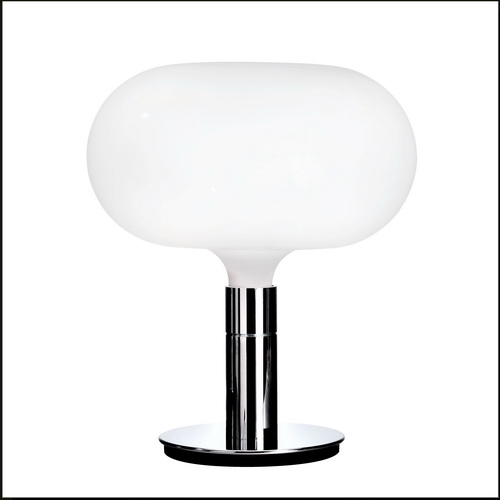 Diameter 40 cm x Height 48 cm – Base Diameter 24 cm
The  AM1N table lamp was designed in 1969 by the designer's Franco and Marco Albini, Franca Helg and Antonia Piva. An elegant design based on a minimalist look for this AM1N lamp which consists of a large opal glass globe set in a chrome-plated metal base. The dual-layer opal blown glass emits a gentle atmospheric light with remarkable quality. The timeless space-age lines combine with the traditional Italian craftsmanship. The diffuser's shape is an elliptic sphere with an opening towards the top to change its bulb easily. The high-quality materials and the meticulous craftsmanship make it a very sophisticated light.
---
The Nessino Table Lamp by Artemedi
Height 23 cm x Diameter 32 cm – Base Diameter 12.5 cm
A  modified reissue of the famous NESSO Lamp that has won the first prize in Artemide/Domus competition (Milan, 1965). Nessino brilliantly expresses the zeitgeist of the space age era. It is available in several colours and suitable for any setting. Its unequal form and capacity to light up space allow for use in any room or office. It is entirely made of polycarbonate and provides diffused light at the bottom.
---
The Large PC Alloy Lamp by HAY.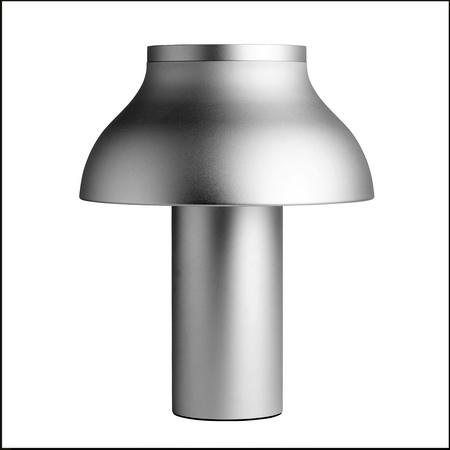 Diameter 40 cm x Height 50 cm
The famous French designer Pierre Charpin is enlarging his collection of "PC" light fixtures with this table lamp. Very simple and visually refined, this lamp made from coated aluminium stands out due to its tulip-shaped lampshade. A true quest for simplicity, PC's restrained design fits in with all environments. The light source is hidden behind a removable translucent polycarbonate diffuser-disc, creating a practical non-dazzling light directed downwards. A touch dimmer is located on the base of the lamp lets you vary the brightness of the light simply using your finger. A Classic and simple space-age inspired table lamp.
---
Mooon! Mooon! Lamp by Fermob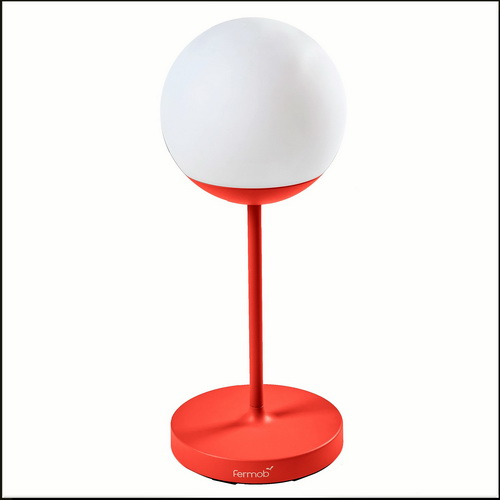 Diameter 25 cm x Height 63 cm
The French company  Fermob and the designer, Tristan Lohner, have created the wireless Mooon lamp. Its form is understated and modern, spiced up with a joyous and fun twist thanks to its range of deep and vivid colours. With its large size, it can be placed on the ground or a piece of furniture. Ultra-light and suitable for outdoor use, it is a real portable lamp which can be moved as you like, from the house to the garden, from the dining table to the bedside table… The translucent white polythene shade appears as a bright star perched on its delicate tinted aluminium structure. Another Modern lamp inspired by the space age.
---
Armilla Table Lamp by Fabbian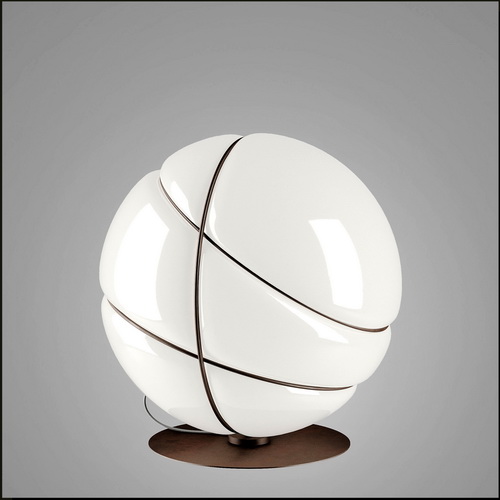 Diameter 36 cm x Height 39 cm – Base Diameter 24 cm
The Armilla table lamp designed by Lorenzo Truant is the result of remarkable glasswork. Fabbian is a French design company. The glass is blown into a round mold, then it is set into metal rings when it is still hot. The metal interlacing is filled with the molten glass, creating a wonderful surface in relief. This process creates a very graphical padded, almost organic planet like effect. The Armilla lamp is inspired by the initial representations of the movement of the stars and the planets dating back to the Renaissance. A space-age design with ancient roots.
---
Atlas Table Lamp by ENO Studio
Height 40.7 cm – Shade Diameter 25 cm – Base diameter 12.5 cm
A simple and refined space-age lamp. The Atlas lamp offers a great combination of materials and textures. The large spherical head in gilded steel balances precariously on its solid wooden base. The simple forms, assembled in a single point of contact, create an object with clear lines. The translucent diffuser screen filters the light for optimal illumination and is functional without dazzling. This is what the two French AC/AL Studio designers say about Atlas: "The idea behind this project was to produce an elegant lamp of simple, uncluttered forms, with an oversized and generous lamp head."
---
The Atollo Medium Table Lamp by Vico Magistretti.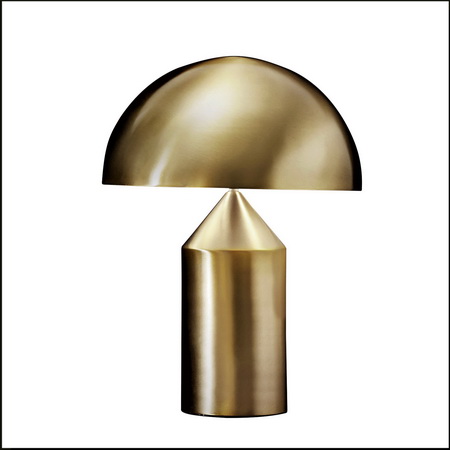 Diameter 38 Cm x Height 50 cm – Base Diameter 15 cm
An Italian design icon available in three sizes, small medium and large. Created in 1977, the Atollo table lamp is illustrative of the talent of the late-lamented Vico Magistretti (1920-2006). This champion of formal purity never stopped inventing pure and lasting design. Atollo speaks of the great Italian designer's attraction to strong Space Age geometric and majestically balanced shapes. The large lampshade appears to float above the conical base.
---
The Bilia Lamp by Fonta Arte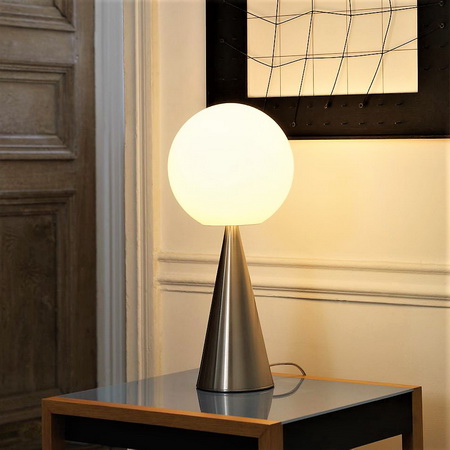 Diameter 20 cm × Height 43 cm
Designed by Gio Ponti in 1932. Enter the design legend with the reissue of the famous Bilia lamp. This iconic space-age lamp was created in 1932 by the father of Italian industrial design: Gio Ponti (1891 – 1979). Architect, designer and leader of Italian design, Gio Ponti is a legend in his country and a monument of European decorative arts. With its surprising modernity, the Bilia lamp has a strong, charismatic personality. A cone and a sphere: two essential and identifiable geometric shapes. A sculptural, sophisticated light construction that explores the notion of balance. The light is diffused and the light emission highlighted by the geometric space-age feel of the design.
---
The Cobra Table Lamp by Martinelli Luce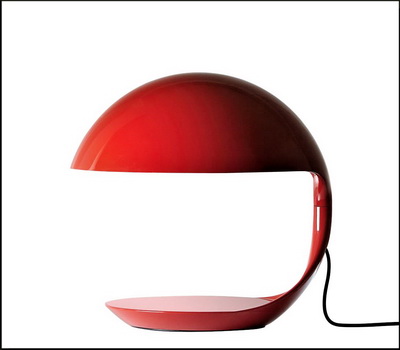 Diameter 40 cm x Height  40 cm
The iconic Cobra table lamp was designed in 1968 by Alio Martinelli. Displayed in the greatest museums in the world, the Cobra is a real icon. It is one of the first lamps made from moulded resin. The is a simple, round shape. This could be imagined on any 1970s Science Fiction programme. Its curves are typical of 1970's design. Shown in limited edition Red also available in Black and also in White.
---
The Fato Bicolour Table Lamp in Coral by Artemedi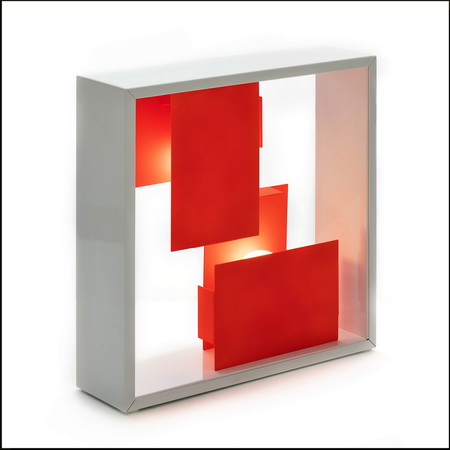 Length 35 cm x Height 35 cm x Depth 10 cm
This is the iconic Fato lamp. Created originally by Gio Ponti in 1969. The panels with strong colours are combined with a refined white frame. The very geometric design of this metal lamp is typical of the space age era of the 1960s. Its metallic screens create a wonderful interplay of shades. A real abstract sculpture contained in its square frame, this light draws the eye.
---
The Globo Table Lamp with acrylic spheres by Jonathan Adler

Diameter 54.7 cm x Height 63.5 cm
A sculpture of a space-age lamp with a thousand reflective hues… The Globo lamp has a group of transparent spheres made from acrylic which are floating around a fine brass shaft rooted in a marble base. A wide brass dome overhangs this sculptural space-age assembly. The light which is refracted on the spheres makes the acrylic shine and creates a warm glow. Whether on or off, this outstanding lamp catches your gaze.
---
The Eclisse Table Lamp by Artemedi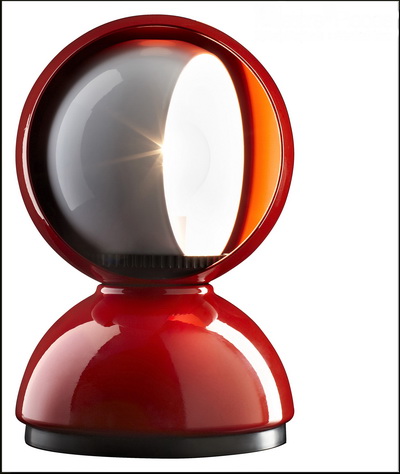 Diameter 12 cm x Height 18 cm
Created in 1967, Eclisse is one of Vico Magistretti's most iconic pieces of lighting. This Italian designer's attraction to geometric forms can be seen very clearly in this amazing little lamp. It features a spherical painted metal structure fixed on the inside where a half-sphere rotates, allowing you to target the light and control its intensity. Closed to its maximum, Eclisse gives a real impression of an eclipse. Another planetary & space-age influenced design.
---
Panthella Mini Table Lamp by Louis Poulson
Diameter 25 cm x Height 33.5 cm
Louis Poulsen offers this mini version of the iconic space-age Panthella table lamp. The Panthella Mini features a painted metal shade and is available in eight eye-catching colours from Verner Panton's colour spectrum: yellow, orange, mauve, red, pink, blue and two shades of green. Versions in white, black and opal acrylic are also available.
---
The Pipistrello Table Lamp by Martinelli Luce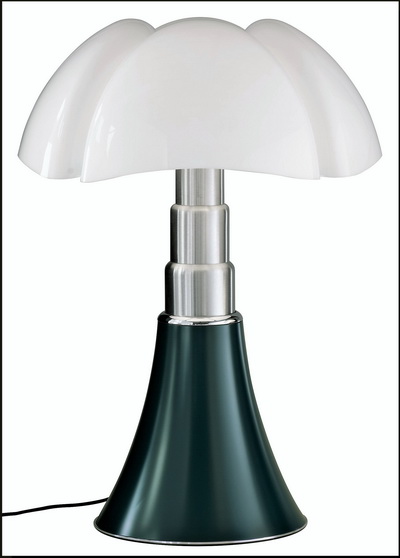 Diameter 55 cm – Base Diameter 32 cm
An iconic cult design of space-age lighting from 1965. The Pipistrello lamp is Mythical and showcased in the greatest museums around the world, Pipistrello is one of those objects that have become part of our universal heritage. Created by Gae Aulenti, this lamp with its undulating lampshade looks like a bat It's a table or floor lamp with diffuse light. A stainless-steel telescopic rod system lets you adjust its height (66-86 cm). The diffuser is in opal white methacrylate while the base is metal. The original model was from the mid-1960s at the height of the Space Age design era, made in Italy by the Martinelli Luce factory.
---
The Reflect Table Lamp Verpan design by Verner Panton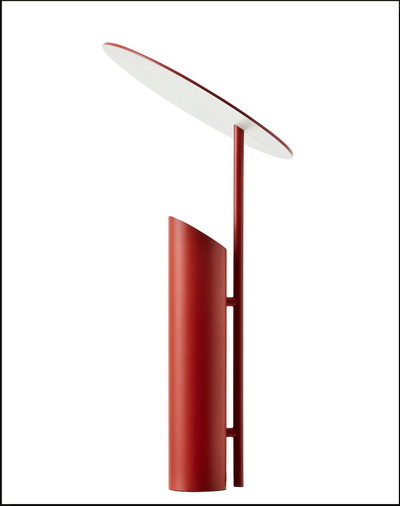 Height 60 cm – Reflector disk diameter 30 cm – Base diameter 8 cm – Depth: 26 cm
Designed by the legendary Verner Panton in 1980, the Reflect lamp illustrates the incredible modernity of the designer's creations. Drawing from Verner Panton's archives, Verpan decided to produce this lamp from the original sketches of the grandmaster. The Reflect lamp offers a simple, linear style. This light fixture is an excellent example of his ingenuity and deep understanding of how to manipulate light to create a comfortable, warm atmosphere. Another Iconic lamp with a strong Space Age design feel.
---
If you have any questions on this article or have anything to add I would love to hear from you. If you own a piece of Vintage or Modern Space Age Lighting and would like to send me an image or two I would be happy to include them into this page.
Thank you.
michael@hertfordshire-lighting.com