"Architectural Salvage Yard"
This term seems to be a fairly recent addition to the English Language. Salvage yards have been in existence as long as I can remember, growing up in London I can remember the ringing of the scrap merchant's bell as he toured the streets on a horse and cart taking away old metal and unwanted household items. Most of this was taken away for scrap metal value but even back then these dealers knew that older interesting items had value that went way beyond the material they were made from.
As a kid I remember visits to the "tinkers yard" when we needed some cheap timber or a new piece of Ironware such as a replacement fence piece or ironmongery for a gate.
The Architectural salvage yard has now become a much more upmarket establishment with many wonderful places that sell a massive range of old salvaged items from garden ornaments to roof tiles and of course old salvaged retro industrial lighting. I have recently manged to get my hands on a nice little lot of Architectural salvage lighting. I am now going to show you how you can make your own piece of unique salvaged lighting with just a bit of elbow grease and a few simple tools.
---
The Project.
I was lucky enough to find a set of three very old wall lights that has served in an old industrial utility building. These lights dated to around the 1950s. They had scrappy bits of old wiring fitted and bulb holders for old and out-of-date fluorescent tubes. They had had decades of exposure to moist air but being made from brass had not rusted, the finish was an old matt chrome coating that had pitted but had stood the test of time. Many of the old industrial lights were really well-made and were finished to survive a rough life.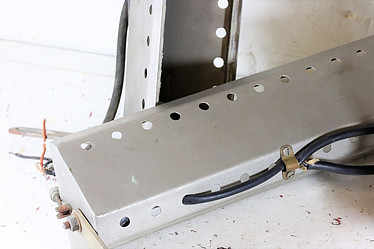 These two photos show the lights as I found them.
The lights would have originally had a front cover with a glass insert, at each end they have heavy steel wall mounting brackets and thumb nuts that would have been used to tighten the missing front covers in place.
Having had a good look at the lights I decided to make them into an interesting set of small, industrial and unique ceiling pendants making the most of the small lampshades. The first job was to strip the lights of all the old wiring and fittings.
Here we see the lights stripped and ready for polishing.
The polishing of these old lampshades was quite a task. The recessed rims had old sticky foam seals that were buffers for the front covers. Over the years this foam had become very messy and very difficult to remove but with the help of a heat gun the foam was eventually removed.
The Chrome finish had some pitting and the shades have a few dents, these marks are part of the history of these shades so I decided to gently burnish them in a way that left the old aging and use marks still evident.
Here are the shades after a few hours spent cleaning and polishing.
These great old shades were full of ventilation holes that were in place to avoid over heating when they were used as wall lights. Across the top the shades had 13 small round openings so the middle centre opening was slightly opened out and was then used as the mounting point for the new bulb holder and wiring.
The lights are now fitted with new bulb holders and wiring.
The shades are now small industrial ceiling pendants. They are fitted with modern earthed (grounded) wiring and have screw fit bulb holders; the wiring is held securely by a black cord grip set into a female threaded brass tube.
---
In Use
When lit the lights provide an interesting, Retro Industrial look. These will truly be a one off set. The illumination effect the lights provide makes the time spent on giving the lights a new life more than worth it.
There are two ways to use these lights, they could be set in a line along a bar or in a loft setting but this may be tricky as the lights may not balance completely with each other. To me these would look great bunched and set at different heights to provide a cluster lighting effect, great for a cafe, bar or industrial themed man cave.
The "new" ceiling pendants shown in a cluster formation set at different heights.
---
Conclusion
Architectural salvage yards can be a great place to find some hidden gems, as always garage sales, car boot sales and flea markets are always recommended as a place to search for something in need of a bit of love and attention.
I would love to hear from anyone who has performed a similar salvage and repurpose project; its always great to share ideas with other people.
If you have any questions or need advice on any item of Vintage lighting please contact me and I will do my best to help.
Michael Adkins. michael@hertfordshire-lighting.com