One of the really interesting aspects of dealing in Vintage lighting is when I can help someone with a specific request for a piece of lighting or interior design item for a particular or specialised project. I received a call from a Video production company, the contact at the production company had a very particular request for a piece of lighting.
They needed a lamp, it had to be very large and very 1960s/1970s retro with a kitsch feel. It also needed a large and matching lampshade.
This is not as simple as it first seems as very large lamps from the 1970s are hard to come by, especially with a matching lampshade.
Luckily my contact said that the lamp was for an upcoming music video shoot for the singer Paloma Faith.
Paloma Faith is a fantastic performer and singer with a powerful strong voice. She also has a wonderful and quirky fashion sense that makes her stand out as an individual, she is a bit of a superstar.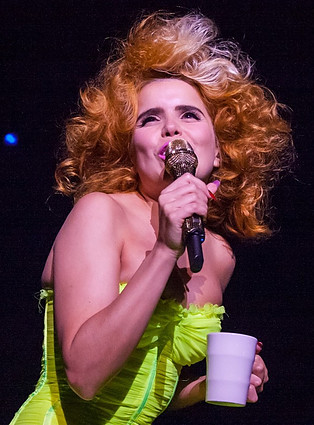 Image courtesy of Marple Bridge Photography
---
Once I knew the Paloma Faith link I had an idea for a lamp that would suit, in stock I had a large and beautifully Kitsch West German pottery lamp made in 1964 and I also had a beautiful large chiffon lampshade from the same era which was a perfect match.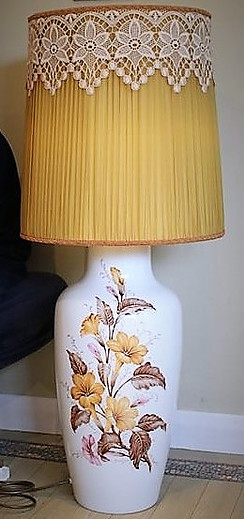 As you can see the lamp is large and looks really dated and very retro in a super kitsch style and with the pleated chiffon shade mounted on top it makes a fantastic retro package. Dating from 1964 the lamp was unusual in its design and "was" in amazing condition for its age; More about its condition in a moment.
Photos of this lamp and shade were sent to the video production company and the lamp was given the thumbs up by the artistic director on the video. The lamp was picked up and was transported to the studio for the next days shoot.
---
A couple of weeks later I received a message from the video company; The shoot had gone well; the lamp and shade combination had proved to be perfect for the video and the story. I was also told that the lamp had "a big part" in the video.
The Video was for a single by Paloma Faith called LOYAL. Watch the video on You Tube.
The Video is excellent, it is really like a short movie and is beautifully done, watch the video and you will see the lamp makes an appearance after 25 seconds, however its condition will not be quite as shown above! It does however make an appearance later on in the video in somewhat better condition.
The lamp was made in 1964 and went out with a musical bang.
If you ever have a requirement for a particular piece of light please feel free to drop me a line and I will do my best to help.
Thank You.
michael@hertfordshire-lighting.com
---