A guide to Interior design table lamps.
When I was younger the term "Interior Design" conjured up an image of a highly paid and sometimes whimsical individual who proposes a range of way out and unusual designs for a living or work space.
I have met a few interior designers and the reality could not be further than the image I had in my younger years. In the real world Interior design is the process of investing two things into a process before spending any money and before making a decision on a purchase. One is time and one is thought, the two go hand in hand but these are the two elements of basic interior design, take your time, consider your project, and use the internet to research a look that suits your outline ideas.
Interior design table lamps.
Today we are in a very lucky position when it comes to buying new lighting and designer table lamps. The internet has opened up a new world of possibilities in terms of choice of design, material, size and country of origin. This wide range of wonderful options can however lead to confusion when it comes to purchasing an interior design table lamp as there are so many to choose from. Before the days of the internet choice was limited to your local high street or shopping centre, today the options are almost limitless.
A designer table lamp can add the wow factor to any space. A well thought out lamp can lift an area with both is visual impact and its lighting output. Designer lamps are often large and can act as a centre piece in a large room or can provide a focal point for a work area. Lamps set in pairs can add symmetry to a space and can bring uniformity to a large piece of furniture or a room.
Buying second hand is always an option. There are some great websites which are a good option in your search for a designer table lamp. Always check out your local flea market, car boot sale, Antique store and auction house as you may find a gem, buying second hand can seem like a challenge but it is very rewarding when you unearth something wonderful.
Designer table lamps come in four basic materials Wood, Metal, Ceramic and Glass. The range of finishes is endless on top end modern lamps. Whatever your setting or colour scheme there will be a lamp that fits.
Lets have a look at a small sample of whats on offer when searching for a quality designer table lamp.
Please Note – this post may contain affiliate links, if you purchase from one of them we may receive a small commission at no extra cost to you.
---
Wooden Designer Table Lamps
This is a second hand Lamp made from a section of antique Asian architectural salvage. This is a unique lamp as the piece of timber used has its own character and marks which will not be repeated.
Please look HERE for more interesting lighting items.
Despite the Antique materials used in its construction this lamp would provide an interesting focal point to a modern interior.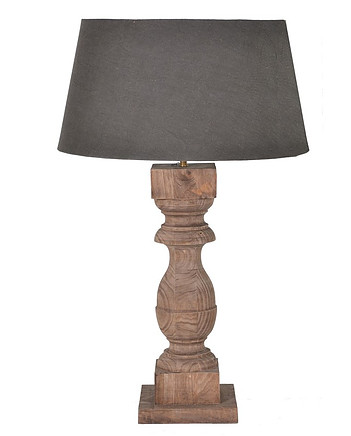 This is a large weathered wooden table lamp by Barker & Stonehouse.
This lamp base makes the most of the natural material with a weathered finish. Height is 79 Cm.
A lamp that suits a wide range of interiors and adds a natural edge to a clean modern environment.
Another beautiful wooden lamp by Barker & Stonehouse.
This lamp has a Diamond cut carved surface finish that brings out the best in the natural wooden material. Height is 51 Cm.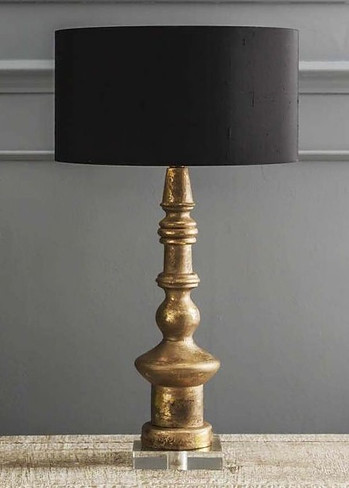 A Beautiful Gilt Finished turned wooden Ardenne table lamp from Graham & Green.
Height is 52 Cm.
---
Metal Designer Table Lamps.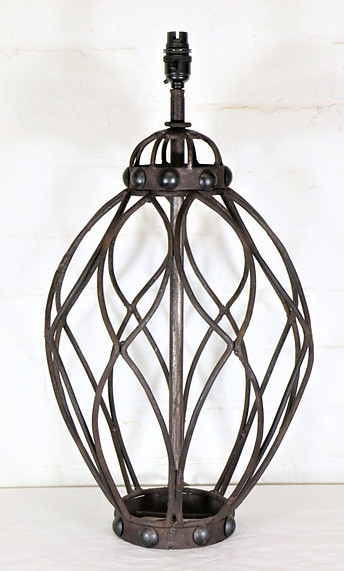 This is a large second hand designer metal table lamp. Hand made from Wrought Iron with decorative studs and a naturally weathered and rusted finish. Please look HERE for more interesting lighting items.
A Graham & Green Bronzed metal Pineapple table lamp. A classic of interior design that never goes out of fashion.
Height is 50 Cm.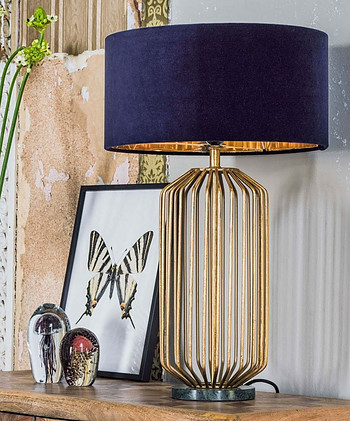 A Fabulous Graham & Green Linear table lamp with a Brass caged body on a substantial Marble base.
Height is 53 Cm.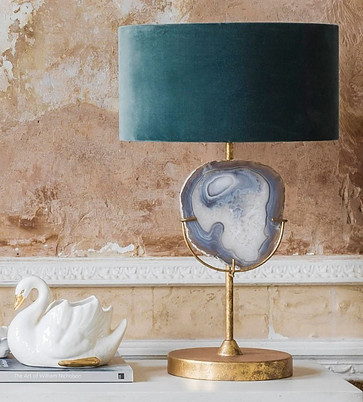 A beautiful gilt metal table lamp holding a natural crystal Agate slide.
Lovely quality & truly unique designer table lamps from Graham & Green.
A metal designer lamp base on Antique canister lamps – The Honeycomb by Barker & Stonehouse.
Height is 46 Cm.
---
Ceramic Designer Table Lamps
This is a large second hand Oriental themed designer ceramic table lamp. Hand decorated with a crackle finish.
Please look HERE for more interesting second hand lighting items.
A Stunning earthenware table lamp with a rich blue glazed finish – Shaped as an Acorn finial – by Graham & Green.
70 Cm High.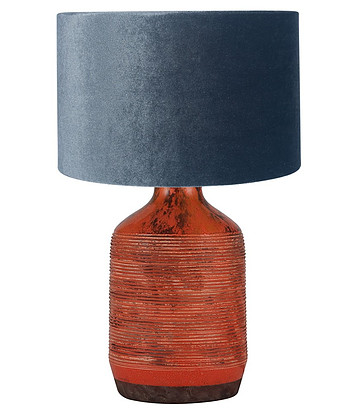 A Ceramic Textured Stripe table lamp by Barker & Stonehouse. The wonderful burnt Red spice colouring with Black detailing gives this lamp the wow factor making a fine focal point in any space.
Height is 50 Cm.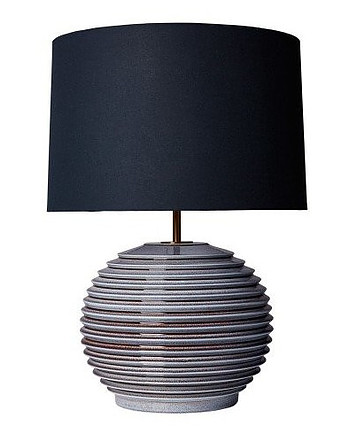 The Venice Ripple Ceramic table lamp by Heathfield & Co.
The neutral colouring of this top quality lamp allows its excellent profile to shine in a wide range of interior settings.
56 Cm High.
An absolute statement lamp by Heathfield & Co.
The Fuji Magma in Burnt Orange. A statement in both shape and colour.
40 Cm High.
---
Glass Designer Table Lamps.
This is a large second hand designer glass urn shaped table lamp.
Please look HERE for more interesting lighting items.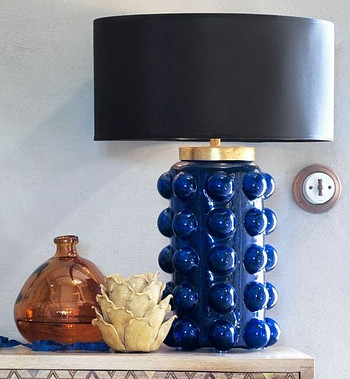 The Deep Navy Bobble Glass table lamp by Graham & Green. Outstanding profile & beautiful when lit.
47 Cm High.
The Elliot mirror glass designer table lamp by Graham & Green.
This simple but beautiful lamp can fit into a wide range of settings and allows customisation via its hinged door.
48 Cm High.
The modern Lexi mirrored glass table lamp by Graham & Green. A great modern take on "aged" mirrored glass.
47 Cm High.
The Alfie Glass Table Lamp – Top quality from William Yeoward – Available in a range of colours.
65 Cm High.
Conclusion
The range of Interior Design table lamps is huge. There are makers from all around the world offering fabulous items of lighting. As I said at the start of this article take your time, think about the location you want to light. Whittle down your choice by considering aspects of your new lamps and where they fit into your space – Size – Material – Colour – Shade size etc.
Don't just jump in with the first lamp you see, make a short list and consider each one, don't just opt for the most expensive lamp rather go for the one that feels right for you and suits your space.
Have a browse through some of my favourite suppliers here.
As always if you have any questions please do not hesitate to ask me and I will always do my best to help.
michael@hertfordshire-lighting.com