The Art Nouveau design Era – 1890 to 1910.
The Art Nouveau design ethos took its name from a Paris art gallery House of the New Art (Maison de l'Art Nouveau) which was opened in 1895 by an art dealer by the name of Siegfried Bing.
Creative and decorative arts appeared in a form that featured a new strong but flowing style that was influenced by natural forms such as plants, flowers and trees; the style of Art Nouveau has always seemed to me to be "organic" in nature.
Art Nouveau as a style of art and design influenced a whole range of decorative arts, including architecture, painting, graphic art, interior design, jewellery, furniture, textiles, ceramics, glass art, and metalwork.
The wonderful period of Art Nouveau design and manufacturing was relatively short-lived. Art Nouveau ran in conjunction with the latter period of the Arts and Crafts movement and was ended by the emergence of the completely opposing style of the Art Deco period which replaced Art Nouveau as the dominant decorative style.
All the strong decorative styles that found favour across Europe during the mid 1800s to the early 20th century made a huge mark on the future of interior design and of course lighting. The 20-year period when Art Nouveau was at its peak is now well over 100 years ago and yet this wonderful design idea still has a strong influence on today's markets and is very popular with today's interior designers and those who wish to add a bit of timeless taste to their homes.
All types of lighting appeared during this magical period of design, Art Nouveau Table Lamps and Art Nouveau Desk Lamps are still very popular today and there are many modern representations of these on today's market. There are also many modern pieces of lighting that carry the echoes of the Art Nouveau era.
---
Getting a feel for Art Nouveau style Lighting.
One of the best ways of familiarisation with a design is to look back at images of original pieces.
Below are a selection of images taken from very old mid-20th century British Auction catalogues, the images are not pin sharp but have a look at these items of lighting on show and get a feel for the flow and organic nature of these original Art Nouveau period designs.
This page shows an array of lighting; notice the flowing lines and organic detailing.
This is an original Art Nouveau ceiling light. Flush mounting with a beautiful vaseline glass shade; notice the petal mounting plate and a water Lily design.
An original Art Nouveau floor lamp simple, yet with a natural shape and form.
An outstanding Art Nouveau 3 branch chandelier with a beautiful brass frame inspired by nature.
---
Second hand Art Nouveau Lamps and Art Nouveau Style Lighting.
When looking to buy a piece of original period Art Nouveau lighting then the internet is a great place to start. There are many specialist retailers on line and of course there are many bargains to be had from on line auction sites. Along with original Art Nouveau pieces of lighting there are many good quality vintage Art Nouveau styled table lamps, Art Nouveau desk lamps and lighting.
Here are some examples of original Art Nouveau lighting that have been refurbished for use today.
This is an Original Art Nouveau table lamp. Made from cast Iron with an organic tree bark design, the lamp is fitted with a period Art Nouveau multi petal shade.
This is an original Art Nouveau cast Cherub from a chandelier re-purposed into a table lamp.
A late Art Nouveau Bohemian glass hanging bowl ceiling light with a transfer printed design.
A French Wrought Iron Art Nouveau pendant with pressed leaf and scroll detailing shown with a modern lampshade.
A small but beautiful relief etched glass Art Nouveau lampshade.
An early century British lampshade that shows a mix of both Nouveau and Deco designs.
When at your local Auction House, Antique dealer or flea market and a piece of Art Nouveau lighting takes your fancy there are a number of things to consider.
Finish – The finish of an original Antique may be distressed. If the base material allows polishing, such as Brass, then the light can be refinished and polished. Often the aged and tarnished patina of old lighting adds great appeal and many people actually prefer the original untouched appearance.
Bulb Holders and Wiring – As always with older lighting the wiring should be checked. Many Vintage lamps and lights with original wiring and bulb holders in place will need attention. Standards have changed over the decades so bear in mind that you may need to invest in having your new traditional lighting rewired or checked over.
Lampshades – Glass lampshades should be checked, there can often be cracks and chips that are not visible without close inspection. When you find a piece of lighting with a damaged glass lampshade don't disregard it out of hand as there are some excellent reproduction shades on the market.
As always there is no right and wrong, if a piece of Antique lighting works for you and if the price is right go for it, with a little work and a small investment in getting it working you will have something unique that will bring a fabulous look to any space.
If you have any questions or need advice on any item of Vintage lighting please contact me and I will always do my best to help.
---
New Art Nouveau Lighting.
There is a good choice of modern lighting available today that have Art Nouveau elements included in the design and form. There is not a wide range of new out-and-out Art Nouveau style lighting available but if you take time and research on line you will find some lovely Art Nouveau inspired lighting fixtures. These are worth consideration as they will provide a distinctly Art Nouveau detail to your living space.
Here are a few of my favourites many of which include organic Art Nouveau design elements.
New Art Nouveau Ceiling Lights.
The large Beautiful Budapest Chandelier with a Brass frame and Art Nouveau styling.
60 Cm x 60 Cm – Full Details can be seen HERE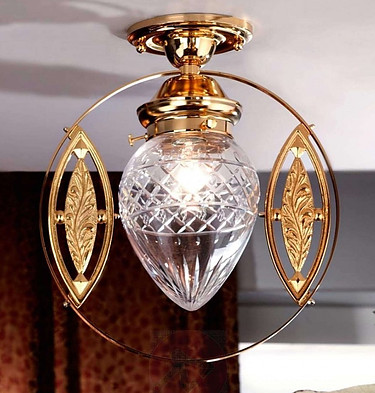 A semi-flush Budapest Ceiling Light Gold-Plated with Art Nouveau detailing.
25 Cm x 40 Cm – Full Details can be seen HERE
The 3 Light Budapest Ceiling light with a Gold plated Art Nouveau detailed frame.
35 Cm x 35 Cm – Full details can be seen HERE
---
New Art Nouveau Wall lights.
The Luxor Art Nouveau inspired wall light.
86 Cm tall – Full details can be seen HERE
The Athens Art Nouveau wall light.
48 Cm tall – Full details can be seen HERE
The Budapest Gold Plated Art Nouveau wall light.
25 Cm High – Full details can be seen HERE
---
Art Nouveau Table Lamps and Floor Lamps.
The Elisabeth Table lamp with Art Nouveau organic detailing.
59 Cm High – Full details can be seen HERE
The Budapest Art Nouveau table lamp.
35 Cm High
The Budapest 3 light Art Nouveau Floor Lamp.
160 Cm High
---
Art Nouveau lighting has a classic period look. This style of lighting will fit in well with any Antique period setting apart from Art Deco. If you have an Antique themed space these lights will add an authentic look to your project.
The new lights shown above are of excellent quality.
There are more beautiful Antique design lights available at this quality Lighting Specialist – Please see HERE
As always, I am here to help. If you need any advice or have any questions please drop me a line.
michael@hertfordshire-lighting.com
Thank you.