The birth of the Art Deco era. A brief history.
Generally the Art Deco period is considered to be between 1910 and 1930 but the Art Deco era did blend into the periods before and after this time.
Art Deco style lighting was obviously not a standalone area of design. The Art Deco period saw a completely new theme of design which applied to a wide range of areas such as Fashion, Transport, Architecture as well as general home wares.
The "official" birth of the Art Deco period was the 1925 "International Exhibition of Modern Decorative and Industrial Arts" after which the new design style took its name. The Art Deco period saw the use of Angles, Clean lines and Geometric designs incorporated into everyday life and were an antithesis to the highly decorative and organic Art Nouveau movement which preceded the Art Deco era.
It is good to look back at some early Art Deco period shapes and forms from this period as you will see the influences of these designs during your search for Art Deco style lighting.
The influence of Archaeological discoveries such as Tutankhamen's tomb and the ancient Mayan and Aztec civilisations had a strong influence on the Art Deco period. The stepped angular patterns found in these wonderful sites started to be seen in designs of the early 20th Century.
During this period some Architecture started to appear with wonderful modernist Art Deco influences incorporated into shape and detail, the shapes and profiles from these Ancient civilisations started to be seen in glorious detail such as The Chrysler Building in New York.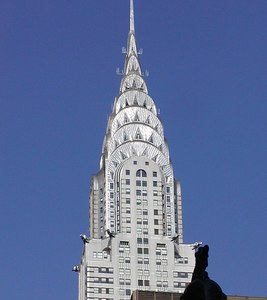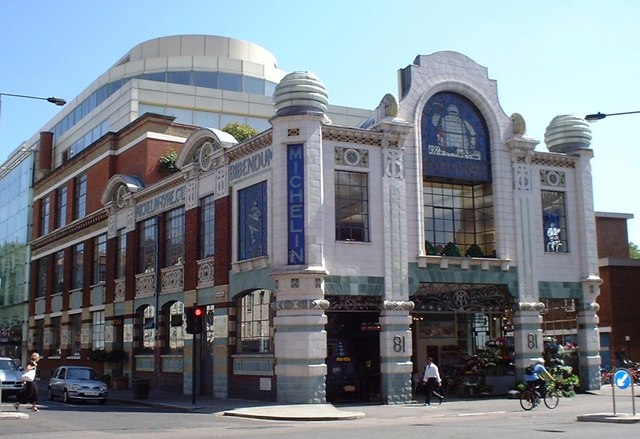 And in London the beautiful Michelin House Chelsea.
The Human body was used in many original Art Deco designs. The Human form was depicted in a new unique way, highly stylised and sometimes Gothic as we can see in this detail from an Art Deco building in New York.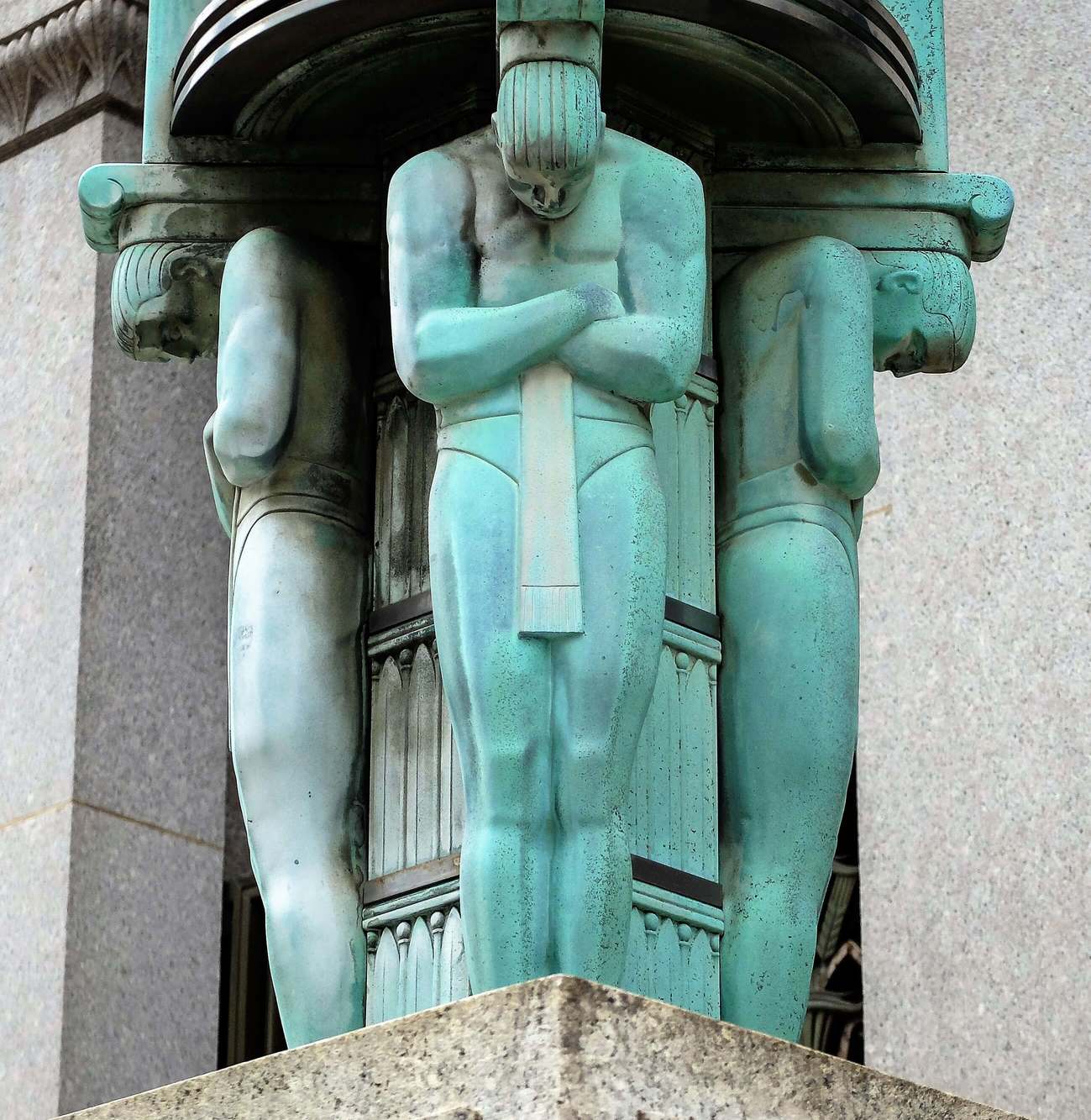 Photo by Billie Grace Ward from New York
The female shape was used in Athletic, sensuous and erotic poses often concentrating on the human form rather than detail as we can see in this ceramic from a castle in Dresden Germany.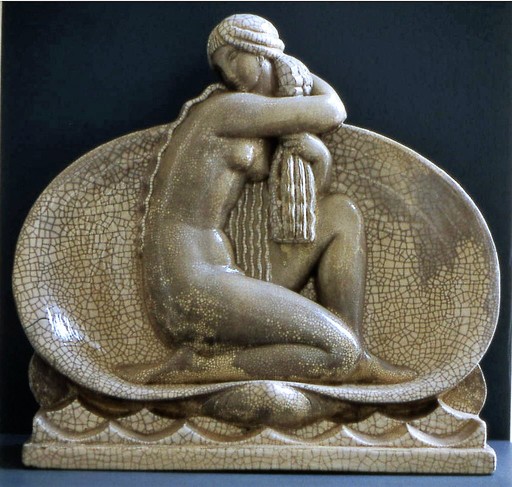 Photo by Jacques Verlaeken
Art Deco designs could be seen in everyday areas of life such as transportation; here we see a 1930's Japanese travel poster which has a highly stylised clean design and a wonderful look.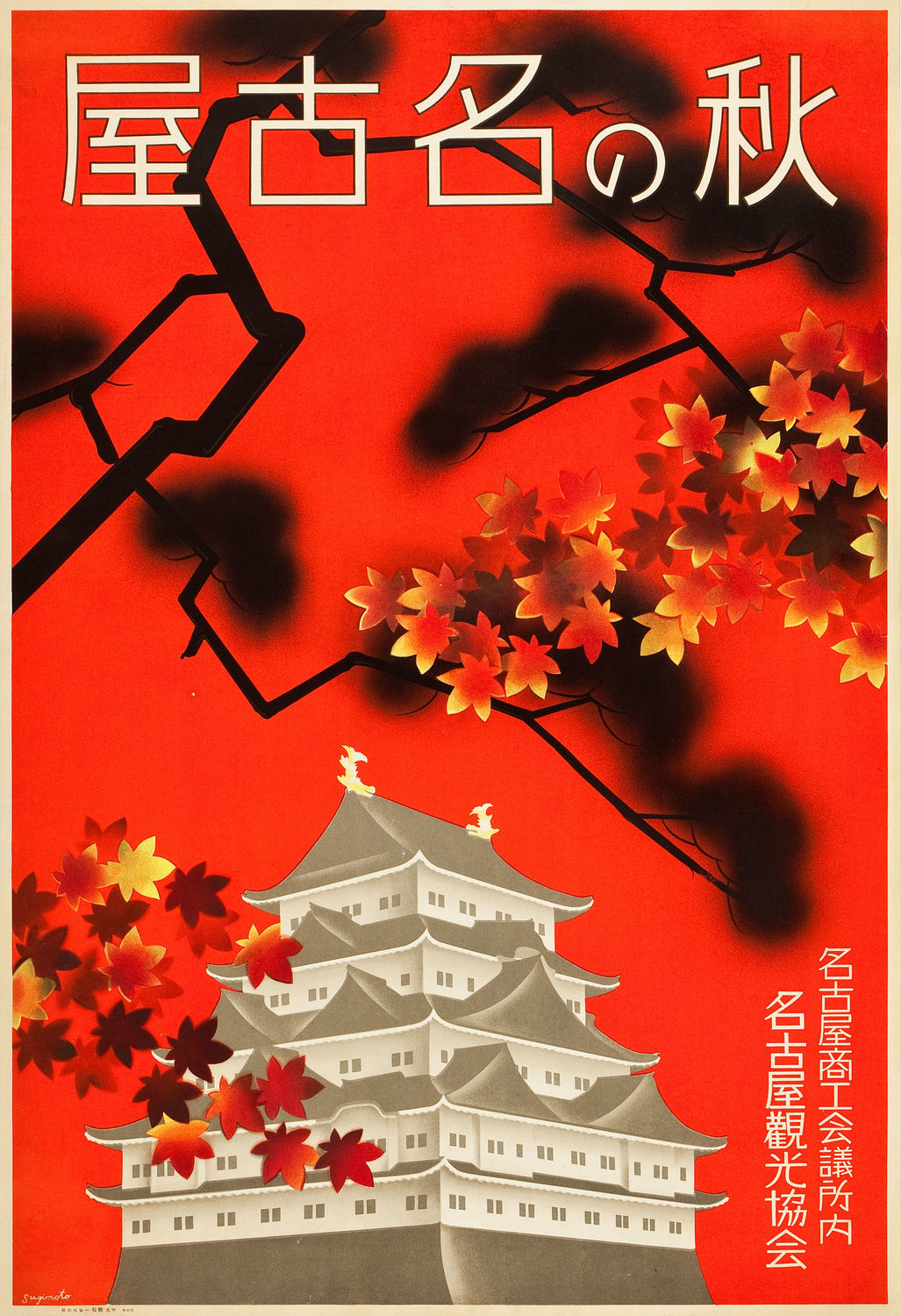 In Genoa Italy the Monumental Cemetery of Staglieno has many large and stunning Modernist details, here we can see an amazing Art Deco styled Monument.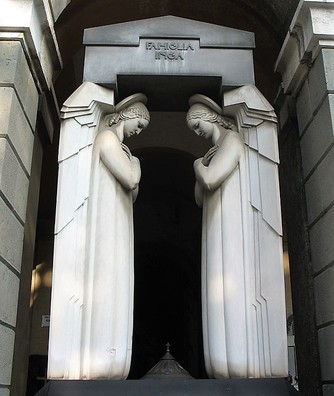 Photo by Twice25 & Rinina25
The influence of the Art Deco period is still strong today; everywhere you travel you will see examples of this, in buildings, modern advertising, homewares and of course lighting. The Art Deco era produced a "theme" that is timeless and is as fresh today as it was in the early 20th Century.
---
Art Deco Lighting – Of all the early and highly stylised lighting design periods Art Deco remained popular through the 20th century and still remains highly sought after and popular into the second decade of the 21st Century. During the 1930's Art Deco designs and lighting were exposed to the European public in the popular Odeon Cinema chain – The Odeon cinemas were built as pure Art Deco monuments with wonderful Deco details incorporated into every aspect from the lighting to the seating, internal architecture and even down to small details such as door handles.
Original period lighting can still be found from specialist retailers and of course on line. Today we are lucky to have a wide range of reproduction Art Deco lighting to choose from and there is also much modern lighting that although not outright Art Deco in design carries many of the influences of the era which means that Art Deco style lighting lives on.
---
Let's have a look at some Original Art Deco lighting……
Art Deco Table Lamps – New designs – New materials.
Along with clean lines and geometric patterns the lighting of the time was often made in materials that had never before been employed in the manufacture of lighting – Alloys – Chrome – Plastics such as Bakelite and Lucite – Moulded Glass.
This is a 1920's Art Deco polished Alloy table lamp with a swept skyscraper design which touches on the details seen in Art Deco architecture.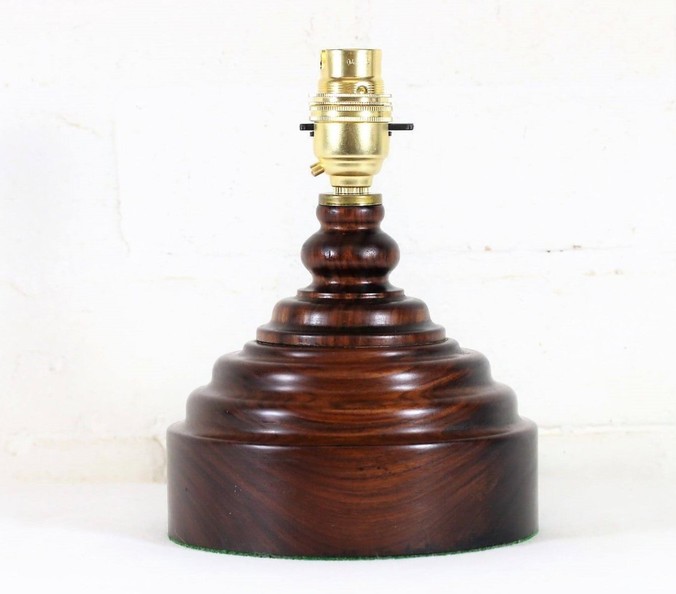 A 1930's Table Lamp. Made from traditional material Rosewood with a wonderful stepped Art Deco profile.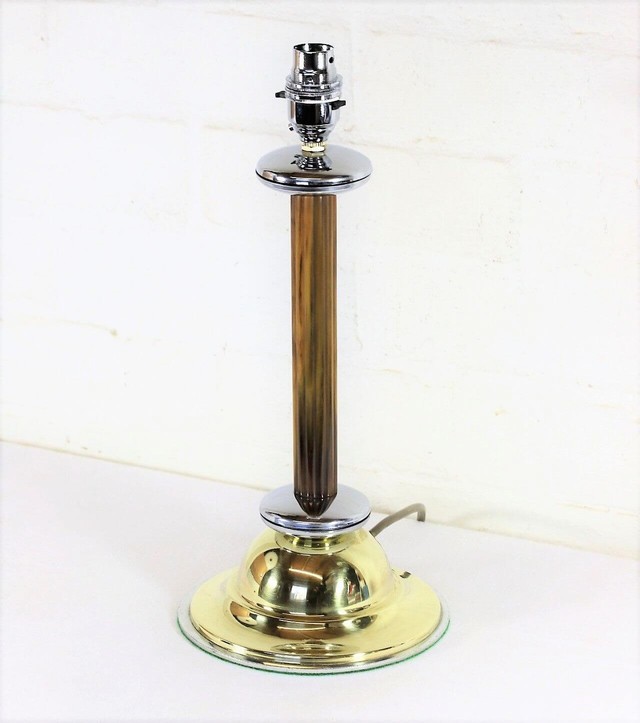 An Original Art Deco Table lamp. Made from Polished Brass, Chrome and with a Catalin Bakelite column. Catalin was seen in varying shades and colours this lamp has a "butterscotch" catalin column.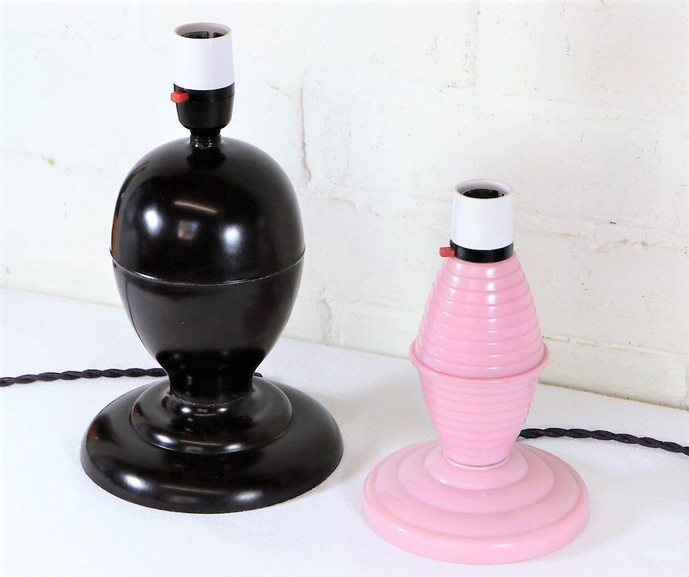 A Pair of everyday Art Deco period Bakelite table lamps using new materials in conjunction with new modernist designs – Note the clean lines of these lamps and stepped design of the Pink lamp.
---
Original Art Deco Ceiling Lights.
An Original Art Deco Ceiling Pendant. Made from Polished Brass, Chrome and with a grained Walnut decorative disc. This light uses a mixture of traditional materials and a modernist Art Deco design.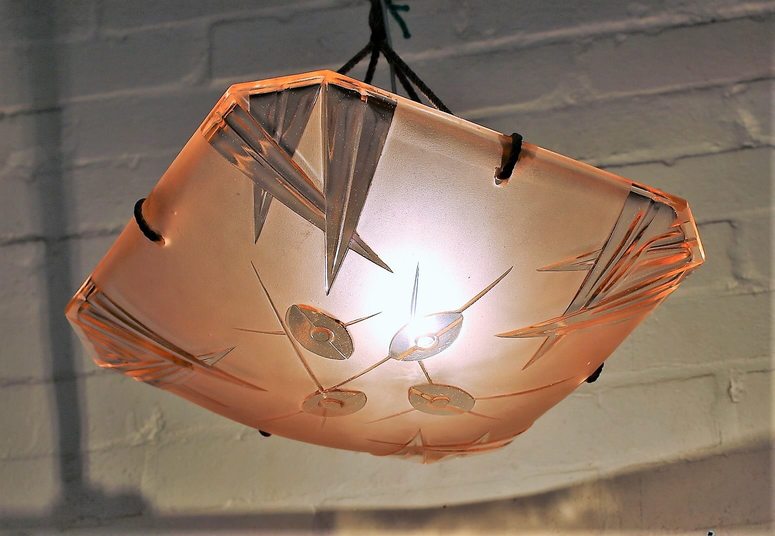 Above we can see two Art Deco French Plafonnier Ceiling Lights. Manufactured traditionally by Degue from Central France. The Pink light has an angled space age pattern. The Blue light has a modernist electric blue colour and a repeating Art Deco Sunburst design.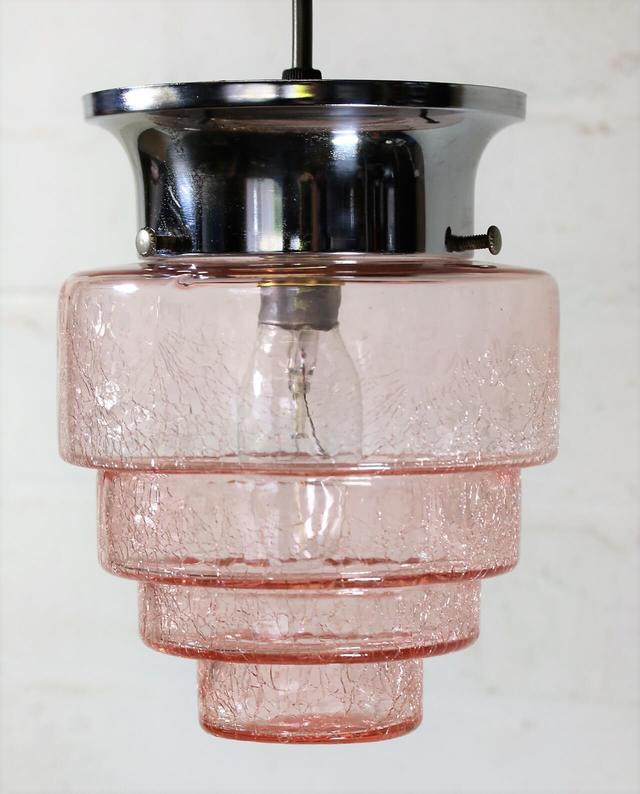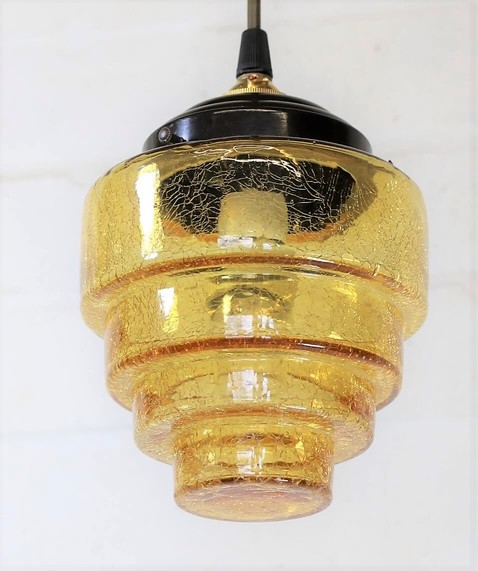 Above are shown two small Art Deco crackle glass Ceiling Light pendants.
Manufactured from traditional materials but with a wonderful and iconic Art Deco stepped design.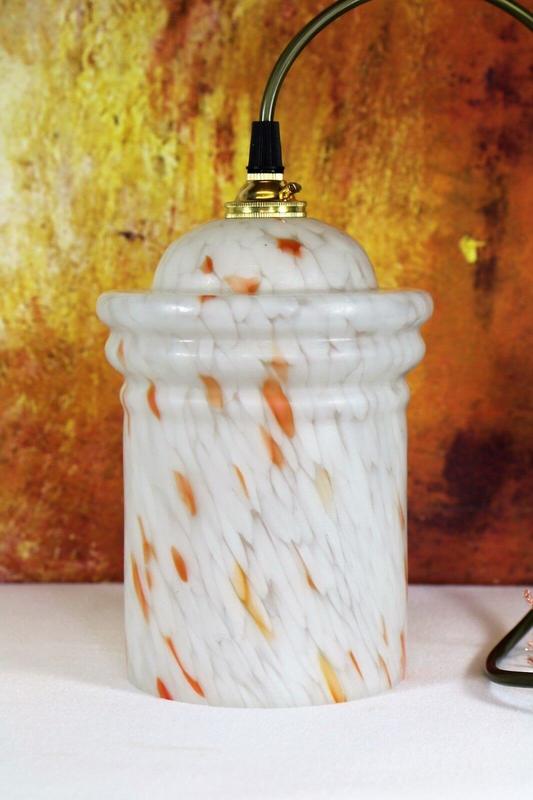 A 1930's Art Deco mottled glass ceiling light with a ridged pattern and a domed top.
A later Art Deco textured glass ceiling light with a tapering profile and sectioned design.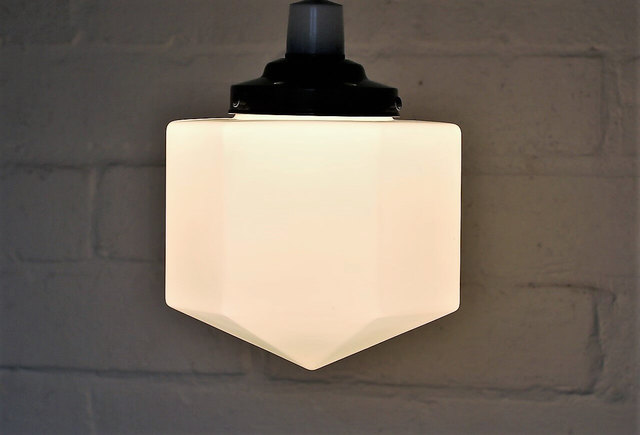 1920's simple Art Deco milk glass ceiling light made with a faceted design and a modernist pointed profile.
---
New Art Deco style Lighting.
There is a good choice of modern reproduction Art Deco lighting available today. Some follow shape and form of the originals but others take the design a step too far and lose the clean lines, geometric shape and silhouettes of the originals.
There are also many beautiful pieces of modern lighting that are not marketed as Art Deco but that have a strong influence in design from the 1920's – 1930's. These are worth consideration as they will provide an Art Deco detail to your space while blending into a modern interior.
Here are a few of my favourites many of which are based on classic designs from the 1920's and 30's.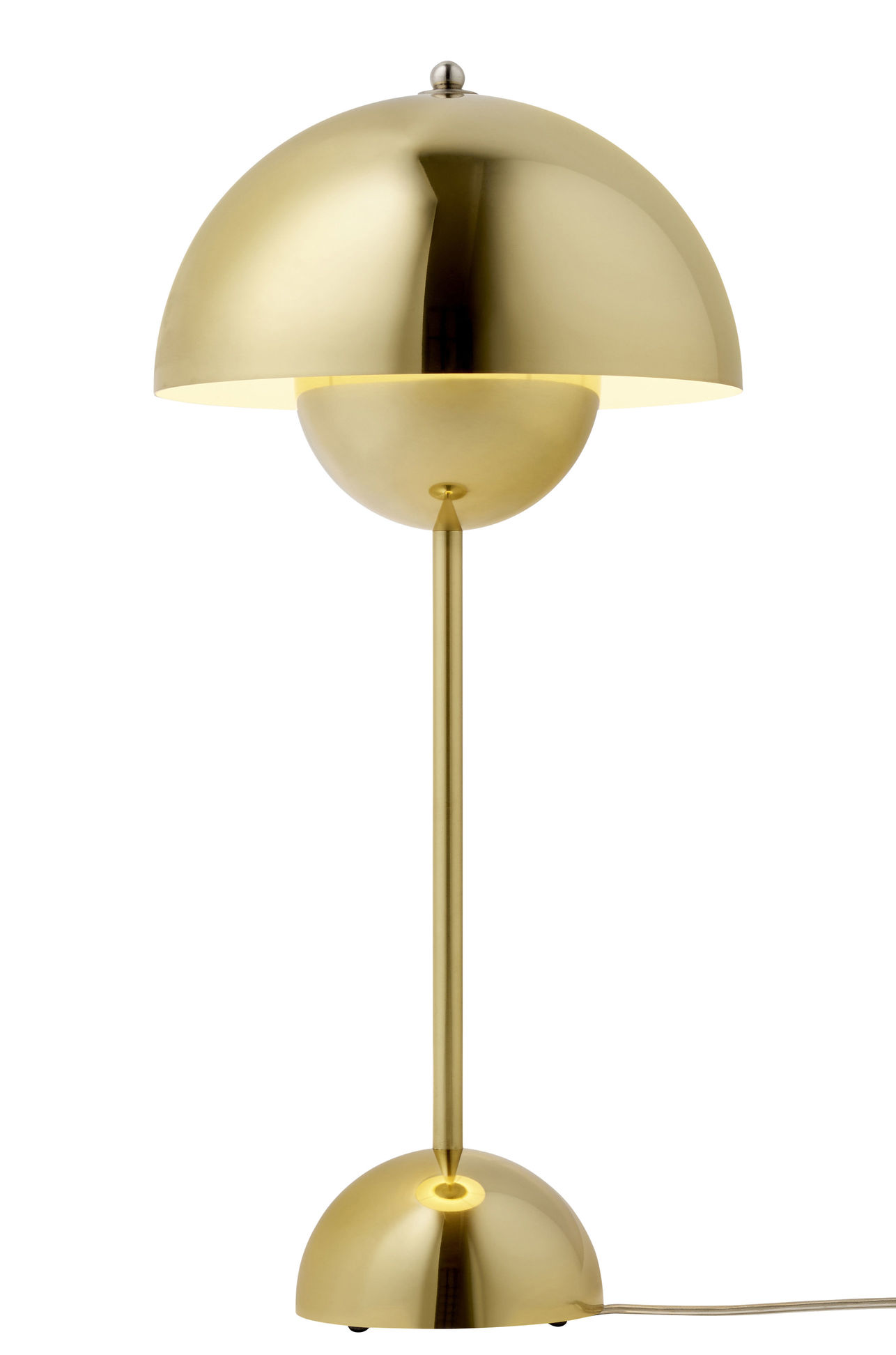 This is a modern & Classic  reproduction of an iconic Art Deco table lamp. The Verner Panton Flower Pot.
Overall Height is 50 Cm x 23 Cm Diameter. Full details can be found HERE
Another modern take on a classic Art Deco table lamp. The Aérostat Piccola . The lamp has an Opaline blown glass lampshade on a Brass plated wire frame.
Overall Height is 37 Cm x 23 Cm Diameter. Full details can be found HERE
This is a Wonderful & top quality Stacked Nickel table lamp by Eichholtz. The lamp base has a geometric shape and could easily be imagined in Hotels and establishments during the 1920's in London or New York.
Height is 110 Cm. Full Details of the wonderful range of Eichholtz products can be found HERE
Another quality modern lamp with a strong Art Deco design. The stepped glass shade provides an excellent Deco profile.
The lamp is by Villa Lumi and is 62 Cm High. Full details of the amazing Villa Lumi range can be seen HERE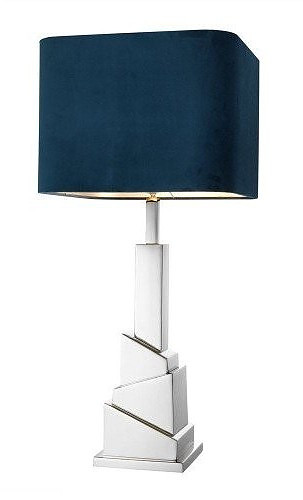 Another quality lamp by Eichholtz – The Modena lamp with clean lines that touches on the Architecture of 1930's.
86 Cm High. Full details can be seen HERE
---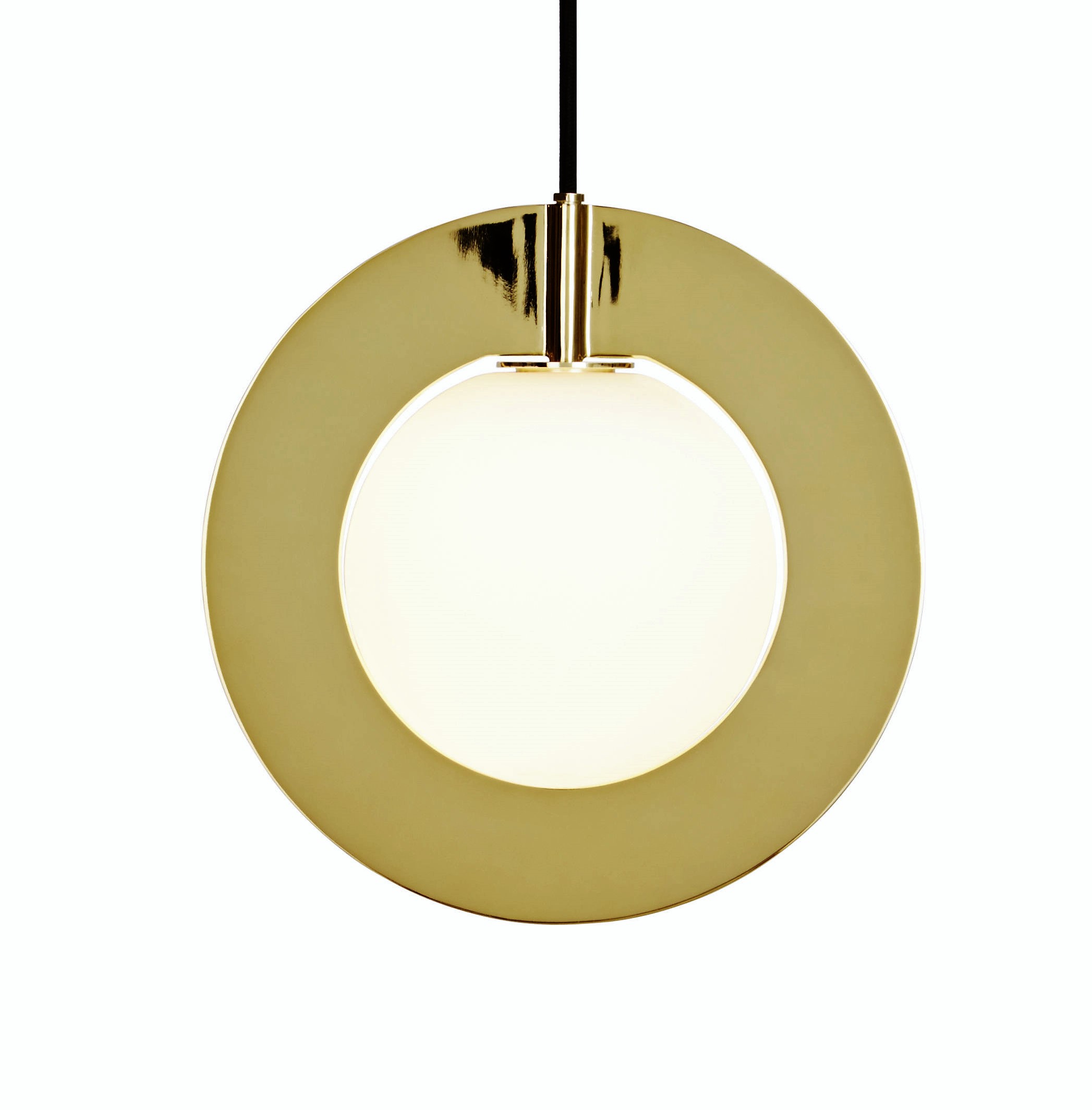 This is the Tom Dixon Plane ceiling pendant – Note the strong geometric shape and clean Art Deco inspired lines.
Diameter is 25 Cm. Full details van be seen HERE
The Gubi Multi light pendant. The geometric and clean lines fit well into a space needing an Art Deco modern touch.
Diameter is 36 Cm. Full details can be seen HERE
The Beautiful Epstien4 Ceiling Light with a Geometric design. Diameter is 64 Cm. Full details can be seen HERE.
Art Deco inspired Truman Pendants – Lovely quality from Graham & Green.
Available in 2 sizes 31 Cm Diameter and 60 Cm Diameter. Full details can be seen HERE
Another quality Art Deco inspired light by Graham & Green – Clarice Pendant Chandelier
70 Cm Diameter. Full details can be seen HERE
---
Today the new lighting market has some stunning interpretations of Art Deco design. Many take original ideas and expand on them using modern manufacturing techniques and materials, the combination of a modern designers eye with precision modern manufacturing has resulted in some outstanding lights and lamps that could easily be inserted into an Art Deco inspired space. I have shown a few examples here, but there are many more.
Have a browse at some of my favourite names in the world of quality lighting .
As always, I am here to help. If you need any advice or have any questions please drop me a line.
michael@hertfordshire-lighting.com
Thank you.