Studio Pottery.
What is Studio pottery? The term covers a wide range of products from decorative dishes, to functional home wares, vases and of course Lighting.
Studio pottery is made by both professional and amateur potters and artists. Some potters work alone and some in small groups. The one thing that remains a truth in Studio Pottery is the uniqueness of the items that are made, even in a short run of items that are made in a batch there will be small differences that make each piece a one off.
Often all aspects the manufacture will be carried out by the potter/artist. Studio potters are in reality ceramic artists. Studio pottery is popular and practiced all over the world; its beginnings were in Britain but today Studio pottery is a Global art form and can be found in far away countries from Australia to Japan and the USA.
Many of the early British Studio Pottery artists are now highly collectable and some fetch very high prices at auction due to the number of collectors who are chasing rare and scarce pieces of ceramic art. My favourite early Studio potter is Bernard Rooke, he was prolific in his early years which makes it possible to own a piece of "Rooke" for a very reasonable amount of money.
Bernard Rooke.
Bernard Rooke pottery is highly prized among collectors and interior designers. Bernard Rooke was born in 1938 and is an Iconic Bristish Studio potter and Artist. To me Bernard Rooke's ceramic art sums up Studio Pottery perfectly, it is unique, stunning to look at and I think that each piece tells a little story.
I was recently lucky enough to meet "the" expert on Bernard Rooke Ceramics Graham Cooley. Graham has the largest collection of Bernard Rooke pottery anywhere and is also an expert on many areas of 20th Century pottery, ceramics and glass.
Graham takes part in exhibitions and provides advice and writes for journals and specialist publications.
Visit Grahams Bernard Rooke Pinterest page you will see some fine examples….. Bernard Rooke
Earlier this year Graham purchased a Bernard Rooke Totem Floor lamp from me which is now part of his amazing collection.
A Bernard Rooke Totem Floor Lamp part of the Graham Cooley Collection.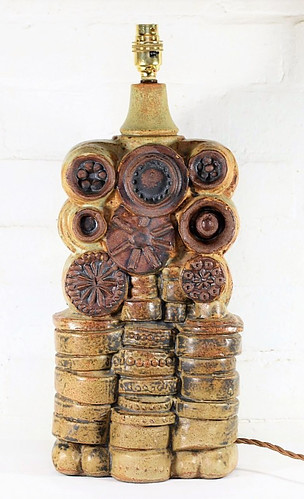 A Beautiful Bernard Rooke Table Lamp delivered earlier this year to a customer in Denmark.
Bernard Rooke Pottery is everything studio pottery should be, just look at the work involved in making these lamps and consider the eye of the artist in bringing a piece of pottery to life in such style.
---
How to own a piece of Unique Studio Pottery Art.
If you love to shop and browse for bargains then you will always have a chance at finding a piece of Studio Pottery.
Flea Markets, Car Boot sales, Thrift Shops, Garage sales – These are all great hunting grounds for those wishing to hunt for something that is different and a bit special. Many pieces of Vintage studio pottery carry no makers marks which means they may not be highly thought of or be sought after by collectors. These unmarked pieces are often beautiful and being hand made they can add a touch of uniqueness to any setting.
The Internet also is a great place to search for old pieces of Studio pottery, auction sites, Facebook and local sale sites can also be great places to find unusual and highly decorative pieces of studio pottery.
---
Studio Pottery Table Lamps.
Vintage studio pottery table lamps are widely available.
If you have a space in your home that needs lighting and you want to add a unique look then it may be time to consider a Vintage studio pottery lamp.
Never worry about makers names or marks as these are secondary to the lamps fit and suitability for your space. Many beautifully decorated homes I have visited have these "unknown" studio pottery lamps in use that look a million dollars; however these stunning examples of an individual potters art have often been found very cheaply by using the "eye" & imagination of the home decorator.
Let's have a look at some styles and glazes available on the Vintage market.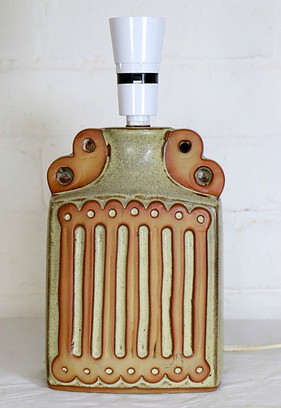 A Typical 1970s Cornish Studio Pottery lamp with a mixed glaze and natural colouring.
A Vintage Studio Pottery lamp from Iden Pottery located near Rye on the South coast of England.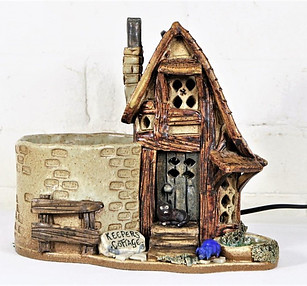 "Keepers Cottage" table lamp by Brenda Murray
A small unmarked vintage Studio Pottery lamp with a varied and beautiful glaze.
A Welsh Dragon Pottery Rhayader lamp from the 1970s with hand scribed decorations.
A later studio pottery lamp. Unmarked with a lovely Red & Green Drip Glaze finish.
---
Using decorative studio pottery in interior design.
By its nature studio pottery lends itself to Country Chic and "Lived In" settings. However, a carefully placed piece of abstract studio pottery can be a surprisingly good fit with a more modern interior.
It is quite common to find excellent abstract and way out pieces of Studio Pottery that are unmarked and being sold at a reasonable price, often these pieces sit well in a modern setting simply as a juxtaposition to the typical clean lines of a more contemporary interior.
Here are some examples of total one off pieces of Vintage studio pottery that have wonderful abstract lines and beautiful glazes and decorations.
A large Abstract Pottery Charger dish with matt and gloss glazes and an organic natural design.
A Vintage Decorative bowl with colourful glazes and a reticulated design.
A Vintage Decorative Pottery vase with a gloss glaze, brown details and an Abstract design.

A Vintage decorative Trio of small Biomorphic Studio Pottery Figures with a Drip and Crackle Glazed finish.
---
Conclusion
With a bit of thought and imagination you can add a unique piece of Vintage studio pottery to most interior settings.
If you find a pottery lamp that you love give careful thought to the choice of lampshade as this can often be the element that ties in your new lamp to your current interior.
As always there is no right and wrong, if you find a piece of old studio pottery then go for it and feel happy in the knowledge that you own a unique and loved item.
Please have a browse HERE for Studio Pottery and more.
As always I am happy to help if you need any advice or have any questions – michael@hertfordshire-lighting.com
---