Vaughan Designs.
Vaughan Designs is a leading British name in lighting, interior design objects and fittings. The company was formed in the mid-1980s by a husband and wife team Michael & Lucy Vaughan. The company was founded on a love of antiques, and design. The company has worldwide renown for quality designs and beautifully and traditionally crafted items. Vaughan has a London showroom in Chelsea S.W London. In the showroom and on the Vaughan Lighting website www.vaughandesigns.com you will be able to see a wonderful range of Furniture, textiles, interior design objects and of course a range of top quality and unique lighting which caters for any interior from designer modernist to traditional antique.
The Vaughan lighting catalogue is wide-ranging in both design and type, there are beautiful table lamps, floor lamps, ceiling pendants, wall lights and chandeliers.
Vaughan offers a wide and eclectic offering of ceiling lights which vary from pure designer chandeliers to more traditional shapes and designs. Amongst the range of Vaughan pendants is the Pumpkin Globe glass pendant which we are going to review in this post.
---
The Vaughan Designs Pumpkin Globe Glass Lantern.
The pumpkin globe is a traditional antique design with a colonial feel to its shape and form, the light also has an ethnic feel to its manufacture and decoration. The globe is based on an Antique 19th-century design when similar lights would have been used with candles and oil burners. The shade is blown with a deeply ridged surface which is where the Pumpkin name originates.
First Impressions.
When you pick up and examine the pumpkin globe pendant the first impression you get is of solid build. The ceiling light comprises of several components. The ridged pumpkin-shaped glass shade is hand blown and feels heavy in the hand. At the base of the glass shade is an ornate brass cupped ventilator finial which is attached via traditional-looking plaster or cement fixing, at the top, the shade has a sprung and single bolted fit brass ring which has three hanging points attached, both the finial and brass ring has pressed decorations which add to the colonial ethnic feel of the lantern.
The three hanging points are made from hand-finished cast brass and have the look of a serpent type animal. These hanging pints attach via 3 small linked chains to a central drop rod which holds the lights BC lamp holder. At the top of the drop rod is a moulded glass disc which is made to represent a heat shield from the days of both candle and oil lighting, at the top of the drop rod is a large oversized hanging eye which attached via chain to a plain hooked brass ceiling rose. The pumpkin pendant is available in two metal finishes Brass and Antique Bronze. The light we are reviewing here is in the version with the Antique Bronze finish.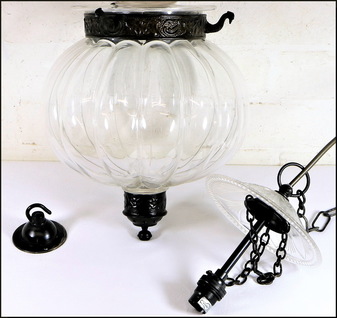 Build Quality.
The overriding principle of this light and all Vaughan design products is quality. The pumpkin light is a fairly simple design but it is manufactured without compromise. The hand-blown glass shade has signs of manufacture in the glass which add to the colonial feel and are true to the original 19th Century design. The metal components appear to be hand stamped and are heavy in gauge compared to similar lanterns that are on the market. Bulb holders and wiring components are top quality and secured with grub screws to avoid loosening in use, the ceiling rose and chain are again of very good quality, all the metal components are finished to match the antique Bronze of the metal fittings used on the glass globe.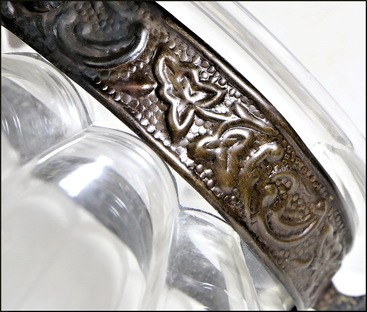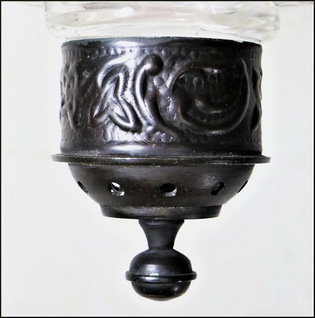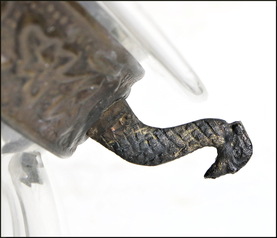 The Pumpkin Globe from below.
When hung from a ceiling the pumpkin globe provides an interesting profile with the hanging chains and metal components setting a real contrast against the clear glass shade. The light would suit a whole host of rooms and settings and I think would look great against a background that offered some contrast and colour.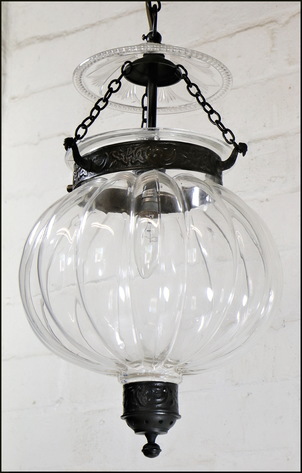 In Use.
This is where the Pumpkin Globe pendant light comes to life. In use the glass of the pendant provides a lovely lighting effect with the ridges of the glass providing reflections and linear effects to surrounding surfaces, in use the contrast between glass and metal increases and the profile of the light is excellent with the hanging points and three chains being picked out in dark profile. The pumpkin globe would be a good choice for a darker space, maybe a north-facing hallway, where the clear glass globe would add highlights, brightness, sparkle and reflective lighting to the area.

Conclusion.
The Pumpkin globe pendant is a very popular ceiling light and it is easy to see why with the attention to detail and Vaughan quality offered in a simple and versatile design.
The quality range of lighting offered by Vaughan varies from antique traditional to spectacular and designer. If something from the Vaughan range matches your interior design then be assured that as well as investing in a unique piece you will also be purchasing an item of lighting that is finely engineered, hand made and manufactured without compromise.
Vaughan products really do provide a combination of craftsmanship and quality. Vaughan uses traditional and authentic manufacturing methods with all products being made, assembled, or finished in Britain. Vaughan has a factory in Hampshire which employs a team of engineers, craftspeople and skilled workers who ensure high standards of production, British based manufacture and assembly is how Vaughan Designs offer the ultimate quality in both traditional & contemporary designs of lighting, furnishings, textiles, mirrors and art.
If you have any questions on this review or have anything to add I would love to hear from you. If you own a piece of Vaughan Lighting and would like to send me an image or two I would be happy to include them into this page.
Thank you.
michael@hertfordshire-lighting.com
---