Vaughan Designs.
Vaughan Designs is a leading British name in Interior design objects and fittings. The company was formed in the mid-1980s by a husband and wife team Michael & Lucy Vaughan. The company was founded on a love of arts, antiques and design. The company has worldwide renown for quality designs and beautifully and traditionally crafted items. The showroom for Vaughan London is in Chelsea South West London. In the showroom and on the Vaughan Lighting website you will be able to see a wonderful range of Furniture, textiles, interior design objects and of course a range of top quality and unique lighting which caters for any interior from modernist to traditional antique.
The Vaughan lighting range is wide-ranging in both design and type, there are beautiful table lamps, floor lamps, ceiling pendants and chandeliers. Amongst the range of wall lights designed and manufactured by Vaughan is a range of swing arm lights. These are offered in modern and traditional designs all which share a common theme of outstanding design.
---
The Vaughan Library Single Arm Wall Light.
Amongst the wall light offerings from Vaughan is a selection called "Library Swing Arm". The library lights are available in single and double arms and are offered in a range of finishes. The library lights are traditional in design with an elegant Antique feel. These library lights have a small back mounting plate which allows them to be mounted onto cabinets and joinery without taking up too much space, this and the fold back design of these lights helps to explain the "library" reference in the name.
---
First Impressions.
The single-arm Library light has an unexpected weight, these lights are not made from cheap thin materials but rather are made from solid brass which provides the unexpected feeling of heft. Immediately you are struck with a sense of quality.
---
Build Quality and Finish
The foundation of these library lights is the backplates. It is this mounting point that provides the solid and secure mount to allow the arm to be swung without movement. The backplate on the single arm library lights appear to be CNC machined from a block of brass, the side and top edges are 2.5mm thick. These lights have a feel of being manufactured and designed without compromise. At the end of the light sits a large oversize faux wax catcher and a painted metal candle section. These lights are fitted with best quality brass switched safety bulb holders.

These Library lights have an Antiqued brass finish which appears to be sealed to keep the finish fresh looking and avoids aged tarnish.
---
Swing Joint.
The pivot joint is smooth to operate and has just the right amount of friction, the arm and joint assembly have no excess movement, I tried to find flex in the joint but there is simply no movement and these lights feel like they will last for a lifetime or two.
---
Shade mounting.
The Library lights have a traditional screw ring shade mounting set up, at the Vaughan website you will find a range of lampshades that are complementary to the wall lights, table lamps and other lighting offered by this leading UK lighting company.

---
Wall Mounting.
The mounting method of these library lights is both simple and unique. This mounting detail provides a fine indication of the thought that has gone into the design of the lights. The mounting is made in such a way that in use there are no fixings visible on the small backplates. The light comes with a heavy gauge pressed metal mounting plate, the plate is rectangular, pressed and has chamfered corners with two raised edges. Once the plate is fixed for mounting the bottom edge fits snugly into a machined recess on the backplate and the top edge is fixed via a flush mounting quality grub screw. The mounting plates have openings for wirings and once fitted are rock solid.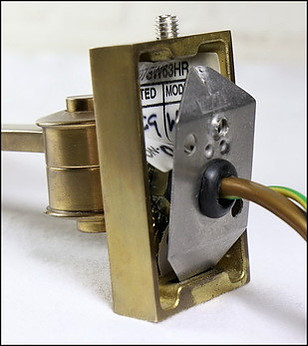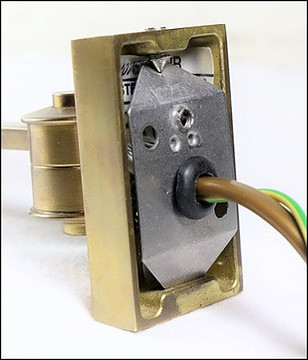 ---
Conclusion.
Vaughan lighting has a fine reputation for top quality design, the quality and varied range of lighting offered by Vaughan varies from the spectacular to the traditional and quite conservative. If something from the Vaughan range of lighting takes your fancy then be assured that as well as investing in a unique design you will also be purchasing an item of lighting that is finely engineered without compromise.
If you have any questions on this review or have anything to add I would love to hear from you. If you own a piece of Vaughan Lighting and would like to send me an image or two I would be happy to include them into this page.
Thank you.
michael@hertfordshire-lighting.com 
---