True Artisan Lighting – Table and Desk Lamps
The lighting market is full of natural-looking Artisan type fixtures and fittings. Artisan glass pendant lights, Artisan table lamps and Lampshades can be found with very little effort. Many of these Artisan-style lamps and lights will be mass-produced and made to give the appearance of handmade Artisan Lighting, of course, there is nothing wrong with these more mass-produced products but what if you want something that is "really" made by an Artisan, something made by hand with a human touch and that carries with it decades of experience in both its form and function?
There is a supplier who offers truly Artisan made lighting that has a truly delightful hand made feel, the name of this supplier is Nkuku. All of the items offered by Nkuku are made from environmentally friendly and sustainable materials, the Nkuku range wears the Eco-friendly tag with pride and traceability.
Nkuku was the brainchild of Ali and Alex Cooke who started the business in 2003 travelling, observing and appreciating the skills and products of true Artisans in Asia and beyond. The company has grown over the years and has several stockists across the UK and the EU and is based in Totnes SW England.
Nkuku is an Ethical fair trade company who make an effort to connect personally with all of the Artisans who make products for them. The range of Nkuku products is large and covers all areas of homeware from fabrics and ceramics through to furniture.
You can "meet" some of the skilled Artisans that produce the Nkuku range HERE
I want to show you some of the really lovely, unique and beautifully made Artisan table lamps offered by Nkuku as I believe that they offer you something quite rare if not unique in today's lighting market
---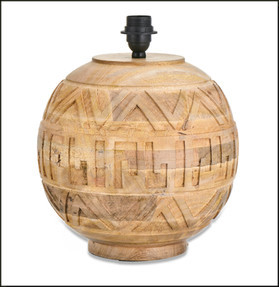 The Ruanda Table Lamp
Large 35 x 30 Cm – Small 27 x 22 Cm
The unique wood carving on display in these curvaceous, solid mango wood lamps, is skilfully completed by hand. The design adds a unique individual charm and character.
These mango wood pieces are created from sustainable mango wood. The Mango trees are initially grown for their fruit, harvested over several years. Once the trees have stopped bearing fruit, they can be cut down and used to make these lovely wooden pieces. This allows Mango farmers to plant more trees and provides them with a supplementary income.
The Urku Crackle Finish Table Lamp
23 x 18 Cm
The imperfect crackle finish on the Urku Round lamp gives an aged and characterful appearance. The paint effect is layered over a solid mango wood base.

The Noko Wicker Lamp.
Large 64 x 44 Cm – Small 48 x 30 Cm
These elegant Noko wicker lamps are beautifully handmade from natural wicker in a handwoven design. The warm natural hues of the wicker filter the light in an ambient and relaxing tone.
These wicker lamps have a textured finish and can work equally well as floor lamps or table lamps
---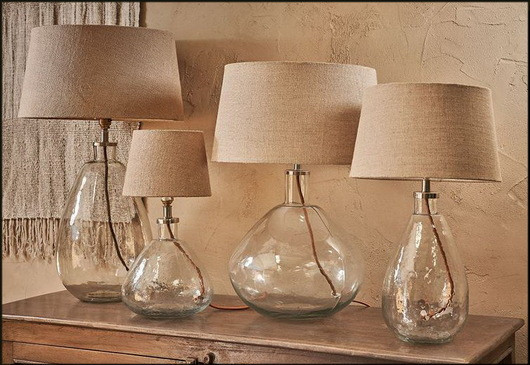 The Baba Glass Lamp Range.
The Baba range is available in a range of sizes and shapes
 Large Tall 50 x 26 Cm – Large Wide 42 x 31 Cm  – Small Tall 39 x 18 Cm – Small Wide 31 x 20 Cm
This is a beautiful range of Artisan Glass table lamp bases. Crafted from recycled glass by skilled artisans in Rajasthan. The hammered effect is created by hand when the glass is molten giving a beautiful textured and imperfect finish. This range is available in both clear and smoked glass finishes, being hand made each lamp will be different in detail adding to the unique and Artisan appearance.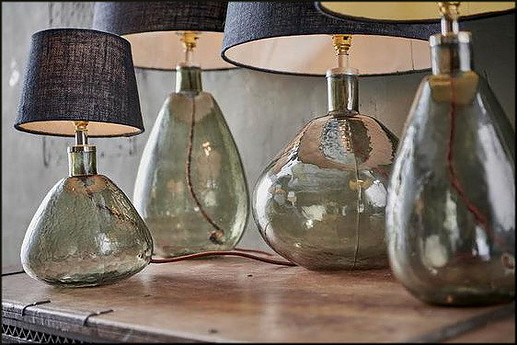 ---
The Paru Industrial Caged Lamp
Available in Bronze and Brass finishes –  33 x 20 Cm
The Paru Industrial Caged Lamp has a striking antique bronze or brass finish. The caged design frames a vintage bulb creating a stylish industrial look.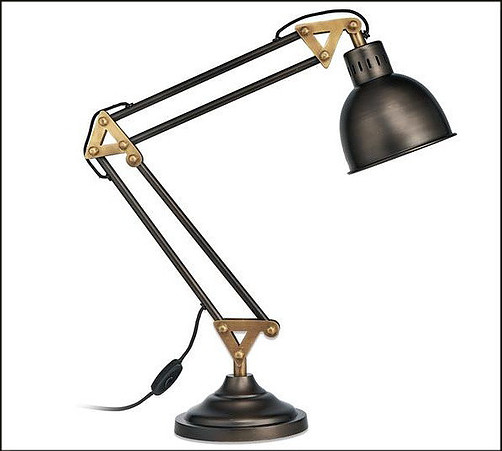 The Akona Aged Bronze Desk Lamp
Bronzed finish with Brass Highlight detailing – 50 to 70 x 19 x 50 Cm
The Akono desk lamp has a sophisticated aged bronze finish, this gives a modern take on an antique look. It makes an ideal desk accessory and quirky bedside light. The light is adjustable and the cable is black fabric.
This desk lamp has an adjustable head, allowing you to position the angle of light right where you need it.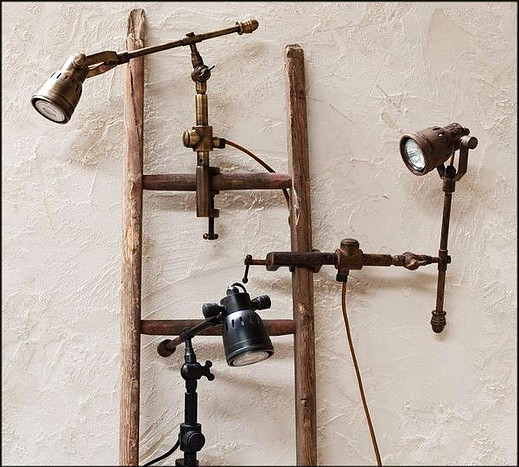 The Tabosa Brass Clamp Light.
Available in Antique Brass – Rust and Antique Brass and Black finishes.
32 x 33 x 10 Cm
The Tabosa clamp lights are handmade from brass and come in various finishes. The clamp attachment and swivel head mean this light is highly flexible and can be used in a number of settings. They are perfect for lighting shelving and can be adjusted to suit your requirements. Decorate your desk with these gorgeous handmade Artisan clamp lights that offer true flexibility in lighting your space.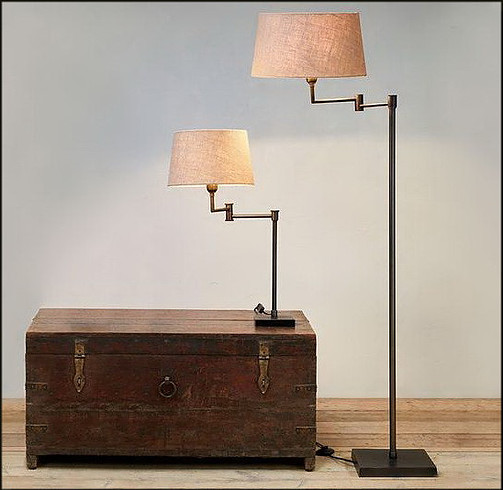 Kara Standing Lamps.
A modern Artisan version of the ever popular swing arm format of stand alone lighting.
Floor version 145 x 35 x 26 Cm – Table top version 54 x 24 x 14 Cm
These striking Kara Standing Lamps have all the elements of a timeless classic. The aged bronze finish really defines the stylish structure of these lamps. The Kara lamp is available in two sizes, a table lamp and floor lamp. The Kara lamps provide a stylish and understated look. The table lamp works perfectly as a bedside lamp or corner lamp, paired with an antique chest or side table. The Kara floor lamp is ideal for a living room, placed next to your favourite armchair or sofa.
---
Conclusion.
Nkuku really do offer something different and at an affiordable cost. This is just a selection of my personal favourites from the range of table lamps and desk lighting from Nkuku. You will find more to view at the Nkuku website along with other types of lighting and coordinated Artisan made fabrics, ceramics and furniture.
You can view the wonderful range of Nkuku hand made products HERE.
I hope you have found the Nkuku range of Artisan Table and desk lamps of interest.  
As always if you have any questions please do not hesitate to ask.
Michael Adkins. michael@hertfordshire-lighting.com