Interior design objects.
What is an interior design object? It is easier to describe what it is not, it is not furniture, lighting, wallpaper or art.
An interior design object can be any item with a story, history or a design that adds to an interior space, the design, finish and feel of the object can be in keeping with the overall design of the space or it can be a juxtaposition which adds eye-catching contrast. Vintage and Antique interior design objects can be employed simply as a display item or can be used as a practical item which can add another interesting and useful element to these objects that are to be used in your space.
Interior design objects can be found online at sites such as Etsy, eBay and specialist retailers.
Shop Local – I would always recommend having a look at your local Antique centre or house clearance outlet. We are lucky here in the UK to have some of the best Antique shops and emporiums in the world where you will always find a wide and constantly changing range of Interior design objects.
There is one specialist online shop which has a fabulous range of Vintage and Antique items including interior design objects, this site is called Vinterior. Vinterior is a platform run from central London which showcases products offered by over 1700 worldwide independent dealers, Vinterior dealers are vetted before they join the platform. The Vinterior platform offers a safe and secure place to view and buy vintage and antique items, the Vinterior platform also has a 14 day guaranteed return policy. Vinterior sells a wide variety of products such as furniture, lighting, art, textiles and mirrors and rugs. All design eras are catered for from Antiques to late 20th Century modern, there is something available for every taste and design scheme and every pocket.
Let's have a look at some authentic Vintage interior design object ideas from Vinterior and how they could be incorporated into your space as both a practical and a beautiful object.
Please Note – These are Vintage and Antique items, the items on the Vinterior will be unique and often one-off antique and vintage items so if you see an item you like don't hang about as once the items are sold they are gone and you may not find another for many years!
---
A 19th Century Cast Iron Door Stop in the shape of a Gothic Eagle.

This is a wonderful early Victorian doorstop made from cast iron. Gothic design with a serpent coiled around an eagle. The doorstop has really fine detailing and was manufactured in 1846 at the height of quality British manufacturing. This doorstop has its original unpainted finish which adds texture to its great appeal.
---
Antique French Confit Pots.
Antique French confit pots have been a mainstay interior design object for ages, these beautiful pots originate from Provence and have a fabulous aged look with marks & wear from use which is impossible to replicate in modern ceramics.
Originally used for preserving meats such as confit of duck.
These old ceramic pots are truly beautiful decorative pieces.
---
An Antique British Copper kettle drum planter.

This is a beautiful British copper kettle drum dating from the 1800s. The drum has an aged and antique verdigris copper green finish which only comes with decades of life, use and exposure to the elements. This old drum could be used as a planter or as a wood or coal store next to a fireplace, it offers character, finish and texture.
---
Antique early 20th Century Kitchen Scale from Italy.
A lovely decorative kitchen scale from Italy around 1900. Manufactured from iron and brass with an outstanding original worn finish that adds character and texture, place this in a large kitchen as a decorative object or use the scale for displaying planted herbs or dried flowers.
---
Antique Indian Wooden Iron Banded Vessels.

Lovely antique wooden Indian measures. These old wooden pots have a lovely attractive riveted wooden and iron banded construction. Possibly a grain measure originating from Rajasthan. These are lovely decorative objects. Old wooden vessels like these make characterful storage vessels for dried herbs or flowers.
---
An Antique Oak Rustic Dough Trough.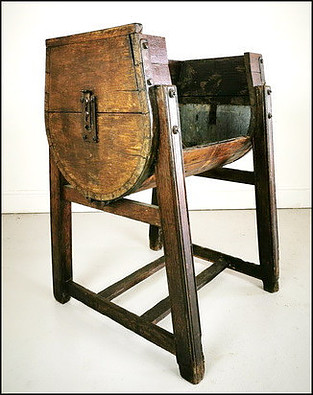 This is an Antique grain or dough bin from the 19th century. The oak has a beautifully aged patina with signs of life and use, this would make a unique potato store or could be used as a Red wine rack, either way, the aged finish adds a wonderful Antique feel even to a modern kitchen.
---
An Antique Bentwood Box.
A beautiful Antique Bentwood box originating from Sweden, it has with original owner's initials and ancient repairs.
The original paint and hand-carved details add timeless character to the box which would make a unique and wonderful dresser top storage box for tissues or make up.
---
An Antique Arts & Crafts Copper Coal Scuttle.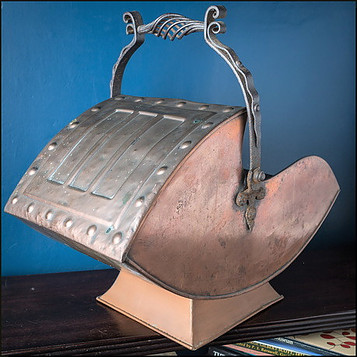 A beautiful late 19th early 20th Century Arts and Crafts copper coal scuttle, full of aged character with an unpolished patina and unpainted wrought iron textures. A practical piece of history ready to be used as a tinder or coal store.
---
A Tall Sculptural Solid Wood Block Plinth on Metal Legs.
A wonderful antique tall and almost architectural wooden block, maybe a kitchen work block. Full of wear, patina and signs of aged use. This could be used as a plant stand or kitchen block that would add age and texture to any space.
---
An Antique 19th Century Red Majolica Vase.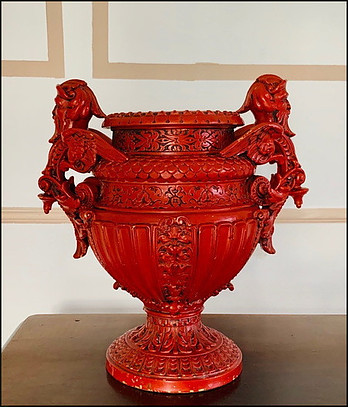 A wonderful 19th Century highly detailed earthenware Majolica pedestal vase in a beautiful aged red finish. The vase has slight signs of wear and life which add to the appeal. Place this as a decorative item in either a period or modern setting and it will draw the eye and make a lovely centrepiece.
---
A Rustic Victorian Rocking Cot from 1856.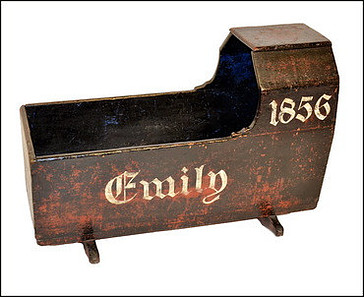 This beautiful Victorian Rocking Cot is marked with its age of manufacture. A unique piece of antique furniture that would make a great display base for teddy bears or toys, it could also be used for storing bedding or towels.
---
An antique wooden wall hanger from the 1900s.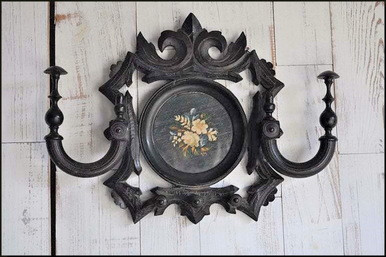 A Baroque-style wooden wall hanger from the 1900s. With original finish and decorations. A beautiful addition to a hallway and practical as a hanging point for hats, scarves or dog leads.
---
Conclusion.
I hope you have found this post interesting and that it has sparked an interest in adding something aged, worn and characterful to your home. Take pleasure in the thought that when you add a Vintage or Antique interior design object to your space you will be making a little corner of your home unique and creating an area that is not repeated anywhere in the world.
If you have any questions please feel free to drop me a line.
michael@hertfordshire-lighting.com