Animal Themed Table Lamps.
Animal themed table lamps have always been popular in the UK and Europe. I remember well my Great aunt having a carved wooden elephant table lamp that had been bought back to the UK after a trip in the very early days of long haul travel, the lamp was large and hand made from a large lump of tropical wood, the lamp carried the name "Ceylon" across its base. In the USA during the 1950s animal-themed TV lamps were popular often in the shape of big cats such as black panthers. These themed table lamps suffered from a drop in popularity during the 1960s and 1970s due to a reputation for poor mass-produced quality. Animal table lamps today bring a touch of the exotic to any space, modern manufacturing methods and materials have elevated some of these quirky table lamps to the top end of interior design statement lighting. Today you can find a fascinating range of top-quality animal theme lamps, I would like to show you here my 12 favourite Animal theme table lamps, all of my selection are of very good quality and all the lamps shown will add a design element to a space that cannot be found by the use of a "normal " lamp. In this selection, you will see how heavy moulded modern & traditional materials are used with modern manufacturing processes to produce fine and realistic animal details.
---
The Ceremonial Elephant lamp by OKA.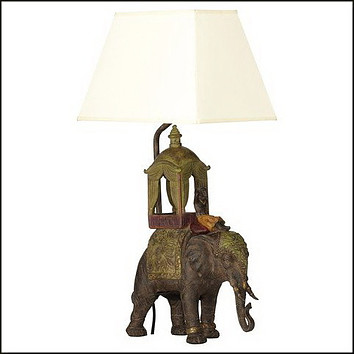 Width 24cm x Depth 11cm x Height 32cm
This highly detailed elephant has been cast from modern synthetic materials and is decorated with ceremonial garments with a rider on top, hand-painted with precision and providing an exotic Asian feel. These smaller beautiful lamps would make a great choice for bedside lamps.
---
The Chetak lamp by OKA.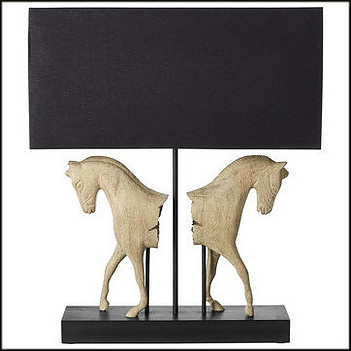 Width 40cm x Depth 12cm x Height 37cm
A beautiful hand-carved half-horse lamp is perfect for introducing symmetry to any space. The lamp has the appearance of an archaeological find with a distressed finish to the carved wood. This is a true statement lamp ideal for a centrepiece or on a console table in a large hallway.
---
The Lakedema Leopard lamp by OKA.
Width 12cm x Depth 12cm x Height 33cm
The wonderful Lakadema Leopard Lamp has an aged, sculptural and classical appearance. Another highly detailed and top quality lamp suitable for placing at each end of a large dresser or as a welcome lamp in a hallway.
---
The Monkey Sitting Table lamp by Seletti.
Width 34cm x Depth 30cm x Height 32 cm
These amazingly realistic monkey lamps are great fun and very quirky, these resin lamps perfectly imitate our primate cousins. These Seletti lamps are available in several postures. The designer Marcantonio Raimondi Malerba is exploring themes like the relationship between man and nature, art and design. These sculptural objects sit at the boundary between art and design and help to create something unusual and different to your space.
---
The Mouse Standing #1 Table lamp by Seletti.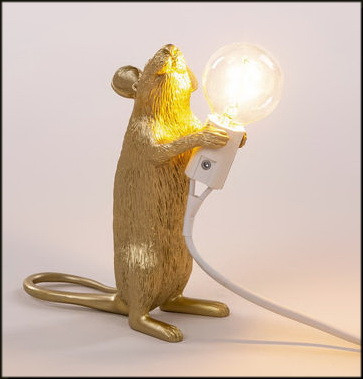 Width 6cm x Depth 13.3cm x Height 14.5cm
Marcantonio Raimondi Malerba continues his naturalist exploration. These realistic small mice continue the link between man and nature. Fun and quirky, these resin lamps perfectly imitate the small rodents in several postures. Instead of a piece of cheese in their paws, the mouse holds an LED bulb which provides a soft mood lighting.
---
The Uhuh Hibou Owl Table Lamp Gold Plated by Moooi.
Length 23cm x Width 24cm x Height 21cm
Created by Marcel Wanders, this pretty series of table lamps are available in three different forms, this the Owl – Uhuh – A penguin – Noot Noot, and a Rabbit – Purr. This lamp has delicate and rounded lines, perfect for providing a little softness to your interior space. Made from frosted glass, these wonderful table lamps are decorated with gold-plated ceramic details.
---
The Bird Waiting Table lamp – Still raven by Seletti.
Length 29cm x Depth 12cm x Height 18.5cm
Another fun and quirky lamp by Seletti, this resin lamp perfectly imitates the Raven corvid. Available in several postures: still as shown as well as perched and playful. In their beaks, they hold an LED bulb providing soft mood and accent lighting.
---
The Otto Octopus Table Lamp by Graham & Green.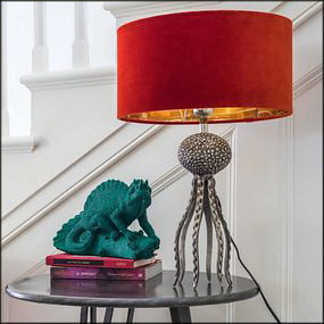 Height 35cm x Base Diameter of 10cm
Add nautical flair to your space with the silver metal Otto octopus lamp. With intricate detailing inspired by a tall, elongated octopus and with six distinctive tentacles, this deep sea-themed lamp is certain to be a talking point in your home.
---
The Silver Hetty Hare Table Lamp by Graham & Green.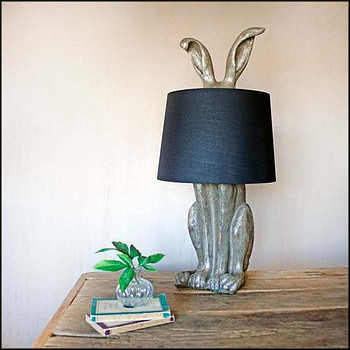 Height 76cm x Width 24cm x Depth 39cm
Hetty Hare table lamp is an extraordinary design with adorable features. The Hetty Hare table lamp is finely moulded from modern resin and has intricate detail on the body and large floppy ears. The lamp will suit a wide range of interiors and is also available in Gold. A perfect example of modern materials and manufacturing methods working together to provide a unique item of lighting for modern or period interiors.
---
The Gertrude Golden Goose Table Lamp by Graham & Green.
Height 65cm x Width 30cm x Depth 30.5cm
The charming Gertrude Golden Goose Lamp will make an intriguing focal point for your space. With her body and feet poking out beneath the shade, this is a fabulously quirky home accessory, perfect for eclectic interiors. Highly detailed heavy synthetic resin with an Antique gold gilt effect finish.
---
The Silver Flamingo Table Lamp by Graham & Gn.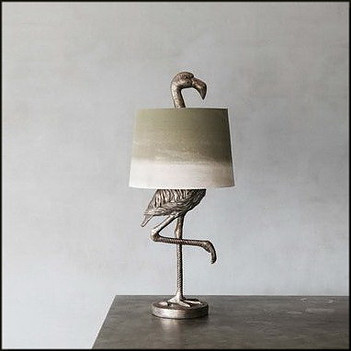 ree
Height 81cm x Width 35.5 cm
The Silver Flamingo lamp has an Antiqued silver nickel finish, highly detailed and made from heavy moulded resin. The quirky silver Flamingo table lamp is an eccentric animal-themed addition to your home.
---
Conclusion.
I hope you have enjoyed my personal selection of Animal themed table lamps, all of the retailers shown in this post have other Animal lighting offerings and some have matching accessories that allow these lamps to be employed as part of a larger interior lighting design scheme. I always encourage anyone looking for a piece of lighting online to explore further the website of the chosen retailer as these quality outlets usually have a range of matching accessories and will often show some products in use and in conjunction with complementary products.
As always if you have any questions please do not hesitate to ask.
Michael Adkins.
michael@hertfordshire-lighting.com