A Neglected French Empire Lamp – The Beauty of Antique Brass Table Lamps.
After a recent buying session at one of my local auctions, I found myself in possession of a box of brass and copper "oddments". At most general auctions you will find large boxes of bits and pieces that are sold as job lots. Often these boxes will have just a few decent pieces that will be mixed together with less desirable items that are used as filler pieces included to seemingly add value to the lot.
Before I bid on my recent box of purchases, I had a thorough sort through and noticed at the bottom of the box a quite lovely and a very neglected solid brass table lamp. The lamp base was beauty and had some great age to it, the lamp dates back to the late 19th century and is made from heavy cast brass in a tri footed triangular shape with one of the three sides having beautiful and highly detailed cast and hand-finished decorations. The lamp is highly typical of the French Empire or Regency style. Ornamentation on French Empire designed products usually included motifs associated with the French Empire, these decorations include laurels, garlands, crowns, rose wreaths, climbing grape vines, acanthus leaves often with geometric designs and Egyptian motifs.
The first thing that stands out on this lovely antique brass French table lamp is the build quality and sharpness of the detailing. The decorations on this lamp would have been carried out by a real craftsman, the lamp has three flared paw shaped feet with geometric Greek key side panels with a garland decoration at its pedestal base and decorative motifs cut from the column, at the top the lamp finishes with a highly detailed panel of vine leaves and grapes.
This great looking old antique lamp was found without any fittings or wiring but is in remarkable condition for its great age.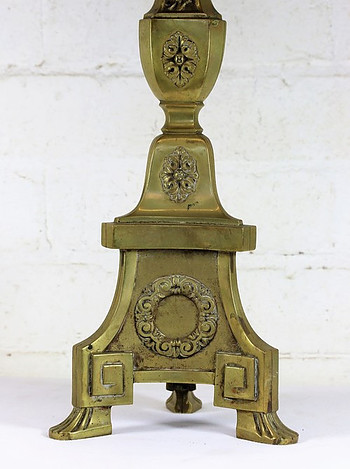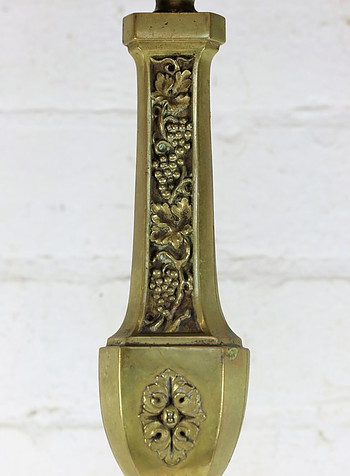 Here is the old solid brass lamp as found and some of its wonderful French Empire details.
The brass colour of this lamp is a quite pale yellow, it has no aged tarnish or patina from use which suggests it may have been kept in a dry dark place for many years, instead of any patina the brass was found with an aged dull finish that needed reviving. Restoring antique brass like this is a matter of personal preference, old brass with a used patina looks wonderful and to my mind should not be polished but this lamp just looked dull, lifeless and definitely needed some attention to bring it back to life.
---
Rewiring.
This excellent piece of antique brass lighting will obviously need completely rewiring and will need some modern fittings and components to bring it back to a usable and safe condition.
When restoring any old lighting or rewiring any lamp there are a number of important safety points to remember.
• Always follow your local or national standards and only use components that meet your countries regulations.
• In the UK metal lighting such as this lamp needs to be earthed (grounded), check the wiring standards in your country.
• Always smooth down and fit protective plastic or rubber grommets to areas, such as tubing, where your cable passes.
• Always fit a cable-stay, a point where the cable is fixed that will stop the wiring being pulled out of your bulb holder in the event of the cable being pulled or the lamp dropped.
At first glance, this lamp looked like a tricky challenge with regards to these safety guidelines, but on close examination, I found that the top round decorative section of the lamp unscrewed from the main column. Suddenly I realised that this one small top part that could be adapted to meet all of these important safety features in one place.

With the use of a short length of 10mm all thread tubing, a few matching nuts, a couple of plastic protective grommets and a modern plastic cable-stay this small decorative top part of the lamp could be adapted and would solve all of the important modern safety issues.
The modern safety components fitted really well into the old lamp thanks to the generosity of the original makers who built the lamp without compromise and with generous proportions.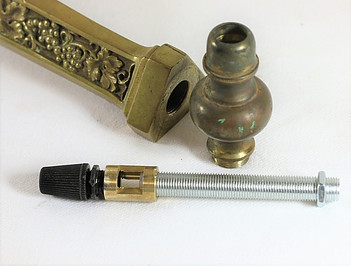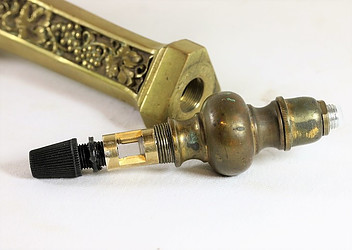 A Bulb holder was wired up and fitted into the lamp part, you will be able to see UK wiring here which shows Green & Yellow for Earth – Blue for Neutral – Brown for Live.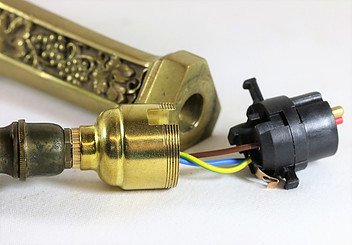 With the bulb holder fitted this Antique lamp now met modern safety standards.
---
Refinishing and bringing the Brass back to life.

The lamp was now in need of a finish refresh.
This image clearly shows the dull lifeless look of the old brass as well as my first idea of a solution, I did not want to use modern polish on the lamp, I really just wanted to take off the dull lifeless top layer and keep the aged look. I decided to give the brass a really gentle rub down with super fine and best quality wire wool of 000 Grade.
After a few minutes of gentle rubbing, I was delighted to find that the wire wool was a great solution, with gentle but persistent rubbing the brass started to glow and all of a sudden the dull lifeless look was starting to be replaced with an aged glowing gold antique brass finish. The wire wool turned out to be the perfect solution as it bought the brass back to life without altering the surface or taking away the many small marks the lamp had gained from a long life and use.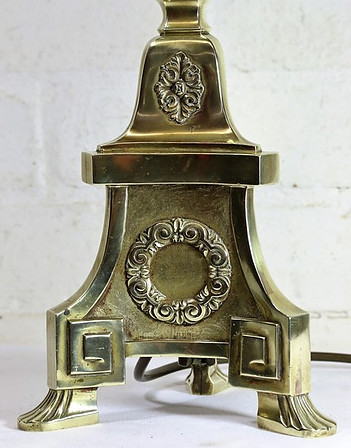 The bright shining beauty of the refinished antique brass.
---
The finished lamp.
With the revived finish complete the original skills of the craftsmen who made this lamp really started shining and their work is again ready to be used for the original purpose of lighting a space.
In use and with a shade fitted the lamp comes to life, this handsome antique brass lamp would make a great addition to any period room or a contemporary space that needs a touch of antique chic.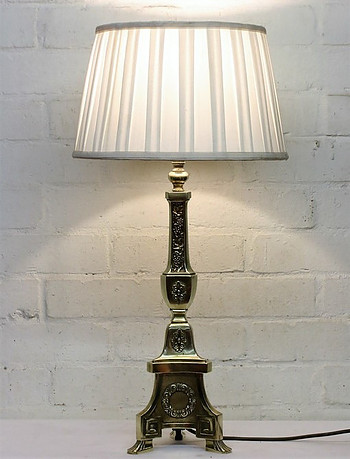 The lamp back in use after decades of being forgotten.
---
The skills of the original maker made this lamp well worth restoring and it was a pleasure to work on such a great old lamp, it was a relatively short job that turned out to be much more straightforward than I imagined, I am really happy with the end result and I am delighted to have provided this wonderful piece of Antique lighting with new life.
Materials – Earthed Wiring. Earthed switched Brass bulb holder. 10mm Tube, Nuts and Grommets. Plastic cable stay. 000 Grade Wire wool and sundries.
Time Spent on the lamp – 2 Hours.
I often have a number of Vintage Industrial items for sale in my eBay shop here – Hertfordshire Lighting and Design
I would love to hear from anyone who has performed a similar refinishing project; it's always great to share ideas with other people.
Even a simple restoration project can bring a great sense of satisfaction and is great fun. I would encourage anyone to bring new life to an old Antique item.
• Shop around.
• Find an item.
• Give it some thought.
• Do a bit of research.
• Restore.
• Always remember antiques are Green!
If you have any questions or need advice on any item of Vintage lighting please contact me and I will do my best to help.
Michael Adkins. michael@hertfordshire-lighting.com
---