An Antique mirrored wall sconce from the brief Edwardian Period.
The Edwardian period was short-lived and was gone in the blink of an eye. However, despite being less than a decade long the short Edwardian era offered a fresh take on interiors. After nearly a century of Victorian designs that were steady and very traditional, the Edwardian period saw new and exciting shapes, forms and art styles which started to appear in all areas of life. These new designs had influences rooted in both the Arts & Crafts movement the Art Nouveau period. The Edwardian period also saw a resurgence of fancy and elaborate Queen Ann designs and shapes which provided an antidote to the more conservative Victorian era.
The Project – A very early 20th Century Mahogany mirrored wall sconce.
At a recent auction, I managed to acquired a great looking wooden mirrored wall sconce which had a great profile with a typical Edwardian and Art Nouveau feel to its shape, design and carved detailing.
This Antique sconce is made from heavy mahogany with reticulated fret cut-outs and carved detailing. The sconce was found in a very good state of repair. The sconce has a lovely original hand cut and hand bevelled mirrored glass insert. Under the mirror sits a really ornate carved and moulded wooden shelf. Antique mirrored sconces were designed to take a candle that would reflect against the mirrored section providing both direct and reflective lighting.
This great old sconce was found at a very reasonable price due to the fact that at some time in its history it had been badly painted in a thick and unattractive gloopy Gold paint.
Restoring this antique wall sconce will be a fairly simple, time-consuming and interesting project. The first thing to do with this sconce was to strip it down to its component parts and remove the horrible Gold paint. Much to my delight when removing the mirror I discovered a few sheets of old newspaper that was used as a backing between the mirror and wooden back panel. The newspaper was dated back to 1905 and the articles dealt with War reports from around the world, robberies in London and sport, somethings never change!
Here is the Antique wall sconce as found and after stripping down into its component pieces. Looking at these images you will see the dull and flattening effect of the unsuitable and thick Gold paint.
---
Stripping.
The old Gold paint was stripped using a professional paint stripper. Note – When using paint stripper make sure you work in a well-ventilated area or outside if possible, also wear gloves to protect your skin and please wear goggles for eye protection. When using paint stripper always follow the makers instructions. The horrible old paint on this sconce required a surprisingly thin coat of stripper to remove. Under the gold paint, I found an original gilt gold finish that was distressed and very aged with some areas of Mahogany showing through, I am guessing that the reason the sconce was repainted was in an attempt to bring the sconce back into shape.
A comparison of the original and overpainted finishes.
Despite the original finish being aged, flakey and well used I could immediately see the potential in bringing the original gilt finish back to life after many decades of being covered in a gold mess. With the Gold paint completely removed the sconce was gently rubbed down with fine wire wool to remove remaining paint stripper as well as loose and flakey paint. The Mahogany wood under the paint was also rubbed back to reveal and emphasise the aged & used look of the sconce, my aim was to do the opposite of the Gold paint effort from years before, I wanted to shown the age, detailing and distressed look of the original finish
---
Refinishing the sconce.
After a final clean the sconce was ready for a refinish, I decided to treat the sconce to a few coats of high-quality dark wax. The dark Oak wax gave a sheen to the Gold as well as bringing to life all of the scratches and ageing from history and the original yucky refinish. The dark wax worked a treat and gave the sconce a new lease of life.
A detail showing how the dark wax brings the old Gold & distressed finish back to life.
The wooden parts of the sconce were reassembled using all the original screws, the mirror was then reset into position using the original method of angled panel pins, the sconce was found with two old brass mounting plates, these were also reinstalled to bring the sconce back to its original format. This Antique sconce from the early Century is solid and sound and will add a great touch to any Edwardian period interior or even a contemporary setting. The sconce now has a finish that is easily refreshed with a little effort and a new coat or two of dark wax polish.
---
The refinished sconce.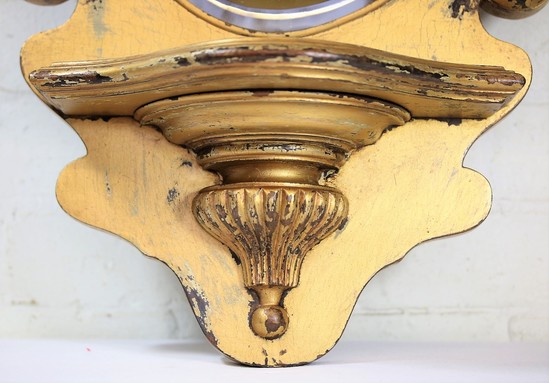 Here is the completely refinished Sconce with its detailing showing through as well as many signs of life, age and history. With the thick Gold paint removed the sconce revealed some fine details which are a testament to the woodworking skills of its original craftsmen.
---
Conclusion.
I hope that you have enjoyed reading my post and that this may encourage you to "go green" and give life to a Vintage or Antique item of furniture. As always I encourage you to visit your local auction, flea market, junk shop or Antiques dealer when searching for a project. You may be surprised what you can find for very little cash and a bit of time and effort.
You may be surprised what you can find for very little cash, combine the fun of Antique hunting with a bit of time and effort you can be rewarded with something beautifully made and totally unique.
Please have a look at some of my other restoration projects which I hope you find interesting, here are a couple of examples.
Materials – Paint Stripper. Fine Wire Wool. Dark Oak Briwax.
Time Spent on the Sconce – 4½ Hours.

I often have a number of Vintage Industrial items for sale in my eBay shop here – Hertfordshire Lighting and Design
I would love to hear from anyone who has performed a similar restoration project; it's always great to share ideas with other people.
If you have any questions or need advice on any item of Vintage lighting or homeware please contact me and I will do my best to help.
Michael Adkins. michael@hertfordshire-lighting.com