The Art and Crafts Movement.
Starting in the late 19th century the Arts & Crafts movement is considered a parent of the later Art Nouveau period. The Arts and Crafts period had its roots based in a reaction to over-elaborate and fussy Victorian designs and was also held as a counter to the seemingly over industrialised design and manufacturing process which produced lines of identical household items such as furniture and textiles.
The Art and Crafts movement promoted simple forms and designs, many based on medieval and folk style designs, furniture designs of the Art and Crafts period highlighted the natural beauty and patterns of natural materials and traditional manufacturing methods.
---
The beauty of Antique British Oak.
Old Oak is a naturally dark, deeply grained & beautiful material. When I find an Antique Oak item there are two types of beauty to look for and admire. One is the patterns, grain and natural decorations of old Oak which come from tree growth and nature. If you hold in your hand an Antique Oak item made in the late 1800s you will be actually be holding Oak that dates back many more hundred of years than the date of manufacture of your item.
The other beauty that Antique Oak and old wooden items have are man-made, these decorations are the bumps, scratches, dents and signs of a long working life and also the signs of original manufacture that add something immeasurable to the beauty of the item. These marks are the history of the item and if you can appreciate these marks they are a huge bonus and you can be happy that you are on to a winner with a great attitude to Antique woodenware.
---
The Project – A Late 19th Century Arts and Crafts movement occasional table.
At a recent auction, I recently acquired a really lovely small Antique Oak table that screamed Arts and Crafts in its simple design and form. This Oak table has such a great look with a simple design making the most of the Oak it was made from, the construction used angles and blocks to form a solid structure which allowed the natural beauty of the dark oak to shine.
The table was found in a very good state of repair. This small table appeared to have been put into auction from a house clearance as it was complete with surface dirt, water staining and cobwebs. At some time in its history, the table had been given a coat of dark brown varnish and stain, I am guessing that this was done to hide the variation in grain pattern and shading in an attempt to make the table more uniform in appearance, ironically this is a complete contradiction to the Arts and Crafts idea.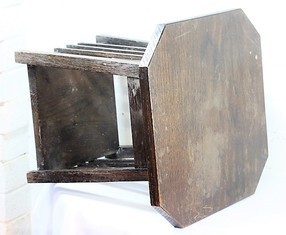 Here is the table as found.
Restoring this Oak arts and crafts table will be a fairly simple, time-consuming but very satisfying project. The first thing to do with this table is to remove the old varnish & stain.
---
Stripping.
The varnish was stripped using a professional paint stripper. Note – When using paint stripper make sure you work in a well-ventilated area or outside if possible, also wear gloves to protect your skin and please wear goggles for eye protection.
When using paint stripper always follow the makers instructions.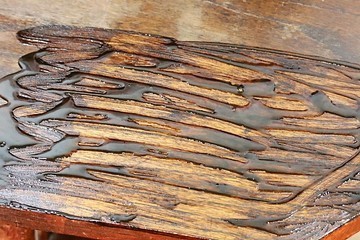 The old varnish & stain on this table required a surprisingly thin coat of stripper that was double-brushed and agitated to get under the varnish and onto the stain underneath. The paint stripper and old varnish was then removed one small area at a time with wire wool and white spirit.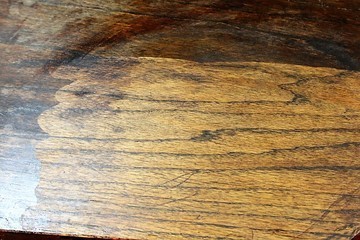 With the just part of the varnish removed the shade of the lovely old wood was instantly lightened and some beautiful grain and marks started to appear.
The completely stripped table.
Once the table was stripped and dried out it was rubbed down using fine glass paper followed by reducing grades of wire wool starting at grade 1 and reducing to grade 00. As soon as the wood was rubbed down and cleaned it started to come back to life. The wood was found to have beautiful deep graining with dark patterns and some pale figuring. With the old finish removed manufacturing details along with marks and signs of use also started to appear and the history of this great old table that had been hidden by the varnish was bought to the surface. Signs of manufacture included saw marks, chisel cuts and finishing marks.
---
Final finishing.
Now the table is ready for its final finish. The stool was given a 4 coat wax finish built up over several hours including drying time. The good quality dark wax I used is called "Briwax" this dark wax slightly emphasises the grain and marks and adds depth the deep grains and cuts of the old Oak.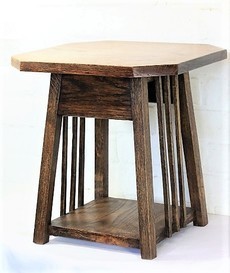 Here is the stool with its new finish.
This old antique arts and Crafts table has now come back to life, the Oak now shows the details which made it such a great choice for the original design. The history of manufacture and design ideas are there to clearly see and admire. This Antique Oak table from the late 19th Century will now last another lifetime or two and will add a great touch to any period setting, it can be used in a whole host of settings and has a finish that is easily refreshed with a little effort and a new coat of dark wax polish.


---
Conclusion
I hope that you have enjoyed reading my post and that this may encourage you to "go green" and give life to a Vintage or Antique item of furniture.
As always I encourage you to visit your local auction, flea market, junk shop or Antiques dealer when searching for a project. You may be surprised what you can find for very little cash, combine the fun of Antique hunting with a bit of time and effort you can be rewarded with something beautifully made and totally unique.
Materials – Paint Stripper. Fine Glass Paper. Wire Wool. Dark Oak Briwax.
Time Spent on the Stool – 5 Hours.
I often have a number of Vintage Industrial items for sale in my eBay shop here – Hertfordshire Lighting and Design
I would love to hear from anyone who has performed a similar restoration project; it's always great to share ideas with other people. If you have any questions or need advice on any item of Vintage lighting or homeware please contact me and I will do my best to help.
Michael Adkins. michael@hertfordshire-lighting.com