Restoring an Antique Style Vintage Pineapple Ceiling Light Pendant.
Vintage Antique Style Ceiling Lights.
During the 1970s the on-trend lighting was generally space age, modernist, different and unusual to the norm, the lighting of this period is hugely popular today and falls under the generic term of Retro Lighting. However, during the 1970s and into the 1980s there was also a high demand for lighting that was made in an Antique Style. Manufacturers in Europe and the UK fed this market with a supply of lighting based on classic Antique designs. Often this type of lighting was highly stylised with some extremely exaggerated design elements, these highly stylised Vintage lights are today a stand-alone category of lighting, these Vintage items of lighting made in an exaggerated Antique design are still widely available as second-hand items, they can be found online and at Flea Markets, house clearance shops and quality charity outlets. If you are lucky enough to find one of these vintage ceiling light fixtures then it will probably need a degree of work to make it safe, useable and will probably need cleaning and polishing to bring it up to a good decorative standard.
Just recently I picked up a few old items of lighting from a house refurbishment project, the lights were taken from a home that had not been touched for decades, amongst these lights was a really typical example of a 1970s Vintage ceiling light fixture. The light was ceiling light pendant which is a vintage version of an Antique Georgian Pineapple ceiling light.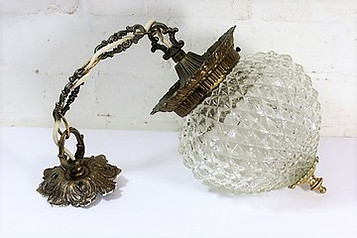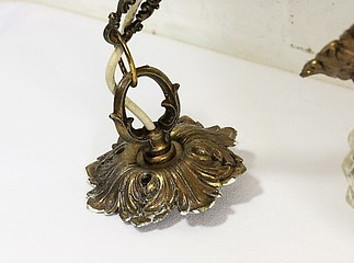 Here is the Vintage Pineapple ceiling light as found. The light has a heavy moulded clear glass shade with a diamond surface finish and in a shape known as Pineapple. The light has an Ornate Brass finial, a very ornate brass three screw gallery along with a matching ornate brass chain and a brass ceiling mounting rose.
---
Clean and Polish.
The first thing this Antique stylised old light needed was a good clean and a polish. The light was taken apart and given its first polish in many decades, the various brass parts of the light had aged and differently. The brass gallery, finial, chain and the brass ceiling rose were found to be in various states of tarnish so I decided to polish all the brass pieces to a matching or at least similar finish.
The metal parts of the light are made from moulded brass with a polished gilt ornate finish. The metal parts were bought back to life using fine wire wool and the wonderful "Autosol" metal polish which was originally developed for cleaning chromed metalwork on older motor vehicles.
---
Rewiring & cable protection.
This great old light was found fitted with old white three core wiring and an old brass switched brass bulb holder. The wiring and bulb holder were disposed of and the light was made ready for rewiring. Rewiring was carried out using current UK standard components. I used an earthed brass bulb holder with a UK BC fitting. Wiring is three core, in the UK we use Green and Yellow for earthing (grounding) – Blue is neutral and Brown is live. Wiring was fitted with cable protection at the gallery fitting point.
When you rewire a Vintage light fitting you should always take care to provide the cable with protection at entry points, when this light was made the standards were different, below we can see an image of the original sharp cable entry point and the effects of rubbing and decades of use on the original cable.
This type of damage can be avoided in the future by using modern cable protection, in this case, simple wiring grommets were used which are neat and protect the cable neatly and securely.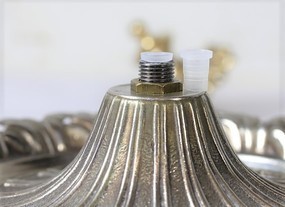 ---
Reassembly & Testing
The shade was really dirty with a few spots of old paint but was found to be free of any damage, it was cleaned in hot soapy water and given a wipe over with modern glass cleaner. After cleaning the shade came to life, the shade was found to made from decent quality heavy clear moulded glass which I knew would provide a great effect when lit and in use.
The light was assembled and made ready for testing.
Once hanging the Antique style of this vintage light started to shine, the pineapple shape of the glass lampshade and the ornate brass gallery work together to emphasise the Antique look, back in the 1970s when this light was made the manufacturers went to great trouble to provide all components with an Antique appearance, the ceiling rose and ornate chain really finish off the Antique look.
---
The Vintage Light in Use.

In use, the heavy moulded glass pineapple lampshade provides an eye-catching lighting effect that is bright with both highlights and shadowing which together work really well in providing a warm and interesting surrounding light.
---
Vintage antique style lighting like this is well worth hunting down, these lights were popular back in the 1970s and many were made, however, this type of lighting is getting rarer with each passing year.
A Vintage ceiling light like this will add an aged look to any space, despite the Antique styling this light would sit well in a modern setting as well as an Antique or period designed space.
This restoration was very straightforward, a large part of the project was a thorough cleaning and polishing of the brass parts. The end result is really pleasing and seeing this vintage pineapple ceiling light back in use is very satisfying.
Materials – Earthed Wiring. Wiring grommets. Earthed Brass bulb holder. Metal Polish. Wire wool and sundries.
Time Spent on the lamp – 2 Hours.
I often have a number of Antique Lighting items for sale in my eBay shop here – Hertfordshire Lighting and Design
I would love to hear from anyone who has performed a similar restoration project; it's always great to share ideas with other people.
If you have any questions or need advice on any item of Vintage or Antique lighting please contact me and I will do my best to help.
Michael Adkins. michael@hertfordshire-lighting.com