Tom Dixon Table and Desk Lamps.
Tom Dixon A name linked for many decades with truly unique and wonderful items of furniture, interior design and of course lighting. Tom Dixon was a self-taught designer; he started making one-off pieces of furniture in a motor garage welding workshop owned by his friend. In the late 1980's he made his first piece of lighting which was a one-off Spiral metal ceiling pendant which produced an unusual and active lighting effect. In 1994 the "Jack" light appeared, I always believed that the Jack was a reference to the old school game of Jacks, this fabulous floor lamp is now a lighting classic and sought after by collectors and interior designers alike.
Please Note – this post may contain affiliate links, if you purchase from one of them we may receive a small commission at no extra cost to you.
---
Tom Dixon Lamps a range of modern classics.
When I discuss the Tom Dixon brand with people it is surprising how many people are familiar with the Tom Dixon Beat range of pendants but who are unaware of the other types of lighting offered by Tom Dixon.
You can see a summary of the Tom Dixon beat range of pendants HERE
The Tom Dixon range has a wonderful selection of hundreds of beautiful Lamps, Pendants, Chandeliers and wall lights on offer.
The range of Tom Dixon table lamps and desk lamps is not huge but each piece in the range is a modern classic with each lamp having the unique Tom Dixon look.
Tom Dixon lighting is beautifully made and of the very highest quality. The table and desk lamps look fantastic in use and have design's and profiles that are sharp and iconic, Tom Dixon lamp designs are beautifully proportioned and add a great look to desk or table tops both in use and as a stand-alone interior design object
---
The Tom Dixon Beat range of Desk Lamps.
In the early 2000s, Tom Dixon was part of an initiative in India which helped traditional craftsmen in Northern India keep their amazing metalworking skills alive. The Tom Dixon Beat range was born from that initiative.
These Beat desk lamps are a perfect foil for the matching range of Beat pendants giving the opportunity to connect all elements of a lighting scheme in an interior scheme or space. Each Beat Lampshade is made from quality spun and hand brazed Brass with the interior having beaten hammered surface marks. Each beat lampshade will be unique.
Depth 36 cm x Width 36 cm x Height 53 cm
---
Tom Dixon Bell Lamps
Bell table lamps from Tom Dixon have a great retro look and have a design feel that takes me back to the early 1970s. The Bell range comes in two sizes and is offered in a number of finishes that vary in both in colour and reflective properties. These lamps have built-in dimmers making these top of the range lights suitable for a whole host of uses and settings.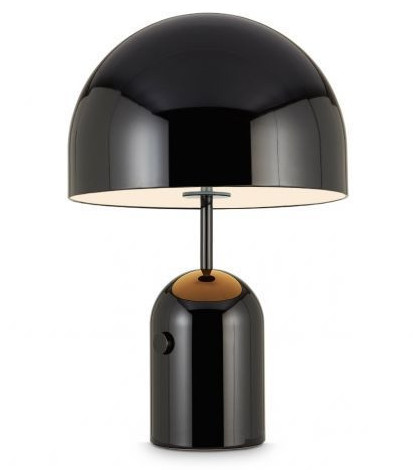 Large Bell Lamp – Width 40 cm x Height 60 cm
---
Tom Dixon Melt table lamps.
If you own a Tom Dixon Melt table lamp then congratulations as you are the owner of a modern classic and an icon of designer lighting. In terms of lighting effect the Melt is unique. It has a hot blown glass effect lampshade that provides a mesmerising light to surrounding space and surfaces, again the Melt idea is available in a range of ceiling pendants allowing a theme to run through the lighting of any space.
Depth 28 cm x Width 28 cm x Height 43 cm
---
The Tom Dixon Stone table lamp.
The Stone lamp provides a soft and translucent lighting effect provided by the natural Morward marble material, the veining and translucence of the marble allows the Stone lamp glow in use, the Tom Dixon range of wall lights includes matching wall lights & pendants in the Stone design.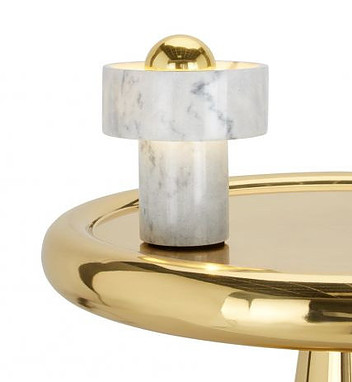 Height 14 Cm x Diameter 18 Cm
---
The Tom Dixon Base table lamp.
Solid and sturdy with a base manufactured from cast iron with a matt textured finish, the shades for the Base lamp are available in Brass and highly polished copper. These Tom Dixon Base lamps have an industrial feel and would make wonderful and modern bedside table lamps. The Base design is also available in wall and floor mounted versions.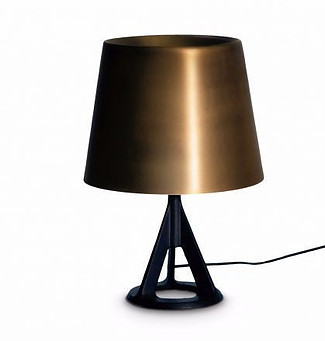 Depth 27 cm x Width 21 cm x Height 39 cm
---
Conclusion.
The quality of Tom Dixon Lighting is very high in terms of build quality and design.
The Tom Dixon website is full of iconic and wonderful items of lighting, the website also has a wide range of simply stunning modern furniture and interior design accessories. If you visit the website you will also be able to see some interesting case studies on projects such as restaurants, hotels and even churches that have used the Tom Dixon range.
The wonderful range of Tom Dixon Table Lamps, Desk Lights, Lighting & furniture can be viewed and purchased at the official Tom Dixon website HERE.
PLEASE NOTE – there are some inferior and poor copies on the market but once you have held and used an original piece of Tom Dixon lighting you will quickly feel its quality both in terms of material quality and craftsmanship.
As always if you have any questions please do not hesitate to ask.
Michael Adkins. michael@hertfordshire-lighting.com