The French.
As a people the French seem to have an almost effortless ability to be stylish, chic and a bit different. This seemingly casual charm applies also applies to French Country interiors and Lighting.
Of course this charm is not effortless and is far from casual. Original French country interiors often had a look that was governed by location and available local materials. The chic look of a French country home is a million miles away from the generic high street superstores that sell modern shiny lighting and interior objects that just do not fit with the wonderful French shabby chic look. If you are looking to add a touch of French country to your home there are a number of ways you can add objects and lighting that will make a big difference to your space.
Consider form, texture, colour and the interplay of lighting and objects with what you already have in your space.
Washed and distressed paint finishes add colour and texture.
Antique or aged wood and iron often add a wonderful deep texture.
Washed faded and subdued autumnal colours are available from cushions, rugs and throws.
Consider a juxtaposition of brighter coloured object against a darker russet background to bring a focal point to part of your space.
Embrace the wide range of shabby chic distressed home wares available online and use them to create country warmth and light in your space.
Vintage French Lampshades and Ceiling Lights.
With access to the internet we have a wide range of original Vintage and Antique French lighting available, with a bit of time, research and a click of a mouse you can be the owner of a piece of Vintage France. Vintage French shades often had wonderful frilly and flowing edges which provide a great colour and look when unlit and provide a fantastic illumination effect when in use.
Examples.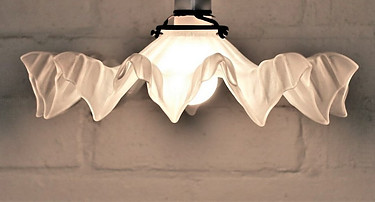 A classic French Cafe lampshade with a highly exaggerated Frilled edge providing a great illumination effect.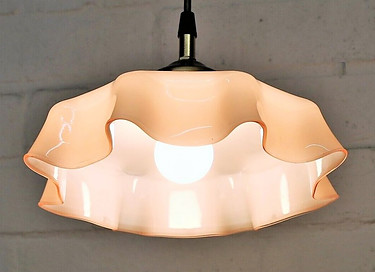 A cased glass French country lampshade providing a soft lighting effect and a glowing frilled rim.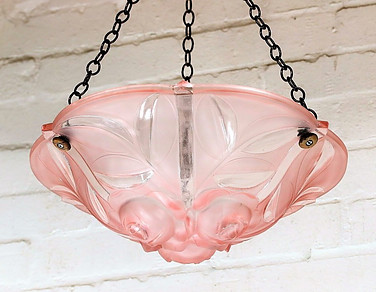 A Larger 3 chain hanging ceiling light with an Art Deco feel that would fit into a French Country Interior.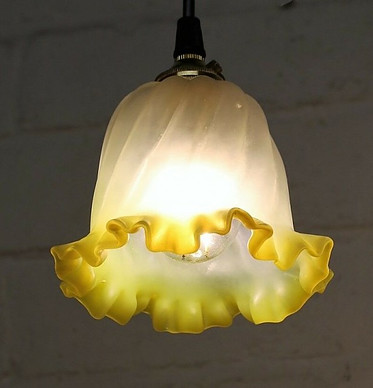 A small Yellow tipped French glass lampshade for a small space in need of a focal point and gentle lighting.
The French ceiling lights shown above are found online. Many similar examples can also be found in Antique Shops, Flea Markets and specialist retailers.
---
New French style ceiling lights.
Finding "New" versions of this type of French and French style lighting can take a lot of time and searching, there are some excellent on line lighting retailers who sell a wide range of quality lighting products but finding something with a French feel can be tricky due to the sheer volume of styles available.
Here are some modern versions that will add the French look to your space.
This is a Modern Kolarz ceiling light with a French Country Style – Lovely Quality and manufactured in Europe.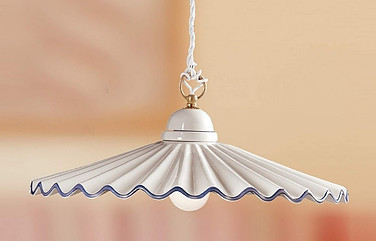 A Lovely European French Styled Ceiling Light – The Pieghe – Available in fixed and rise and fall options
Another European made Traditional French Country Styled light – The Ike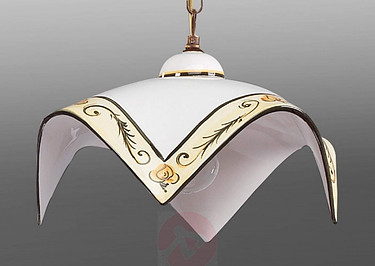 A beautiful & unusual rustic style pendant light that fits any French Country interior.
These are just a few examples of what you can find with a little digging on the Internet.
---
Vintage French Wrought Iron Lighting.
Vintage French wrought Iron lighting is another area that offers some excellent potential for finding a small and unique piece of France for your home. As in the UK French villages had Blacksmiths that would turn their hand to making a wide range of household items including lighting, if you can find a piece of Antique or Vintage French Iron lighting you can be fairly sure that your new addition will be unique and that you will have a little piece of Vintage French design that no one else has quite the same.
Examples.
A Vintage French Ceiling Pendant with a decorative Iron Frame and glass lampshade.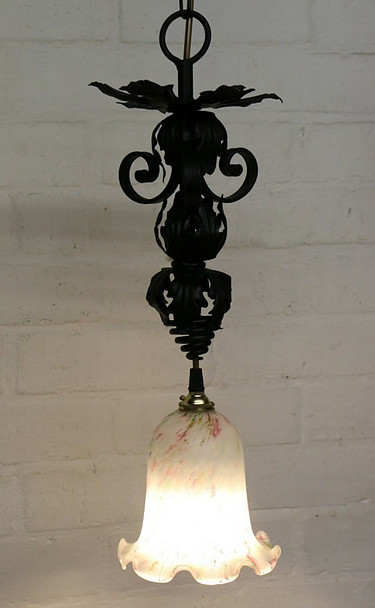 An Antique French Decorative Pendant Wrought and pressed Iron.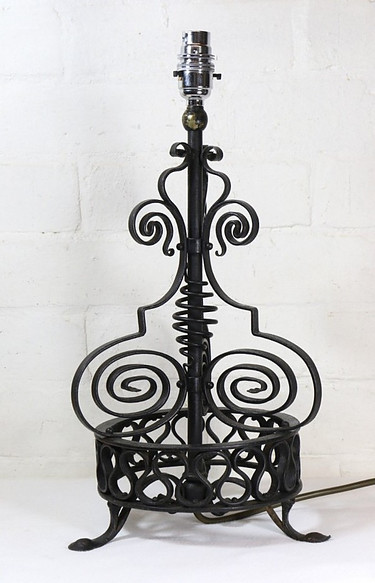 A Fabulous Antique French Wrought Iron Table Lamp
---
Other types of Vintage & Antique French Lighting.
When you are searching for a touch of French design in a lighting scheme always have an open mind on material choice as there are some unique and very "French" designs available that have the all important chic difference.
Examples.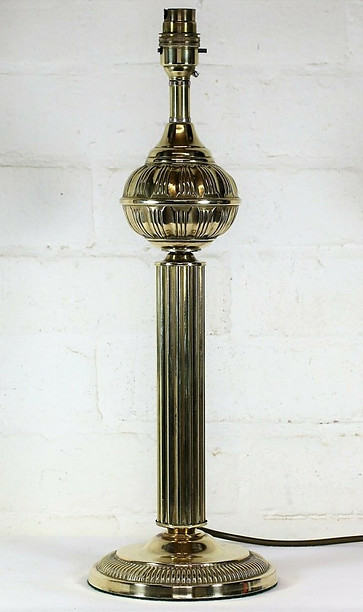 A Vintage Mid Century French Brass Table Lamp which is aged and just a bit "different"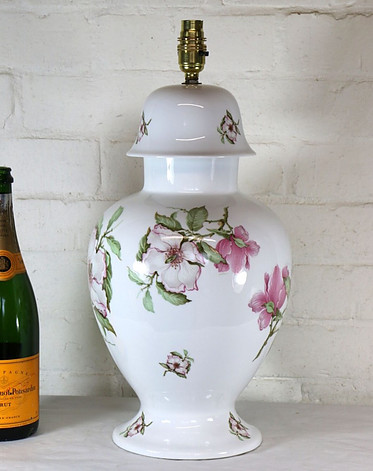 A very large Vintage 1980s French Limoges Ceramic table lamp.
A Vintage French Lacquer Ware table lamp dating from the early 1980s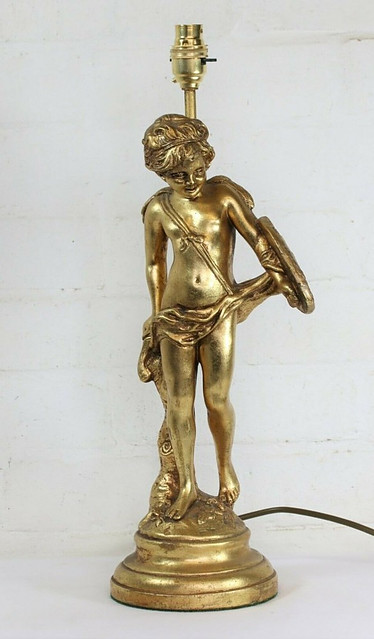 An Antique French Gilt Gesso table lamp. Despite marks and repairs this lamp has a great look and would be a great addition to any French period interior design scheme.
---
Vintage and Antique French Wooden Interior Design Objects.
French wooden items are widely available on line and in Antique and Salvage outlets. There are many good quality reproductions available which look great but it is impossible to recreate the age, use and weathering marks that can be found on true Vintage and Antique French wooden ware.
Examples
A Great looking Antique French Trug, cleaned, waxed and bearing scars from life in the French countryside.
A Vintage French wooden coat hook rack- Simple but stylish.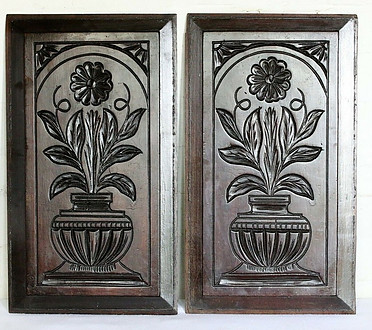 Antique carved wooden panels from France – Originally part of a piece of large furniture. With a little imagination these could be reused in a whole host of ways.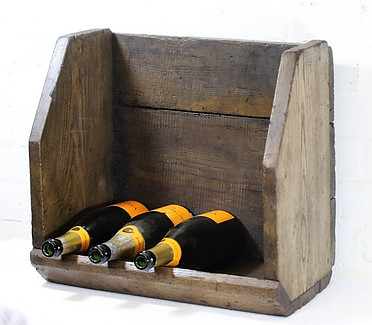 An Antique French Lavoir wooden box. Lots of marks, bumps and scars but full of character. Cleaned, waxed and shown in one possible reuse as a French rustic wine store.
Conclusion
There are many ways to find Antique and Vintage French lighting and Interior design objects.
All the old preloved items on this post have actually been sourced at French Flea markets and have been bought back to the UK to help feed the desire for original French design here, this is also happening across many parts of Northern Europe.
Please have a look at my eBay shop hertfordshire lighting and design for ideas and second hand items.
If you fancy a bit of France in your home but would rather buy new items then I would strongly recommend the website of the stylish and affordable MAISONS DU MONDE.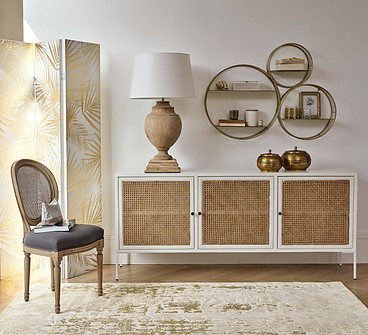 Maisons Du Monde have a wide range of beautiful items from Furniture to Lighting to Fabrics.
---
As always if you have any questions please do not hesitate to ask me and I will always do my best to help.
michael@hertfordshire-lighting.com