Abigail Ahern Accessories – A host of Unusual Interior design Ideas with a unique and unusual take on accessorising your Interior.
Abigail Ahern is a name associated with unusual and trendsetting designs in lighting, home accessories and interior design objects. Abigail is renowned for her enchanting take on interiors and the Abigail Ahern brand offers a whole host of unusual interior accessory ideas. The trendsetting designs made available by Abigail Ahern have become synonymous with glamour, eclecticism and they offer something really off the wall and very different. The name of Abigail Ahern first came to the attention of the wider public in 2008 with the launch of the hugely popular animal lamps range which was popular online and in large department stores such as Debenhams in the UK. The Abigail Ahern collection encompasses lighting, furniture, accessories, textiles, art, sculpture as well as a range of wonderful Abigail Ahern faux flowers and plants. The collection is now stocked by prestige retail outlets around the world, including Selfridge's and Heal's. There is also a flagship Abigail Ahern store in Islington North London.
Abigale Ahern Baskets and Ceramics.
The Abigail Ahern stable of interior design objects offers a wide range of design styles from minimalist to exhibitionist, the materials offered are also wide-ranging and eclectic, today we are going to look at some of the Ceramic and Basket range. The one thing that links all of the items is the uniqueness of design and the fact that each design has real style and a certain something that you will not find anywhere else, the home accessory range offers elements that are varied both in material, design and shape.
Let's have a look in detail at some of the outstanding Ceramic and Basket accessories from the Abigail Ahern Interior design range.
---
Abigale Ahern Ceramic & Stoneware Vases.
Aida Vase
The Aida is made from stoneware this wonderful vase will add tons of personality to your space. Pop in an Abigail Ahern dried greymist kalanchoe or our hydrangea mallow and take her to the next level.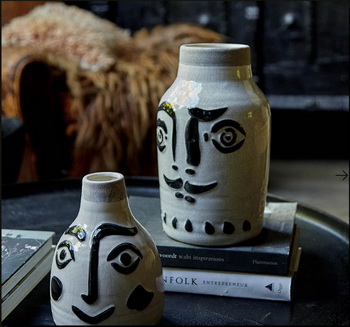 Material: Stoneware Dimensions: Height 21 Cm x Diameter 14 cm
Ulysses Sand Vessel
The Ulysses vase in sand colour can be used with both flowers or dried Abigail Ahern flora. The vase has a wonderful textured surface and an abstract organic shape making it a piece of art as much as a vessel for showing off your flowers.
Material: Stoneware Dimensions: Height  25.5 Cm x Diameter 15 cm
Oumd Vessel
The Oumd vessel is part of the Abigale Ahern range of vases made from concrete and made with a finish that emulates wood. Due to the hand made nature each Oumd vessel will be slightly different, the vessel is not designed to hold water but can be used as a stand-alone s interior item or used with dried flowers.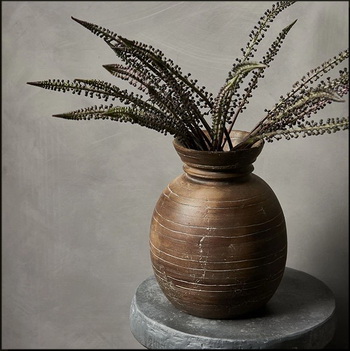 Material: Concrete Dimensions: Height  35.5 Cm x Diameter 28.5 cm
Dunley Vase
The Dunley vase is a classically shaped country wine bottle vase with a pressed faceted design and a finish that is earthy and organic. Add one to your hallway console table or dining room to add a simple and eye-catching focal point. An ideal carrier for Abigail Ahern dried flowers.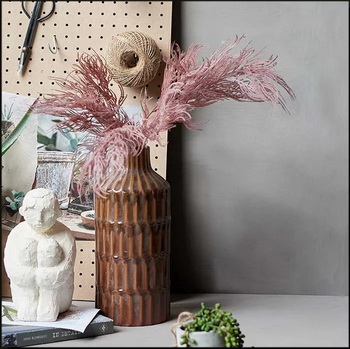 Material: Ceramic Dimensions: Height  35 Cm x Diameter 15.5 cm
Poher Vase
The Poher vase is hand made from clay with an earthy finish and hand incised decorations which make each Poher unique in decoration. The perfect natural and neutral carrier for brightly coloured Abigail Ahern faux botanicals.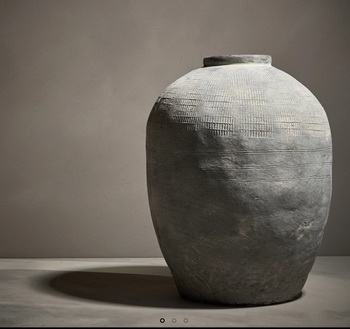 Material: Clay Dimensions: Height 47 Cm x Diameter 37 cm
Massimo Vessel Large
The Massimo is a hand made work of abstract art, this is the large version in Black. Made from cement the Massimo is not designed to hold water but is a stand-alone focal point that is another fine and unusual vessel from the wonderful Abigail Ahern range.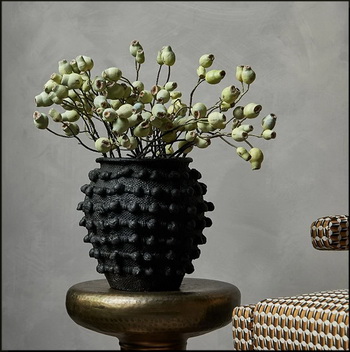 Material: Cement Dimensions: Height  28.5 Cm x Diameter 29.5 cm
Aaron Vessel
The Aaron is a huge statement piece, a focal point for a large space indoors or out. It is a big piece of handcrafted stoneware with a varied and interesting glaze that will play with light and produce highlights from the reflective surface.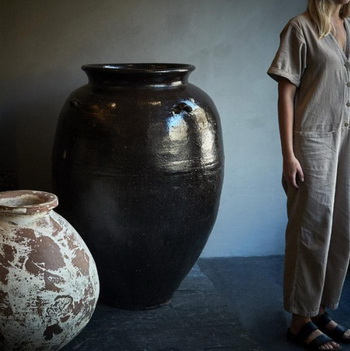 Material: Stoneware  Dimensions: Height  114 Cm x 85 Cm x 40 Cm
---
Abigale Ahern  Paper-Mache Vessels.
Talence Vessel
The Talence is one of a 7 piece set of Paper-Mache vessels in the Abigail Ahern range. Each of these vases is hand made so each vessel is an individual piece, variations in size and surface finish are to be expected. Not suitable for holding water but ideal for holding Abigail Ahern dried botanicals.
Material: Paper-Mache Approximate Dimensions: Height  45 to 50 Cm x Diameter 30 to 40 Cm
Roussillion Vessel
Another from the Abigail Ahern Paper-Mache range, the Roussillion vessel is squat and bulbous with the appearance of stoneware. Each one is unique and ideal for displaying dried flowers.
Material: Paper-Mache Approximate Dimensions: Height 45 Cm x Diameter 50 Cm
---
Abigale Ahern  Interior Design Basket Ware.
Banana Leaf Basket.
A large beautiful woven banana leaf basket on an iron frame. The Banana leaf basket is textured, tactile and organic in look and adds a natural focal point to any space.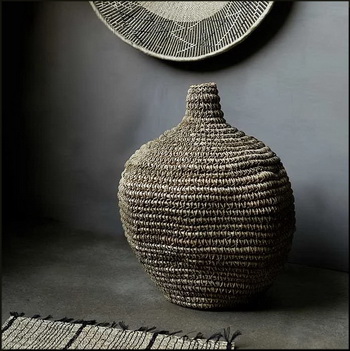 Material: Banana leaf and Iron  Dimensions: Height  51 Cm x Diameter 42 Cm
Luna basket set of 2
These stylish and high-quality woven baskets make a statement in any space and are one of the coolest storage solutions you will find anywhere, handmade, organic and quite beautiful.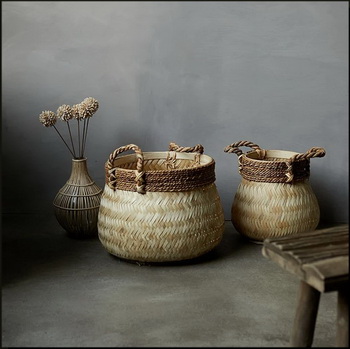 Material: Bamboo and Wood   Dimensions: Height 24 Cm x Diameter 34 Cm
Motari Sea Grass Basket set of 3
A set of 3 woven seagrass baskets, beautifully hand made with a fabulous organic look and a bright finish to add colour and texture to your storage solutions.
Material Sea Grass  Dimensions:  Small Height 25 Cm x Diameter 25 Cm + Medium Height 30 Cm x Diameter 28 Cm + Large Height 34 Cm x Diameter 32 Cm
Ratna Basket – Black
These beautiful hand made baskets add natural materials and style to any space, the Ratna is a large basket making it a stylish addition to a whole host of storage possibilities.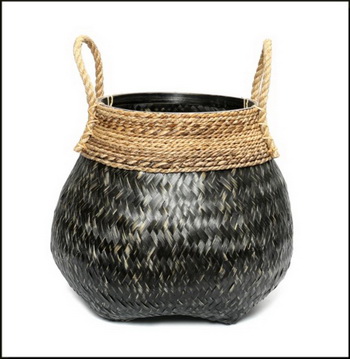 Material: Rattan and Sea Grass   Dimensions: Height 40 Cm x Diameter 46 Cm
Toromo Sea Grass Basket.
The Toromo is a handy-sized piece of organic storage, ideal for dried botanicals, storing kindling and adding an organic sparkle to any space. The white stripe design against the brown adds an eye-catching element to the design.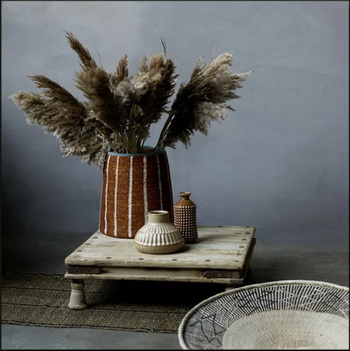 Material: Sea Grass   Dimensions: Height 29 Cm x Diameter 24 Cm
---
Conclusion.
Abigail Ahern offers a unique, vibrant and excellent alternative for any interior scheme. If you are looking for something a bit different but you are not quite sure what "it" is then delve into the Abigail Ahern website and I think you may well find some great solutions. Abigail Ahern offers a wide range of other home décor products which all have the unique and interesting Abigale Ahern design ethos built-in. There is Lighting, Furniture, Mirrors, Textiles, Paints and much more.
You can view and buy the latest Abigale Ahern interior range here.
If you have any questions on this post or have anything to add I would love to hear from you. Thank you.
michael@hertfordshire-lighting.com