"Tiffany" Lighting is a style of lighting that has stood the test of time. Fashions come and go but Tiffany style lighting has always held a good degree of popularity.
Today Tiffany has become a generic term used to describe lighting that uses lampshades of coloured and leaded type glass to produce a colourful and sometimes stained-glass effect.
The roots of Tiffany Table Lamps and Tiffany Lighting go way back to the late 18th Century.
Tiffany Lighting – A brief history.
Louis Comfort Tiffany gave his name to Tiffany lighting. He was a trained painter and was one of the world's first professional interior designers with a love of nature & painting and an equal passion for the use of stained-glass as an interior design medium.
He was highly thought of and worked on the redecoration of the White House in the late 1800s; he also produced magnificent stained-glass windows and friezes for churches in the USA, Canada, and parts of Europe.
The first examples of Tiffany Lighting were reputed to have been for the Lyceum Theatre in New York around 1885.
By 1898 Louis Comfort Tiffany was producing what many people today consider to be a Tiffany lamp – A table lamp with metal stand and a stained-glass shade.
Into the early 1900s Tiffany was producing many hundreds of models of lamps with a strong Organic design and with many obvious links to his love of nature; this coincided with the Art Nouveau era where natural flowing designs were in Vogue. Today Tiffany is considered by many to have been a leading Art Nouveau Artist.
Tiffany was fascinated by the glass used in ancient & medieval Church Windows and attempted to reproduce the effects that he had seen on his travels, he was keen to avoid a look that was refined and too perfect.
These early Tiffany lamps were the inspiration for the wide range of "Tiffany Style" lighting that was copied and reproduced for decades after and is still produced today.
Tiffany retired in 1919 and Tiffany studios went into liquidation 19 years later.
Original Tiffany lamps are highly sought after by collectors and museums around the world and good examples can fetch prices that run into Millions.
Below are two images of Original Tiffany lamps – Note the strong Organic design and Influence of nature.
An Original Tiffany Wisteria Table Lamp.

A Tiffany Tulip Lamp with iridescent glass lampshades.
Below is an image of an Original Tiffany ceiling light pendant.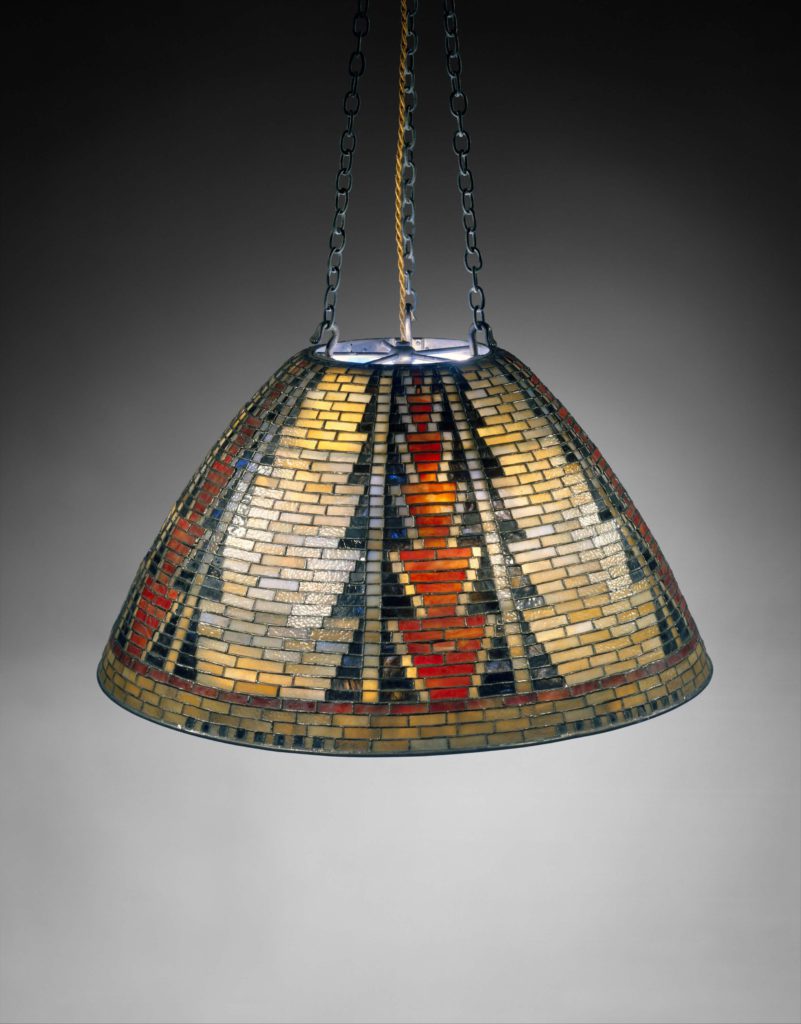 Tiffany Style Lighting. Beautiful both Lit and Unlit.
Tiffany style stained-glass lighting provides a bonus as an Interior design choice as the lamps and ceiling lights often look really good unlit during daylight by adding colour and a focus point to a room. After dark as they are lit the same lighting then comes to life providing a colourful lighting effect.
Below are two examples of how Tiffany Style Lighting can add to your space during the day and night.
This is a small Mid-20th Century Stained Glass Tiffany inspired pendant that provides both colour and light.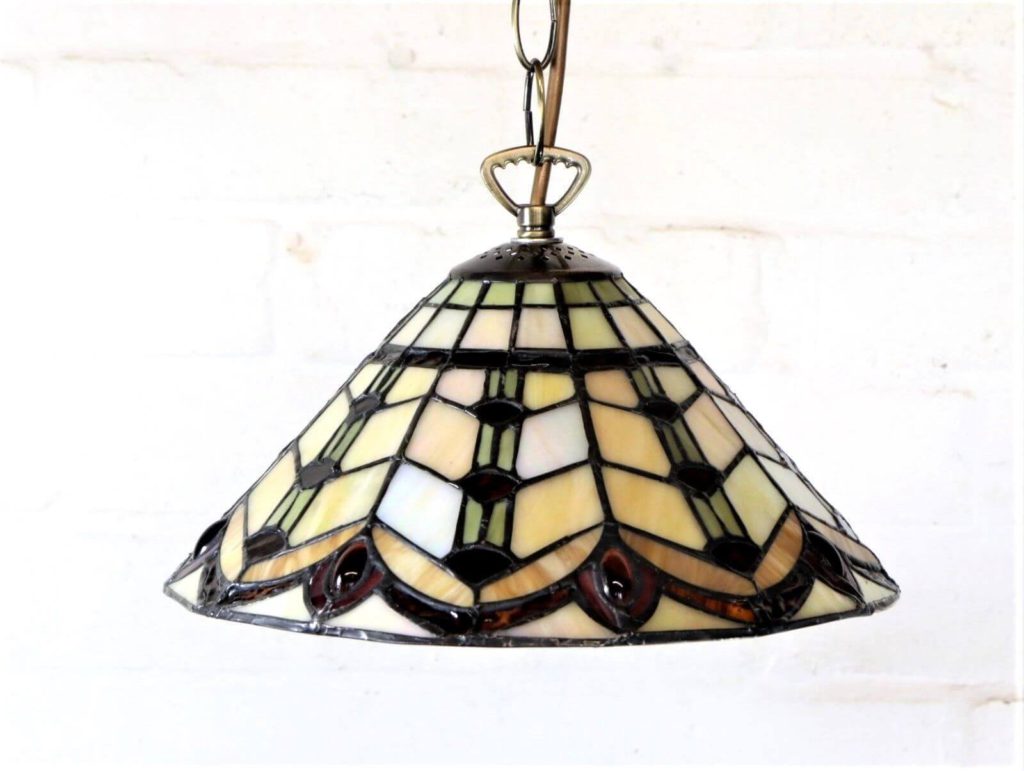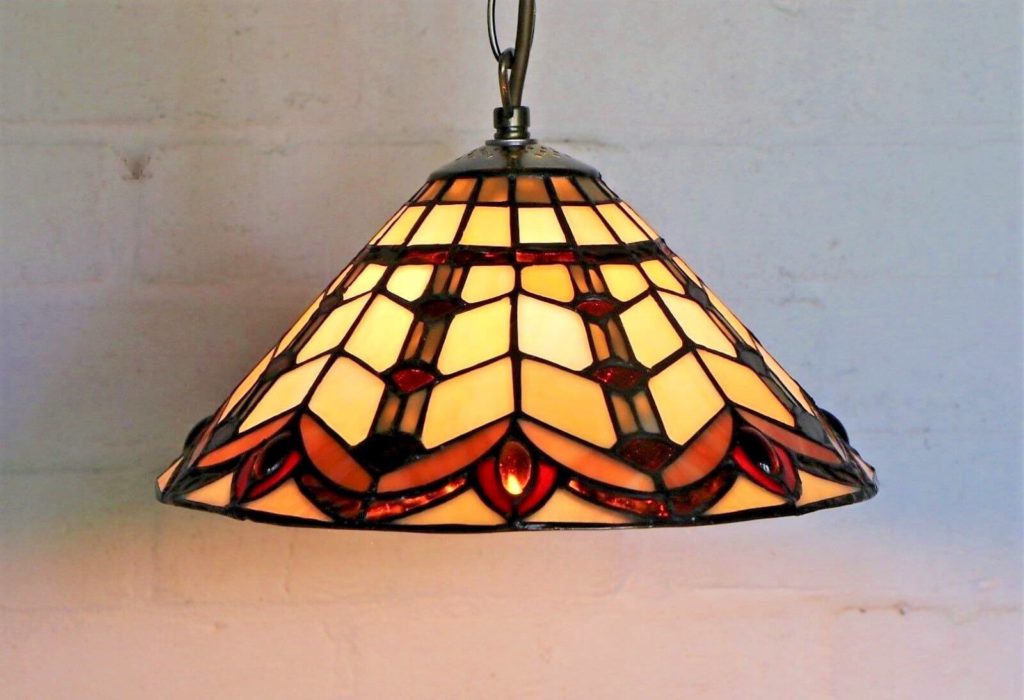 A quality Mid 1990s "Jewelled" Tiffany Style ceiling light shown in daytime and after dark.
Tiffany Panel Lighting.
Another form of Tiffany inspired lighting is based on glass panel lampshades. This type of lamp or light has a metal formed holding frame in which sit panels of often curved opaque glass, this type of Tiffany style lighting tends to be on one colour sometimes with a subtle & irregular mottled pattern that comes to life when lit.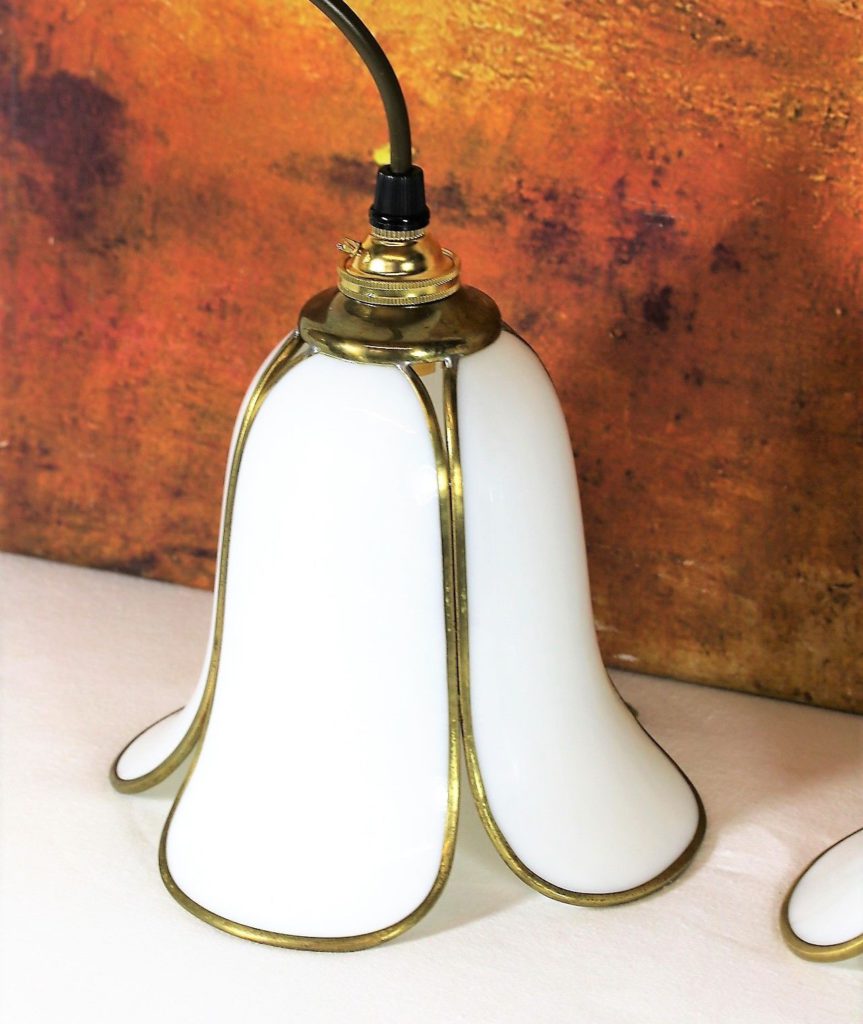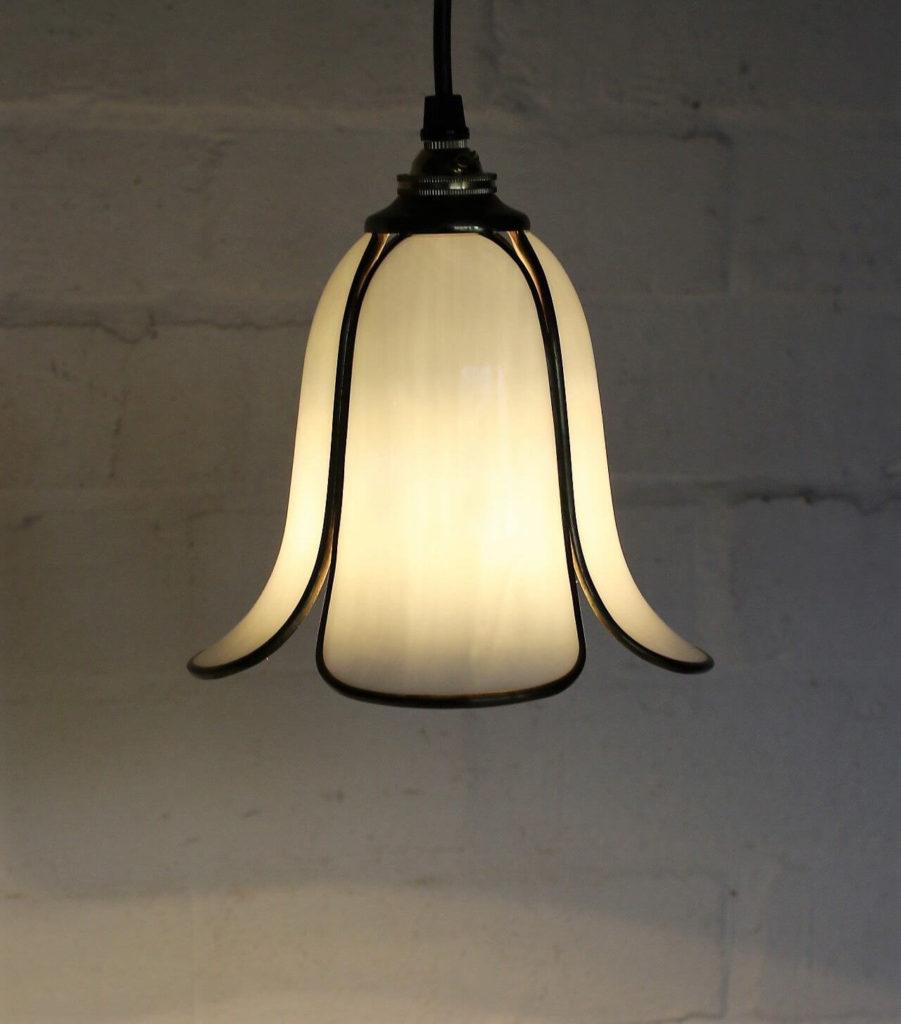 A simple but very good quality Vintage Tiffany Panel Pendant light by Christopher Wray of London – This pendant has Opal glass panels – Note how the pendant provides an even and soft lighting effect when lit. Age is early 1990s
---
"New" Tiffany Style Lighting
The internet is awash with new "Tiffany Style" lighting. If you use Tiffany Lighting as a search term on eBay you are more than likely to see in excess of 10,000 items in your search results.
As with most things many Tiffany lights will be made in China and the far east, this in itself is not a bad thing but the quality of these lights varies greatly. The better quality new lights and lamps will have a weight and a feel of quality that is difficult to quantify – Often this can only be measured by touch when comparing a good version next to a poor version. This is possible if you are buying from a high street outlet but is obviously not possible on line.
The Glass used in newer lights also varies greatly in quality; the better lights will have a depth of colour and a variation in shade from piece to piece. Cheaper versions feel a bit tinny and are also a great deal more fragile.
The usual on-line rules apply, read reviews of the seller and the product and ask questions – If the seller is decent they will be more than happy to answer your questions.
Vintage Tiffany Lighting
Older Vintage Tiffany style lighting is widely available on line and in Antique Shops, Vintage Fairs and from Interior design outlets.
The Frames used on Vintage versions tend to be much more substantial than new versions and the glass also tends to be thicker and have better colouring.
One of the main things to look for in Vintage versions is cracks in the glass. On a light that has multiple pieces of small glass a small crack will blend in well to the mosaic effect and will not notice once the light is hung or the lamp is in use.
Cracks on Tiffany panel lights is more of an issue as when lit the cracks will show as lines in the glass, also with time and use cracks on panel versions can open slightly making them more noticeable. If you are looking in person at a piece of Vintage Tiffany lighting hold it up to a bright light and scan the surface against the brightness, this tends to easily reveal any damage
Lampshade frames on older lights can sometimes have a looseness caused by mishandling, this becomes apparent when the frame is picked up, if you press gently on opposite side of the frame there should be no flex, if there is a noticeable degree of movement or flex this indicates the shade has been knocked and generally should be avoided.
As always with older items of lighting the bulb holders and the Wiring should be checked over as standards have changed over the years. Items from Vintage fairs and Antique dealers should be OK but it is always worth remembering that any Vintage piece of lighting may need attention.
Buy Quality.
If you can afford it pay for quality. The difference between a new cheaper piece of Tiffany lighting and an Older Quality piece is very apparent, there are still some top makers producing excellent Tiffany Lighting today and if you look hard enough, and are willing to wait you may find a Vintage Tiffany light from a top maker at a good price.
Below are a few images taken from a 1990s Lighting Catalogue published by a Top London Maker – These will give you an idea of how quality Tiffany lighting should look.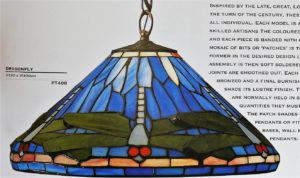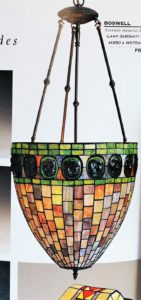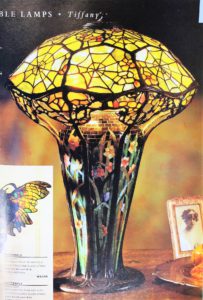 If you have any questions or need advice on any item of Vintage lighting please contact me and I will always do my best to help.
Michael Adkins. michael@hertfordshire-lighting.com