Ceiling Lights by OKA.
OKA is one of the UK's leading "lifestyle" interior brands. The company offers a wide range of home-wares from faux flowers through to furniture, textiles and a large, varied and beautiful range of lighting. The OKA idea was founded by Annabel Astor in 1999, Annabel formed the OK brand and company with her sister-in-law Sue Jones, and friend Lucinda Waterhouse. The three-woman team behind the OKA name all offered different skills and experience in design and marketing. The company specialised in the early days in designs that were inspired by the far east and bought new and fresh ideas and products to the world of UK interior design. In 1999 OKA direct was launched as a mail order interiors company. The first catalogue had designs endorsed by two leading British designers – Jane Churchill and Bruce Oldfield. In 2000 OKA opened the doors to its first shop in Parson's Green, West London. OKA stores went from strength to strength and can now be found in 14 locations across England. OKA launched its website in 2001.
OKA Lighting.
OKA offers a wide selection of lighting, everything from large ceiling lights, pendants, lampshades and wall lights to table lamps and candle holders. The ranges vary from traditional through to contemporary designs. All OKA lighting is of the very best quality. OKA designs are beautiful and unique with high build quality as you would expect from a premium brand. At the OKA website, you will be able to view a wide range of beautiful ceiling lights, OKA manufacture ceiling lights and pendants made from a wide range of materials. The range of ceiling lights offered by OKA are beautiful items of lighting with many of them being statement pieces that will add character to a room when unlit.
---
Below I am going to show you my favourite ceiling lights from the OKA range.
The Ellington Hanging Lamp.
A quality elegant take on industrial-style lighting, the Ellington Hanging Lamp is inspired by the hanging lanterns seen in Parisian jazz clubs in the 1920s. The Ellington pendant delivers a dose of character and vintage charm to any room. The Ellington would look stunning suspended over a dining table, whether individually or as part of a series in a larger space. The Ellington ceiling light is available in two sizes and two different finishes allowing it to be used in a multi-room design scheme. The finishes are Antique Gold and Antique Silver.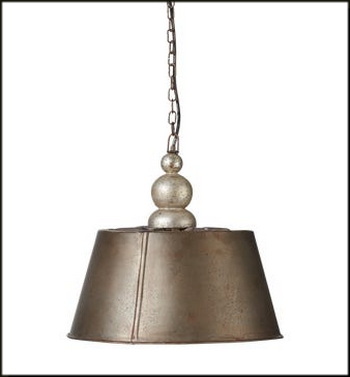 The Ellington Large ceiling light is 50 Cm In diameter x 41 Cm High excluding a hanging chain of 150 Cm
The Ellington Small ceiling light is 35 Cm In diameter x 35 Cm High excluding a hanging chain of 150 Cm
---
The Curlicue Chandelier in Antique Grey.
This ornate ceiling light will create a sense of drama in your entrance hall or dining room or any space where you place the Curlicue Chandelier. Made of metal with a distressed Antique Grey finish, each of the eight arms of this chandelier features a mock candle that conceals candle bulb fittings. The light fitting also includes a 150cm-long, adjustable hanging chain, which offers you the option to choose the height of the drop.
The diameter is 76 Cm x 72 Cm High excluding the hanging chain.
---
The Lanthorn Hanging Lamp.
The Lanthorn Hanging Lamp is a unique piece of lighting, marrying flowing and angular lines with an industrial charm. The design takes its name from the archaic spelling of "lantern", which initially referred to the early use of horn in the making of windows and lamps.
The diameter is 48 Cm x 63 Cm High excluding the hanging chain.
---
Indus Hanging Lamp & Shade – Black / Gold
Named after the valley in India where some of the world's earliest jewellery pieces were found, this elegant, beautiful and organic hanging lamp features a cascade of iron rings finished in gold – the perfect accessory for a home and a true centrepiece for any large space.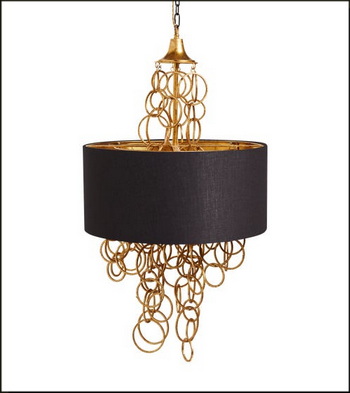 The diameter is 59 Cm x 180 Cm High excluding the hanging chain.
---
The Luminosia Hanging Antiqued Mirror Disc Lamp.
This beautiful ceiling light, complete with oval hanging discs made from antiqued mirror glass, is an opulent take on a mobile antique decoration. The discs will create all manner of interesting reflections and shadowing around your space.
The diameter is 41 Cm x 55 Cm High excluding the hanging chain.
---
The Razmataz Hanging Lantern in Antique Brass.
A Dazzling lighting fixture that will fill your interiors with a disco ball-meets-cage light-meets Art Deco lighting effect. Decorated with multiple glass hexagons, the Razmataz Lantern takes statement lighting to new levels of opulence.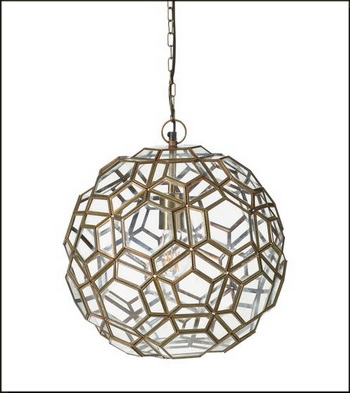 The Diameter is 35 Cm x Height 34 Cm excluding the hanging chain.
---
The Sylla Gold Hanging Lamp.
A traditional hanging lamp with an ornate modern twist, the Sylla Hanging Lamp features a chandelier that's encased in a cylinder of golden circles. The pendant light's design was inspired by a historical figure of the same name who won a huge amount of gold for the Roman Empire, as documented by the Roman author, Pliny the Elder.
The Diameter is 45 Cm x 74 Cm High excluding the hanging chain.
---
Conclusion.
The OKA website has hundreds of beautiful items of lighting as well as furniture, textiles, interior design objects and garden ware. The OKA website has some truly wonderful items of homeware, also on the OKA website you will be able to view the online OKA magazine which has a host of ideas showing items from the OKA range paired and used together to create fantastic looking interiors.
If you have any questions on this review or have anything to add I would love to hear from you. If you own a piece of OKA Lighting and would like to send me an image or two I would be happy to include them on this page.
Thank you.
michael@hertfordshire-lighting.com