Waterford Crystal.
Waterford Crystal was first established in 1783 on land adjacent to Merchants' Quay in the heart of the Irish harbour town of Waterford.
Waterford Crystal has a well-earned reputation for being amongst the best crystal available anywhere in the world.
Its founders were brothers George and William Penrose, important developers and principal exporters in the city. Their vision was to "create the finest quality crystal for drinking vessels and objects of beauty for the home." More than two hundred years later, the reputation they established for creating luxury crystal products of unsurpassed beauty and quality has transcended the intervening centuries.
The first glassmaking factory in Waterford opened in 1783, where Waterford crystal was immediately recognized for its clarity and purity of colour. Waterford enjoyed success well into the 1800s. In 1853 the economic woes of Europe force the factory into closure.
The Waterford story resumed in 1947 when glassmaker Kael Bacik hired fellow Czech Miroslav Havel as Chief Designer for his fledgling glassmaking operation in Ireland. Havel spent many hours at the National Museum of Ireland studying surviving examples of the Penrose brothers' crystal products from the 18th and 19th centuries.
The history and skills of the original Waterford name have been carried over and maintained with these skills, quality material selection and attention to detail has kept Waterford at the pinnacle of the worlds luxury crystal manufacture.
Please Note – this post may contain affiliate links, if you purchase from one of them we may receive a small commission at no extra cost to you.
---
The Waterford Crystal "Kent" table lamp.
This lamp is around 10 years old. The Kent lamp has a short bulbous shape and is made from very heavy and thick Waterford crystal. At the top, the lamp has a glass neck. The crystal body of the lamp is fitted with a heavy-footed brass base and a heavy brass top plate that support heavy turned brass sections. The first thing that strikes you when you pick this lamp up is the weight, with the heavy crystal body and brass fittings together the lamp has a feel of great quality and is very stable making it ideal for a high traffic area such as a hallway console table.
The glass body of the lamp is beautifully clear, crystal clear in fact. The Kent lamp has a range of cut decorations ranging from shallow scallops to cross and fan cuts. The cut decorations are deep and highly polished making the glass very tactile. The brass parts of this lamp are highly polished and finished in a thick quality lacquer which provides the brass with an aged brass look.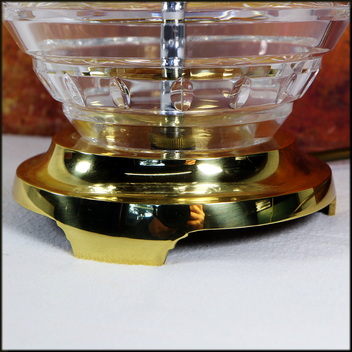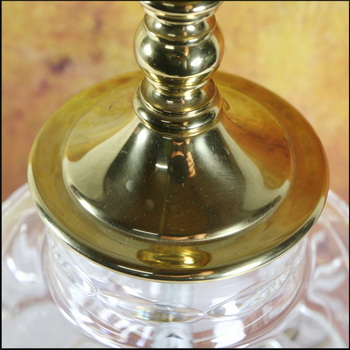 Fittings and electrical parts are all top quality, the lamp is fitted with a quality earthed BC bayonet fit lamp holder that has a threaded shade ring. The wiring is heavy and fitted with an inline on/off switch and quality moulded plug. The lamp also has all of the required British standard cable protection and security. In the USA Waterford lamps are supplied with US standard fittings.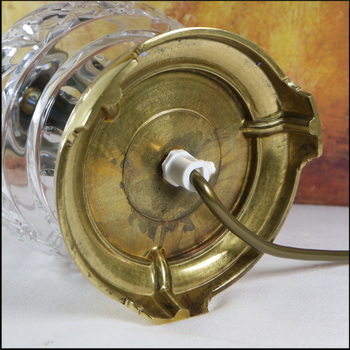 ---
Identifying a second hand Waterford lamp.
When first made this lamp would have been fitted with an adhesive label bearing the Waterford name, often these labels are removed by owners or are lost in use. If you find a second-hand quality looking cut glass lamp in an Antique store or market that has no obvious markings then it is worth taking time and studying closely the glass surface of the lamp, with a Waterford lamp you will find, if you look closely, a small etched Waterford name in the Waterford sea horse logo.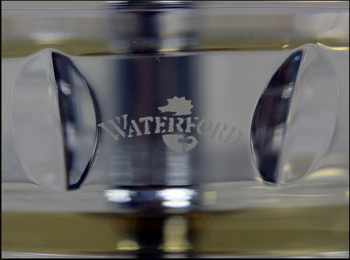 ---
The beauty of Waterford Crystal.
Waterford crystal is deep and clear, the crystal used in this lamp is free of manufacturing marks and bubbles, in dim lighting the crystal shines. When placed near or in sunlight the crystal comes to life and glows with the cut decorations gaining clarity and sharpness.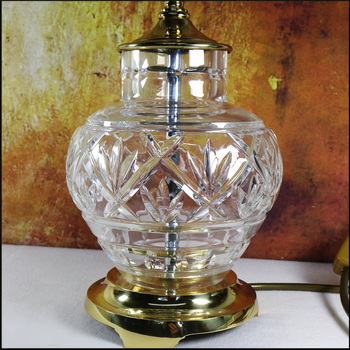 ---
In use.
When fitted with a shade and lit the crystal glass and cut decorations work together and provide a bright warmth with the deep cut decorations gaining slight shadows that add sharpness and depth to the lamp.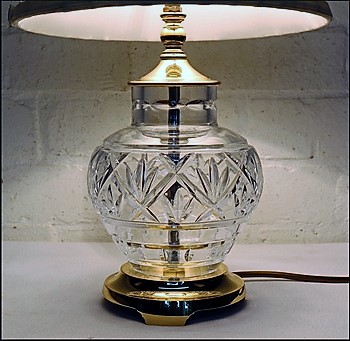 Waterford Kent lamp – The physical details.
The Waterford Kent lamp is small but substantial in material and manufacture. – Weight is 1.8 Kg. Overall height is 29 Cm x Diameter of 15 Cm.
---
Conclusion – Is a Waterford crystal table lamp worth the cost?
Waterford crystal is a beautiful product, each piece of crystal from the Waterford factory comes with hours of skilled work in manufacture, cutting and finishing. Waterford cut glass crystal compares favourably to crystal from any manufacturer in the world. The quality of product and finish comes with a price but this reflects the hours of work involved in the making of each lamp, skilled craftspeople & designers are involved in each lamp including moulding, glass blowing, cutting and polishing all carried out by people who often have decades of experience dealing with quality Waterford crystal. So yes a Waterford glass lamp is worth the cost, a Waterford lamp, accidents aside, will last a lifetime they are built to the highest quality from quality materials.
The Waterford range of Crystal Products varies from lighting through to quality drinking glasses – The entire Waterford range can be viewed HERE
After Care of Waterford Cut Crystal Glass Lamps.
Waterford crystal lighting is made from a beautiful quality product as well as being beautifully made, with such quality lighting care should be taken when cleaning.
Ensure that the electrical supply is isolated before cleaning.
All fittings should be cleaned regularly with a soft cloth.
Do not use abrasive cleaners as this may damage the surface.
Do not use damp cloths or water on the metal or electrical fittings.
I have written a blog post regarding the Waterford "Hurricane" lamp range which you can view HERE
You can read about some of the beautiful Waterford Crystal drinking ware in my blog post HERE.
I hope you have found this post interesting and that I may have sparked an interest in top quality cut glass Waterford table lamps, these lamps do add something special to any space. I am always happy to receive any comments. Thank you for reading.
michael@hertfordshire-lighting.com