Choosing Decorative Objects For The Home.
Choosing decorative objects for your home, a decorative object is an item that adds a certain look to your home interior decoration. A decorative object is not furniture, lighting or wallpaper. It may be functional such as a vase that holds flowers or it may just be a beautiful, unusual, unique or interesting item that works in conjunction with your decorations and background. An interior design object may be an item with a story, history or a design that adds to an interior space, the design, finish and feel of the object can be in keeping with the overall design of the space or it can be a juxtaposition which adds eye-catching contrast.
The high streets of Britain are awash with large retailers that will have on offer a wealth of cheap and mass-produced Interior design objects that can be used to add character and something a little different to your space. If you are looking for really unusual, unique and quality decorative objects for your home then often the best place to look is to the online specialist retailers. The online world is full of interesting new and used decorative home objects.
In this post, I am going to show you some wonderful and varied decoration pieces from OKA. OKA is one of the UK's leading "lifestyle" interior brands. The company offers a wide range of homewares from faux flowers through to furniture, textiles and a large, varied and beautiful range of lighting. The OKA idea was founded by Annabel Astor in 1999, Annabel formed the OKA brand and company with her sister-in-law Sue Jones, and friend Lucinda Waterhouse. The three-woman team behind the OKA name all offered different skills and experience in design and marketing. The company specialised in the early days in designs that were inspired by the far east and bought new and fresh ideas and products to the world of UK interior design. In 1999 OKA direct was launched as a mail order interiors company. The first catalogue had designs endorsed by two leading British designers – Jane Churchill and Bruce Oldfield. In 2000 OKA opened the doors to its first shop in Parson's Green, West London. OKA stores went from strength to strength and can now be found in 14 locations across England. OKA launched its website in 2001.
---
Acropora Coral Sculpture on a Stand – White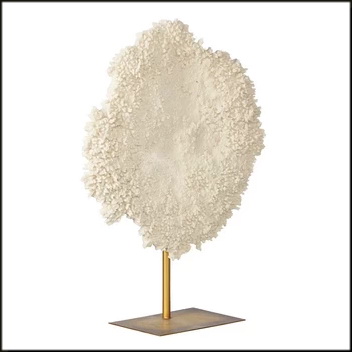 Width 59 cm x Depth 20 cm x Height 77 cm
Named after Acropora Pulchra, a species of staghorn coral native to the Indo-Pacific Ocean, this elegant ornament looks just like the real thing. It has us dreaming of sandy beaches, azure-coloured waters and days spent relaxing on a sun lounger. Made from resin and mounted on a quality gold-coloured metal stand.
---
Bucephalus Horse on Acrylic Stand, Large – Verdigris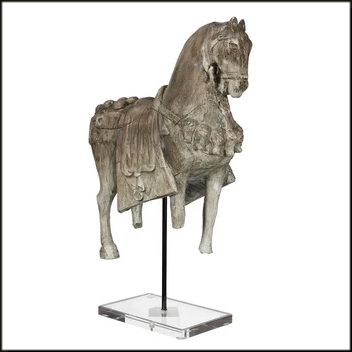 Width 14 cm x Depth 34 cm x Height 51 cm
A heavily distressed large horse statue, crafted from resin that looks like stone, sitting atop a clear acrylic stand. Our Bucephalus Horse has certainly been through the wars (Named him after Alexander The Great's warhorse) and is missing three of his legs and tail, giving this objet d'art the appearance of an ancient artefact.
---
Demoiselle Dish – Verdigris
Width 78 cm x Depth x 40 cm x Height 14 cm
This leaf-shaped dish could have fallen from a tree in an enchanted forest. Its coppery tones imbue the design with a dash of opulence and the faux Verdigris effect certainly draws the eye. The Demoiselle is ideal for storing sets of keys or stationery and would make a unique paperweight. Made from iron for decorative use only and not food safe.
---
Set of Three Desir Horn Sculptures in Grey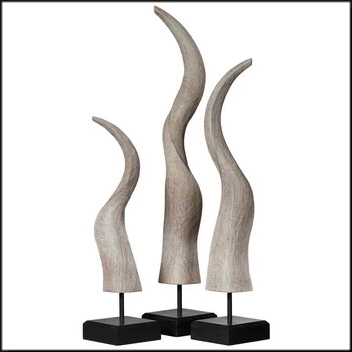 Width 12 cm x Depth 12 cm x Height 72 cm
If you're looking to bring something a little wild to your interiors, let us introduce you to these horn sculptures. Sold as a set of three, they are an excellent way to add a bit of height to the centre of the dining table or could be arranged separately around the room to unite the space.
---
Large Bronze Horse with a Distressed Bronze Finish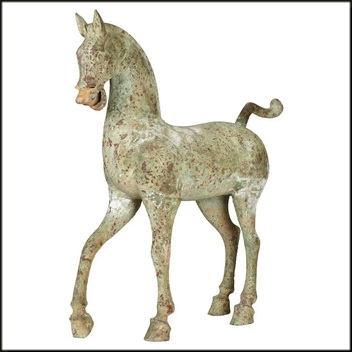 Width 48 cm x Depth 15 cm x Height 53 cm
A large, very distressed metal statue of a horse, that gives the appearance of an artefact weathered and aged by the elements. This majestic steed is dappled in turquoise and cream, with slivers of bronze metal peeking through the textured surface.
---
Lvliang Jar in Blue & White
Width 21 cm x Depth 21 cm x Height 27 cm
A blue and white porcelain jar inspired by those from the Tang Dynasty, hand-painted by folk artists. Part of a fabulous Chinese porcelain range by OKA – each piece is unique and looks just like a real antique. Use this jar on its own as a feature, or fill it with a stunning bunch of real or faux flowers.
---
The Giant Mandarin Hand-Painted Lidded Jar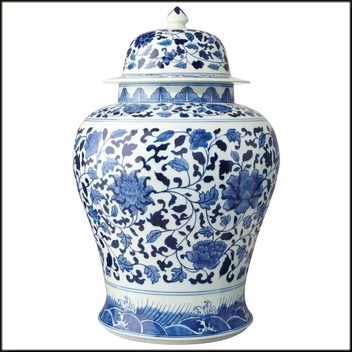 Width 35 cm x Depth 35 cm x Height 51 cm
A giant lidded jar of impressive scale that will make a dramatic feature when displayed as a centrepiece or on a console table. Hand-painted with a traditional Chinese peony design.
---
The Pinyon Decorative Jug with a Slate Finish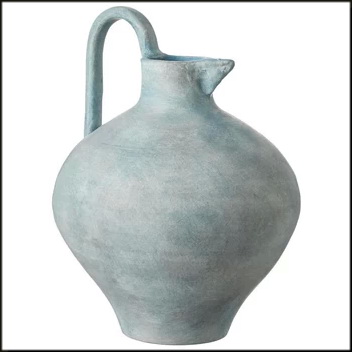 Height 33 Cm
Named after a bluebird, the pinyon jay, thanks to its shade and beak-like spout, this rounded jug brings a pop of colour and character to any surface. Pair with faux flowers to create a unique table centrepiece or arrange alone a great looking piece of rustic ceramic ware.
---
Sorin Lidded Jar Tall with a Matt Black Finish
Height 35 Cm
The OKA ceramic Sorin pieces are modern takes on classic apothecary jars. With a black painted finish and concealed opening, the tall jar makes an eye-catching decoration, the jars have great profiles that will pop when sited against a neutral background.
---
Toji Decorative Pagoda Solid Bronze With A Verdigris Finish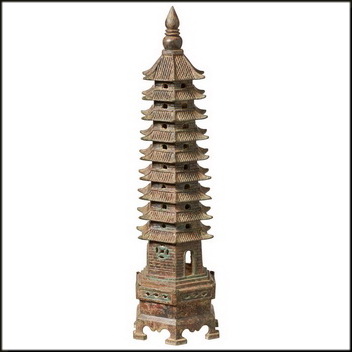 Width 11 cm x Depth 11 cm x Height 39 cm
Crafted from solid bronze, this stunning ornamental pagoda provides a different sort of view and offers an oriental accent to a space. As it stands approximately 40cm tall, it can be admired when placed on a coffee table, in the corner of a room or even on a shelf with plenty of height.
---
Yichun Decorative Cauldron  With A Verdigris Finish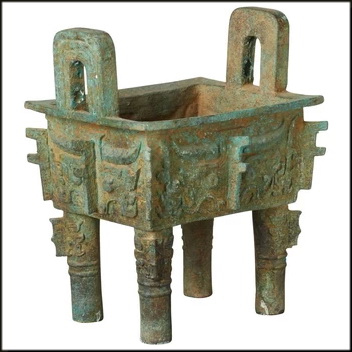 Width 22 cm x Depth 17 cm x Height 25 cm
The beautiful  Yichun Decorative Cauldron is similar in design and shape to Ancient Chinese bronze ceremonial pieces. . This would make an excellent spot to house letters or keys due to its small proportions. Crafted from metal, with an aged Verdigris patina.
---
Zion Lidded Urns – Set of Two in Aged Aruba Blue
Each set includes a small Urn 13 cm Dia x 19 cm High  and a Large Urn 23 cm Dia x 32 cm High
Inspired by traditional Arabic urns, our Set of Two Zion Lidded Urns look like treasures brought back from far-flung adventures. Made from ceramic with a heavily distressed and expertly aged finish. Please note that these urns are for decorative use only and cannot hold water.
---
---
The Alternative of Pre Loved, Vintage and Antique Decorative Objects.
There is one specialist online shop that has a fabulous range of Vintage and Antique items including interior design objects, this site is called Vinterior. Vinterior is a platform run from central London which showcases products offered by over 1700 worldwide independent dealers, Vinterior dealers are vetted before they join the platform. The Vinterior platform offers a safe and secure place to view and buy vintage and antique items, the Vinterior platform also has a 14 day guaranteed return policy. Vinterior sells a wide variety of products such as furniture, lighting, art, textiles and mirrors and rugs. All design eras are catered for from Antiques to late 20th Century modern, there is something available for every taste and design scheme and every pocket.
You can view my post on Vinterior Decorative objects and the Vinterior website HERE.
---
Conclusion.
I hope you have found this post interesting and that it has sparked an interest in adding something unique and full of character to your home. Take pleasure in the thought that when you add a finishing interior design object to your space you will be making a little corner of your home unique and creating an interesting area and a true one-off spot.
If you have any questions please feel free to drop me a line.
michael@hertfordshire-lighting.com