Reproduction Holophane Lighting versus Original Vintage and Antique Holophane lights.
When looking at Vintage and Antique lighting the term "Holophane" is generally associated with the wonderful glass lampshades produced by the Holophane company at the end of the 19th century and up to the mid part of the 20th Century.These fabulous Holophane glass lampshades were made with a prismatic design with deep parallel vertical ridges or crosscut prisms. Old and original vintage and antique holophane shades were made from high quality pressed glass that has a high lead content. This high lead content in conjunction with the crisp and sharp detailing of the prismatic glass affords these old Holophane lampshades a distinctive, attractive and highly effective illumination effect.
The ongoing popularity of the Holophane concept has led to vintage Holophane lighting achieving very high prices at auctions and from specialist lighting retailers. There is the option of buying vintage and unrestored holophane lights but this comes with the added cost, time and sometimes unpredictability of vintage lighting restoration. Reproduction Holophane lighting is available but these reproductions vary greatly in quality and effectiveness in use.
Buying Top Quality Holophane Reproduction Holophanes.
There is a lighting manufacturer based in central London who offer a really fine range of quality lighting. The SOHO Lighting Company was formed in 2017. SOHO design and sell quality lighting items including a great looking range of reproduction Holophane lighting. The SOHO Holophane style range has been reproduced faithfully to incorporate shapes, forms and details from original Holophane designs. These top-quality Holophane style lights from SOHO offer the feel and lighting effect of Holophane glass but are perfectly honed for modern living needs. SOHO use ultra-efficient LED bulbs that replicate the original design of incandescent bulbs, with no need to compromise looks for efficiency.
Please Note – this post may contain affiliate links, if you purchase from one of them we may receive a small commission at no extra cost to you.
Here are some of my personal favourites from the SOHO Holophane Style Ceiling Light Range.
---
The Hollen Lacquered Brass Brimmed Dome Pendant Light.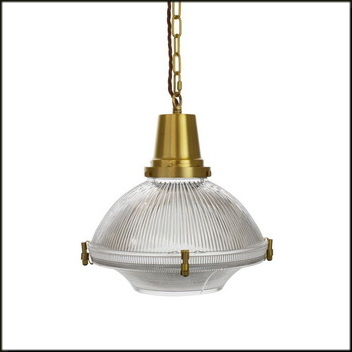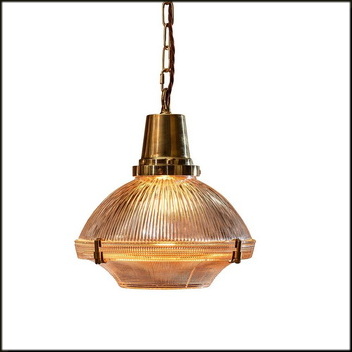 Size: W 30 Cm X H 34 Cm – Chain length: 3 meters
Modelled on the early 1900's Industrial Brimmed Dome Holophane Pendant, the Hollen dome pendant oozes sophistication and charm. With three intricate, prismatic patterns on its quality cut glass dome, side and brim bottom, this iconic light throws out optimum sparkling light distribution and looks sensational hung as a central room pendant or placed in a row of multiples above a kitchen worktop.
---
Romilly Dome Etched Glass Pendant.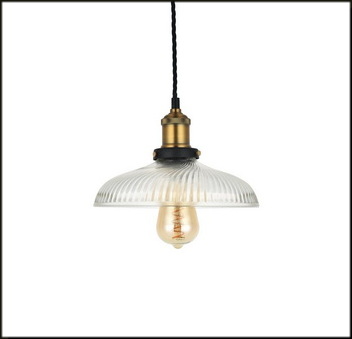 H 18 Cm X Diameter 25 Cm
The wide shade of the Romilly dome pendant provides a retro feel and the etched glass beautifully casts light patterns across the ceiling, whilst directing the majority of the glow into the room. This light hung in sequence with others looks sensational in a whole host of settings.
---
Romilly Tapered Etched Glass Pendant.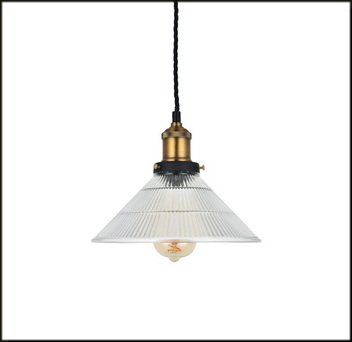 Height 19.5 Cm X Diameter 25 Cm
Classically French Holophane in design, the etched glass of this Romilly funnel pendant beautifully casts light patterns, across the ceiling, whilst directing the majority of the glow into the room. Think French bistro and this versatile light springs to mind. This light looks incredible hung in sequence above a dining room table, a breakfast bar or a kitchen island. They can also provide the "wow" factor when suspended above bedside tables, in replacement of bedside lamps.
---
Marshall Ceiling Pendant.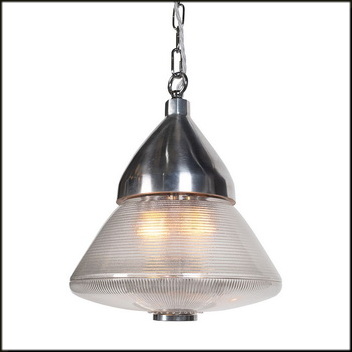 Diameter 30.5 Cm x Height 38.5 Cm – Chain Length 3 meters.
The unique shape and slightly aged aluminium finish of this industrial Holophane Style statement pendant light catches the eye, whilst the large glass cover allows for high light output. The Marshall pendant light comes with a 3-metre chain, making it ideal for rooms with high ceilings such as stairwells, hallways or landings. Works well on its own or in a cluster or a row.
---
The Large Hollen Globe Classic Brass & Glass Pendant Light.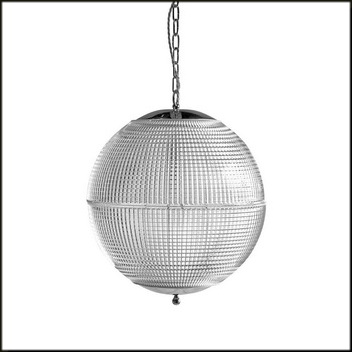 Diameter 50 Cm x Height 50 Cm.
Inspired by the 1950s Paris Holophane Globe Street Light, this iconic prismatic sphere design once lit the thoroughfares of the French Capital. Transformed from the practical to the sophisticated and stylish, the textured prismatic glass of this classic Hollen Globe is designed with a simple unlacquered brass cap and ball finished base to provide a wonderful, ambient light without casting shadow or glare. Resplendent in both period and contemporary settings this stunning pendant effortlessly connects the old with the new. The Hollen Globe pendant is available with a range of optional Brass finishes to the fittings.
---
The Hollen Acorn Lacquered Brass Prismatic Glass Pendant.
Diameter 17 Cm X Height 25 Cm
Petite and sophisticated, the Hollen Acorn industrial pendant features an Acorn shaped prismatic Holophane style glass shade topped with a solid brass cap. Originating in style from the 1930s, this pendant looks sensational when hung in multiples – either in a row or grouped at differing heights. The textured cut glass gives off a fabulous distribution of light and different coloured bulbs can be used to create different moods.
---
D'Arblay Lacquered Brass Scalloped Prismatic Glass Dome Pendant Light.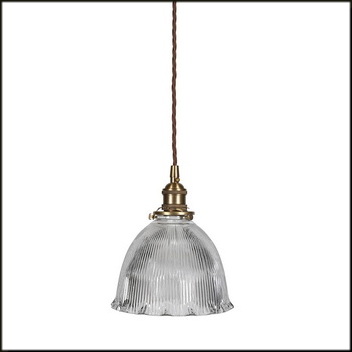 Size: Diameter 18 Cm x Height 20.5 Cm – Chain length 3 meters
This beautiful, early 20th century inspired pendant light features a deeply cut, and classic shaped prismatic, dome-shaped shade with a scalloped edge. The D'Arblay scalloped prismatic glass dome provides a combination of uplight and downlight to illuminate an interior without creating shadow or glare.
---
D'Arblay Brass Fluted Bell Pendant Light.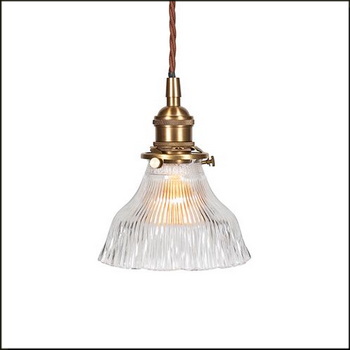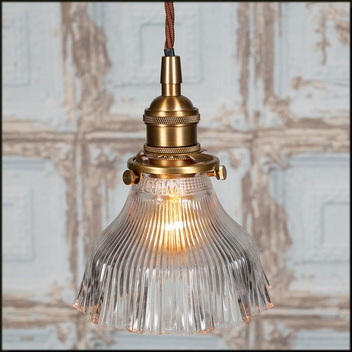 Diameter 14 Cm x Height 16.5 Cm – Chain length 3 meters
Beautifully French and traditionally lighting the bistros, bars and public spaces of provincial France in the early 1900s the D'Arblay petite fluted bell has a glass prism that optimises the illumination of your interior without casting shadow or glare. Ideal for spaces requiring a stunning aesthetic as well as a strong working light, this little pendant looks spectacular when hung in a row of multiples over a kitchen worktop or dining table and above bedside cabinets for use as reading lights. Finished with a lacquered solid antique brass gallery, this gorgeous pendant has a timeless charm to compliment any stylish interior.
---
D'Arblay Brass Rise and Fall – Large Scalloped Dome Pendant Light.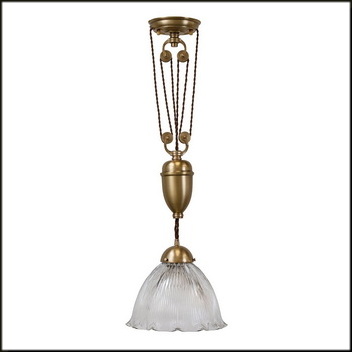 Shade Size: Diameter 28 Cm x Height 20 Cm – Drop length: min 50 Cm and max 5 metres.
The D'Arblay rise and fall pendant is a classically inspired design influenced by the bistros of the early 1900's Provincial France. With a sophisticated modern twist, this timeless pendant features a pulley system and counterweight to allow for the height to be instantaneously adjusted through the decorative braided flex. The petite holophane style scalloped glass dome shade is designed to deliver the optimum light output and eliminate shadows and glare.
---
SOHO Lighting meticulously and ethically sources high-quality materials from around the world then hand craft, hand finish, package and dispatch these artisan products to you from the UK studio. SOHO create exquisite lighting and accessories that are made to the highest safety standards and are both environmentally and ethically responsible.
I hope that you have found this information useful. As always if you have any questions please do not hesitate to ask me and I will always do my best to help.
michael@hertfordshire-lighting.com