Modern Industrial lighting.
A style that has always been popular. "Industrial style desk lamp" is a term that covers a wide range of styles and designs, there are articulated lamps, spot lamps, clamp lamps and a range of industrial style lamps that offer a wide range of lighting applications which address the idea of lighting a desk in a whole host of different styles and methods.
Original vintage and antique Industrial lighting was used across a wide range of applications that varied from machinists lamps in factories, medical lighting, architectural lighting right through to articulated industrial lamps used by jewellers for close up work. If you are in the market for an industrial style desk lamp there are many to choose from, every high street, DIY shop and department store will offer a few Industrial style desk lamps, many of these will be cheaply made and of dubious quality. If you want a modern Industrial style desk lamp that offers quality combined with great design then the best places to search are specialist lighting stores and of course online. When you shop online you are presented with fabulous range of Industrial lighting from a range of designers who practice and manufacture all over the world.
Please Note – this post may contain affiliate links, if you purchase from one of them we may receive a small commission at no extra cost to you.
Here are some of my favourite designer industrial style desk lamps.
---
Dimensions: Base Ø 17 cm – L max. arm 73 cm
The Micro version of Artemide's Iconic bestseller, the famous Tolomeo. This is a variation in a classic aluminium finish and nice colours: black, yellow, red, grey, turquoise, bronze, orange, green and blue. This table or desk lamp designed by Michele de Lucchi is not only elegant but ultra-practical, too, thanks to its articulated arms and diffuser rotating in all directions. It is particularly suitable for use near to computer screens. Base, structure and diffuser are made of natural or coloured aluminium. Joints are made of bright aluminium. Finally, the Tolomeo is perfectly balanced with a system of springs.
---

 Dimensions : H max (extension max) : H 70cm – Shade : Ø 14cm x H 19,5 cm

A modern take on a timeless and Iconic British lamp – The Anglepoise range are as popular today as they were in the early 20th century. This version was designed for Anglepoise by top designer Margaret Howell who has frequently championed the Anglepoise® lamp, admiring the similar design qualities that are the essence of her men's and women's clothing: simplicity, functionality, authenticity and timelessness.

---
Dimensions : Ø 16,5 cm x H 16,3 cm
Designed by Le Corbusier for the Chandigarh High Court in 1954, Projecteur remained unknown until 2012, when it was rediscovered in the archives of the Le Corbusier Foundation in Paris. Rebuilt based on the only available document – a profile drawing of it – the Projecteur has now found a totally new form and function.
---

Dimensions : L 55 cm x H 60.5 cm – Lampshade: Ø 14 cm – Clamp base: 7 x 6 x H 19 cm
Famous French designer Pierre Charpin is expanding his collection of "PC" light fittings with this architect's lamp with its clamp base. It attaches to any horizontal surface with a thickness of 5.5 cm maximum. You can easily fix the lamp to a shelf, desk, table or a console… It took more than three years of research for Pierre Charpin to develop the PC lamp. Very simple and visually refined, it was complex to design and produce because it incorporates cutting-edge technology. The arm and lampshade are articulated using a sophisticated system of gas pistons, generally used to adjust the height of office chairs. These high-tech joints provide perfect arm and lampshade stability in any position with great precision. The handle on the lampshade makes it easy to operate.
---

Dimensions: H 44 cm – Lampshade: Ø 19 cm
A light with simple, gentle and elegant forms… Perfectly representative of Scandinavian design, the Mr collection by Benny Frandsen showcases table lamps as well as floor lamps which fit into our interiors perfectly. This table lamp is a plain version of the classic metal table lamp. It is available in three traditional mat colours, bringing out the beauty of the brass details on the diffuser and on its articulated arm. Plain yet sophisticated, the Mr table lamp will be perfect on a small table or desk.
---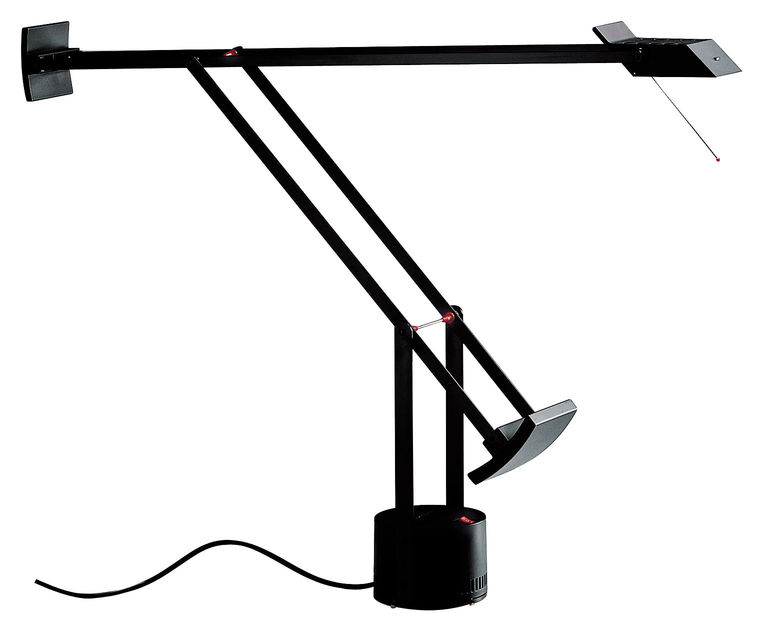 Arm dimension 108 cm
An Italian lighting Icon. A classic of the Artemide range designed by Richard Sapper. The articulated arms and the adjustable are counterbalanced. A perfect long reach Industrial style desk lamp.
---

Dimensions : L 44 cm x l 35,5 cm – Reflector Ø 16 cm – Base Ø 23,6 cm
A Quality Industrial style desk lamp by Luceplan. The central joint allows the two arms to rotate independently on the horizontal and vertical axis, guaranteeing great fluidity of movement into extreme and unusual positions. The polycarbonate grip allows users to manoeuvre the lamp easily and smoothly.
---
Dimensions : L 32.5 x Depth 18.5 x H 32.5 cm – Shade: L 29 x Depth 11 x H 8.5 cm
The rebirth of a lost design – Created by the modern designer and pioneer Jacques Biny in 1957, the Biny table lamp is now being reissued. Efficiency, simplicity and a refusal to be ostentatious are the common denominators of the work of Jacques Biny. The Biny lamp has a minimalist, atypical industrial design. With its base divided into two legs and lampshade shaped like a finned metal box. It comes with adjustable fins that move through 50° using a wheel located on the side. You can adjust the light so that it fills the whole work area. That's what makes the Biny perfect as an industrial desk lamp. A discreet and refined touch of style, the top of the lampshade is perforated, allowing a subtle partial filtering of the light.
---

Dimensions : L 38 x H 37 cm – Base: Ø 17.5 Lampshade: Ø 16 cm
A Quality Danish Industrial desk lamp. The aim of the Danish studio Space Copenhagen was to design a lamp with an industrial look that's also elegant. The Copenhagen desk lamp is inspired by old marine lanterns which decorated the boats of the 19th century.
---

Dimensions : Long arm: L 22 cm – Short arm: L 20 cm – Shade: Ø 15 x H 12.5 cm – Base: Ø 17 x H 8cm
A reproduction of a 20th-century French icon. This type of lamp, adopted also by Le Corbusier and Henri Matisse, is something that collectors all over the world look for. It was created in 1921 and originally made for industry and for design offices. This lamp is robust and stable and has a moving source of light thanks to a mechanism of highest precision. The so-called "Lampe Gras" is a really useful piece of industrial style lighting. Its form and functional look conveys an impression of aesthetic industrial neutrality.
---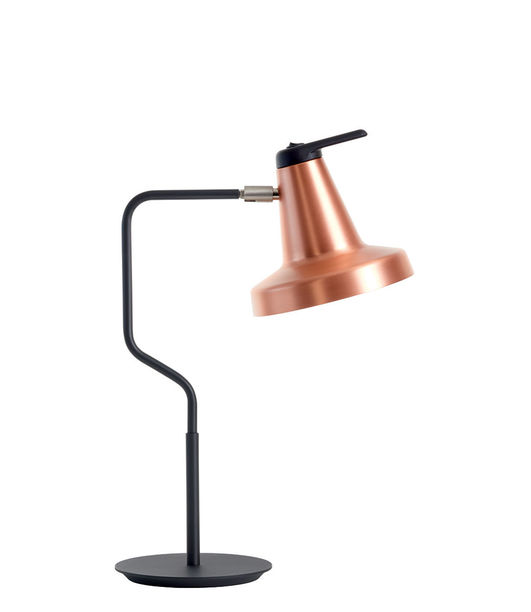 Dimensions : H 49 cm x Depth 35 cm – Base: Ø 19 cm – Lampshade: Ø 20 x H 20 cm
A quality lamp by Carpyen of Barcelona with an industrial and retro look, this lamp looks like it has come straight from an authentic factory workshop. This Garçon lamp is characterised by a perfectly functionalist look and a formal design which stands the test of time. The swivelling upper arm rotating through 360° and adjustable lampshade let you direct the light with precision. The large handle located on top of the lampshade lets you easily adjust the angle. The industrial look of this light will make an impact in all the rooms of the house: on a desk, a bedside table, a side table, etc.
---

Dimensions : H 65 cm – Base : Ø 23 cm – Shade : Ø 14 cm x H 17.5 cm – Folded : L 36 cm – Unfolded : L 70 cm
By DCE of Paris, the N°317 lamp has a double articulation that can be spread horizontally and vertically. Once unfolded, its height allows to lighting from above providing a wide lighting effect.. Unique shape and form and quality manufacture.
---

Dimensions : H 57 cm x D 20 cm – Shade : Ø 12 cm x Prof. 20 cm – Base : Ø 17 cm
Top British Quality. A contemporary and clean-lined lamp, perfectly suited for illuminating desk and tabletops. The Chester has a striking satin brass shade with stainless steel metalwork & base. A black cotton braided cable with an inline switch provides a contemporary industrial and practical detail.
---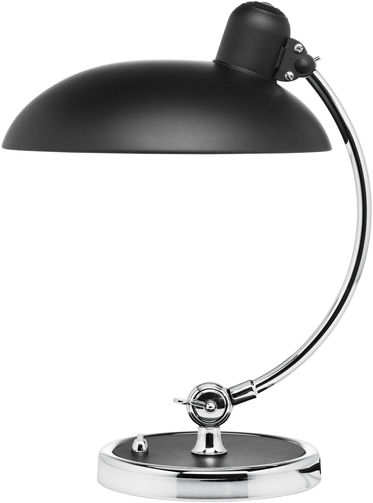 Dimensions : H 42.5 cm – Lampshade: Ø 28.5 cm
The Kaiser Idell lamp was created for the first time in 1931. Now it is recognised all over the world as an icon of Bauhaus design, illustrating the genius of the movement in the creation of versatile and minimalist designs which still seem modern. The design of the Kaiser Idell lamp is now recognised as a legendary Industrial classic. It is by taking centre stage in the officers of the famous inspectors of televised series such as the German one "Der Kommissar", earning it the alias of "inspector's lamp", that its style made its mark in the 1960s. The very practical Kaiser Idell lamp has a curved arm, articulated on the base by a pivoted joint. Its shade has a ball, originally a Kaiser patented exclusive.
---
Dimensions: Adjustable height: 51 to 84 cm. Length 21 cm – Base : Ø 16 cm
Bestlite was created by British designer, Robert Dudley Best, heir to the world's largest lighting manufacturing company. The family company, Best & Lloyd manufactured the Bauhaus-inspired, functional designs. Architects quickly spotted Bestlite's potential as an inexpensive and practical work-light and British home-owners adopted it as a symbol of modern industrial design. Over the years the original design was adapted to meet specific performance requirements, such as the diamond cutter's lamp, the BL10. Now manufactured and marketed under license by Danish design company, Gubi in the Bestlite Collection. This Bestlite stays close to its industrial roots and true to its original design. Bestlite is held in permanent collections at both the Victoria & Albert Museum and the Design Museum in London. Loved by architects, designers and design aficionados through its 80-year history, today Bestlite enjoys a global iconic status.
---
Conclusion.
These lamps are varied in shape and form. They have some important things in common; all are top quality and have a great design, some of the designs are modern and some are based on Antique classics. Each of these lamps will add a modern Industrial design feel to any space.
I highly recommend "made in design" by PRINTEMPS for a wide range of designer lighting, furniture and other home accessories. You can view made in design HERE
I hope you like my choice of Industrial lamps, if you have any questions or need advice on these or any other types of Designer Industrial Desk Lighting then please feel free to drop me a line.
michael@hertfordshire-lighting.com
---