Candle Light.
There is something about the light from candles and open flames that is totally unique & buried in the history of man's association with artificial light, it is the oldest form of light produced by man and a light source that is still widely used today.
I believe that the sight of a flame producing light and warmth touches something deep in the human psyche, I guess most people have a childhood memory of sitting around an open fire watching flames produce patterns and flickering light. There is something comforting and unique about the light provided by and the effect of candles as a light source; we see this across the world in various places of religious worship and in modern meditative sanctuaries and spas.
Despite the vast array of modern electric lighting available today sales of candles and candle holders still remain strong and have in fact increased over the last few years.
Any high street or department store will have a wide choice of candle holders and candles to choose from, many are small and designed to be used with tea lights as well as the more traditional pillar or votive shaped candles.
In this post we are going to look at some of the better quality candle holders available today, we will consider a range of styles and shapes for the classic centrepiece candle holder application. This will not be based on light output as the light offered by candles is tiny, you would need in the region of 100 candles to achieve the same light output as a mid-sized modern lightbulb. These candleholders will be shown due to their quality and the ability to provide the centrepiece effect that will add visual warmth to your space, you will also find that when used in a social gathering these candle holder centrepieces will engage with people and will add a relaxing element to your room. This type of primitive lighting makes people talk.

Please Note – this post may contain affiliate links, if you purchase from one of them we may receive a small commission at no extra cost to you.
---
Graham and Green.
Graham and Green have built a great reputation for offering stylish designs across all of their ranges, often you will find something at Graham and Green that is not available anywhere else.
The Graham and Green range of candleholders continues in this vein with a mixture of traditional antique styles and quirky modern options.
---
Miles Monkey Candle Holder.
A large and contemporary take on a candle centrepiece. Quirky and a real talking point that will add candle effect lighting in a unique way. Manufactured from moulded modern resins with a Bronzed finish. Height 54 Cm x Width 30 Cm x Depth 35 Cm
---
Another unusual and Antique finished centrepiece from Graham and Green.
Manufactured from bronzed Metal and Glass with the Palm leaves offering shadowing and reflections from a lit candle. Height is 49 Cm

---
Porthole Candle Lantern
Guide friends and family to the cosy haven that is your home with this coastal lantern. Height 54 Cm x Width 36.5 Cm x Depth 26 Cm
Featuring a glass porthole design surrounded by a contemporary iron frame, this lantern will bring a nautical touch to your home.
---
Large Leaf Candle Holders.
Dimensions vary with model.
Candlelight will bloom from these oversize golden candle holders. Crafted from iron in a warm gold finish, with glass votives suspended amongst the leaves.
---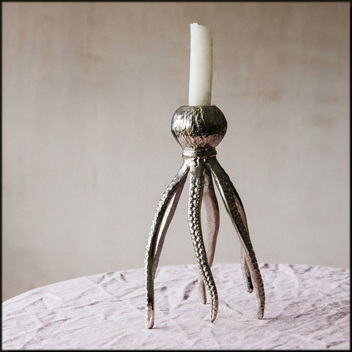 Octopus Candle Holder.
A quirky candle holder inspired by cephalopods, made of recycled aluminium with a textured nickel finish. 21 Cm High x 12 Cm Diameter.
Style your dining table with a squid or an octopus or two and top with vibrant coral-coloured candles for an eye-catching look.
---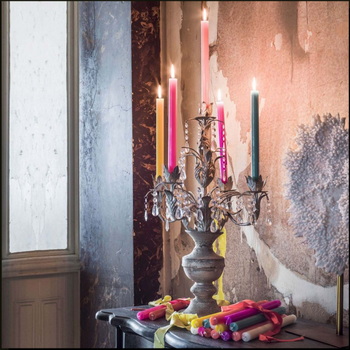 ORNATE FIVE STEM CANDELABRA
Indulge your fantasies of fine dining a la Downton with this exquisite candelabra.
Acrylic droppers catch the light while burnished pewter metal casts a warm glow. Instant old-world glamour for any celebration.
Height 67 Cm x 43 Cm Diameter. Base: 16 Cm Diameter.
---
Iron Palm Tree Candle Holder.
Embrace the tropical trend with our palm tree candle holder, a unique way to burn long taper candles. Height 32 Cm x 20 Cm Diameter.
---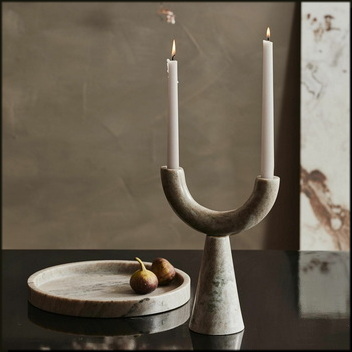 Curved Marble Candle Holder.
A tapered triangle base topped with a seamless marble semi-circle becomes a sculptural candle holder for your dining table or mantlepiece.  Height 26.5 Cm x Width 19.5 Cm x Depth 9 Cm
---
Gold Triple Candle Holder.
A little understated grandeur for your dinner table, top this golden candle holder with three brightly coloured dinner candles and prepare for a great feast.  Height 36 Cm x Width 26 Cm.
---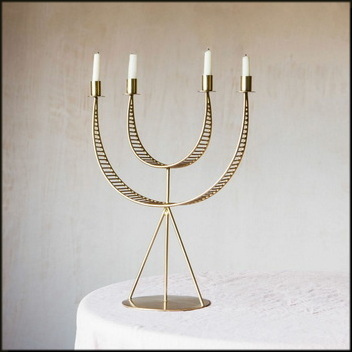 Wide Antique Brass Candelabra.
Height 40.5 Cm x Width 51 Cm x Depth 20.5 Cm.
A gorgeous oversize candelabra that will hold four tapered candles. Crafted from iron with an antiqued brass finish. Display our fluorescent candles in for vibrant pops of colour.
---
Graham and Green have a really excellent choice of quality candle holders, ranging from classic Antique style to quirky and contemporary. They are very affordable and offer quality and uniqueness at an affordable price.
---
Candle Safety.
Candles are safe if used correctly. It takes a bit of thought and common sense. Use them correctly and with a little thought to possible risks.
If you are in doubt visit your local fire service website for advice, think about pets and children and position candles carefully.
Here in the UK, we have a fantastic Fire Service who offer advice on the Fire Service Website for safe candle use. You can read this excellent advice HERE.
---
I hope that you have enjoyed reading this post.
If you have your own candle holders that are unique and interesting please feel free to send me images and I will include them on this post, It would be good to see what ideas other people have regarding the use of Candle Holders in the home and garden.
michael@hertfordshire-lighting.com

---