The Natural Beauty Of Marble
Marble and Stone have been used in all types of lighting, and other interior design objects since man first appreciated the beauty and uniqueness of this natural material.
There is a wide range of Antique marble table lamps available on the second-hand market which is a testament to the appeal of marble as a base material. If you visit a stately home or browse images of a grand palace you will undoubtedly see in the background a piece of wonderful marble used in lighting, perhaps a fine Italian marble corinthian column lamp or a pair of marble candlesticks.
Marble and stone table lamps have always had a following and although fashions come and go the appeal of marble has always been alive, during the late 1970s and 1980s marble lighting and interior design items received a massive boost in popularity from the exposure in TV programmes such as Dallas and Dynasty where grand interiors featured marble and stone in various locations and uses.
Marble and stone lighting is widely available on the second-hand market, there is much of it available but as with most vintage items it takes time and patience to find the good examples. The second-hand market is usually awash with uninspiring and cheaply made vintage onyx and alabaster lighting that was made to feed a market demand in the 1970s and 1980s. However, If you take your time and look carefully there are some wonderful vintage marble lamps available online and remember that most quality Antique dealers and good second-hand vintage emporiums will have some fine examples in stock.
There are also some excellent modern Marble and Stone lamps available from specialist and high-quality online retailers, I will take a look at these later in this post.
Second Hand Vintage Marble Table Lamps.
Let's have a look at some Vintage Marble table lamps that I have recently been lucky enough to acquire and have a look at things to watch for when buying second hand.
An Italian Marble Table Lamp dating from the late 1970s.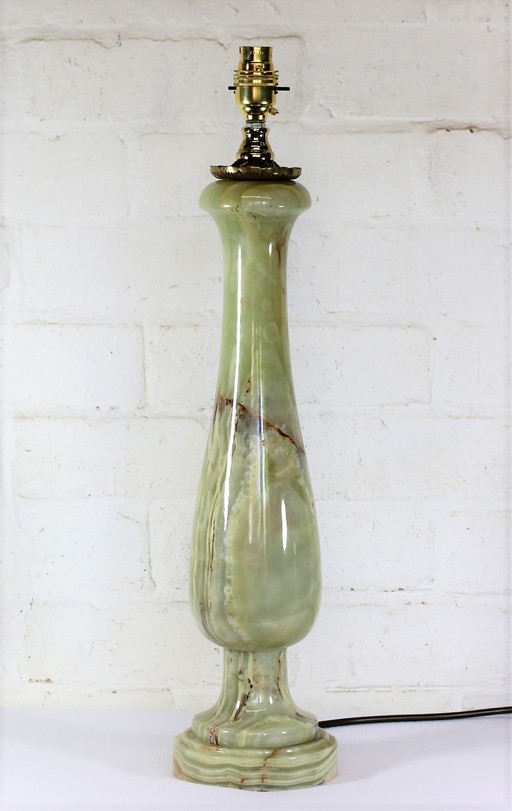 This is a fine-looking example of a Vintage marble table lamp. It ticks all the boxes with regards to material and quality. Manufactured in Italy in the late 1970s this is a large lamp and is extremely heavy. It is made from two pieces of marble, a small base and a large balustrade shaped column, at the top the lamp finishes with a bronzed finish brass disc which is a typical material used in this type of grand Italian lighting. It is amazing to think that this lamp base was turned and polished from a solid lump of marble granite.
Marble Grain patterns. This lamp has wonderful and highly organic graining in its multi-coloured jade green colouring with rich dark patterns running randomly around its column. The base has been cut and turned to reveal the best decorative pattern from the marble disc.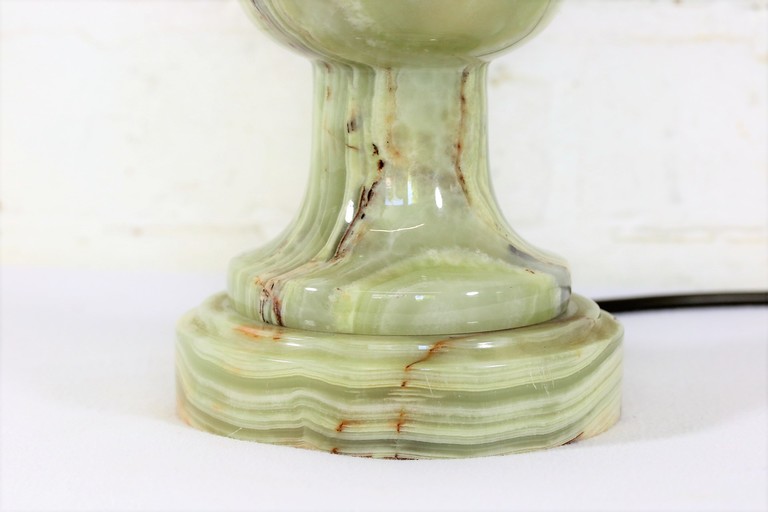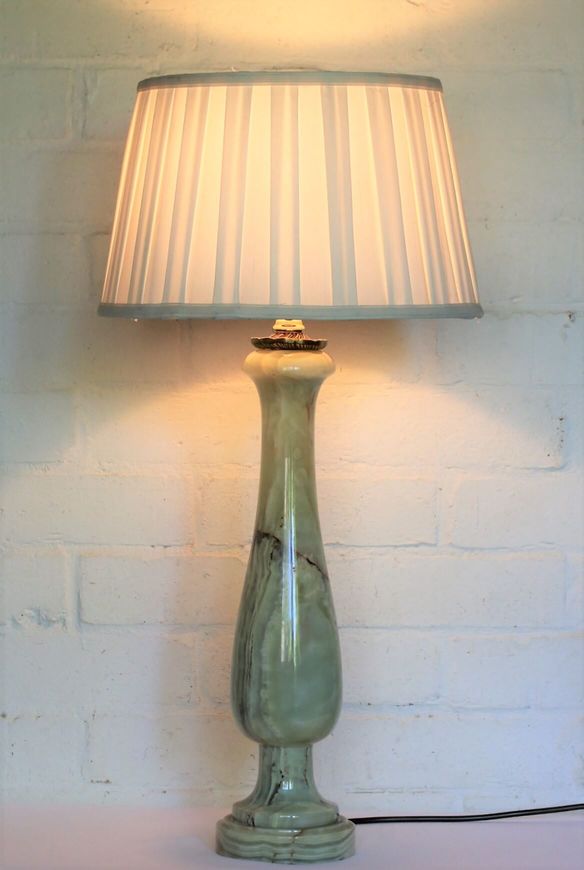 In use, the beauty of the marble shimmers and comes to life.
Things to watch for.
Chips and cracks.
These lamps are heavy, if they get dropped there is always the chance that a weakness in the grain pattern will be revealed and become loose, this may show itself as a light line in the finish, these faults are not necessarily fatal but need to be looked at and assessed for movement. Small chips in the marble can happen from decades of use and life, these are often small and will not notice and are better-found buy feeling the lamp and using touch to reveal any imperfections.
This particular lamp had no major issues. There are a few light scratches which I felt rather than saw; these were disregarded as they are lost in the marble pattern and do not notice in use.

---

A Pair of Vintage 1980s Italian Marble Corinthian Column Table Lamps.
This is a pair of late 1980s Italian Corinthian Column table lamps with fine pale white marble columns. These are high-end lamps originally purchased from a specialist lighting retailer in central London. The marble used in these lamps is much more subtle and understated compared to the lamp above. The marble columns have fine pale interiors with an almost translucent appearance in places. These lamps have a classic antique design with large square multi stepped based and detailed cast brass Corinthian capitals at the top.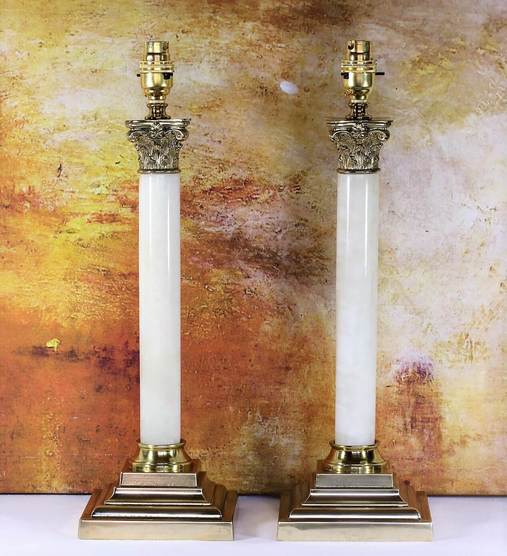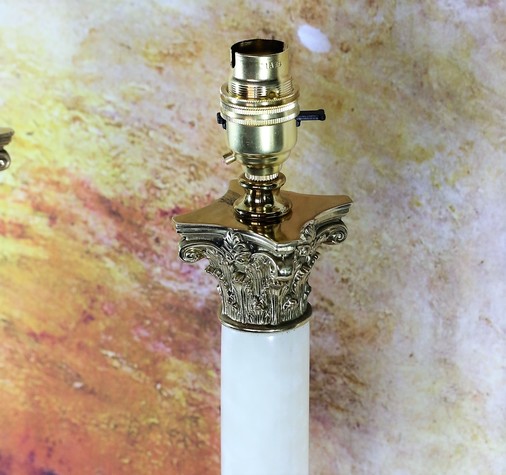 Chips and cracks to this type of marble lamp will be much more obvious due to the less dense nature of the material and the fact that if there are any problems that columns will not sit true.
When I found these lamps the columns had become loose over the years and the lamps sat off vertical, the columns were checked for damage at both ends to ensure that the flat mounting surfaces were straight and correct. These lovely pale marble columns have a couple of small marks and imperfections but again these are lost in the beauty of the material.
The two second-hand examples above had no serious issues. The Green lamp needed a simple clean, polish and rewire and the Corinthian columns needed realigning, retightening and a clean and polish.

---
Wiring and second-hand lighting.

When looking at any second-hand lighting it is important to check the wiring, of course, if you are buying from a quality antique or vintage establishment the wiring will have been checked and redone to modern standards, if you are buying online or at a flea market then assume that you will need to have the lamp rewired to modern standards and take this cost into account.
---
The Option of a contemporary Marble Table Lamp.
The world of modern quality lighting still caters for a fan of marble. In a world of "sameness" where large modern high street outlets sell variations on a theme, we are lucky to have independent retailers and online sellers who still offer many unique and quality new items of marble lighting.
There are some excellent choices available in the world of modern marble table lamps.
Here are a few of my favourites that make the most of this wonderful natural material with modern designs.
Note – If you are intending to buy a pair of modern marble table lamps remember that they may differ due to the lovely natural properties of the stone.
Modernist Marble Table Lamps.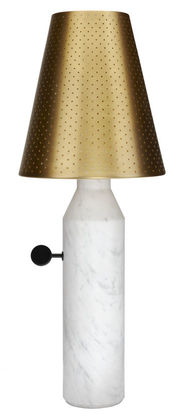 The La Chance Vulcain Table lamp – Marble & metal – H 45 cm
A Modern geometric shape with a futuristic design.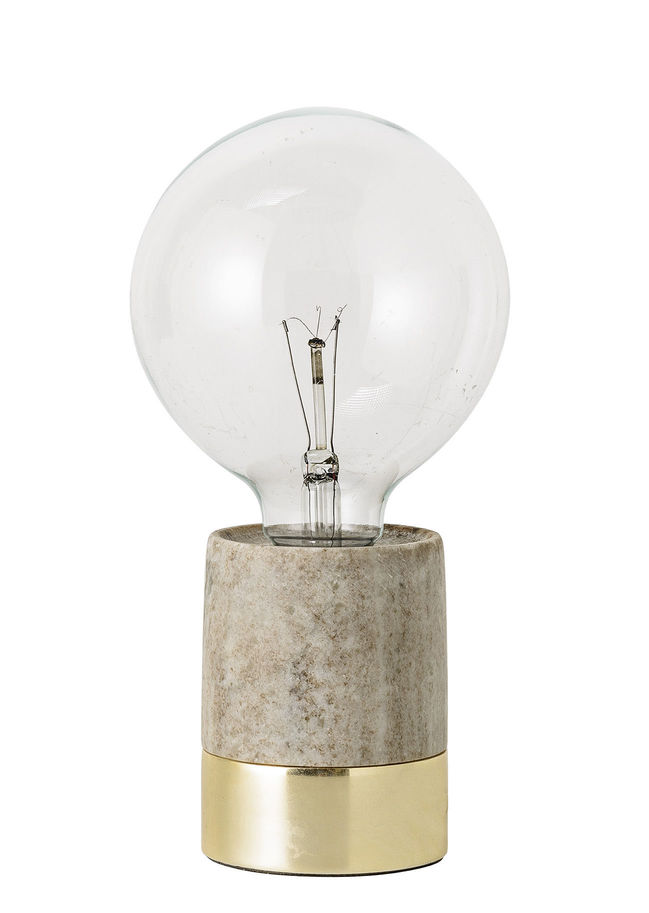 Table lamp Marble & metal –  by Bloomingville – Ø 9 x H 11 cm
A Small Table Lamp with Metal detailing which highlights the beauty of the natural marble.
The Eddy Table lamp byNormann Copenhagen with a pivot feature – Marble & stamped steel – Ø 32 cm x H 33.6 cm
---
The beautiful and subtle Ernst Marble And Metal Table Lamp
Cylinder in shape and with a timeless elegance. 37 Cm High excluding shade.
---
The outstanding Klaus Marble and Brass Table Lamp
A geometric table lamp with a wonderful tapered green marble base and a brass dome lampshade. 42 Cm High Including lampshade.
---
The Macie Marble Table Lamp.
A contemporary table lamp handcrafted from natural white marble with a geometric design and subtle, soft edges. 40 Cm High Excluding lampshade.
One of my favourite online retailers is Graham and Green who stock a wide range of Marble interior design items to fit every pocket.
---
I hope you have enjoyed reading this post about the lovely natural material that is Marble and its use in table lighting.
Please view my eBay shop for a range of second hand lighting and interior design items.
If you have any questions or opinions i would live to hear them.
michael@hertfordshire-lighting.com