Scandi Ceiling Lights
Scandinavian Style lighting has been popular for many decades, here in the UK the interest in Scandi design started in the 1970s with companies like Heals and Habitat bringing Scandinavian designs and products to the UK. Scandi lighting covers a wide range of designs and materials. Everything from natural materials such as reeds, natural fabrics and bamboo right through to simple clean lines and more traditional materials. In this post we are going to look at some quality Scandinavian ceiling lights, the selection in this post clearly shows the wide range of materials and designs available that all fall within the broad category of Scandi ceiling lights. Some fantastic UK companies have decades of experience in hunting down materials and incorporating them into their unique take on Scandi style ceiling light designs.
I am going to show you some of my favourite unique Scandi style lights from one of these companies called Graham & Green. Graham & Green is an independent family run business that started way back in 1974 with its first shop in the now trendy Notting Hill in West London. The company started its online business in 1999 and has now gained a reputation for offering unique and beautifully designed quality homewares at an affordable price. Graham & Green have a fine range of lighting including these beautiful and unique Scandi style ceiling lights.
Please Note – this post may contain affiliate links, if you purchase from one of them we may receive a small commission at no extra cost to you.
---
THE BAMBOO BUBBLE PENDANT
A bubble-shaped ceiling light pendant manufactured from rattan. The Bamboo pendant offers a pared-back organic design with an interesting warm lighting effect when in use with the frame providing both highlights and shadowing as part of the illumination. Manufactured from bamboo and iron.
Height 45 Cm x Diameter 35 Cm
---
SMEATON CONCRETE PENDANT LAMP
The Smeaton Ceiling pendant has the clean lines and unfussy look of a revolutionary 1970s ceiling light. Manufactured from concrete and brass the Smeaton offers a focussed down lighting effect and the shade offers a textured finish making the most of the material from which it is made.
Height 29 Cm x Diameter 20 Cm
---
THE RAFFIA NATURAL PENDANT CEILING LIGHT.
A large and typically Scandi looking ceiling light. The pendant shade is honey coloured raffia wrapped around a simple metal frame for a natural-looking ceiling pendant. The light offers a warm and interesting lighting effect with the texture of the pendant shining in use. Perfect for Scandi bohemian or tropical-inspired interiors.
Height 30 Cm x Diameter 60 Cm
---
TIERED BAMBOO PENDANT LIGHT
An architectural pendant light made of bamboo tiers, a minimalist lighting style for the Scandi home.  The round Bamboo pendant is the perfect way to style your room with Scandi ambient lighting.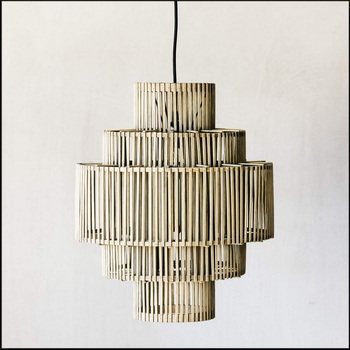 Height of cane pendant 51 Cm x Diameter 43 Cm
---
THE SAVANNAH DARK BLUE PENDANT.
A nod to Scandi 70s style, this retro-inspired pendant light is handcrafted from natural cane and luxurious deep blue velvet. With a wide circular shade, the Savannah pendant offers a vast pool of light without creating a dazzling glare with the internal materials offering focus and warmth. The Savannah is perfect for spaces that need lots of light.
Height 28 Cm x Diameter 40 Cm
---
THE LARGE GREEN HOOD PENDANT LIGHT.
With clean lines and a retro Scandi design, the large green hood pendant light offers a warm focussed lighting effect. The green hood pendant has a green matte finish and a large domed shade, resplendent with pale brass detailing for a contemporary Scandi addition to both modern and classical homes.
Shade Height 13 Cm x Diameter 25 Cm
---
MASEY LEATHER PENDANTS.
With layers of natural textural handwoven taupe leather and with a simple clean silhouette, the Masey pendants bring a Scandi era artisan aesthetic to any pared-back bohemian home. Offering a textured lighting effect showing shadow and highlights The Masey pendant is available in two sizes.
Medium = Height 35 Cm x Diameter 49cm – Large = Height 35 Cm x Diameter 59cm
---
THE KARINA PENDANT.
The Karina Pendant has simple lines and offers an intriguing lighting effect. Made from metal bent and welded into a steel wire frame, the finish is Antiqued Brass with a Bronze accent. The lines are clean, the pendant is handmade making each one unique. A great and unusual option on a Scandi style ceiling light.
Height 50 Cm x Diameter 32 Cm
---
THE BAMBOO CEILING PENDANT.
The Bamboo pendant offers the shape and profile of a 70s Scandi light twinned with the use of a natural material Bamboo. A Scandi-inspired ceiling pendant crafted from natural bamboo with a layered, cut-out design. Perfect for casting light elegantly throughout your interior space. The layered design of the light along with the bamboo sections provide a great lighting effect with natural diffusion and shadowing.
Height 51 Cm x Diameter 49 Cm
---
THE WALLIS WOOD AND GLASS PENDANT
A simplistic glass dome-shaped pendant with wood detailing and clean lines for an original organic Scandi style lighting effect. Simple, clean and offering both down and radiant lighting to any space.
Height 33 Cm x Diameter 27 Cm
---
MIA LINEN BAMBOO LIGHT
Crafted from bamboo and linen, this airy pendant light will breathe fresh life into the Scandi inspired home or space.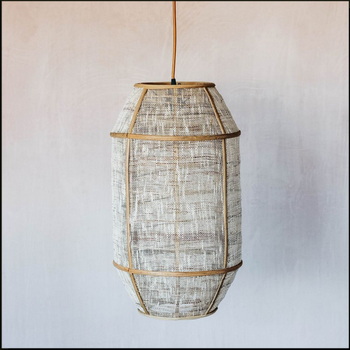 Shades dimensions = Height 58 cm x Diameter 32.5 Cm.
---
THE U GLASS PENDANT.
A simple yet elegant Scandi style light that makes the most of the quality heavy glass lampshade. The lampshade offers even and bright lighting to any space. The light has Red braided flex which adds a contrast to the natural clear glass.
Height 27.5 x Diameter 15.5 Cm
---
Conclusion
I hope that you have found my choice of Graham & Green Scandi Style designer ceiling lights interesting and that it may inspire you while exploring the world of Scandi Ceiling Lights.
You can view and browse the Graham & Green website by clicking HERE.
You can see more interesting Graham & Green ceiling lights HERE
As always if you have any questions please do not hesitate to ask.
michael@hertfordshire-lighting.com