An Antique Diamond found in the rough.
I recently spent a few days on a sourcing trip around the South coast town of Hastings in East Sussex. Hastings has a wonderful old town that has a great range of second-hand shops, Antique emporiums and Junk shops. No matter where in the world you find them shops like these are always worth a visit. It is great fun to rummage and explore these types of outlets where you can often find hidden treasures. While exploring this type of shop you will also have the chance to meet and chat to some great characters many of whom will have been dealing in antiques for decades. These dealers are also great sources of information so if you are looking for a particular type of specific item just ask them.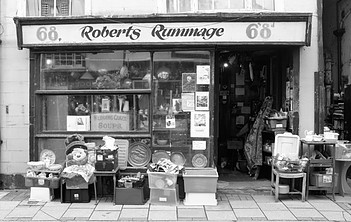 ---
During my recent trip, I stumbled upon a hidden treasure. At the back of an Antique/Junkshop, I found a bunch of Antique Lighting Pendants, amongst them was a wonderful old British Edwardian traditional ceiling light. This small light was found with its original quality brass three screw gallery, a more modern vintage ceiling rose and the most wonderful and original Antique cut glass lampshade with a classic acorn shape and a fine relief etched pattern. The lampshade has a typical period raised mounting rim which is the mating point with the three screw gallery. This small Antique Ceiling light was probably employed in a small area such as an enclosed porch, a smaller landing or a dressing room.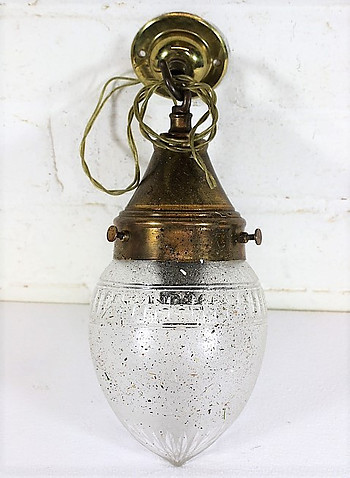 Here is the antique Edwardian ceiling light as found.
The first thing this beautiful old light needed was a good clean and a degrease. The light was taken apart and given its first polish in many decades. This great old light was found fitted with old out of date and unsafe two core wiring and an old brass and unearthed brass bulb holder. The wiring and unsafe bulb holder were disposed of and the light was made ready for restoration. The shade was really dirty with a few spots of paint but much to my delight was found to be free of any damage, it was cleaned in hot soapy water and given a wipe over with modern glass cleaner. After cleaning the shade came to life, the shade was found to have fine and top quality cut detailing including a cut point, beautifully cut linear borders and a fine row of scallop cut clear decorations.
---
The Beauty of Antique Cut Glass.
Here is the shade shown in bright sunlight where the skill of the original glass makers really come to life.
---
Brass Polishing.
The brass gallery and the brass ceiling rose were found to be in various states of tarnish so I decided to polish all the brass pieces to a matching finish. The Brass gallery and ceiling rose will be bought together with a length of matching vintage brass chain. The best polish for this type of job is called Autosol which was originally developed for cleaning chromed metalwork on older motor vehicles.
---
Rewiring.
Rewiring was carried out using current UK standard components. I used an earthed brass bulb holder with a UK BC fitting. Wiring is three core, in the UK we use Green and Yellow for earthing (grounding) – Blue is neutral and Brown is live. Wiring was fitted with cable protection at the gallery fitting point.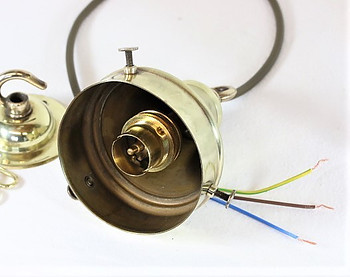 The light was assembled and made ready for testing.
---
In Use.
Once hanging the beauty of the light shone through, the acorn shape of the glass lampshade and the profile of the brass gallery work together beautifully and are a credit to the original designer. When hung it is easy to imagine the light hanging in a British Edwardian home during the early 1900s providing light and a touch of class to a small area. In use, the beauty of the cut-glass lampshade provides a fine lighting effect that is subtle and that works really well in providing a warm surrounding light.

---
Conclusion
Period antique lighting like this is well worth hunting down. If you have a space that needs the finishing touch that is only provided by true antique lighting then take your time and go explore your local antique outlets and of course the internet. There are some excellent top quality lighting manufacturers that produce goos quality reproduction lighting but nothing beats the feel of installing something that has survived decades and decades of use and is over 100 years old.This restoration was straightforward, a large part of the project was a thorough cleaning and polishing. The end result is really pleasing and seeing this great old light reborn brings me great pleasure.
Materials – Degreaser Thinners and cleaning materials. Earthed Wiring. Earthed Brass bulb holder. Metal Polish. Vintage Brass hanging chain. Wire wool and sundries.
Time Spent on the Light – 2 Hours.
I often have a number of Antique Lighting items for sale in my eBay shop here – Hertfordshire Lighting and Design
I would love to hear from anyone who has performed a similar restoration project; it's always great to share ideas with other people.
If you have any questions or need advice on any item of Vintage or Antique lighting please contact me and I will do my best to help.
Michael Adkins. michael@hertfordshire-lighting.com