Glass Ceiling Pendants.
Glass is my favourite medium for a pendant ceiling light. I love the way that glass reflects, casts shadows and sparkles when lit. I also like the way that the lighting effect on a glass pendant can be quite dramatically altered by experimenting with different bulb lighting outputs. Glass has been used in ceiling lighting since the dawn of candle, oil and gas lighting and is still very prominent in todays contemporary lighting market. Modern manufacturing methods used in conjunction with traditional hand built processes have opened up the lighting market to a wide range of wonderful and extravagant designs. As always in today's lighting market many of these new glass pendant ceiling lights are based on Antique lighting and patterns that go way back to the late 19th
century but there are also many eye catching designs and layouts that are quite unique and make the most of a designer who has an idea and who knows how to get the best out of that idea by using modern manufacturing processes.
When you are in the process of choosing a glass pendant light there are a number of areas to consider, first is the size of your space, make sure the light is large enough to light your room and provides enough of an impact both lit and unlit. Then consider its silhouette against your wall and ceiling finish, an intricate or complex design can be lost against an ornate background finish. Also think about reflective surfaces and the shadowing and highlights that a glass pendant can provide to your walls and ceiling. Obviously if your room has a strong design based on a particular era such as Art Deco then your choice is easier as you will already know what shapes and designs to look for. I am going to show you some of my favourite modern glass ceiling pendants, this is my own personal selection and the lights are varied and cover a wide range of styles. I hope you like them as much as I do. This selection of lights is from a company called Graham & Green. Graham & Green is an independent family run business which started way back in 1974 with its first shop in the now trendy Notting Hill in West London. The company started its online business in 1999 and has now gained a reputation for offering unique and beautifully designed quality homewares at an affordable price. Graham & Green have a fine range of lighting including these beautiful glass ceiling pendants.
Here are my favourite glass pendants from Graham & Green, some are classic, some are modern and some are quirky but they are all of great quality.
---
The Cortez Pendant.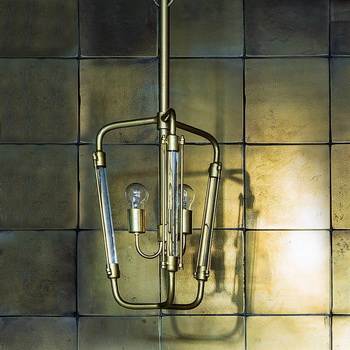 Height 52 Cm x 30 Cm Diameter
A ceiling pendant full of character. Crafted from brass in a brushed finish boasting an industrial feel with a nod to the steampunk design idea, with its chunky frame and glass rod detailing, this light will certainly be a focal point in any room.
---
The Columbus Pendant with a retro feel and design.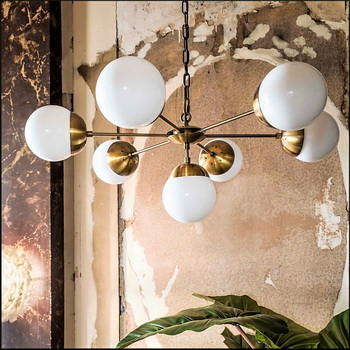 Height 36 Cm x 96 Cm Diameter with an adjustable drop from 50 Cm to 186 Cm.
The Columbus Pendant is an absolute spectacle. This icon of the mid-century era will suspend from your ceiling with presence and style. Its oversized, opal white, glass globes promise to deliver light across the room, with the assistance of the pendant's antiqued brass arms and chain suspension. The Columbus Pendant warrants a space in your interior where its oversized proportions can be appreciated and celebrated, try a room with large ceiling space for the perfect dramatic effect.
---
The Columbo Pendant another take on the mid-century Retro design.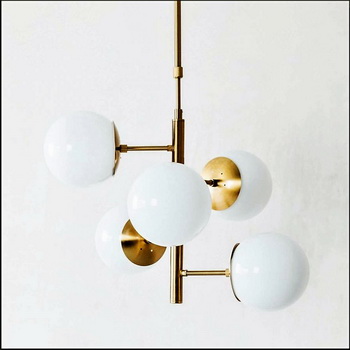 Height 67 Cm x 50 Cm Diameter
A mid-century inspired pendant with five oversized opal glass globes (14 Cm Diameter) mounted on a brass frame with a height-adjustable rod suspension. A glamorous addition to your interior, this ceiling light is perfect for hanging above tables or in your hallway.
---
The Steorra Glass Rod Pendant.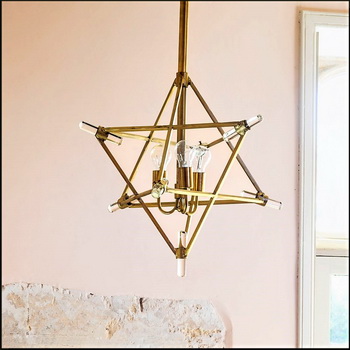 Height 60 Cm x 67 Cm Diameter
A contemporary geometric pendant based on an iconic and Antique star shaped form. With a shiny brass finish that features clear glass rod details. This pendant will add a touch of glamour and an interesting lighting effect to your space.
---
The Glass Pendant Light. An elegant simple light with an industrial feel.

Height 24 Cm x 28 Cm Diameter – Maximum drop 130 Cm.
A ceiling pendant light with a minimalist approach to industrial design, featuring a clear glass shade and brushed brass accents. A handsome addition to your kitchen lighting and an ideal light for using in groups or rows over a feature in your home.
---
Brass and Glass Star Pendants. Available in small and Large sizes.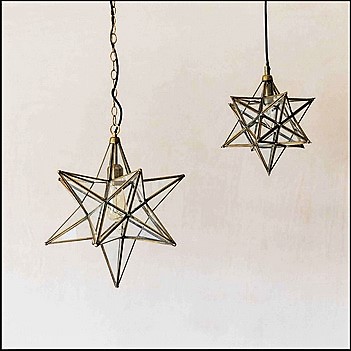 Small Height 33 Cm x 30 Cm Diameter
Large Height 50 Cm x 42 Cm Diameter
These celestial-inspired pendants can be a fit to any room for a dramatic focal point. Another modern take on a classic vintage design having lovely quality with the glass set into a multi-faceted iron frame in antiqued brass. Provides a wonderful lighting effect with shadowing from the quality frame.
---
The Clarice Pendant.
Height 21 Cm x 70 Cm Diameter – Drop from 71 Cm to 171 Cm
A stunning centerpiece light, handcrafted from mottled glass that is held in an iron metal frame with a rustic brass finish. This amazing light would be a stand alone fit in a wide range of settings and interiors.
---
The Truman Pendants Large and Small.
Small Height 30 Cm x 31 Cm Diameter
Large Height 30 Cm x 60 Cm Diameter
These beautiful round pendants have been handcrafted from mottled glass and held together in an iron frame with an rustic brass finish. Suspension via high strength fine cable provides the lights with a clean hanging line.
---
The Chatsworth Small Ceiling Light.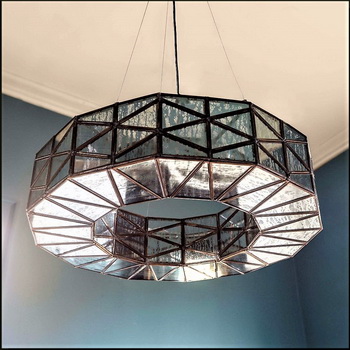 Height 13 Cm x 63 Cm Diameter
The Chatsworth chandelier is handcrafted by talented artisans from mottled glass that is held together in an iron and brass frame with an antiqued copper finish. A statement piece, this striking chandelier is destined to make an impact. Also available in a large size.
---
The Downton Small Ceiling Light.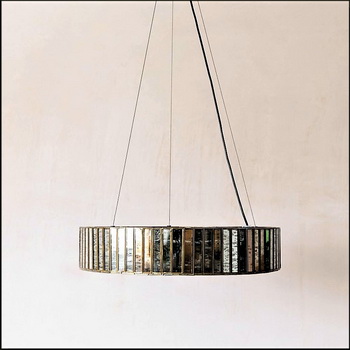 Height 12 Cm x 60 Cm Diameter.
An art deco-inspired light, handcrafted from strips of mottled glass held together in an iron and brass frame with an antiqued copper finish. Also available in a large size.
---
The Inko Glass pendant lantern.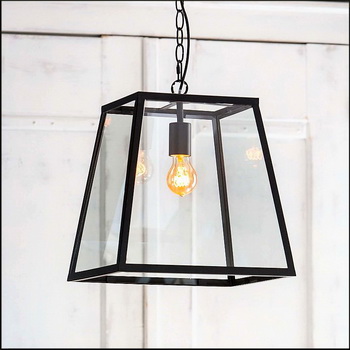 Based on a tapering 34 Cm Cube.
The Inko Glass Lantern Pendant Light makes a perfect choice for a hall or living space. The vintage inspired design has industrial and retro elements in its form and it will bring a stunning impact, good light output and warm glow to your room.
---
The Geometric Glass and Brass pendant.
42 Cm in Diameter with a max drop of 150 Cm
A faceted geometric light featuring an angular brass frame and multiple glass panels. A classic design that will add instant glamour to any space. The frame will provide an interesting and eye catching shadowing effect to ceilings and walls.
---
The JoJo Pendant chandelier.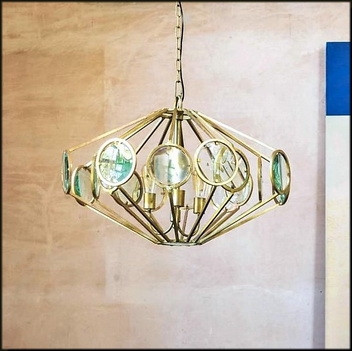 Height 54 Cm x 74 Cm Diameter – Max drop 100 Cm
A truly striking lighting centerpiece with convex glass discs sat within an antiqued brass metal frame. A wonderful lighting effect providing light shadows and reflections both when lit and unlit.
---
The White Glass Art Deco Pendant.
Height 20 Cm x 40 Cm Diameter.
The white glass pendant has a symmetrical tiered form with an Art Deco inspired shape, perfect for a subtle light feature in your home. Made from glossy white glass and with a slender chrome ceiling support for a sleek, modern and polished finish.
---
I hope that you have enjoyed looking at my personal selection of Graham & Green glass pendants. Graham & Green offer a fabulous range lighting and other fine items for the home.
As always if you have any questions please do not hesitate to ask.
michael@hertfordshire-lighting.com