Making a Unique Copper Industrial Ceiling Light.
Copper has been a popular material for making lighting for many decades. Many years ago Copper was an economically viable material which was used, often in conjunction with brass, in many beautiful pieces of antique lighting. Copper as a "colour" is still used widely in today's modern lighting, often modern ceiling lighting will have copper coloured or copper-coated metal shades as the lighting effect of old copper is both warm and vivid.  Finding a genuine vintage copper industrial ceiling light is now down to searching specialist online retailers, antique fairs and specialist vintage shops. There is a wide range of companies offering copper and industrial ceiling lighting fixtures that have been renovated and made safe for modern use. There are also large numbers of vintage copper ceiling lights available on sites such as eBay and Etsy. Of course, these specially renovated ceiling lights come at a cost as you are paying for the time, specialist knowledge and skills of Antique experts.
You can take an alternative approach which is to upcycle, renovate or restore your own found piece of copper or industrial lighting. In this post, I am going to show you how with just a few hours work and a few new components I managed to create a unique and one-off copper ceiling light.
---
The Project.
This is the story of a recent upcycle that I carried out on a fabulous and interesting old lump of copper. During a recent walk around an Antique fair, I found the large copper bowl which was being sold as a garden planter. This large copper bowl is made of heavy gauge copper with various and randomly rough punched holes around its perimeter, the bowl also has a hugely engineered rolled rim showing it was made for hard work. I believe that this large and Antique lump of old copper was originally part of a manual washing machine for cleaning laundry back in the 19th and early 20th century. As soon as I saw this great big lump of old copper I could instantly see its potential and possibilities as an upcycling lighting project. The copper bowl was found in very poor condition which also adds to its great appeal, after many years of use in a laundry setting and after years of being outside as a planter, the copper had developed a rich dark patina with a green verdigris patchwork finish in places, from experience I could see that with a little cleaning the copper underneath would have a lovely rich and varied finish.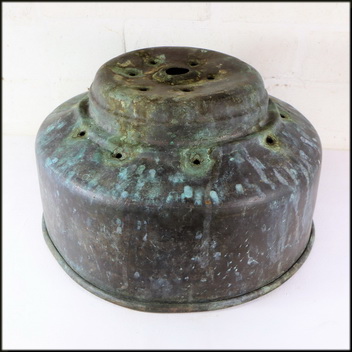 Here are some images of the copper bowl as found.
Despite the dirt and seemingly poor looking condition this great piece of old Copper has great appeal and great potential. The first thing that I had to address on the big lump of old copper was the roughly punched holes, these holes had round interior rough edges which would not be kind to fingers in the event of a light bulb change. These holes were smoothed out with a high-speed countersink tool and a cone cutter. The larger hole in the top of the copper bowl was to be used for the bulb holder mounting point so this was opened up with the cone cutter and was finely sized using rough glass paper, once this hole was opened up all of the drilling and smoothing was complete.
---
Refinishing & bringing the Copper back to life.
The next part of the project is where the fun starts. The inside of the bowl was cleaned using heavy grade wire wool, this heavy wire wool removed many decades of film and dirt build-up, the lower inside edge of the bowl was coarsely taken back using a drill mounted wire paint stripper, this allowed the actual copper to start showing which is important as the copper surface will provide a warm and interesting lighting effect, after using the powered paint remover the inside edge was finished with medium wet and dry glass paper and metal polish. The outside of the copper bowl was gently rubbed down with medium wire wool, this process was carried out slowly and carefully to allow the tarnish, patina and verdigris shadows to shine, this was all done by hand as an electric tool would have easily and instantly taken away many decades of beautiful and characterful weathering and patina.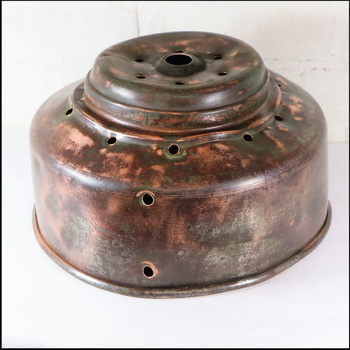 Here is the refinished copper bowl.
---
About mounting and hanging.
The next task was to figure out how to hang the new ceiling lampshade. Due to its heavy weight of 1.75 Kg I decided to hang the light using a hanging eye, a sturdy chain and a modern hooked brass ceiling rose. To carry on with the upcycled theme I rummaged through my box of old chain parts and made up a hanging chain from oddments of old strong chain links all with varying and contrasting finishes and shapes. The new light was also to be hung from vintage and salvaged hanging eye.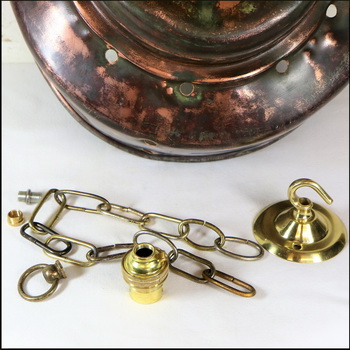 ---
Wiring up & finishing the new light.
Note – If you are carrying out a rewiring project like this there are a few points to remember and to incorporate into your project.
Make sure you use components that meet the safety standards in your country
In the UK earthed (grounded) wiring must be used with metal components.
Make sure the wiring route avoids sharp edges and use plastic grommets or sheathing for cable protection.
The wiring for this light was straightforward, some new components were needed, a Brass earthed BC Bayonet bulb holder, a brass reducing male thread and a shorth all thread 10mm nipple tube. After the wiring was completed and before the new light was finally assembled the copper bowl was sealed and protected with wax. I use a top-quality wax for this purpose which is called "Renaissance Micro Crystalline Wax Polish" – This is the best wax finish for such a project as it cleans, protects and brings out texture and colour from any material, it is used and recommended by top museums. It is expensive but a little goes a long way and it is definitely worth the cost.
Here is the bowl after its final wax finish.
---
The finished Copper ceiling light shade.
The Copper bowl was now mated with its new components and was hung and tested. Here are some images of the cleaned, waxed and upcycled vintage industrial copper ceiling light. Once hung the sympathetic cleaning and finish shone when viewed from the outside. The exposed copper on the inside, along with the various smoothed out holes, allow the copper ceiling light to provide an interesting down lighting effect with extra shadows and highlights from the original construction of the bowl.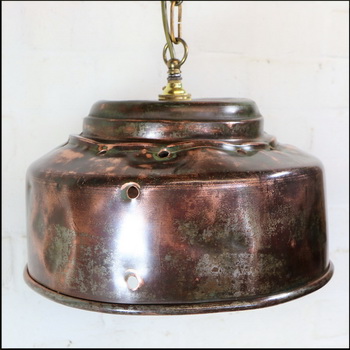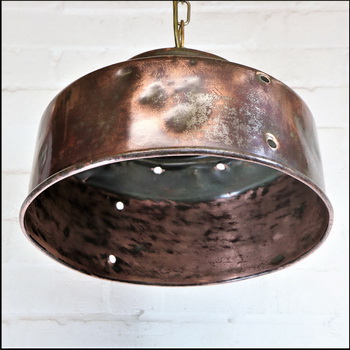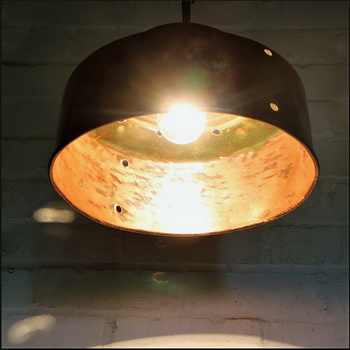 ---
Conclusion.
Converting this old copper bowl to a ceiling light took some time but was very rewarding, the careful surface finish renovation paid dividends in its final appearance. I would always encourage anyone to have a go at a project like this, there is nothing like getting your hands dirty and having the satisfaction of bringing new life to an old and forgotten piece of industrial history.
If you are interested in more Industrial lighting renovation projects you can read theme from the following links
      2. Unusual Table Lamps – Upcycling Antique Pipe Organ Parts.
      3. Restoring a Vintage Industrial Ceiling Light
If you fancy owning a piece of original Vintage industrial lighting I would recommend you to view the offering at the wonderful Vinterior website.
Conclusion
I hope you like this upcycle project, I am very pleased with the result and the way the upcycled copper bowl made such an interesting and one-off ceiling light.
Materials – Wire wool. Metal polish. Cleaning and Finishing Wax. Earthed Wiring. Earthed Brass bulb holder. Vintage salvaged chain and hanging eye. New brass ceiling rose. Various wiring sundries.
Time Spent on the lamp – 4 Hours.
I often have several Vintage Industrial items for sale in my eBay shop here – Hertfordshire Lighting and Design
I would love to hear from anyone who has performed a similar restoration project; it's always great to share ideas with other people.
If you have any questions or need advice on any item of Vintage lighting please contact me and I will do my best to help.
Michael Adkins. michael@hertfordshire-lighting.com