Rebuilding an Antique Milk Glass Ceiling Light
A Vintage Schoolhouse Pendant Light.
I recently visited one of my favourite local vintage and antique fairs the fascinating St.Albans Antique and Vintage Market which is an outdoor street market with a friendly and well-organised vibe. There is a wide range of vintage and Antique sellers in the market. Markets like this are a great place to search, browse and rummage for old gems of lighting and interior design items.
During my recent visit, I found a lovely piece of Antique milk glass lighting. The glass is a lovely large piece of early 20th Century opaline glass. The shade is plain white but has a fine Art Deco looking shape and profile. The glass shade is large and round and was found without any fittings so was purchased for a very reasonable price. At first glance, it may be confusing to see how this shade could be mounted but as with most pieces of Antique glass lighting, there is always a clue somewhere. This large old shade has three formed ridged holes around the top surface of the glass which form the mounting points. These lovely old glass shades were hung from three metal hooks which were fixed to the three existing openings.
These old large shades were often used in public places and municipal buildings and various versions of these shades were used in old schoolhouse buildings. When lit these old milk glass shades provide a lovely soft and even lighting effect, more of that later.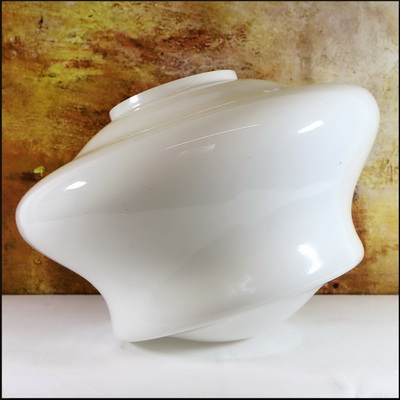 Here is the antique schoolhouse ceiling light shade as found.
---
Cleaning Glass & Buying Components.
The first thing this beautiful old lampshade needed was a good clean and a degrease. The light was cleaned using modern household degreaser spray and glass cleaner. There was a little minor roughness to the top rim that was easily smoothed out with a gentle 5 minutes with fine glass paper. Once the shade was cleaned and checked over it was time to get a shopping list together for the components need to hang this beautiful piece of old glass. When rebuilding an old light like this where there are no fittings present you have two options. One is to search for old original fittings, hooks and chains, this is not impossible and there are often many suitable items available on sites like eBay and Etsy. The second option, and the path I have followed with this light, is to buy new modern reproduction fittings from specialist retailers.
The fittings needed to rebuild this old ceiling light are as follows.
Three screw thread glass bowl suspension hooks. Three lengths of hanging chain. A three hook ceiling rose. Two Cord grips for wiring security. A length of sympathetic cloth covered three core wiring and a brass earthed lamp holder.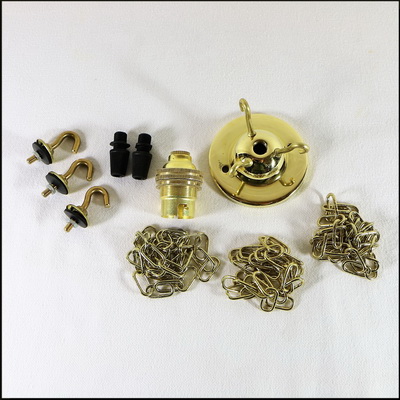 Here are the new metal components which were all purchased with a polished brass finish to provide the ceiling light with a bright new look.
The wiring was carried out using current UK standard components. I used an earthed brass lamp holder with a UK BC fitting. Wiring is three core, in the UK we use Green and Yellow for earthing (grounding) – Blue is neutral and Brown is live. Wiring was fitted with the cord grips at the lamp holder and the gallery fitting point.
The lampshade was fitted with the new suspension hooks and was made ready for assembly. When fitting these hooks always make sure that you use the rubber washers provided by the manufacturer and never over tighten as there is a danger of cracking the glass is you go too far with your spanner.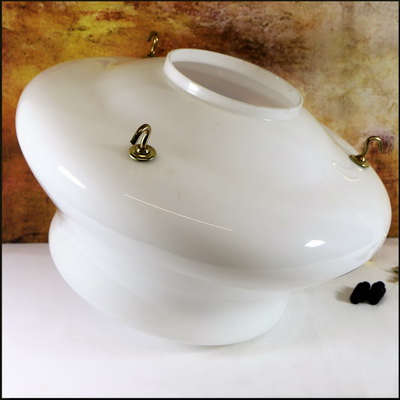 ---
Once assembled the light was hung and was made ready for testing.
Once hanging the simplicity and plain beauty of the glass shone through. This large hanging bowl will be a large presence in any space when unlit.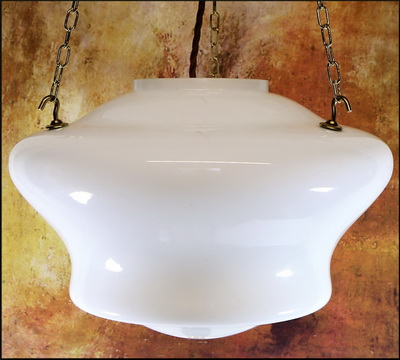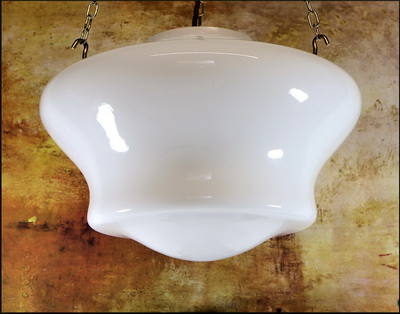 When lit the plain white opaline glass comes to life, with the single bulb hung in the middle of the shade the lampshade provides an even, soft and gentle lighting effect. When lit and in use, the profile of the glass lampshade becomes crisp and clean and works well with the profile of the brass hanging chains.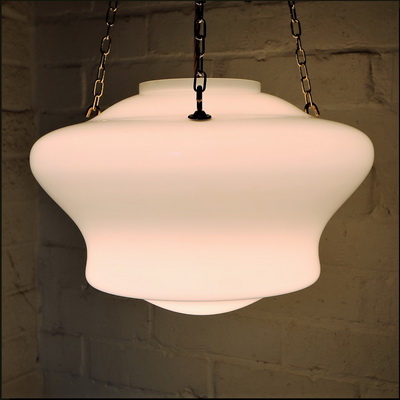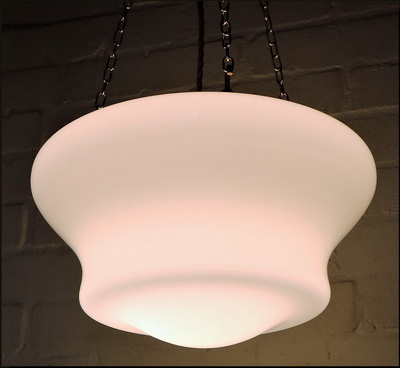 ---
Conclusion.
Period antique lighting like this is well worth hunting down. If you have a space that needs the finishing touch that is only provided by true antique lighting then take your time and go explore your local antique outlets and of course the internet. Some excellent top quality lighting manufacturers produce good quality reproduction lighting but nothing beats the feel of installing something that has survived decades and decades of use and is over 100 years old. This rebuild was straightforward, a large part of the project was sourcing and buying new components. This was not a restoration, it was more of a clean and rebuild, it was a simple project but the result is very pleasing, providing new life to a fabulous old shade is very satisfying.
Materials
Degreaser and glass cleaner. Earthed cloth covered wiring. Earthed Brass lamp holder. Brass hanging chain. 2 Cord Grips. Three Brass suspension hooks. A brass three hook ceiling rose.
Time Spent on the lamp – 1 Hour.
You can view the St. Albans Antique and Vintage Market website HERE. It's a great market and well worth a browse and rummage.
Suppliers of Lighting Spares and components that I currently use.
Lampspares – Website can be viewed HERE
Spares2You – Website can be viewed HERE
I often have several Antique Lighting items for sale in my eBay shop here – Hertfordshire Lighting and Design
If you are interested in ready to install vintage lighting I would strongly recommend a look around the amazing Vinteriors Website – HERE
I would love to hear from anyone who has performed a similar restoration project; it's always great to share ideas with other people.
If you have any questions or need advice on any item of Vintage or Antique lighting please contact me and I will do my best to help.
Michael Adkins. michael@hertfordshire-lighting.com