The Beauty of Crystal Glass in Lighting
Crystal glass has been used in lighting since the early days of candle chandeliers. Quality crystal glass was and still is a premium product, in the early days of candle and gas lighting crystal chandeliers were handcrafted and were found in only the wealthiest of homes.
Crystal glass is a wonderful medium for lighting and today we have a wide choice of modern Antique style crystal chandeliers to choose from. When you are in the market for a contemporary Antique crystal chandelier there are only a few practical issues to consider.
Let's start by looking at the effect offered by crystal glass in lighting.
When lit crystal glass comes to life, it shines and gleams in natural daylight and when lit and in use provides wonderful reflected shadows and shimmering light to any space.
Years ago an old Antique dealer friend of mine showed me her collection of Crystal chandeliers which adorned her home. Her small North London terraced house came to life at night as her collection of small chandeliers and crystal lighting breathed life into the dark rooms of her home, it struck me how elegantly the light danced and played on walls and nearby surfaces, her rooms were transformed by these wonderful old Crystal chandeliers.
Vintage and Antique chandeliers tended to be made in just a few styles and shapes.
Pendants tended to be Bag shaped and Waterfall or Tiered shaped. There were also various sizes of multi-armed chandeliers each with a light source at the end of each arm.
Modern Antique Crystal Chandeliers.
If you are in the market for a Contemporary Antique crystal chandelier the first thing to consider is size, luckily in today's market most quality lighting specialists will be able to offer different widths and lighting outputs for the same chandelier design, quality specialist retailers will also be able to advise on the number of lumens your room will require so always ask for assistance if you are unsure.
One easy detail to check is the "drop" of the new chandelier, this is dependant on your ceiling height and to a degree the height of the people in your space! It sounds obvious but it is amazing how many times people purchase a ceiling light or chandelier that has a drop that is just too big. Most modern chandeliers will be adjustable for drop height but it is worth checking the minimum drop, comparing it to your ceiling height and working backwards from there.
Antique Style Modern Crystal Chandeliers
If you are looking for a modern version of a grand Antique traditional style crystal chandelier then today's market has some wonderful offerings which provide the Antique look and design in a modern package.
Please Note – this post may contain affiliate links, if you purchase from one of them we may receive a small commission at no extra cost to you.
Laura Ashley
Laura Ashley always has a solid selection of quality and affordable lighting, the designs are always good as is the quality. Laura Ashley is always worth a visit when considering new lighting.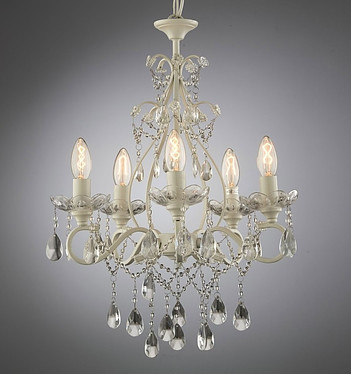 The Laura Ashley Shamley compact Chandelier.
Size – Height 57cm, Depth 42cm, Adjustable Chain Length 40cm
Ideal for a smaller space and offering an Antique look in a modern package.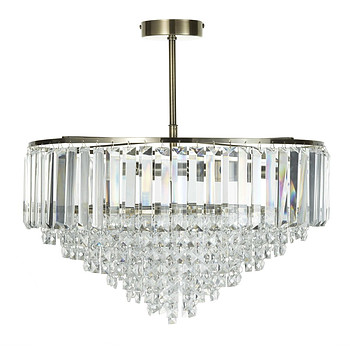 The Laura Ashley Vienna Crystal Chandelier.
Size – Height 39cm, Diameter 47cm
A great looking modern interpretation of a traditional Antique tiered chandelier.
The Laura Ashley Enid chandelier.
Size – Diameter 40cm, Height 45cm
A well thought out Laura Ashley take on a Classic luxury Crystal Chandelier.
Laura Ashley products are always well made and are designed with great style, they have a chic look that fits into both modern and traditional interiors. CLICK HERE to view the range of Laura Ashley lighting.
---
Waterford Crystal
Waterford manufactures stunning lighting. The small range of Waterford crystal chandeliers are based on traditional Antique lighting and use the finest crystal glass in their build. The glass is made, cut and finished by hand so the Waterford range carries a premium price, however, the Waterford range of Crystal lighting is of the very best quality.
The Waterford Ashbourne 9 Arm Crystal Chandelier.
Size – Height: 86.36cm – Width: 71.12cm – Depth: 71.12cm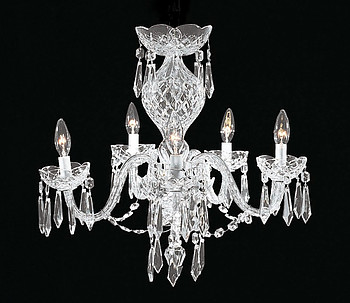 The Waterford Comeragh 5 Arm Crystal Chandelier.
Size – Height: 53.34cm – Width: 55.88cm – Depth: 55.88cm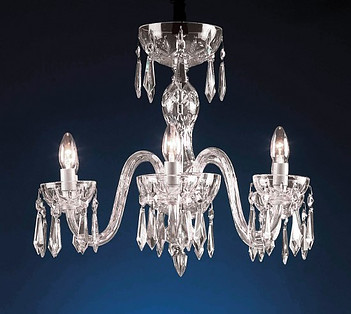 The Waterford Lismore 6 Arm Crystal Chandelier.
Size – Height: 45.72cm – Width: 61cm – Depth: 61cm
The Waterford Powerscourt 9 Arm Crystal Chandelier.
Size – Height: 96.52cm – Width: 91.44cm – Depth: 91.44cm
Waterford crystal chandeliers and lighting offer the ultimate combination of traditional Antique designs, premium quality glass and hand-made quality. CLICK HERE to view the range of Waterford Crystal lighting.
---
Swarovski Crystal
Swarovski Glass is based in Austria and has been making wonderful Crystal since the late 1800s. Swarovski chandeliers tend to be opulent with a flamboyant European feel. The designs are extravagant and remind me of something you would see hanging in grand French and Central European palaces. The quality of the Swarovski glass is very high and the lights are largely hand made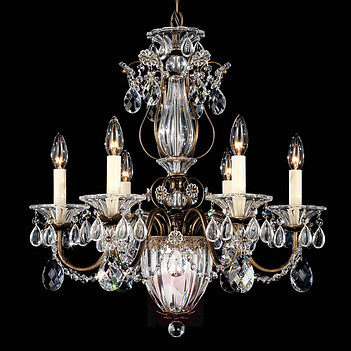 The Swarovski Schonbek Bagatelle 6 Arm Crystal Chandelier.
Size – Height 57 Cm – Drop 102 Cm – Diameter 53 Cm
The Swarovski Schonbek Milano 6 Arm Crystal Chandelier.
Size – Height 67 Cm – Drop 102 Cm- Diameter 61 Cm
The Swarovski Schonbek Small Sterling 5 Arm Crystal Chandelier.
Size – Height 46 Cm – Drop 102 Cm – Diameter 41 Cm
There is no doubt that Swarovski Crystal chandeliers offer something different, they are stylish and have details and small design elements that you will not find elsewhere. There are many other makes of European Antique style Crystal chandeliers to consider that you will not find in the high street.
CLICK HERE to view a wide and wonderful range of European Crystal lighting.
---
Timothy Oulton
The name Timothy Oulton is perhaps best known as a leading designer of furniture, however, the Timothy Oulton brand has a wonderful range of lighting including some magnificent contemporary takes on Antique crystal chandeliers.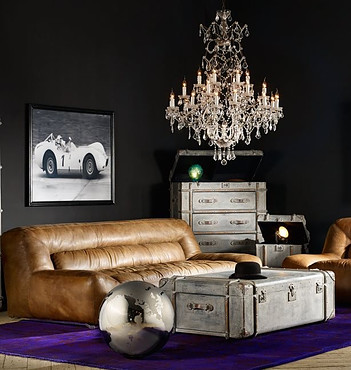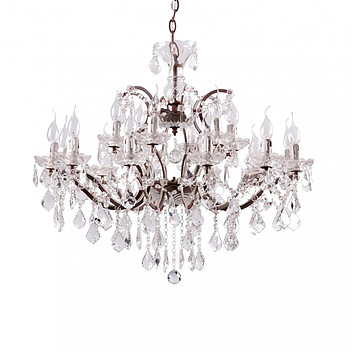 The Crystal chandelier range inspired by designs from the Goergian Period.
Shown above is the Medium Chandelier
Size – Width 83 Cm – Drop 83 Cm – Height 70 Cm
The Timothy Oulton Paradise Spiral Chandelier range. Inspired by Antique tiered chandeliers.
Shown above is the small version.
Size – Diameter 66 Cm – Height 86 Cm
The Timothy Oulton range of Crystal and glass lighting offers the perfect combination of a modern designer making the most of tried and tested Antique shapes and patterns. It is a top end range of lighting which offers crystal lights that suit both modern and period settings.
CLICK HERE to view the Timothy Oulton range of Crystal and Glass lighting.
---
In Conclusion
Today's lighting market has a wide and exciting range of quality Crystal Antique Style Chandeliers available, it is just a case of knowing where to look and following a few guidelines before making your purchase.
1. Consider the all-important drop measurement. Work backwards from the height of the chandelier and work out your final overall drop.
2. Light output and size – Make sure you consider the balance of your room volume against the desire to own a statement chandelier. Ask questions of the retailer who will be happy to assist.
3. Weight – Glass is a naturally heavy material and crystal chandeliers can be very heavy, make sure your structure has a strong and secure mounting position and employ a specialist electrician if you are in any doubt.
4. Cleaning – Remember that your new crystal chandelier will need a clean now and again which will mean an in situ wipe over with glass cleaner.
I hope you have found this post interesting, I am always happy to help so if you have any questions please do not hesitate to contact me.
michael@hertfordshire-lighting.com