Oriental Table Lamps – An overview.
For many hundreds of years Western culture and homes have been decorated with exported Chinese and Oriental ceramics. Oriental table lamps have always been a popular way of introducing an "eastern" feel into a living environment. Lighting fashions come and go but there has always been a degree of interest in Oriental lamps. If you pay a visit to any stately home, national trust property or Historical Museum you are bound to see an Oriental Vintage Ceramic lamp on display.
Oriental ceramic lamps originate from many countries. The biggest supplier both historically and now is China. Lamps have in the past also been exported by Japan, Thailand and smaller Regions of China such as Macau and Hong Kong.
There is a large second hand market for Oriental Table Lamps and there are often many good quality Vintage versions available that are made in a style and way that is no longer available new. For this reason it is always worth checking your local Antique dealer, house clearance shop and second hand dealer as they may have something that you will never find "new". Of course online shops and sites also have many quality secondhand lamps available.
Buyers guide to second hand ceramic Oriental table lamps.
Ceramics – The first and most obvious area to ask questions of is the Ceramics. Are there any Cracks, Chips or repairs? Many very old Vintage or Antique ceramic bases with have marks from age, use and life. An older ceramic base will easily carry small marks, minor scuffs and chips as the imperfections will not notice in use and could even add to the aged look of the lamp, really old ceramic lamp bases are probably not great for people looking for perfection but if you are able to live with these small signs of life then you may well find a bargain.
Deep cracks that run from rim to rim usually indicate a drop or heavy knock and these bases are best avoided as they will be weakened and prone to falling apart with a minor accident or knock.
Decorations – There are many types of decorations on older Oriental ceramic lamps. Many have simple but effective transfer printed decorations, these vary greatly in quality. A really good transfer decorated lamp will look clean and will be without kinks or irregularities in the decoration outlines.
Hand painted finishes are interesting – On some lamps the hand painted elements are inside transfer applied outlines and on others the entire decoration is hand applied which provides a degree of uniqueness in the finish.
Raised enamel finishes are also very eye-catching, these finishes are raised above the ceramic body of the lamp and provide a tactile look and feel which adds depth to the lamp when lit with a shade.
Bases – Many Oriental lamps come with a fitted wooden base, these bases can be solid wood or Reticulated wood, check these for damage, wooden bases can usually be glued and repaired. If you find a ceramic base that you love but that comes with a damaged wooden base you can always consider buying a new base online.
Fittings – Top plates and other top fittings are often Brass and sometimes metal or wood. On older lamps the brass top plates can be heavily tarnished and brown in appearance, this is remedied by time and a little effort with metal polish and fine wire wool.
Bulb Holders and Wiring – As always with older lamps the wiring should be checked. Many Vintage lamps with original wiring and bulb holders in place will need attention. Standards have changed over the decades so bear in mind that you may need to invest in having your Oriental lamp rewired or checked over.
Overall Quality – Quality is difficult to measure – It will tend to become more apparent the more you search for your new item of Oriental lighting. Quality is evident in many areas of any individual item such as proportion, weight, decoration and appearance – I would always invest in a quality second hand lamp with a few signs of life rather than a poorer quality lamp that is seemingly perfect.
Please see below for a few examples of the range of Oriental finishes used in lighting.
Blue & White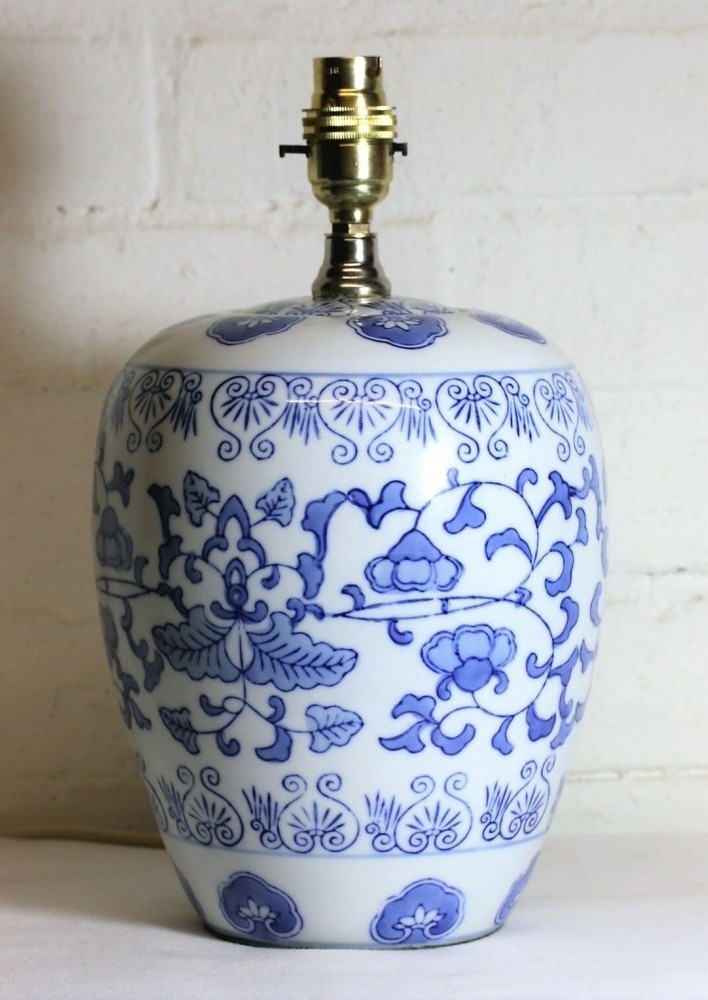 Blue & White – A classic of Chinese ceramic lighting – often floral, under glazed and hand painted.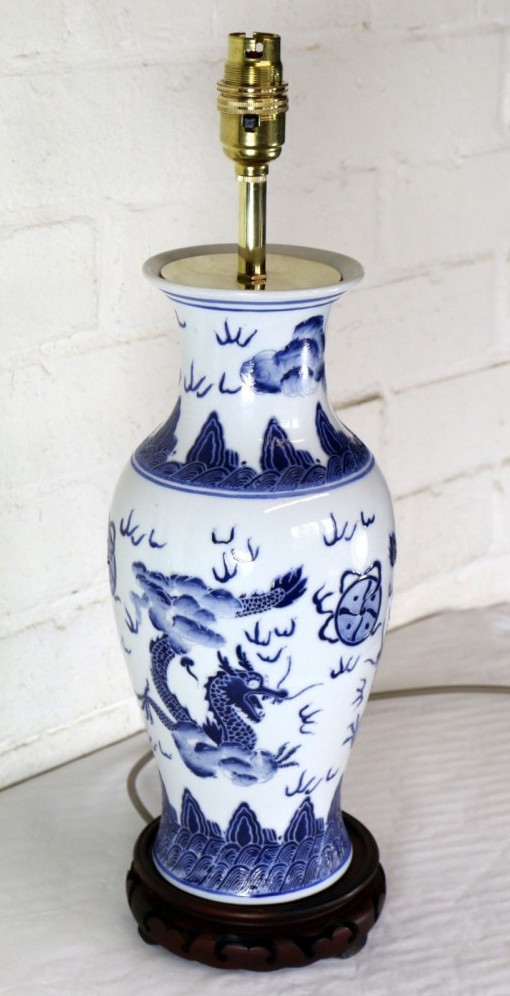 A Hand Painted Vintage Blue & White lamp with Raised enamel decorations
Sang De Boeuf (OX Blood)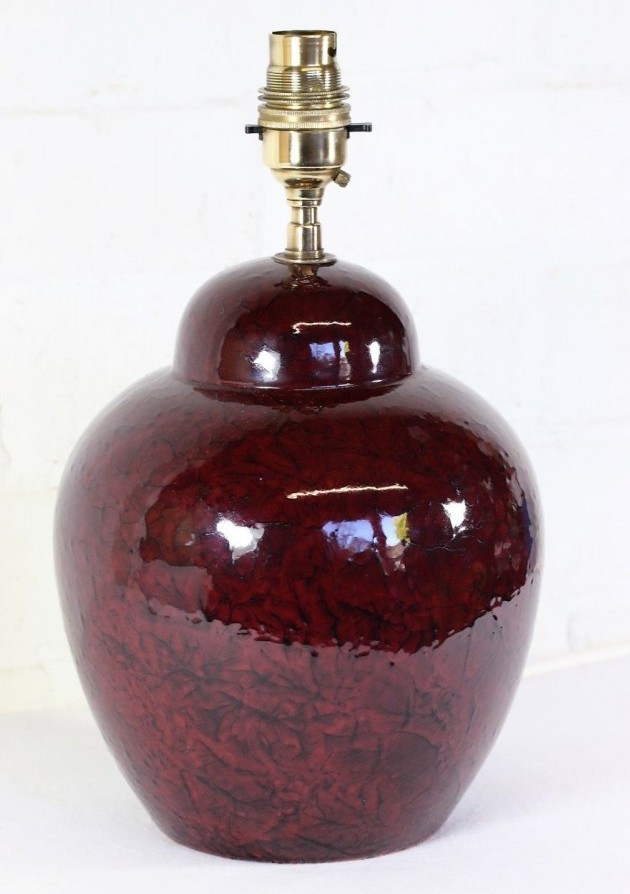 A Vintage Sang De Boeuf finished lamp – The colour is made with the use of Copper oxide in the glaze – This lamp was imported to Europe by "Carlos Remes" who were one of the top suppliers of Oriental lighting.
Crackle Glazed Lamps
Crackle Glazed finishes – Provide an antique appearance by simulating age into a glaze. This lamp has a classic Celadon Green colour with a Crackle finish – A lamp by "Valsan" who provided many lovely Oriental themed lamps.
Japanese Satsuma Lamps
Japanese Lamps with Satsuma styled decorations provide a bright and colourful option, usually decorated with Classical family and scholar decorations with Gold accents on a matt finished background.
Monochrome Lamps

Lamps decorated in a single colour – A 1970s burnt Orange Monochrome Lamp
Japanese Kutani Lamps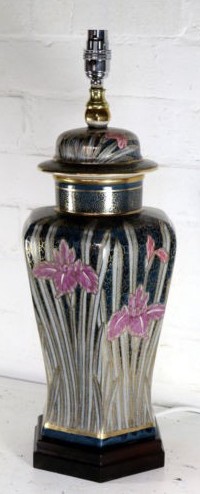 A Vintage lamp with a decoration from the old Kutani region of Japan.
Blanc De Chine – White China
Blanc de Chine – Pale White China – Often found with a hand cut reticulated design.
Lotus Scroll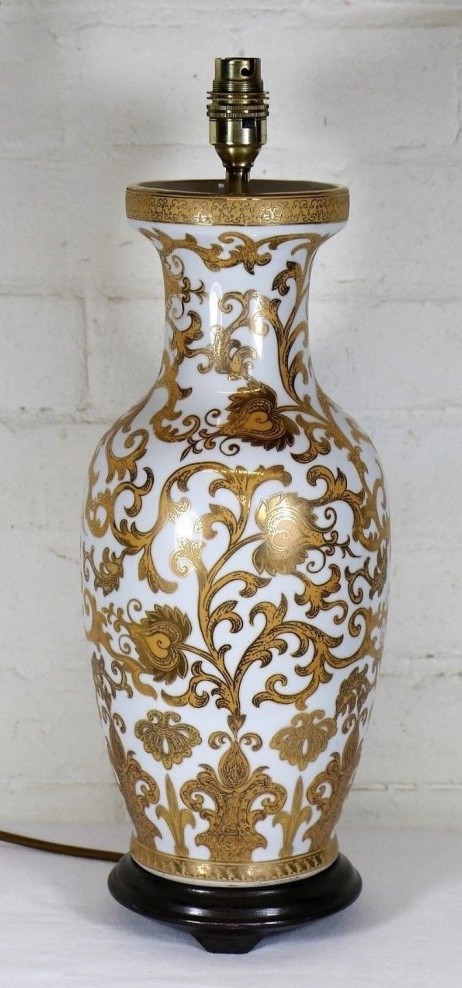 Lotus Scroll Pattern – Another classic of Oriental Lighting.
Conclusion
There are many other wonderful patterns to be found in Oriental lighting such as A Thousand Flowers – Famille Rose – Stork & Water Lily.
A beautiful Oriental lamp is a great way to add colour and a touch of Eastern magic to any setting.
As always there is no right and wrong, if a Vintage lamp works for you "go for it" while you have the chance – Remember you may never see one quite the same again!
If you have any questions or need advice on any item of Vintage lighting please contact me and I will do my best to help.
Michael Adkins. michael@hertfordshire-lighting.com