Industrial Lighting.
What is a "Vintage" industrial light? A piece of lighting originally employed in a "hard" environment such as a factory, a farm or an Industrial setting of some kind. Original industrial lighting is always properly built, often from heavy metal with a hard wearing finish and sometimes with heavy glass shades. Original Industrial lighting was never fancy, it was designed to a job in a hard environment and this is where the appeal lies.
Today vintage lighting from old churches, schools and public buildings all tend to be put into the Industrial niche.
The demand for original vintage Industrial lighting and Industrial Style lighting started gaining strength around the start of the 2000s. Before the general buying public really became aware of the appeal of such lighting old industrial lighting could be found in reclaim yards and in skips near factory refurbishments. The demand for industrial lighting is still strong and this has led to many quality manufactures developing ranges of new and very good industrial themed lighting.
When viewing a potential purchase of an old Vintage industrial light there are a few things to look for, industrial lighting is available in many formats and designs but for the purpose of this article I will be mainly focusing on ceiling lighting.
Enamel Lampshades and Lights.
This is probably the most sought after style of original industrial lighting. Enamel lights were produced on mass during pre WW2 years and on into the 1950s and later. Typical common colours are Dark Green & Pale Grey, other colours were produced for specialist settings and I have seen Black, Red and Blue enamel shades.
These great old shades were produced by many manufactures in a range of sizes and fittings.
Original Manufacturers to look out for. Maxlume – Coolicon – LiteSmith – Mazda – Benjamin – Cryselco – Revo.
Many of the original smaller enamel lampshades had simple round opening for attaching to a pendant and some had interesting and varied gallery fittings.
An Original Vintage Enamel shallow dished Shade for direct fitting to an existing pendant.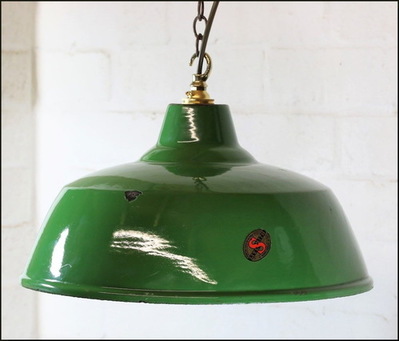 An Original 1950s British LiteSmith Green Enamel ceiling light
---
Ultra Industrial.
Ultra Industrial is an item of Vintage Lighting that really has seen a hard and rough life, such lights are often salvaged from old factories with leaking roofs and nesting pigeons. At first glance these battered lights can look fit only for the recycling center but have a good close look and put in some time and effort and you can be rewarded with a piece of lighting that has heaps of character and loads of life left in it.
A selection of well-used and battered 1950s Ultra Industrial Lampshades before refurbishment.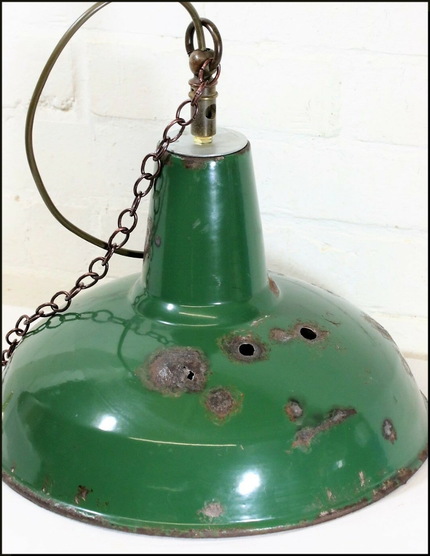 One of the shades after refurbishment, polishing and rewiring.
---
Farm Lights and Industrial Heater Conversions.
There are a number of different types of Vintage Industrial lighting on the market that started life as heaters and specialist application units. Old items from Farms can have great appeal and offer fantastic potential for re purposing.
This is a Vintage 1950s "Eltex" fan heater that was originally used in a livestock setting for keeping young animals warm. This great old unit was in a poor state when found but still had its original high temperature ceramic lamp holders in place which was a great bonus.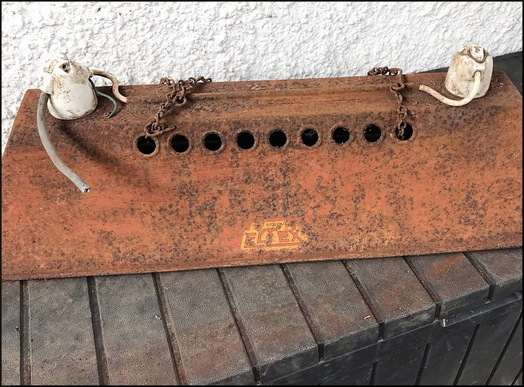 1950s Eltex Farm Heater before refurbishment.
This heater was gently rubbed down to remove loose paint and surface rust. The Old hanging chains were discarded and the Ceramic lamp holders were stripped and cleaned. The finish of this great old piece of Industrial hardware had a fantastic look, the shade was oiled and left to show its history and life.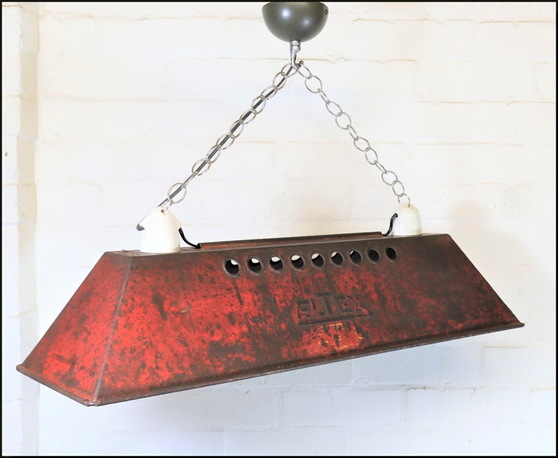 After Cleaning and with new hanging chains and fittings.
When lit the old Eltex produces an excellent Lighting effect.
---
"Industrial" Glass ceiling lights.
Many old Vintage and Antique glass lamps and lights from Schools, Churches and Public buildings can be a great choice for the Industrial look, these old glass lights were mass-produced in the early 20th Century, many were broken and lost to time but there are still some excellent examples on the market.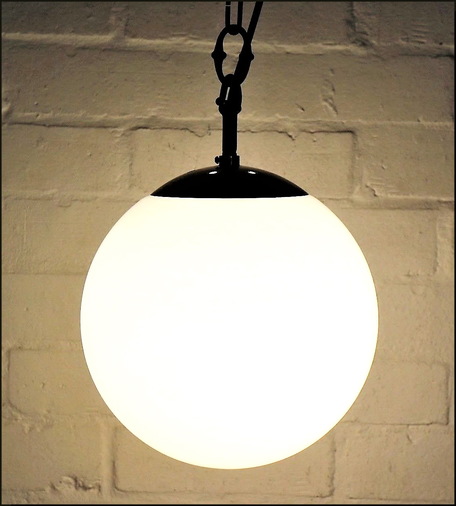 This is an Antique glass globe ceiling light with its original "Monks Cap" fitting. This example came from a church but these lights were widely used in public places and semi industrial settings.
---
Industrial Polycarbonate Lighting.
During the 1970s Polycarbonate and Plastic lighting started to appear in industrial lighting ranges. These new lights and lamps were cutting edge in terms of materials. Polycarbonate shades were strong, light and produced a clean soft lighting effect. Companies such as Marlin produced ranges of lights made from Polycarbonate. These are quite rare now as the Polycarbonate era was fairly short-lived.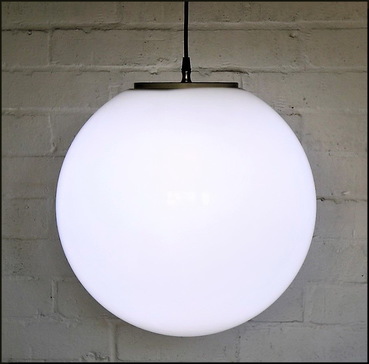 An original Marlin Large Polycarbonate Light salvaged from a London shopping area.
---
Other Industrial Lighting.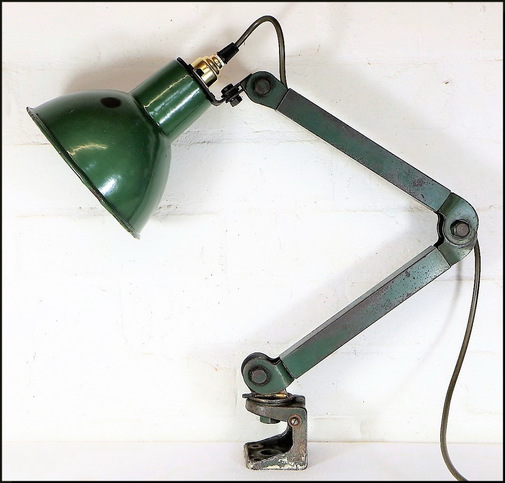 An Original 1950s Enamel Machinists desk lamp in enamel Green.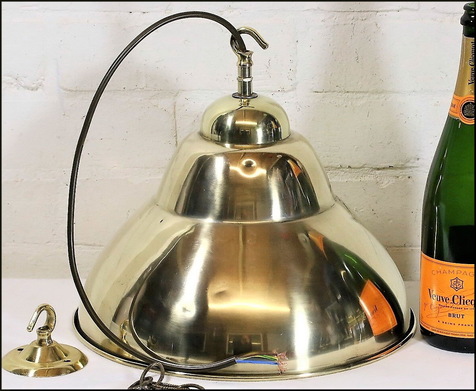 An early Brass Industrial Light with a beehive shade.
Alloy Industrial Flue Weathering Cowl re purposed into an Industrial Ceiling Pendant.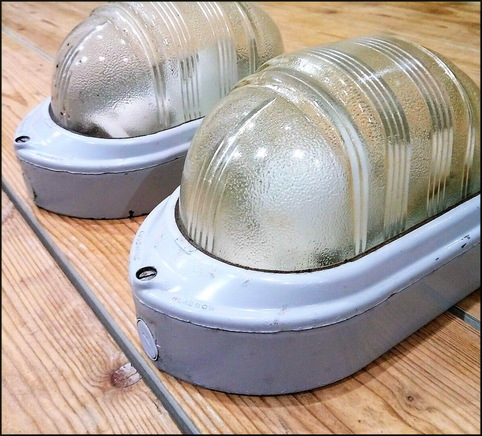 Original Industrial Wall Lights are strong and robust typified by the Coughtrie range.
---
Buying Vintage Industrial Lighting.
Finding good Vintage industrial lighting is much easier than it was 10 years ago.
Due to the popularity of such lighting there are many retailers and independent on line sellers offering industrial lighting which is great news, however the market has a great variation in price for very similar items so make sure you take time and shop around before making a purchase as there are many bargains to be had.
If you are willing to invest time and a little effort then buying a seemingly poor lampshade can bring great results, with some wire wool, wd40 and metal polish you may uncover a one off hidden gem.
Always make sure you check the wiring & lamp holders on older lights – Standards have changed over the decades so bear in mind that you may need to invest in having your industrial find rewired or checked over.
If you have any questions or need advice on any item of Vintage lighting please contact me and I will do my best to help.
Michael Adkins. michael@hertfordshire-lighting.com