The Beauty of Antique Oil Lamps.
After a recent 2 hour tramp around a muddy and cold field, I found myself in possession of a very neglected but very interesting looking antique oil lamp base. The base is very ornate and is finely cast from iron. The found finish was a combination of rust, natural iron and some original gilt. At first glance, the lamp is antique and appears to have been dragged around car boot fairs for some time. After a quick bit of bartering the antique oil lamp was mine. The Ornamentation on this Victorian lamp included many motifs & details associated with the Victorian era, these decorations include laurels, garlands, figureheads and general highly ornate detailing. When I got the lamp home I had a closer look and found cast into the underside of the base a British RD Number which dates the lamp base to the 1880s.
This great looking old antique lamp was found without any fittings or parts which made it an obvious choice for electrical conversion. Despite the shabby and neglected appearance the lamp base had a lot going for it, not only are the castings of great quality but the base is very wide making it extremely stable and solid. This old lamp base has a female thread at its top and would have been used with a large glass or brass oil lamp font.
---
The Lamp as Found.
Here are some images of the old solid brass Victorian oil lamp base as found.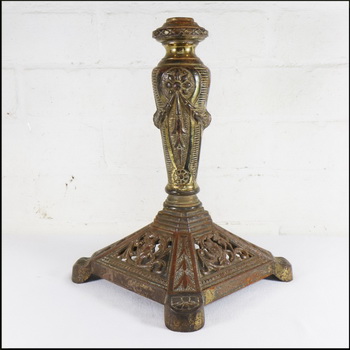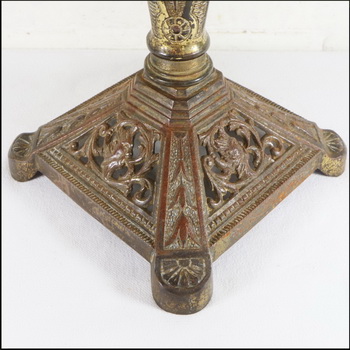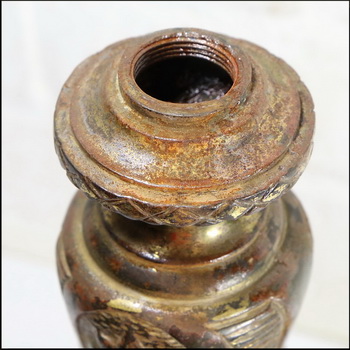 The finish of the lamp base is varied and a bit rough however this did not worry me too much as I could see great potential in the range of finishes on the cast iron lamp surface.
The first thing to do with a project like this is to strip it down and figure out a way of rebuilding the lamp with modern components that will allow new fittings to be included.
Here is the lamp stripped down and showing its component parts.
Luckily the old lamp base needed very few components to make it into a modern and safe electrical table lamp. The original heavy cast iron washer was drilled out and reused, all of the other components that held the lamp together were put into the "spares" box for future use. The lamp needed a length of standard 10mm all thread tube, nuts and an old drilled out brass washer with a similar finish to the lamp base. My first job was to rebuild the lamp parts and build them around the new length of the all-thread tube, once the lamp was tightened and solid I added a threaded brass nipple at the top, to lift the lamp holder position, which will allow all of the the antique components of the lamp to shine when in use.


The partially rebuilt Antique Oil lamp.
---
Refinishing and bringing the Antique Iron Oil lamp back to life.
Now the lamp was rebuilt it was time for a refinish. The metal was gently rubbed with 000 Grade wire wool and cleaned with WD40. The cast iron was finished with two coats of Micro Crystalline finishing wax which is a fantastic product and brings out shine, textures and fine detail in the cast iron.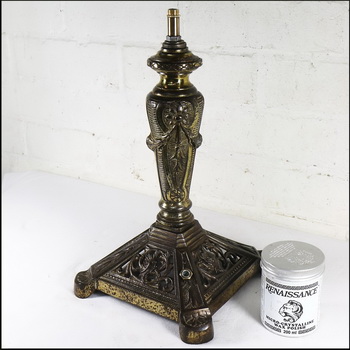 ---
Wiring The Lamp for Modern Use.
This excellent piece of antique oil lamp lighting will now need wiring and will need some modern fittings and components to bring it back to a usable and modern use and decorative condition.
When restoring any old lighting, making or rewiring any lamp there are several important safety points to remember.
Always follow your local or national standards and only use components that meet your countries regulations.
In the UK metal lighting such as this lamp needs to be earthed (grounded), check the wiring standards in your country.
Always smooth down and fit protective plastic or rubber grommets to areas, such as tubing, where your cable passes.
Always fit a cable-stay, point where the cable is fixed that will stop the wiring being pulled out of your bulb holder in the event of the cable being pulled or the lamp dropped.
This Antique lamp had a small chip in its base which made a good wiring entrance point, this chip was drilled out to allow a suit length of the threaded tube to be fitted. This small length of the tube allows a cable-stay to be fitted, along with small top hat grommets to each end of the threaded tubes meant that the lamps new wiring was fully protected and these small components would meet all of the important modern safety issues.
A Bulb holder was wired up and fitted into the lamp base, UK wiring with metal components is Green & Yellow for Earth – Blue for Neutral – Brown for Live.
With the bulb holder fitted this Antique lamp now met modern safety standards.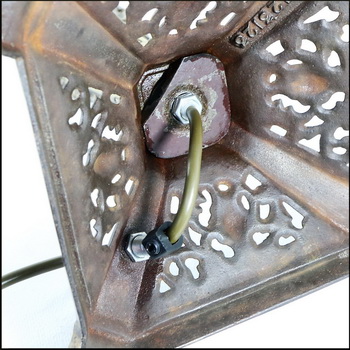 ---
The Finished Lamp.
With the revived finish complete the original skills of the Victorian craftspeople who made this cast iron lamp started shining and their work is again ready to be used for the original purpose of lighting a space. In use and with a shade fitted the lamp comes to life, this handsome antique iron lamp would make a great addition to any period room or a contemporary space that needs a touch of antique charm and with its wide wooden base and stability, the restored Antique Victorian oil lamp base would make a good desk lighting option.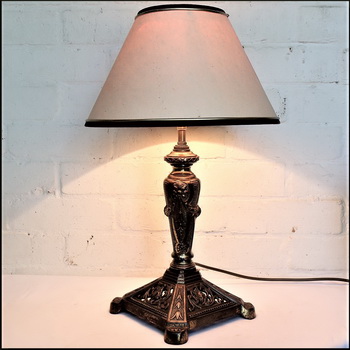 ---
Conclusion.
The skills of the original makers made this lamp well worth restoring and it was a pleasure to work on such a great looking and well-cast old lamp, it was a relatively short job that turned out to be simple and straightforward. I am really happy with the result and I am delighted to have provided this wonderful piece of Antique lighting with new life.
Materials
Earthed Wiring. Earthed switched Brass bulb holder. 10mm Tube, Nuts and Grommets. Plastic cable stay. 000 Grade Wire wool plus polishing and finishing sundries.
Time Spent on the lamp – 2 Hours.
I have a wide and varied range of Antique and Vintage lighting items for sale in my eBay shop here – Hertfordshire Lighting and Design
You can see another Antique Oil Lamp refurbishment by reading my post HERE
Another interesting conversion project can be read HERE
I would love to hear from anyone who has performed a similar refinishing project; it's always great to share ideas with other people.
Even a simple restoration project can bring a great sense of satisfaction and is great fun. I would encourage anyone to bring new life to an old Antique item.
Shop around.
Find an item.
Give it some thought.
Do a bit of research.
Restore.
Antiques are Green!
If you have any questions or need advice on any item of Vintage lighting please contact me and I will do my best to help.
Michael Adkins. michael@hertfordshire-lighting.com