High End Designer Table Lamps.
Buying a high-end quality piece of lighting should be considered an investment. A top quality table lamp will carry several characteristics that will lift it way above any run of the mill lighting found in most high street shops. High-end lighting will carry quality manufacture be it ceramic, metal or pottery the lamps will often be formed using the skills of craftspeople who will have likely put hours of work into one lamp. Decorations on high-end lamps will often be hand applied and have a top quality finish. The stability and functionality of these top-end lamps will also be spot on. Many of these high-end table lamps will be offered with a lampshade that will be a fine match to the shape and finish of the lamp. These quality lamps are built to last, they may seem expensive when compared to high street outlets however a top-quality lamp by a good maker will hold its value and may even increase in value when it becomes a retired design. When you choose a high-end designer table lamp you will not only be buying a lamp to provide light but you will be adding a fine design element to your interior space and adding a piece of art to your room.
Some of the very best high-end designer table lamps are made by the UK company OKA. OKA is one of the UK's leading "lifestyle" interior brands. The company offers a wide range of homewares from faux flowers through to furniture, textiles and a large, varied and beautiful range of lighting.The OKA idea was founded by Annabel Astor in 1999, Annabel formed the OKA brand and company with her sister-in-law Sue Jones, and friend Lucinda Waterhouse.
The three-woman team behind the OKA name all offered different skills and experience in design and marketing. The company specialised in the early days in designs that were inspired by the far east and bought new and fresh ideas and products to the world of UK interior design. In 1999 OKA direct was launched as a mail order interiors company. The first catalogue had designs endorsed by two leading British designers – Jane Churchill and Bruce Oldfield. In 2000 OKA opened the doors to its first shop in Parson's Green, West London. OKA stores went from strength to strength and can now be found in 14 locations across England. OKA launched its website in 2001.
---
OKA high-end designer table lamps.
OKA offers a wide selection of lighting, everything from large ceiling lights, pendants, lampshades and wall lights to a great range of high-end table lamps a few of which we will have a look at in this post. The ranges vary from traditional through to contemporary designs. All OKA lighting is of the very best quality. OKA designs are beautiful and unique with high build quality as you would expect from a premium brand. At the OKA website, you will be able to view a wide range of beautiful table lamps manufactured from a wide range of materials.
---
Here are some of my favourites from the current range of wonderful OKA lamps.
Aberarth Table Lamp – Sea Green.
The colour and finish of this lamp are reminiscent of sea glass, which is why it shares its name with a location that is great for beachcombing. Its cubed body gives it flair. Not just for coastal homes, it's adaptable enough to illuminate modern apartments and country retreats alike. To make each lamp, skilled artisans heat the glass to a high temperature until it melts, allowing them to work it into the desired shape. When the piece is formed, sections of the glass are manually polished more than others to create a textured, purposefully uneven surface.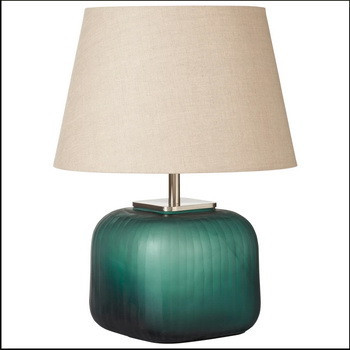 Height 23 Cm  excluding shade x 26 Cm Square
---
The Athena Column Table Lamp.
A smart, classically Antique inspired column lamp that is plain enough for modern rooms and traditional enough to use in a period setting.
12 Cm Square at the base by 57 Cm High.
---
Barricane Table Lamp – Grey.
The beautifully crafted Barricane Lamp has been painted and distressed by hand to resemble an ammonite. This type of fossil became extinct around the same time as the dinosaurs and is incredibly rare. Fortunately, even to the naked eye, the Barricane Lamp looks as convincing as the real thing, so you'll be able to fool your guests into thinking you have a little piece of history in your home.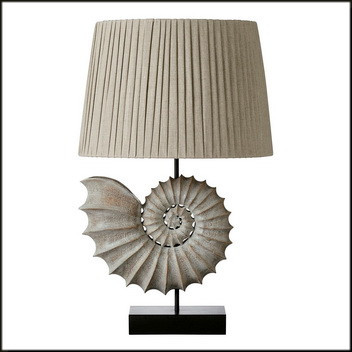 Width 33 Cm x 11 Cm Deep x 42 Cm High
---
Berber Handpainted Table Lamp.
A Moorish inspired lamp in vibrant yellow toleware (metal) with a hand-painted brown border, perfect for a rich, warm scheme or to add a splash of colour. Hand-made and hand-painted.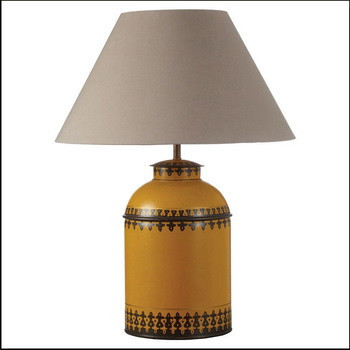 Height 37 Cm x 23 Cm Diameter
---
Biddulph Table Lamp – Blue/White Ceramics.
The Biddulph uses classic Chinese blue and white pottery with all of the beauty of a botanical garden, this lamp's calming colour palette could be what your bedroom is calling for; however, it will beautifully light up any kind of room.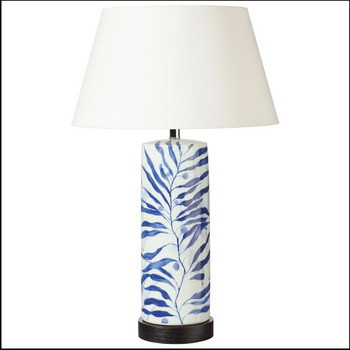 46 Cm High x 18 Cm Diameter
---
The Celestial Table Lamp in Black & White.
The Celestial Lamp will lend your space a soft glow. Made from hand-blown and etched glass, its monochrome design is reminiscent of a solar eclipse.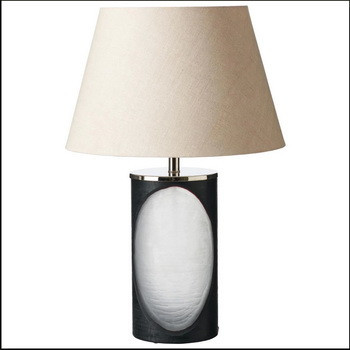 Height 50 Cm x 21 Cm Diameter
---
The Galahad Table Lamp in Antique Gold.
The Galahad Table Lamp will bring light to a dark corner, add height to a shelf or console and a touch of gold to your space with its beautiful Gold finish.  Its simple shape is achieved by welding small metal circles together, creating a surface reminiscent of chain mail armour, hence why it is named after a knight.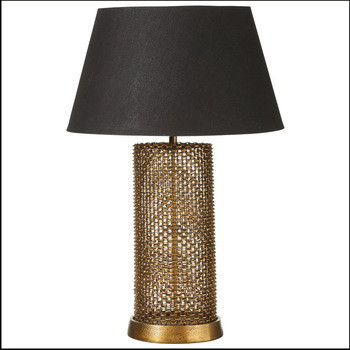 Height 47 Cm x 21 Cm Diameter
---
The Gourami Table Lamp in Ink Blue.
With striking 'scales', achieved during the glass cutting process, and a rich blue finish, it only felt natural to name this lamp after a species of tropical fish. Hand-made from ink coloured glass and brass, its narrow silhouette makes it a good fit for a bedside table or small shelf.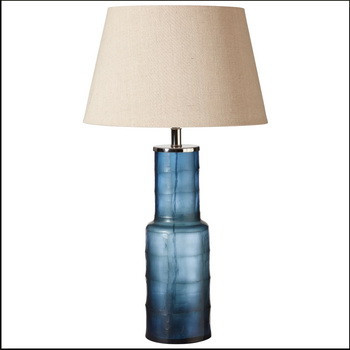 Height 55 Cm x 16 Cm Diameter
---
Grisewood Lamp & Shade in Paprika.
An antique-style small metal table lamp and shade, hand-made from brass and iron. The petite yet elegant stature of our Grisewood Lamp makes it perfect for a desk in a home study or library, or as a small bedside lamp. Available in a selection of different colours.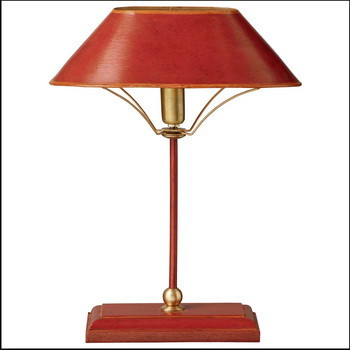 Height 42 Cm x Width 31 Cm x Depth 20 Cm
---
Istina Lamp & Shade in Black & Antique Gold.
This piece is all about contrast: the timeless combination of black and gold, and the polarity between the shape of the base and shade. Reminiscent of an ancient Roman shield, the Istina is crafted from aluminium, which is plated for an opulent effect.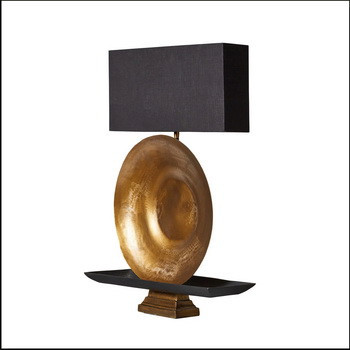 Height 52 Cm x Width 54 Cm x Depth 17 Cm
---
Oromo Lamp in Antique Brass.
This hand-made African-inspired brass table lamp with an antique finish would have a distinct presence in any room. Crafted from multiple rings resembling tribal jewellery, our majestic Oromo Lamp would be a glamorous decorative addition to a modern scheme, but it's practical too, a truly stunning designer table lamp.
Height 42 Cm x Width 31 Cm x Depth 20 Cm
---
Versailles Table Lamp in Aged Mirror Glass.
To bring light and texture to a scheme, without affecting the colour palette chosen for your space, try decorating with mirrored pieces. This octagon-shaped lamp, consisting of several hand-foxed mirror glass panels, joins the popular OKA Versailles Collection.
Height 43 Cm x 16 Cm Wide
---
The OKA website has hundreds of beautiful items of lighting as well as furniture, textiles, interior design objects and garden ware. The OKA website has some truly wonderful items of homeware, also on the OKA website you will be able to view the online OKA magazine which has a host of ideas showing items from the OKA range paired and used together to create fantastic looking interiors.
My review of the OKA Patera Toleware Table Lamp can be read HERE.
You can visit the OKA  website and view the wonderful range of quality designer lighting and other items HERE.
If you have any questions on this review or have anything to add I would love to hear from you. If you own an OKA lamp and would like to send me an image or two I would be happy to include them on this page.
Thank you.
michael@hertfordshire-lighting.com