Jim Lawrence Stonham Wrought Iron Wall Lights.
Jim Lawrence has a reputation as being among the very best lighting money can buy. Hand made using traditional manufacturing techniques and skills that are kept alive at the Jim Lawrence factory in Hadleigh Suffolk. Jim Lawrence started by making wrought iron products for friends and family and realised there was a real demand for artisan-made iron products. The Jim Lawrence company moved to its current location in 2008. Jim Lawrence has an excellent website offering a wide range of handmade items, there are a wide range and expansive line of wall lights and other types of lighting along with door furniture, curtain poles, locks and garden items as well as a range of fabric products and materials.
I have a real soft spot for Jim Lawrence wall lights, they are well-made and have an exceptional build quality in a wide range of both traditional and modern designs that can fit into a wide range of interiors. Being handmade Jim Lawrence lighting comes at a cost, at first glance it may appear expensive however when you compare the quality hand made products to the products offered at large DIY chains you will quickly see that the premium price is not that great. Is Jim Lawrence lighting worth the cost? Let's look in detail at a pair of Jim Lawrence wrought iron wall lights and see where your money goes.
A close look at the Jim Lawrence Stonham Wrought Iron Wall Light.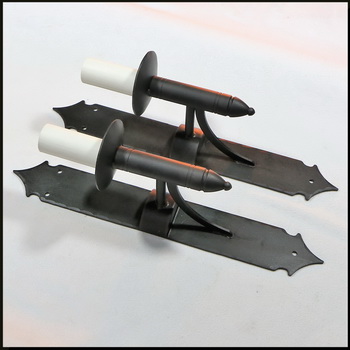 The Stonham is a traditionally made wall light and is manufactured from wrought iron. The design is traditional and like many Jim Lawrence wrought iron products a touch Gothic. The lights are a sconce type light that can be used bare bulb or also with a clip-on lampshade, the Jim Lawrence range includes a good selection of clip-on lampshades. The bulb holder has a faux wax catcher and a painted metal candle cover.
---
First Impressions.
Being made from wrought iron and steel the Stonham light is heavy for its slimline design, when you pick up the light you are immediately hit with the unmistakable feeling of quality, the light is quite obviously handmade and has many details and fine finishing touches, the light does have many handmade details which are great to see. As they are part of the makeup of the wrought iron handcrafted nature.
---
Build Quality and handmade details.
On close inspection of the Stonham you will see some fascinating details that will underline the quality of the manufacture and finished item. Everything on this light is solid, there are so many handmade details, small neat welds and signs of craftsmanship that can be seen across the finish and build of the light.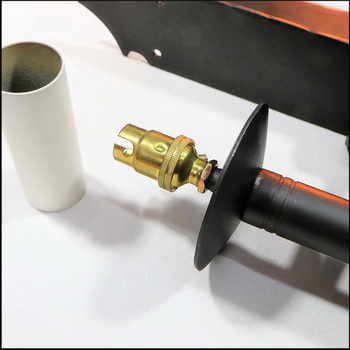 The faux wax catchers are made from really heavy gauge steel with neat welds with a long heavy turned finial under. The lights are fitted with "Proper" good quality Brass bulb holders, which is nice to see these days.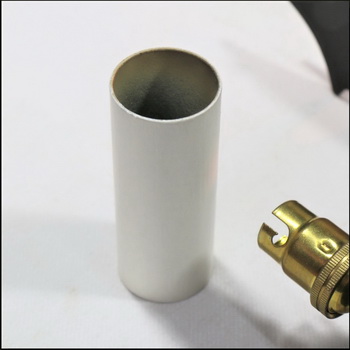 The candle covers are made from solid and heavy solid steel tube with a painted finish which is such a top-quality touch.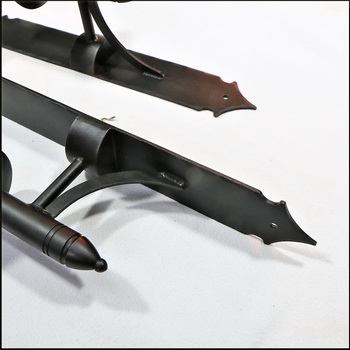 The lights have lightly scalloped edge detailing and several neat welding points that emphasise the handmade nature.
Each light has three predrilled holes on the backplate making for straightforward fixing. At the back, the lights have a good length of earthed wiring and a small neat recessed section ideal for housing a connection point. At the top and bottom of the backplates, the Stonham light has a hand-finished curved pointed detail which is gothic and also has an ecclesiastical touch. Build quality is really good on Jim Lawrence lighting. The lights shown in my images are pre-loved and were recently salvaged from the refurbishment of a large home. The lights have a really beautiful matte black finish which works well with the wrought iron construction but is also practical as it can be easily refreshed with a wipe over with a lightly oiled lint-free cloth.
---
Conclusion.
At first glance these wall lights look the perfect match for a room with a gothic, traditional or country interior, however these lights, like many from the Jim Lawrence range can also be used in a wide range of modern and contemporary interiors, imagine a modern neutral interior with a lined installation of these lights, they would not only bring light and shadowing but would add an eye-catching & traditional mid-wall focus point to the modern wall space.
The Jim Lawrence Stonham Wall light comes in a choice of finishes. Beeswax and matte Black. Dimensions are 7 Cm W x 35 Cm H x 12 Cm D.
Are the Jim Lawrence Stonham wall lights worth the money?
At the time of writing the Stonham wall light is for sale on the Jim Lawrence website at £81.   https://www.jim-lawrence.co.uk/
You get an awful lot of quality lighting for your money with this wall light and other Jim Lawrence products. Consider the build quality and craftsmanship that is put into each piece of lighting and the light is not expensive, have a look at your local DIY superstore and compare the prices of cheaply made in China lighting products, I think you will quickly see that the Stonham wall light is a quality light at a great price and an investment in British craftsmanship. At the time of writing (March 2021) the Stonham light is on an 8 week delivery period which again underlines the hand made nature of these and other items of Jim Lawrence lighting.
I would highly recommend the Jim Lawrence Stonham wall lights.
You can read my review of the Jim Lawrence wrought iron Globe Pendant Here.
If you have any questions on this review or have anything to add I would love to hear from you. If you own a Jim Lawrence light (or lights) and would like to send me an image I would be happy to include them on this page.
Thank you.
michael@hertfordshire-lighting.com