Giving new life to forgotten Vintage Parcan lighting.
Vintage industrial & Theatre style ceiling lights have been popular for decades, there is a wide range of companies offering theatre and industrial ceiling lighting fixtures that have been renovated and made safe for modern use. There is also a large number of vintage industrial ceiling lights available on sites such as eBay and Etsy. If you shop carefully you will be able to find a vintage theatre or industrial ceiling light that needs restoring, restoring such an old light is really "green" and will provide a great sense of satisfaction. This is the story of a recent renovation that I carried out on a pair of unusual theatre Parcan spotlights. These old par cans date from the 1970s to the 1980s period and would have been used to provide specialised spotlighting on a stage or set. These lights are of very heavy professional construction and are made from steel with a baked-on unusual green finish, they are par can 38 and were made by Philips. Inside the lights have welded holding brackets which would have been used to hold frames holding gel coloured filters. At the top, these lights have a heavy steel bracket with a friction pivot allowing the lighting to be angled. These would have been used with a high wattage and very high heat output lamp and we can see that at some point the lights were overloaded in terms of lamp size as the plastic housing of the ceramic bulb holders have melted.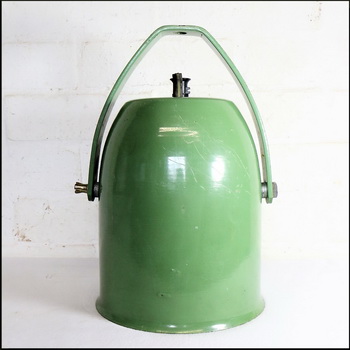 Older Parcan theatre lights were well made and were built to last which makes them ideal for upcycling and reusing. The lights have scratches and marks from a hard life but as soon as I saw them I could see the potential for making two unusual and unique ceiling lights.
---
The Project.
The lights are structurally sound and as strong as the day they were made. The finish is good and despite the scratches and marks the lights have great potential, the marks are part of the history of these fascinating old lights and will be left in place and not refinished as the life history and the design make the lights an interesting proposition. If you come across any piece of vintage historical lighting that looks past its best always give thought to the possibilities of reusing the light, you may then find that ideas will come to mind. Despite the marks and grime, these great looking theatre spotlights will make a really interesting and challenging restoration project. The first place to start with a restoration project like this is to strip out and dispose of the old electrical fittings, these were removed and will be taken to a recycling centre. On close inspection it was clear that the standard of construction on this vintage light was extremely high, this was made to last and to survive knocks and hard use, this quality of manufacture gives the light a great start when it comes to restoration.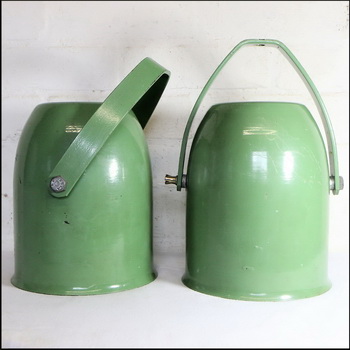 The two lights ready for repurposing.
---
Cleaning.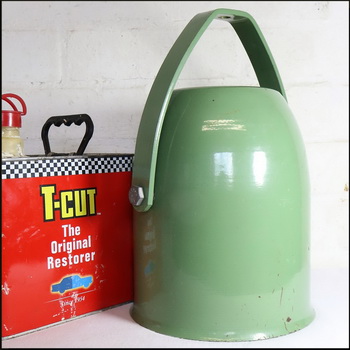 The cleaning of these lights was straightforward and very simple the lights were degreased and then the paint was refreshed using a liquid car polish called T-Cut.
---
Rebuilding & Wiring.
The first job was to figure out a wiring route, I plan to make these into hanging pendants which mean the lights will need a hanging point, chain and a way of taking the weight of the lights away from the wiring route and connections. The hole in the top of the pivot bracket is a great place to add a hanging point and cable entry will be through the top of the light via a new hole that will hold a short length of lighting tube along with washers, cable protection and the new lamp holder.
Note – If you are carrying out a rewiring project like this there are a few points to remember and to incorporate into your project.
Make sure you use components that meet the safety standards in your country
In the UK earthed (grounded) wiring must be used with metal components.
Make sure the wiring route avoids sharp edges and use plastic grommets or sheathing for cable protection.
When fitting new wiring to a project like this it is best to use industry-standard components, threaded tubes are widely used in vintage and modern lighting, this tube is 10mm in diameter and is often called all-thread, it is used with 10mm nuts which allow flexibility and provide a wide number of options when it comes to lighting renovation.
The top of each light was carefully drilled out with a 12 mm Drill which is good clearance for the 10mm Lighting tube.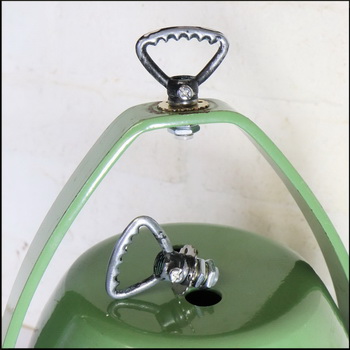 The hanging eyes used on these new lights were old salvaged examples with a roughly painted finish which suit the look of the new lights well.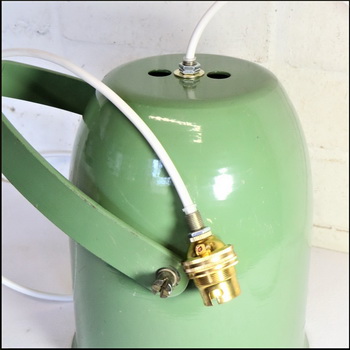 The wiring units were made up and the earthed BC lamp holders made ready for fitting.
After the lamp holders were fixed into position the wiring was passed through the new hanging eyes with enough flex left between to allow the lights to pivot once in use. After rewiring the lights were fitted with a length of chromed heavy steel hanging chain which was in turn matched with simple modern industrial hooked ceiling roses. The hooked ceiling rose, chain and hanging eyes work together to take the weight of the lights, wiring should never be used to hang such a heavy light even if a cord grip is used.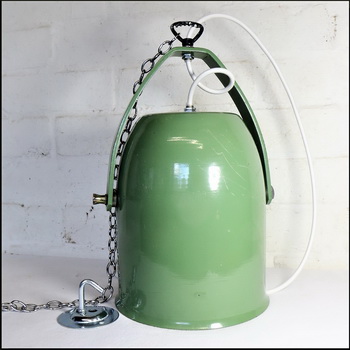 The new lights cleaned, rewired and ready for testing.
---
The Finished Lights.
Here are some images of the cleaned and restored vintage theatre par can ceiling lights. This type of theatre light is not often seen for sale, repurposing them like this makes the resulting lights a unique piece of theatre or industrial style lighting, they are now ready to be used and would be ideal as part of a lighting scheme in a themed bar or café. They have a great look and are unusual, the pivoting feature makes them flexible and I could see the lights hanging and illuminating a feature wall or menu board.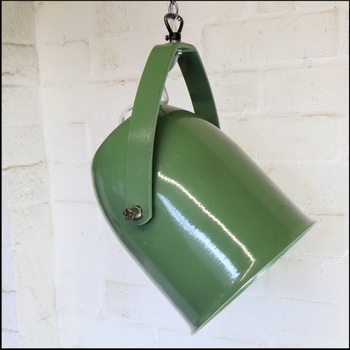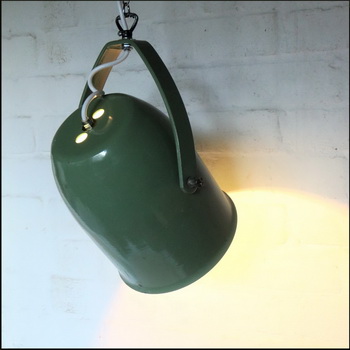 Converting these was straightforward and not very time consuming however breathing new life into older forgotten items is very satisfying and I would always encourage anyone to have a go at a project like this, there is nothing like getting your hands dirty and having the satisfaction of bringing new life to an old and forgotten piece of lighting.
---
Conclusion.
I hope you like this restoration project, I am very pleased with the result and the way the revived industrial ceiling light looks original and true to its original use.
Materials –
Cleaning oils and polish. Earthed Wiring. Earthed Brass bulb holder. Various wiring sundries. Hooked ceiling roses. Chrome chain. Second hand hanging eyes.
Time Spent on the lamp – 3 Hours.
One of the best online resources for vintage and Antique & Vintage lighting is Vinterior – You can view the interesting and varied Vinterior website HERE.
I often have several Vintage Industrial items for sale in my eBay shop here – Hertfordshire Lighting and Design
I would love to hear from anyone who has performed a similar restoration project; it's always great to share ideas with other people.
If you have any questions or need advice on any item of Vintage lighting please contact me and I will do my best to help.
Michael Adkins. michael@hertfordshire-lighting.com